The Lead Generation is an advertising objective that lets you cultivate prospects and engage leads on TikTok or collect leads information with your own website. With Lead Generation on TikTok, when someone taps the CTA button on a lead ad, it will either open an Instant Form where people can learn about your business, leave their contact information, and signal their interest in your product or service, or redirect users to your own website where they leave their contact information with you.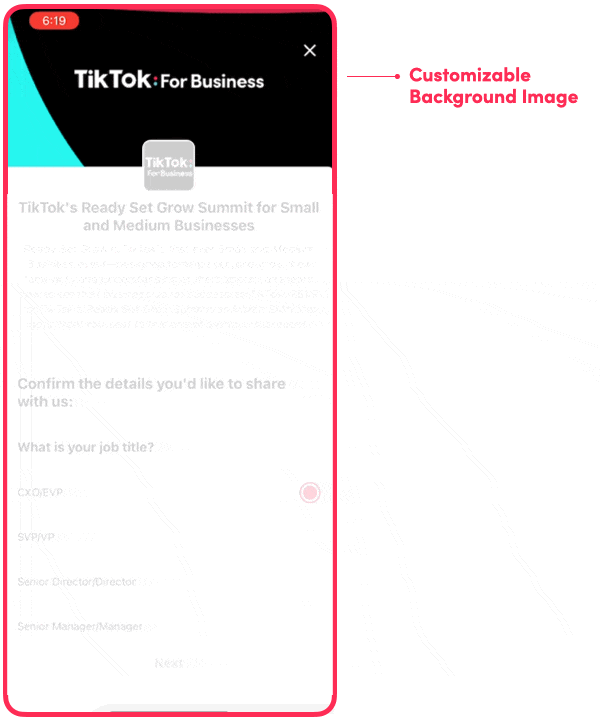 Lead Generation with Instant Form goes way beyond collecting information about your customers. When you create a Lead Generation campaign, you will be able to:
Increase conversions. Instant forms load faster than a typical landing page and offer the ability to pre-populate fields based on available information, driving a higher conversion rate.

Tailor your messages. Fully customizable message design lets you insert your own messaging and layout, making the process quicker and the context relevant to the audience.

Drive web traffic. Once people fill out your form, you can redirect users to your website or app download page.

Automate your next steps. TikTok leads can be synced directly with your CRM using Zapier, LeadsBridge, or Custom APIs.
Using your own website form may be preferred when you want to:
Boost traffic to your own site.

Qualify leads via existing logic on your site form.

Ask more detailed qualifying questions that TikTok Instant Form doesn't support (see section 2.16 here).
Lead Generation is a versatile objective that you can use to grow any part of your marketing funnel. Whether you are looking to raise awareness about a new product or acquire new customers - Lead Generation can help you collect meaningful signals from people interested in your business.
Lead Generation is an agile advertising objective that you can use across various industries, use cases, and scenarios.
Retail & E-Commerce
Auto
Professional Services
Education
Lazada is one of Southeast Asia's leading e-commerce platforms with a presence in six countries – Indonesia, Malaysia, the Philippines, Singapore, Thailand, and Vietnam. To celebrate their 9th year in business, Lazada launched a Lead Generation campaign on TikTok to win new customers and get new retailers to join the marketplace.
Not only was Lazada able to share its message with millions of new customers on TikTok. Within a week of the campaign, 47% of people who submitted their information via the Instant Form became a seller on Lazada's marketplace!
Check out the entire case study here.
To promote its newest fragrance in Spain, scent maker Nina Ricci leveraged Lead Generation on TikTok. Here's how they did it.
They created a Lead Generation campaign that showcased their new fragrance and let people request a free sample of their new scent from their Instant Form. And it was a huge success! Their campaign had a conversion rate of 41.85%, and they reduced their cost per lead by 83%, compared to their previous campaigns!
Check out the entire case study here.
For more information on Lead Generation with Instant Form, refer to "Set up a Lead Generation Campaign with an Instant Form".
For more information on Lead Generation with your own website, refer to "Set Up a Lead Generation Campaign with your own Website".
We recommend launching a Lead Generation campaign with at least three ad groups, each using different targeting settings and creative content - this will help find the best audience for your campaign.

We recommend setting a daily budget for each ad group that is at least 20 to 50 times your expected cost per lead. A budget of this size will ensure that each ad group has a sufficient budget to pass the learning phase.

Create broadly defined audiences to launch your first Lead Generation campaign. Then you can analyze your campaign performance to target higher-performing audience segments.

If you are using Instant Form to collect leads, integrate TikTok Leads with your CRM via Zapier, LeadsBridge, or Custom APIs so you can automate your marketing funnel and next steps.