Note: This feature is currently in beta and now available in all regions. Currently Suggested Bid only supports oCPC optimization goals.
Suggested Bid is an important part of TikTok Ads Manager smart optimization product series. Using machine-learning technology based on your ad settings and historical delivery data, this feature will provide the most scientific bid suggestion for your ads.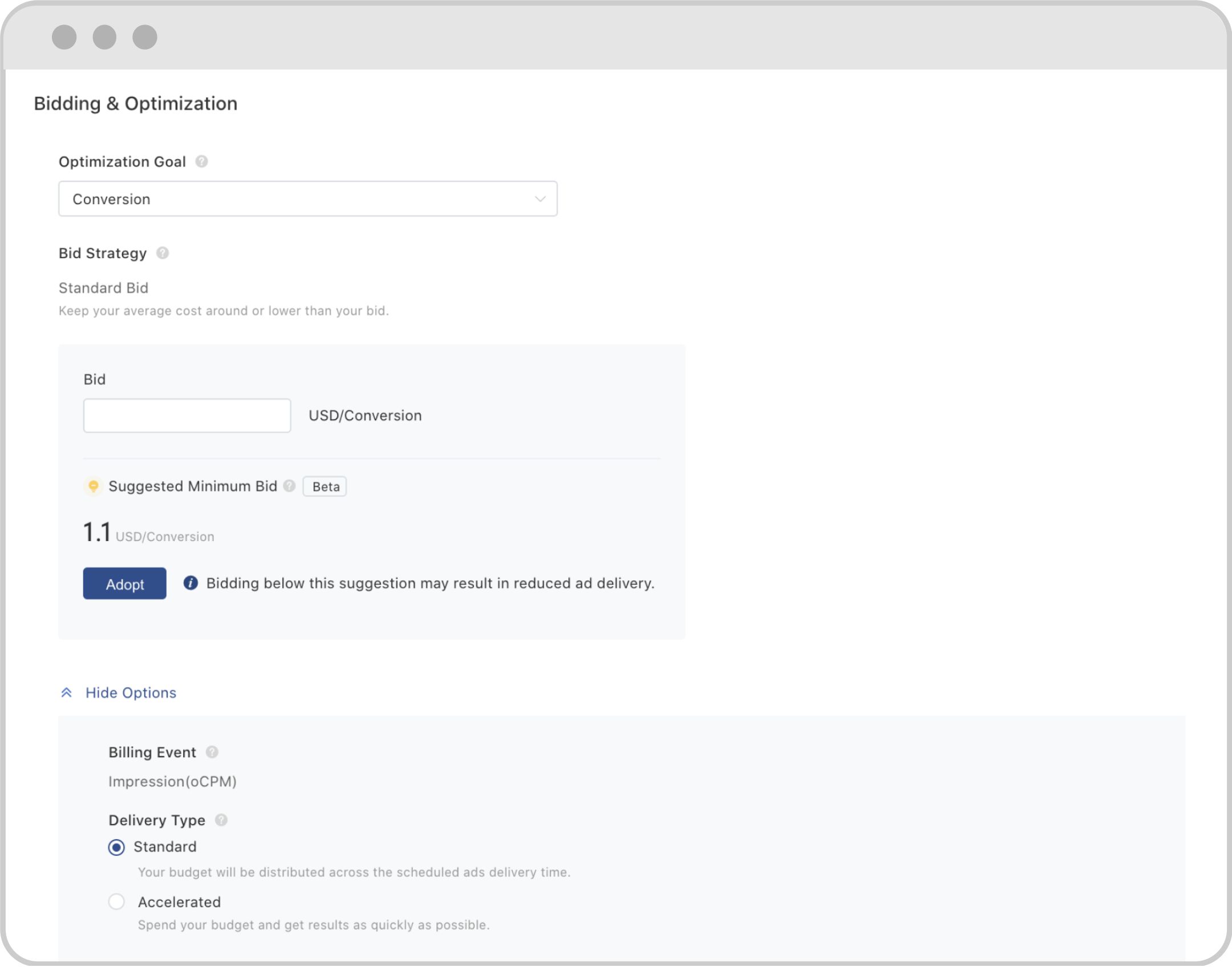 Note: Suggested bid now supports iAEO ad groups.
​Beginner's Guide: For advertisers who are new to the TikTok Ads Manager, the Suggested Bid will provide you with a suggested bid to help you get through the novice phase faster.

​Campaign Boosting Guide: For advertisers who are already familiar with the TikTok Ads Manager, adopting the suggested bid provided by the system would enable the ads to get more traffic.
While currently in beta, you can only get suggested bids on the ad groups creation page.
​After completing your ad group settings, the system will automatically displays the Suggested Bid.

​After clicking the Adopt button, the suggested bid is applied.
Note: You need to fill in all the required information about your ad group before you get the suggested bid.
Once you've completely filled out the information, the ad system will estimate an optimal bid for your ad based on your existing settings and historical data. The following dimensions will be considered:
​Ad settings: Category, conversion goal, bidding method, targeting, etc.

​Historical data: CPA, CTR, CVR, etc. of the ads and account.
Yes. By creating the ad, the ad system will make a comprehensive judgment based on the historical data of the account and the ad settings, and give preliminary suggestions. After accumulating a certain amount of delivery data, the system will combine the current delivery data of the ad to suggest a new optimal bid. You can check the new suggested bid on the ad group edit page.
No, bid changes will only take effect once, and your bid won't be changed in the future.
Yes, this feature is available through the Marketing API.