Create a new TikTok Ads Manager account from the TikTok App on Shopify and get an ad credit back when you meet the spend threshold.
​This program is open to a limited number of specially invited Shopify merchants in Australia, Austria, Brazil, Canada, France, Germany, Ireland, Italy, Japan, New Zealand, the United Kingdom, the United States.

​The promotional ad credit will only be offered to new TikTok ad accounts that haven't started advertising before.

​Eligible Shopify merchants will receive the promotional ad credit only once.
​Once you download the TikTok App on Shopify, you'll see a banner explaining the program and what type of ad credit your account is eligible to receive.

​To participate in the program, you will need to create or link a TikTok For Business account and then create a new TikTok Ads Manager account. If you link an existing TikTok Ads Manager account, it needs to have never tried TikTok ads before.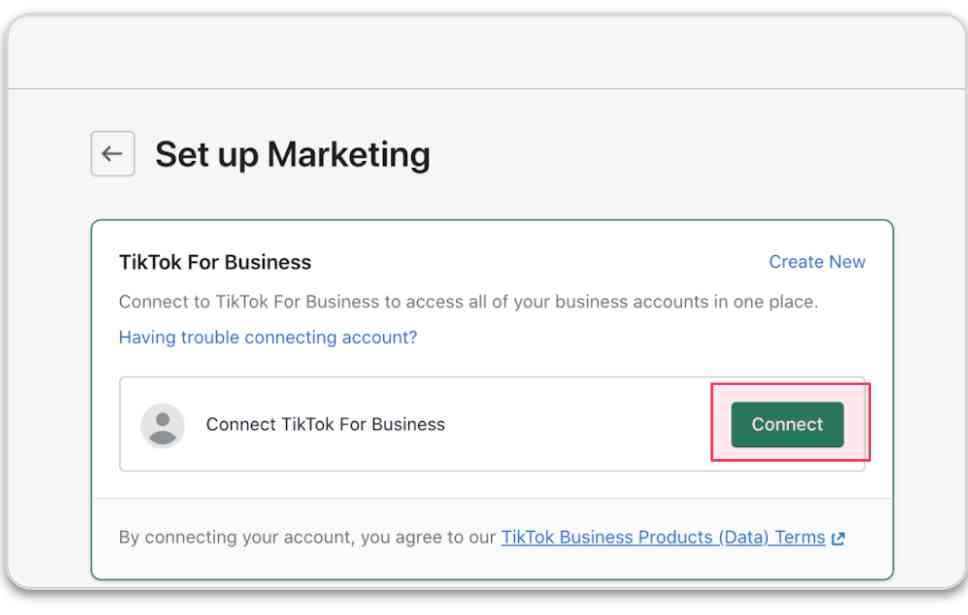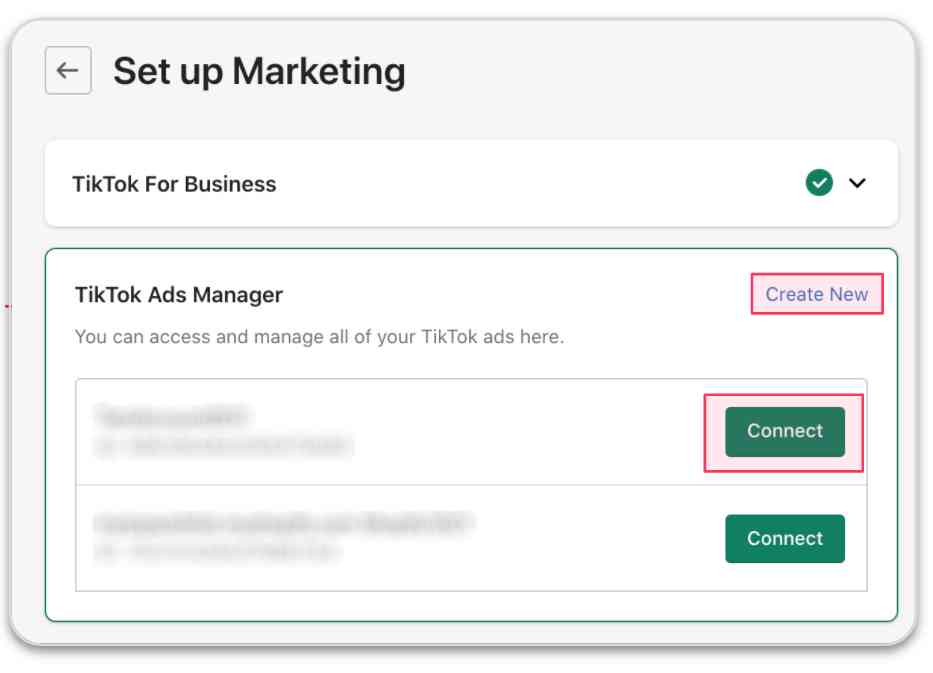 3. ​After linking the TikTok Ads Manager account to your Shopify store, you'll need to complete the remainder of the onboarding steps. You'll be asked to add a payment method, but you won't be charged until you create your first TikTok campaign.
4. Next, you'll have 14 days after TikTok Ads Manager registration to meet the spend threshold. You can create ads directly within Shopify or on TikTok Ads Manager. After meeting the spend threshold, the ad credit will be applied to your account within 48 hours.
The ad credit can be spent in either your TikTok Ads Manager account or within the TikTok App on Shopify. How ad credits are claimed will depend on the payment method you use on your TikTok Ads Manager account: manual or automatic.
For accounts using the manual payment method, the ad credits will be used before the account balance is applied. For example, once you've received your ad credit, we will bill any charges against your ad credit before using your account's balance.
For accounts using the automatic payment method, your ad credits will be received after paying your account's balance. These ad credits will then be applied first before charging your account on your next campaign. For example, once you successfully spend required amount of advertising fee and pay the bill (excluding tax and ad credit), within required time period and claim the credit, then when you start to run a campaign, the credit will be used first before billing your account.
The ad credit will be valid until 04/30/2023.
If your account has been flagged for safety reasons due to irregularities on the account, your ad credit may get blocked in receiving the ad credit. Please file an appeal on our advertiser support system. You can submit a ticket here or go to your TikTok Ads manager account and click on the question mark in the top-right corner. 
These terms ("Coupon Terms") govern your eligibility for and use of Coupons. Please read them carefully. The legal promoter offering the Coupon to you is: (a) if the Discounted Service (defined below) is within the TikTok Platform, the TikTok entity that provides you with the Discounted Service in accordance with the TikTok Terms of Service; or (b) if the Discounted Service is within the TikTok For Business Platform, the TikTok entity described in the General TikTok For Business Platform Terms (in either case, "us", "we", "our"). 
To the maximum extent not prohibited by applicable law, we may, where reasonably necessary for a legitimate reason, amend or cancel any or all Coupon availability at any time in our sole discretion, and/or update, amend or replace these Coupon Terms.
A "Coupon" is a time-limited discount token, introductory offer token or a form of advertising credit, that is redeemable by you for a Discounted Service at a discounted or promotional rate.
Where we refer to "Discounted Service", we mean the particular TikTok product, service and/or digital content which is the subject of the Coupon.
​Coupons are subject to availability and can only be used as follows:
​in the date and time window described in the email or TikTok message or other notification sent to you with the Coupon ("Validity Window"). After the expiry of the Validity Window, you will no longer be able to use the Coupon;

​for one time use;

​for benefitting from the discount or introductory offer made available by us for the Discounted Service. Unless otherwise expressly allowed by us, Coupons are limited to one per Discounted Service per person;

​only one Coupon can be used per order;

​in accordance with Coupon usage instructions, conditions or eligibility requirements, including any applicable maximum savings and minimum spending thresholds, for example:

▪​where a Coupon is described as Save up to $100 , the maximum discount available with a purchase using that Coupon would be $100; and

▪​where a Coupon is offered If you spend $500 or more , then the Coupon only applies if you spend $500 or more on the relevant Discounted Service;

​in accordance with all terms, policies and procedures applicable to the Discounted Service;

​not in conjunction with any other promotional offers or discounts;

​cannot be exchanged for cash, credit or equivalent; and

​cannot be transferred or sold to any other person or entity.
2. ​If you are subject to any taxes (including any penalties or interest thereon) and expenses imposed by any jurisdiction in relation to the Coupon, subject to any unavailable local consumer law rights you may benefit from, you will be responsible for the payment of such taxes (including any related penalties or interest) to the relevant tax authority.
3. ​A Coupon cannot be used and is void where:
​it is not obtained from us;

​any part of the Coupon is transferred, resold, counterfeited, altered, defective, or tampered with or irregular in any way;

​it is obtained through theft, fraud, deception or unlawful means; or

​other restrictions, or these Coupon Terms, render it unusable or invalid.
4. ​In case of any violation of these Coupon Terms or any applicable laws or regulations, we shall have the right to disqualify any or all Coupons.
To be eligible for Coupons, you must:
​have the account(s) on the TikTok Platform and/or the TikTok For Business Platform necessary for the Discounted Service;

​be offered the Coupon by us (such as by way of TikTok message or email);

​be able to lawfully accept and use the Coupons and the Discounted Service in your territory of residence; and

​be of the minimum age (or above) necessary for you to be able to use the Discounted Service in your territory of residence, please consult the terms and conditions of the Discounted Service for more information.