Pixel Helper 2.0 is a Chrome extension that can help you verify and troubleshoot pixel installation by checking for errors and providing implementation recommendations for your website.
With Pixel Helper 2.0, you can go deeper troubleshooting pixel installation with detailed diagnostics at all levels, including pixel, event and in some cases, parameter implementation.
Pixel Helper 2.0 provides advertisers with two core benefits:
​Pixel status: Verify pixel implementation with quick access to installation details at the pixel, event and in some cases, parameter level.

​Detailed diagnostics: Troubleshoot common setup issues and improve pixel performance by reviewing error messages and implementation recommendations for your pixel.
Pixel Helper 2.0 will be available starting March 4, 2021. Download Pixel Helper here.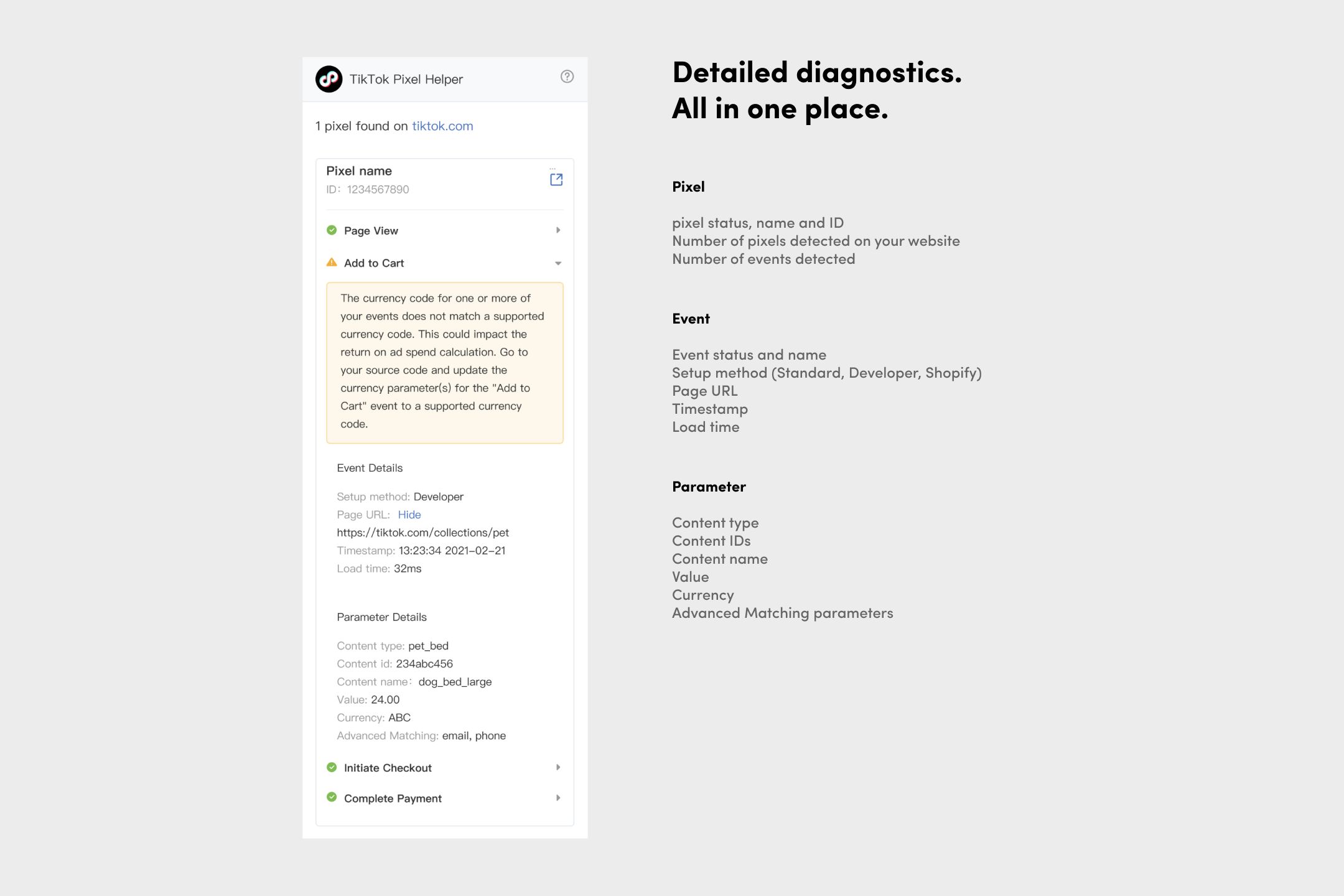 Note: Advertisers may also see a Page View (Manual) event. This event is automatically triggered by the pixel and provides advertisers with performance improvement benefits.
The follow errors and suggestions will be available with Pixel Helper 2.0.



Pixel Helper 

Suggestions

Error Type

Pixel Level

The pixel code is not installed in your webpage header. This could prevent your pixel from loading. Please place the pixel code as early as possible in the webpage, ideally between the <head> </head> tags. 

Pixel code is not installed in header 




The pixel ID is duplicate. This could impact the pixel data accuracy. Please double check and delete any unnecessary pixel code. 

Duplicate pixel code detected 




The pixel ID is invalid. This could prevent your pixel from receiving data. Please go to Events Manager and find the correct pixel ID. 

Invalid Pixel ID 

Event Level

The "{{event name}}" event has no trigger rules. This could prevent the events from triggering. Please go to Events Manager and set up the event rules. 

Missing event rules 




The pixel took too long to load. This could cause data losses for pixel events. Please place the pixel code as early as possible in the webpage, ideally between the <head> </head> tags. 

Event load time is too long 




The event name for one or more of your events is missing. This could impact your ad performance. Go to your source code and include the event name(s). 

Event name/type is empty 




The event name for one or more of your events is invalid. This could impact your ad performance. Go to your source code and update your event(s). 

Event name/type mismatch 




Multiple events were triggered by the same action. Please double check whether the event triggers have been set up as expected. 

Multiple events in an action 

Parameter Level

The value parameter for one or more of your events is invalid. This could impact the return on ad spend calculation. Go to your source code and update the value parameter(s) for the "{{event}}"  to only contain numbers greater than or equal to zero. 

Invalid Parameter 




The email format for one or more of your events does not match the format supported. This could impact Advanced Matching and your ad performance. Go to your source code and update the email parameter(s) for the "{{event}}" event to the supported format. 

Email format invalid 




The phone number format for one or more of your events does not match the E.164 format. This could impact Advanced Matching and your ad performance. Go to your source code and update the phone number parameter(s) for the "{{event}}" event to the supported format. 

Phone number format invalid 




The value parameter for one or more of your events is invalid. This could impact the return on ad spend calculation. Go to your source code and update the value parameter(s) for the "{{event}}"  to only contain numbers greater than or equal to zero. 

Value parameter format invalid 




The currency or value parameter for one or more of your events is missing. This could impact your ad performance. Go to your source code and include the currency or value parameter(s) for the "{{event}}" event. 

Currency/Value parameter missing 




The currency code for one or more of your events does not match a supported currency code. This could impact the return on ad spend calculation. Go to your source code and update the currency parameter(s) for the "{{event}}" event to a supported currency code. 

Currency code invalid/not supported 




The content ID received contains no value. Go to your source code and include value for content ID 

Content ID value missing 




The content type for one or more of your events is invalid. Content type must be either "product" or "product_group". Go to your source code and update the content type. 

Content Type invalid 




The advanced matching parameter (email/phone number) for one or more of your events is missing. This could impact your ad performance. Check Advanced Matching parameters displayed to see which parameter is missing. Go to your source code and include the missing parameter. 

Missing Advanced Matching parameters