Setting up your Marketing Settings is the next step after installing the TikTok App on Shopify.
You can create or connect a TikTok Ads Manager account to your Shopify and install the Pixel in 1-click. You'll also be able to set up your marketing catalog to seamlessly sync your products from Shopify to TikTok, if you plan to use Collection Ads or Video Shopping Ads with Catalog.
You will be unable to access certain features on the TikTok app, like creating Conversion Ads, until you set up your TikTok Marketing Settings.
​Login to your Shopify store's admin.

​Under Sales Channel, click TikTok.

​From the TikTok sales channel, click Set Up Now to create paid ads on TikTok.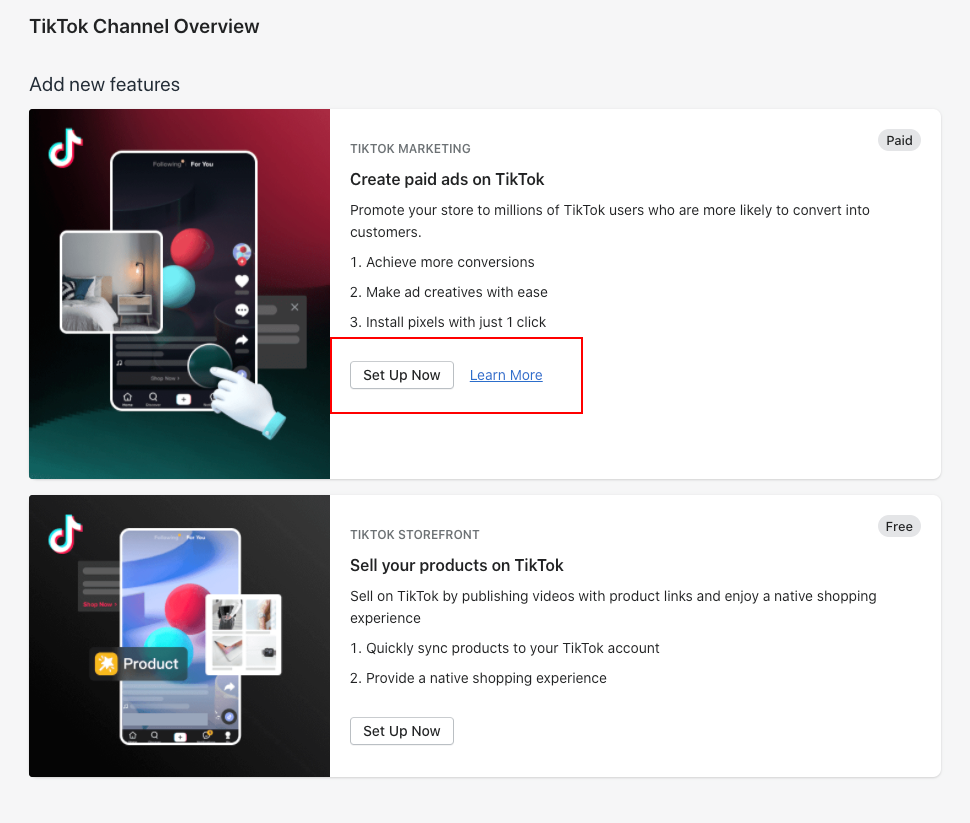 4. ​Create a new or connect an existing TikTok For Business account. This will allow you to access all your business accounts in one place.
5. Then Connect or Create a new TikTok Ads Manager account. This is your advertising account where you can create TikTok ads campaigns.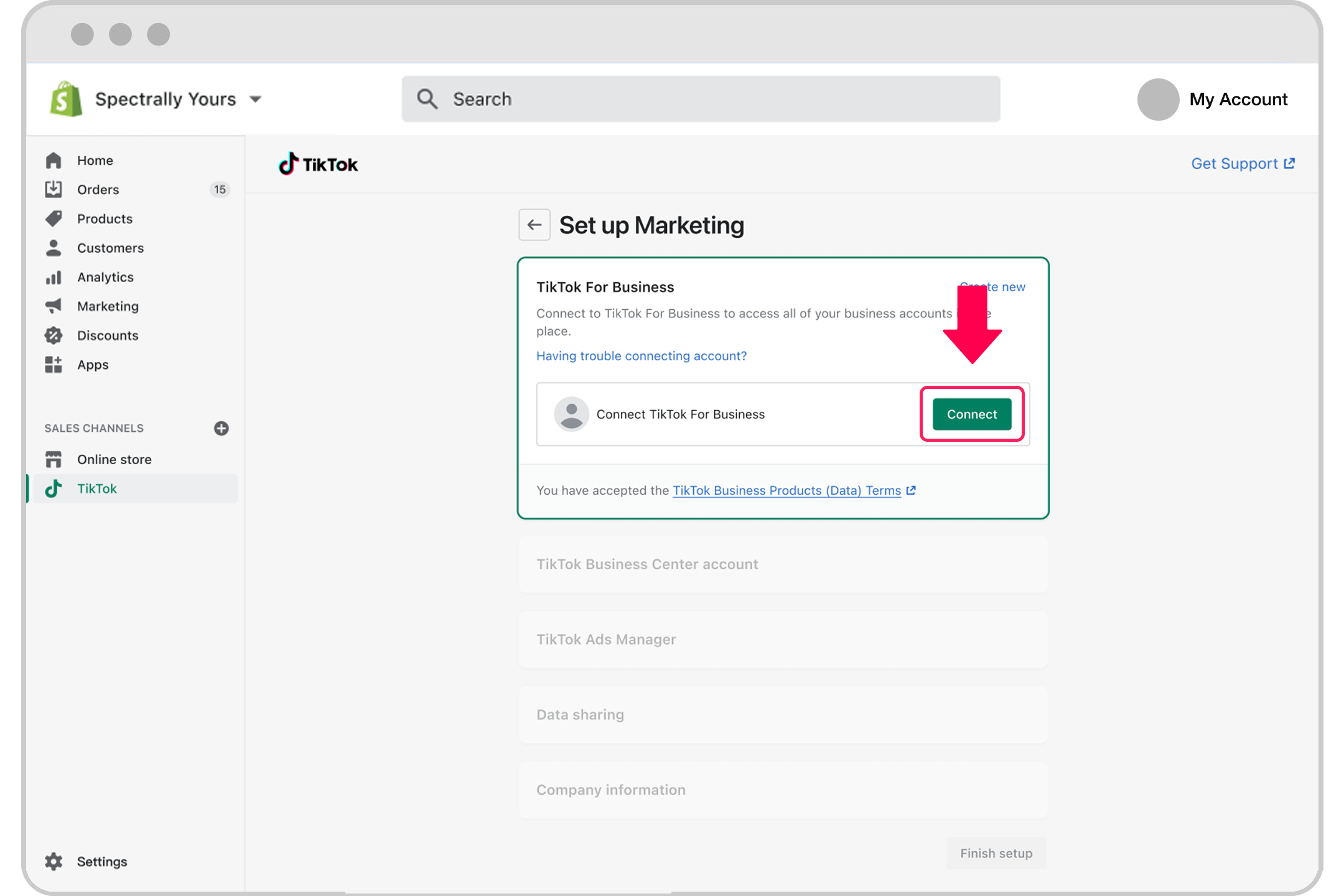 6. Next choose your level of data sharing. TikTok allows you to choose how data is collected and shared between your online store and TikTok. You have three levels to choose from:
​Standard

​Enhanced

​Maximum
7. Install the Shopify pixelwith just one click to track the performance of your ads. 
8. ​Add your payment method. You'll be able to add a balance to your account or bind an credit or debit card to your account. This payment method can be managed directly in Shopify or in TikTok Ads Manager.
After onboarding to paid marketing, you'll see the option to set up your marketing catalog. This will let you sync your products from Shopify to TikTok to use ad formats like Collection Ads. 
​Click Set up Now under Marketing Catalog.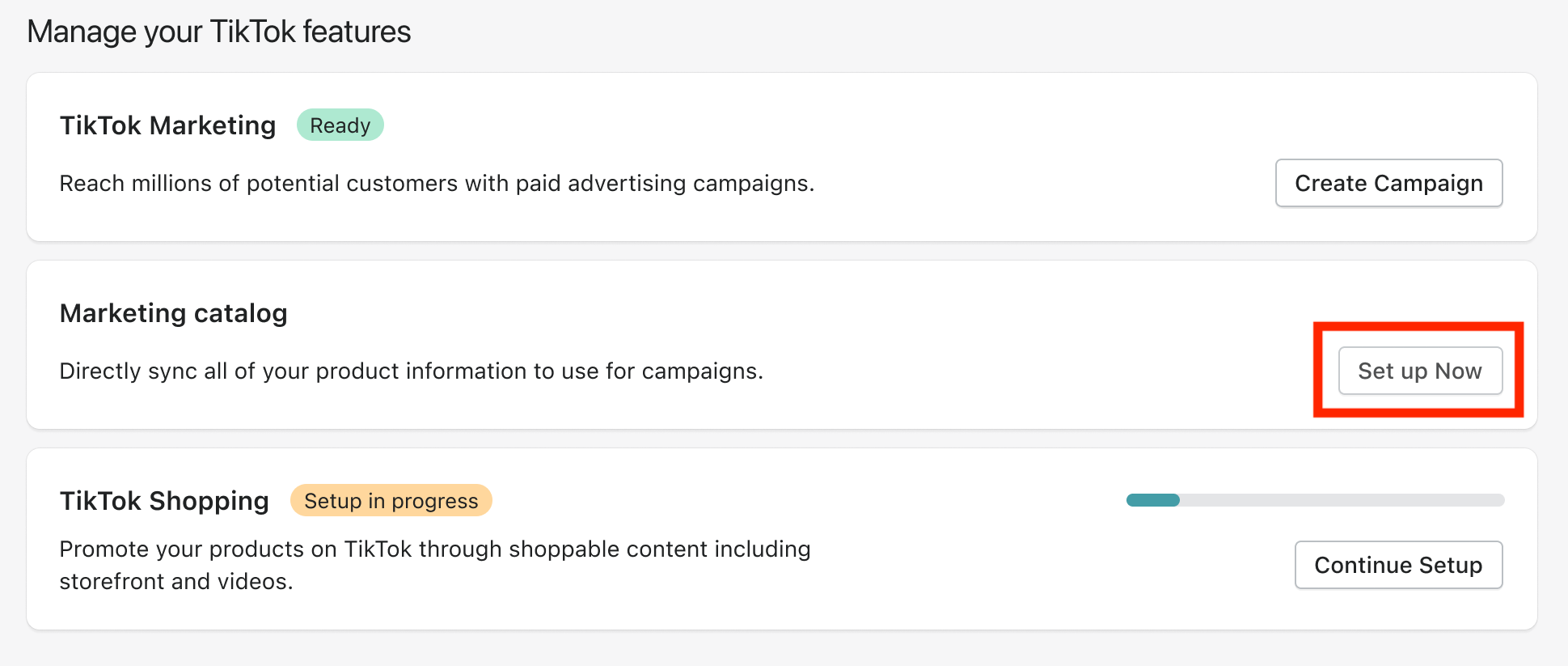 2. Select a TikTok Business Center Account to sync your product catalog to.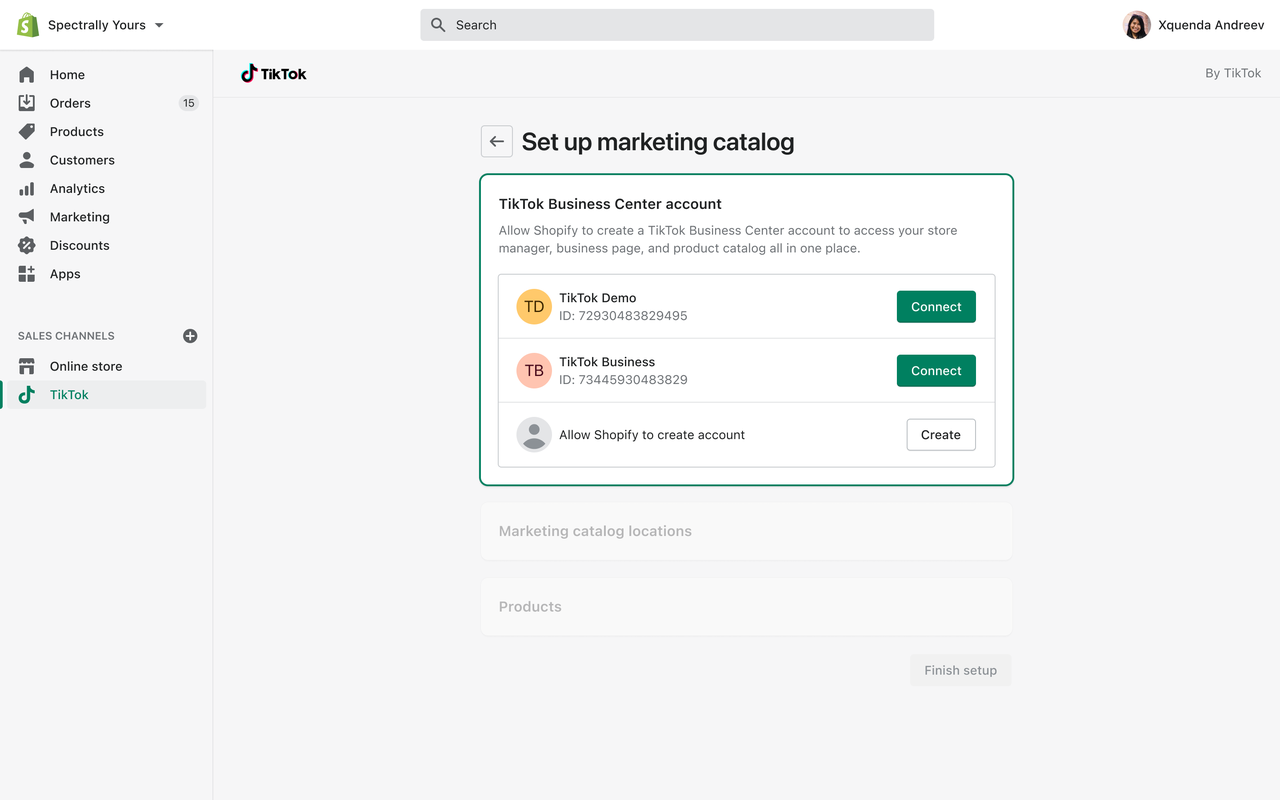 If you're connecting to an existing Business Center, you may need to give it admin access to your TikTok Ads Manager account.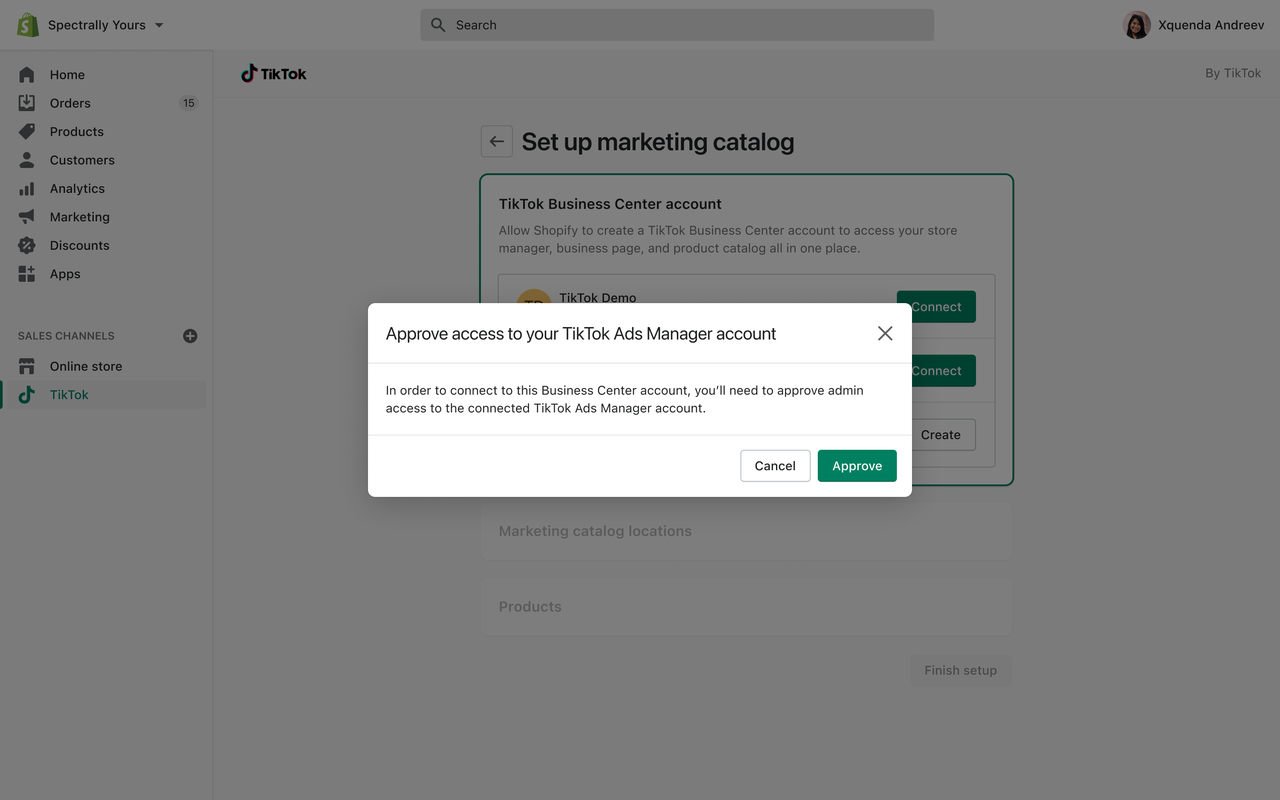 3. ​Select the marketing catalog locations. Your default location is based on the settings of your Shopify account. You'll only be able to choose additional locations that match the currency and language of your default location.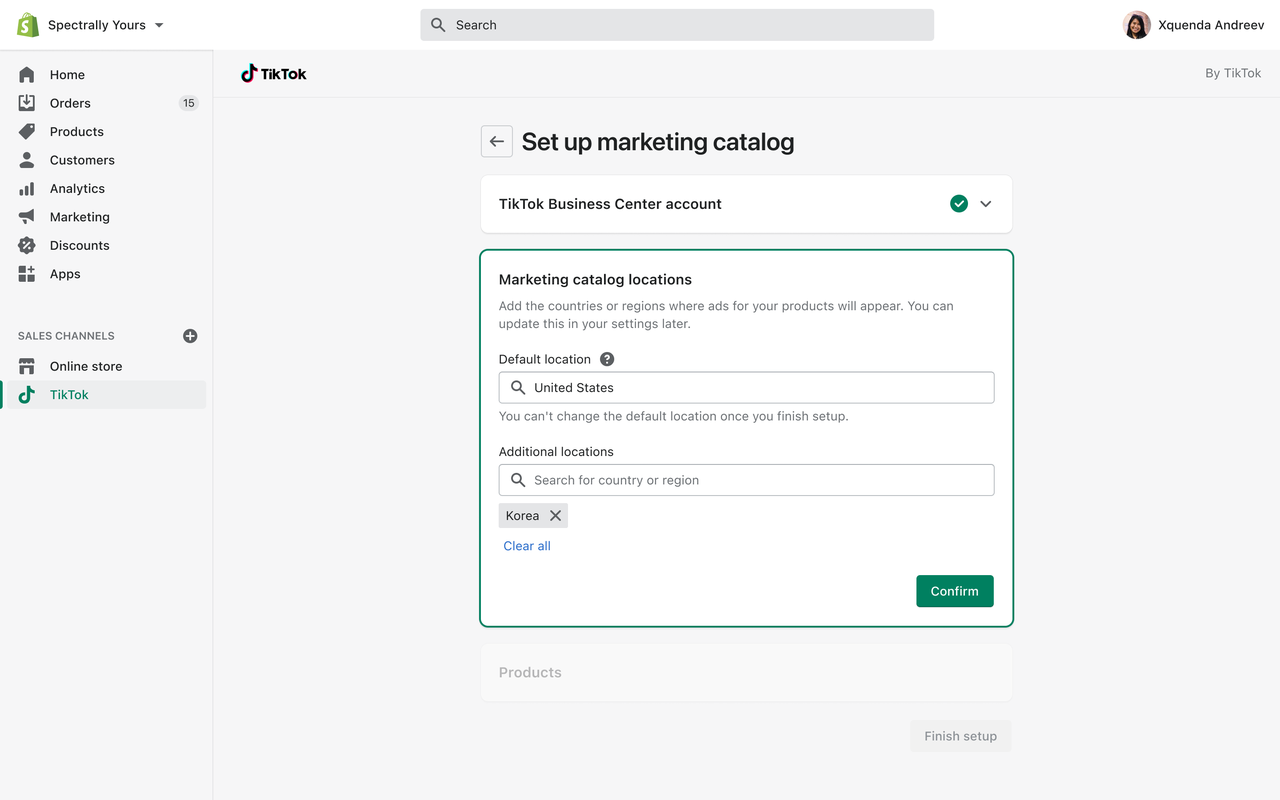 4. Select the products that you would like to showcase in TikTok ads. Changes made to your products on Shopify will automatically be synced and updated on TikTok.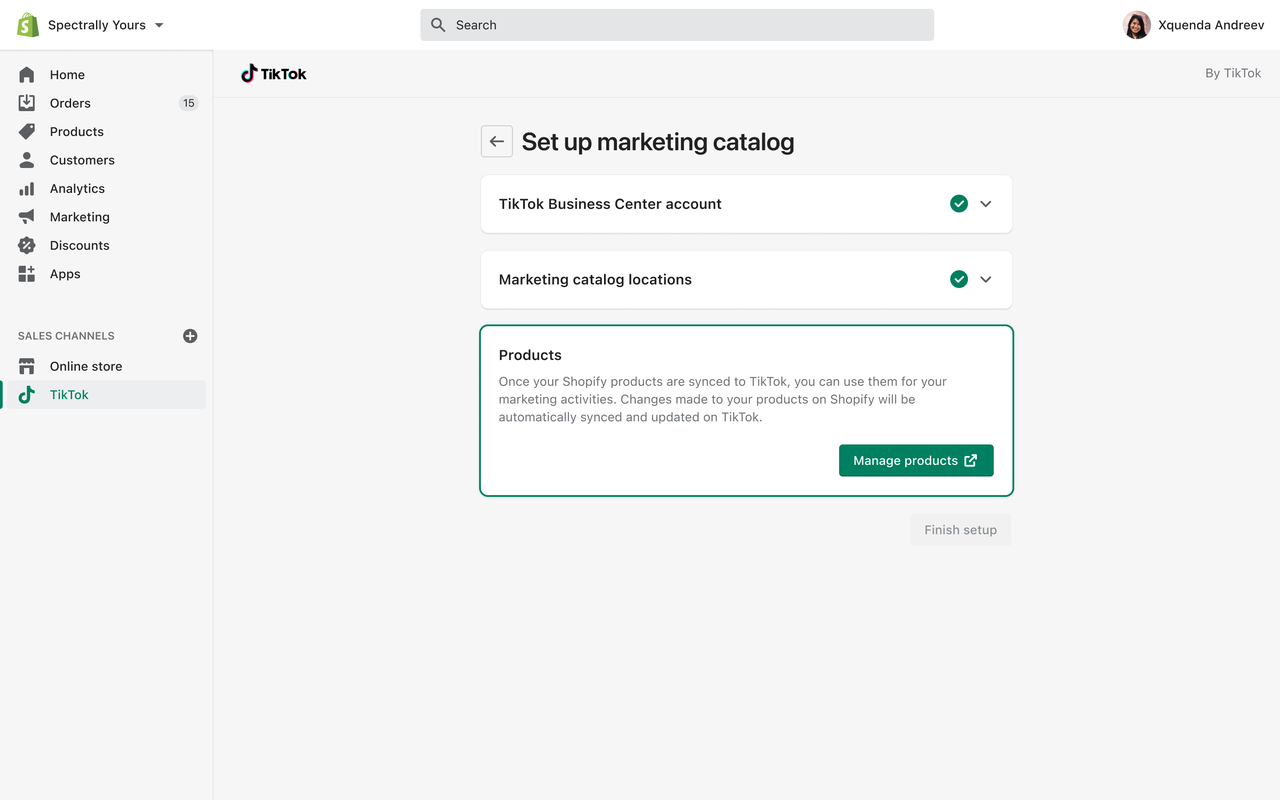 Once you click Manage products, you'll be directed to choose the products to sync from Shopify to TikTok: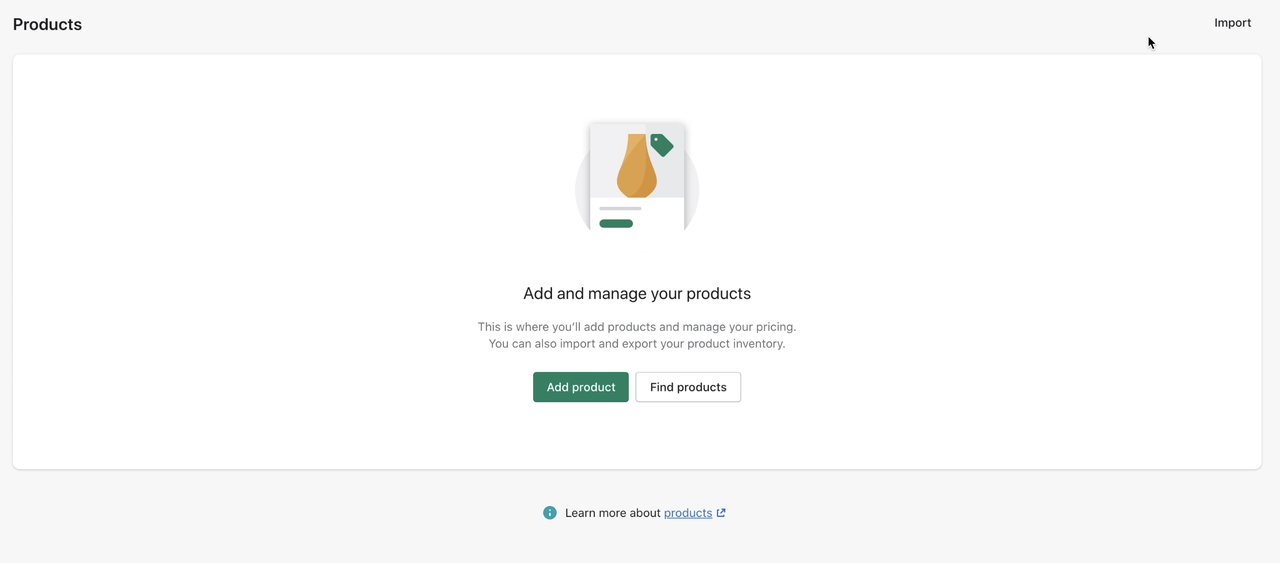 5. ​Once your marketing catalog is set up, you'll be able to see the Product Status on TikTok to understand which products are approved, pending, or disapproved.