How to Create a TikTok Ads Manager Account
(The following guide is currently only applicable for self-service customers in France, Great Britain, Italy, Spain, Vietnam, Japan, Taiwan, Malaysia, Indonesia, Thailand and the US. For customers who don't belong to these areas, please contact the client service (CST) or account manager (AM) in your region.)
Welcome to TikTok Ads Manager! Before creating wonderful campaigns, you first need to become a TikTok user. Follow the steps below to create your account:
1.  Click
here
to start your account registration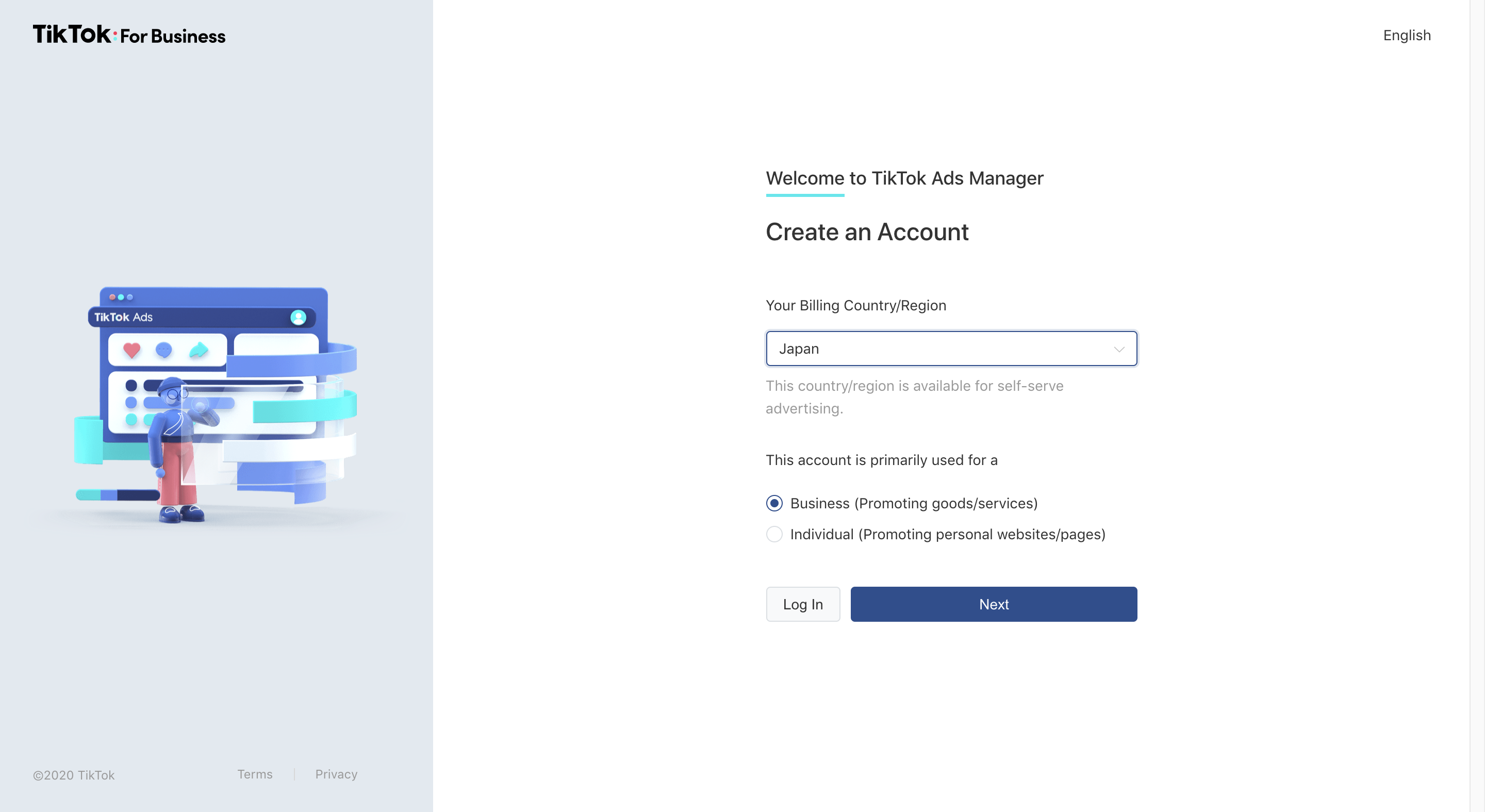 Select your billing country/region and type of account: "Business" or "Individual"
Click "Next". Continue to follow the next step based on your account type
For "Individual" accounts: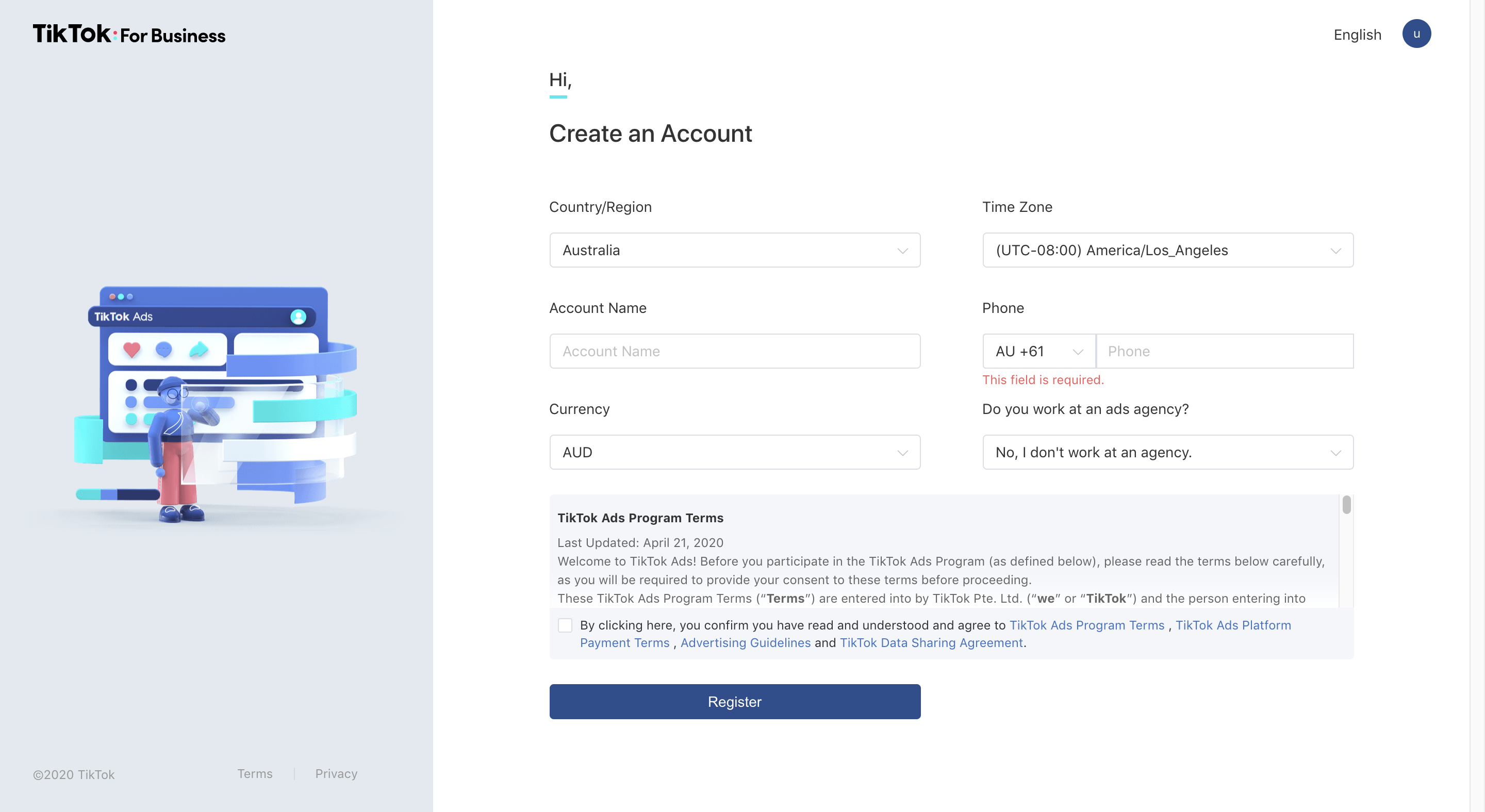 Fill in the required information and click "Make a Reservation"
In some regions, individual accounts will need to be set up by an account manager. An account manager will contact you as soon as possible.
For "Business" accounts:
Note: If you are an agency please create individual accounts for each client and then manage then with a TikTok Business Center. For more information managing multiple ad accounts, see About TikTok Business Centers.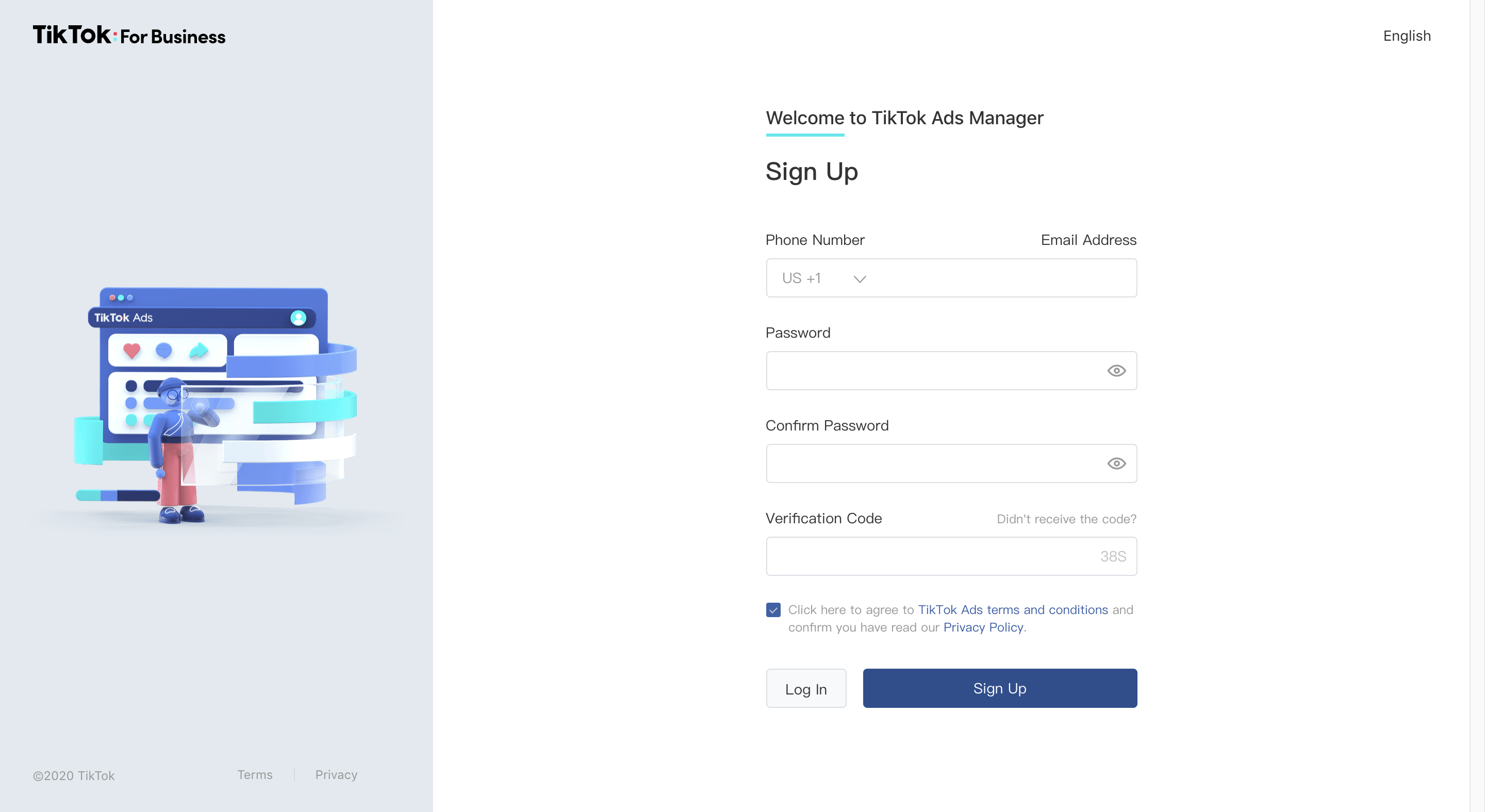 Fill in email or phone number, create a password, get verification code, and agree to terms
Click on "Sign Up"
Fill in your account details and agree to terms
Click on "Register"
Now you are ready to start creating your campaigns. But before you do, let's finish the process by completing your account information, as this will help ensure billing information is correct.
On your TikTok Ads Manager dashboard, click on your account name in the top-right corner to access a drop down menu. The blue card pinned to the top of the drop down menu is the account you are currently using. Click on the "Ad Account Settings" icon to the right of the account information.
Click on "Settings"
Click on "Business Information" under Account Setup




4. Fill in the details for your business
Business Name: The name of your business or store
Promotion Link: Your business website, app store, or URL. If you have multiple links, please separate them with line breaks
Industries: Select your business industry
Street Address: The location of your headquarters or where your business is registered
State/Province: The state/province where your business is registered
Postal code: The postal code of the region where your business is registered
Note: The invoice will be set up based on your business information. Please provide the correct legal information related to your business.
5. Click on "Primary Contact" under Account Setup

6. Fill in the contact details
These include a valid contact name, phone number, and email address. This is the person TikTok Ads Manager will contact regarding invoices, receipts and further payment-related issues. 
7. Click on "Tax Information" under Account Setup

8. Enter your valid tax information
This information will be used for invoicing and receipts
9. Click on "Payment Method" beneath Account Setup


10. Fill in your payment details
Available payment methods may be different based on region
Note: Once you submit your billing info you can start adding money to your account. But if your account is not approved, you will be unable to add more money. Additionally, you may not run any ads until your account is approved.
Congrats, you did it! You have successfully completed the account setup. Once everything is approved and set up, you are now ready to create engaging campaigns that will jump-start your business or product.
Was this information helpful?