TikTok Back to Business Program
Note
: The TikTok Back to Business Program is currently unavailable in Thailand, Indonesia, Vietnam, Malaysia, Singapore, and Australia.
We know small and medium-sized businesses (SMBs) play an important role in building communities, and we are committed to empowering and supporting businesses like yours during these challenging times.
To show our support for your business during this pandemic, we are offering the following to all existing and new advertisers:
Eligible SMB customers can claim a one-time free ad credit worth $300 
Additional spending will be matched 1 to 1 with free ad credit up to $2000 per business.
Note: 
The ad credit will be valid until December 31, 2020.
Amount and currency vary by country.
The one-time free $300 ad credit is currently not available in Korea, Russia, Japan, Turkey, and Egypt.
Eligible SMBs can follow the steps below to claim your ad credit. To learn more about eligibility requirements, click 
here
.
How to participate
Click the "heart button" on the right side of dashboard and check for the three requirements for claiming ad credit on the pop-up window.


Account Review:
If you are an existing client who has an account that is "good to go", then you could go for the second requirement "Business Verification" directly.

If you are a new client who just registered, you need click "Get Started" and go to the account setup page, enter the required information about your account, submit for account review, then wait for the results.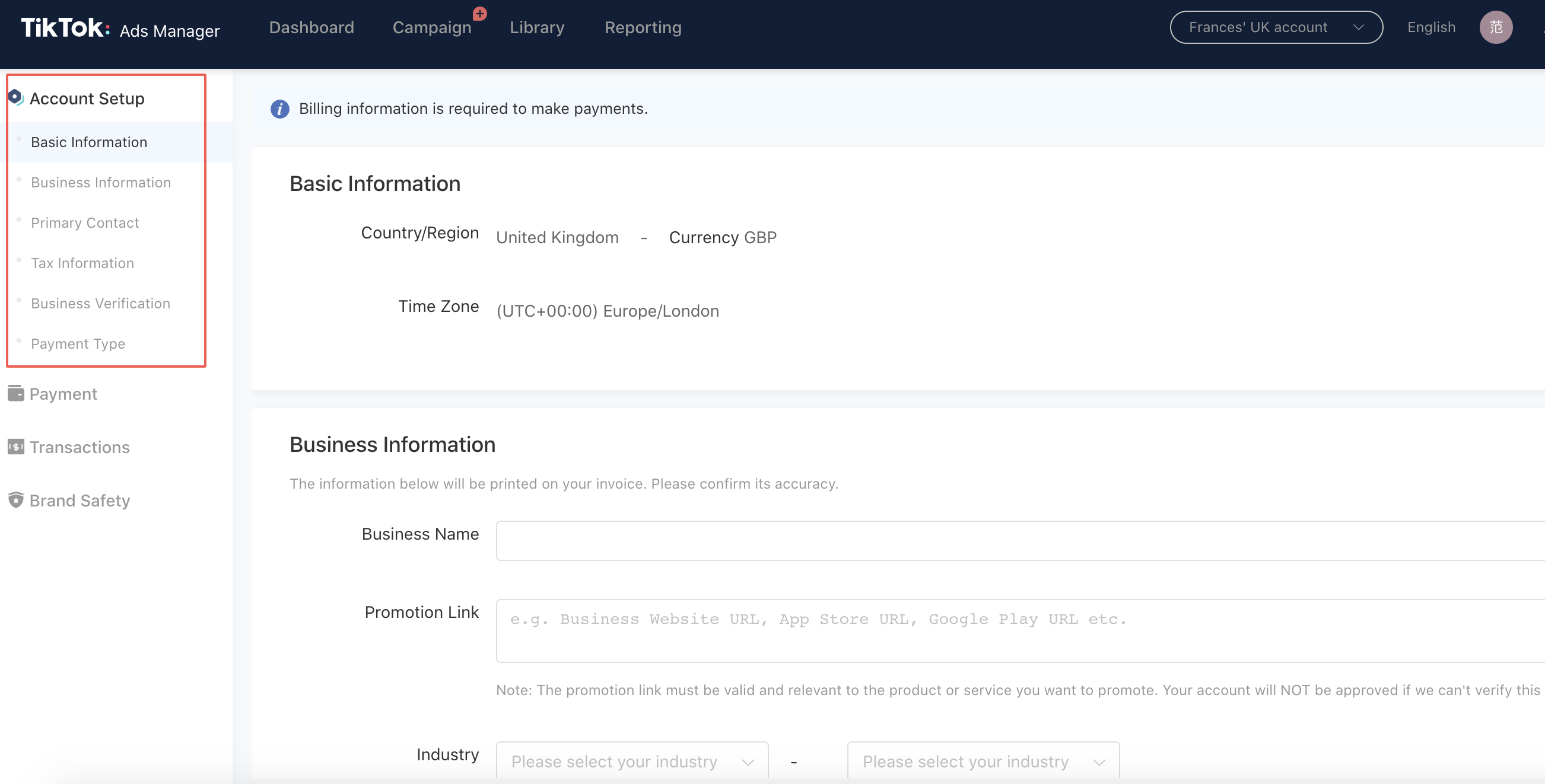 Business Verification:
Click "Get Started" and you will be led to the business verification page. Fill in the required business verification information, including your business verification ID, legal name of business, office phone number, name of legal representative and supporting documents.

After submitting business verification information, your account will be processed for verification and you will get the results in 3 days. For more details about business verification, please read How To Verify Your Business. If you missed the pop-up window, click here to go to the Account Setup page directly.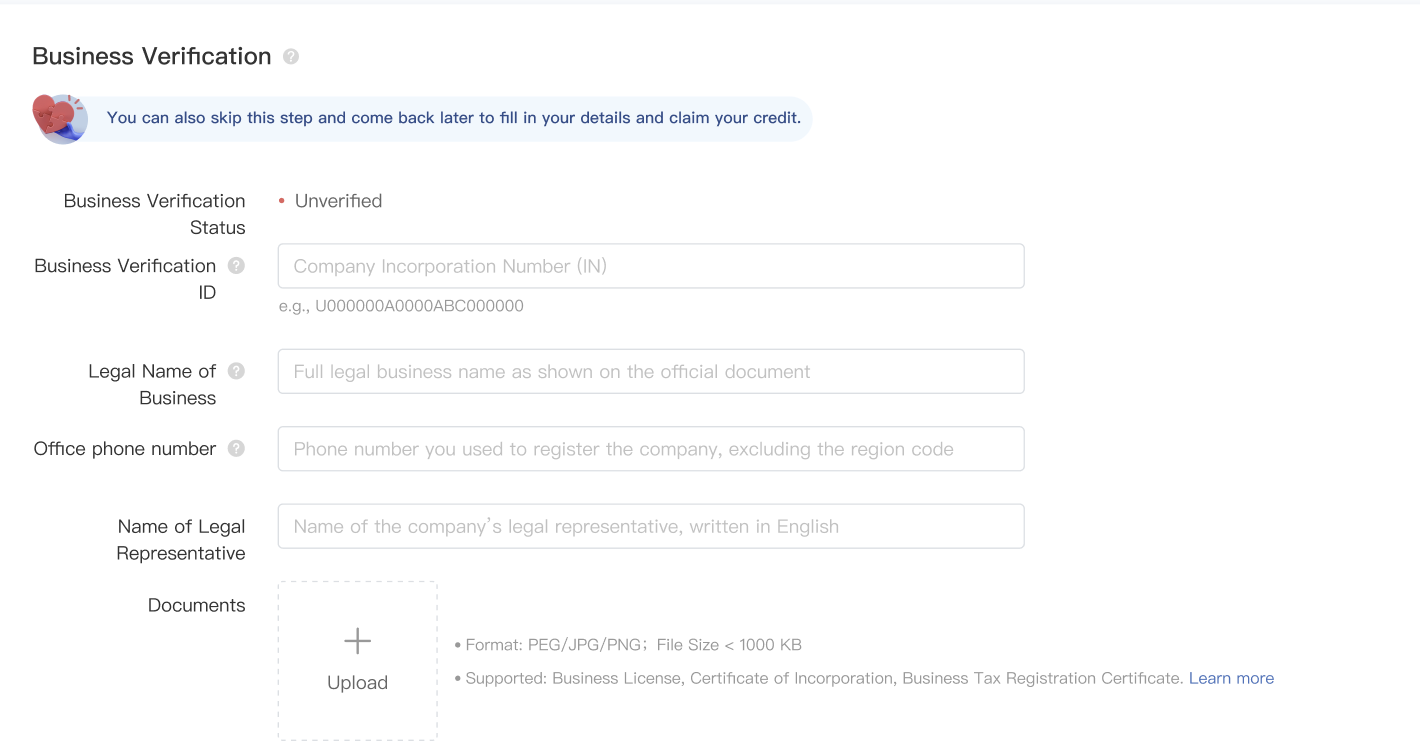 Payment Verification:
While you wait for the results of the account review and business verification, you can bind a credit or debit card to your account to complete the third requirement.

To do this, find the heart button on your dashboard and click "Get Started" for Payment Verification, you will then be directed to another page where you can enter your card information and have it verified.

How to check verification and claim ad credit
Click the heart icon on the right side of your dashboard to check your verification status.

You will see a popup with the 3 requirements for claiming your ad credits, including account review, business verification and payment verification. In this popup you will also see the status of each requirement:

Check mark for verified status

Yellow question mark for under review status
Red question mark for verification failure status


Once you satisfy all 3 requirements, you will be able to claim ad credit for your account.

Click the "Claim Credit" red button to claim your 300 USD ad credit

Top up your account, your top-up amount will be matched 1 to 1 until you reach the program limit 2000 USD.

When connecting your credit card, your ad spend (excluding tax) will be calculated at the end of your billing cycle. The equivalent amount in ad credit will appear in your account immediately AFTER the outstanding balance is paid.
What to do if you fail a requirement for claiming?
If your account review fails, go back to the account setup page, edit your information and submit it again.

If your business verification fails, go back to the business verification page and edit your information and submit it again.


If your payment verification fails, click on "Get Started" and try fill in the correct card information again and get it verified.
How to view ad credits
After claiming your ad credits, you can view the balance on the Payment page. 
Note: To get help, click on "Learn more" in the notification banner or click the red dot in the top right corner. 
How to appeal if the credit is frozen
Click on "Advertiser Support" on the top right corner of your account dashboard.

Then you will be led to the support system. Choose the "Ad Credit Questions" category.


Find the "Frozen Credit Appeals" ticket category and file your appeal with required information and documents.

For more details regarding TikTok Back to Business Program, see our TikTok Back to Business Program FAQs.
Was this information helpful?