w:730

How to flop successfully
Jun 21,2022
Emily Anderson, Global Creative Strategist, TikTok
Here's a scenario: You've posted a few TikTok videos that haven't gotten the views/reaction/overall performance you wanted. Do you feel crestfallen? Stuck? Ready to give up on the platform? No! Not you. You're tough and solution-oriented, and TikTok is on your content plan this year, so you have to figure it out somehow.
If this sounds like you, or you just want to hear more because we've captured your attention, then you're going to love our advice on how to flop successfully. (In case you don't know, "flopping" is a term popular on TikTok to describe scenarios where someone doesn't achieve the results they wanted with a video.)

Quick disclaimer: flopping does not mean failing. Regardless of views or followers or like count, trying out new formats and making content specifically for the platform is a win. Even most Creators will tell you that testing and learning are all part of the TikTok creative process.
But we're also realistic and we know you have expectations for how your content is received. So we compiled common concerns that advertisers have about performance, then wrote out advice on how to work through them. And we got input from TikTok Creator Andrea Casanova (@latinapreneur), who's also a digital marketing professional—so, yeah, she knows what she's talking about.
Are you ready to learn how to flop successfully?
Concern: What if my content doesn't get enough views?
Tip: Embrace the learning curve
We can't stress this enough: Please don't automatically take underwhelming engagement as a sign of failure. If a video doesn't get the reaction you'd hoped for, it can help you refine your strategy for next time, especially if you follow these tips.

TikTok users embrace risk-taking. 79% of users agree TikTok is a place for brands to demonstrate a bit of personality and express themselves—and that expression takes some time to figure out.
"Everyone's first 10 TikToks are definitely cringe-worthy," said Casanova.
If you do feel like one of your TikTok videos came across as uncool, don't sweat it. That probably just means it will get low views, which won't affect your image that much. Keep using the platform and finding trends, so you can try a different tactic next time. "By consuming content, you slowly become a better creator," Casanova continued.
|79% of TikTok users prefer when brands show they understand TikTok videos and don't just try to make ads
Tip: Try different angles
If a TikTok video gets low engagement, it might not be about the message—it could be about the storytelling approach. Advertisers can mitigate this by filming multiple hooks for one story. The adjustments can be small, like:
Filming a few 3-5 second introductions that grab people's attention differently
Making versions of videos that use direct-to-camera dialogue, voiceover, or no talking at all
Try two to three trending video formats or sounds. You can browse popular TikTok videos and royalty-free sounds for inspiration
The version that connects best with TikTok users will likely pick up more traction in the content recommendation system, and you'll see higher engagement as a result.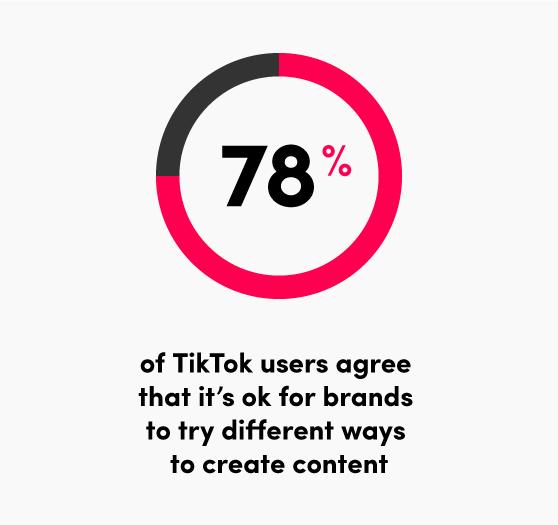 |78% of TikTok users agree that it's ok for brands to try different ways to create content
Tip: Notice what works
Casanova recommends tracking the trends, formats, and styles that you test out and noting which ones drive the best engagement. That way, you have a bank of options to choose from while crafting subsequent videos.
| 77% of TikTok users say they like it when brands use trends, memes or challenges on TikTok to create new videos
Concern: What if my content gets negative comments?
How you react to negative comments depends on what users are saying and how they're saying it. But generally speaking, there are a few best practices you can follow.
Tip: Don't turn off comments
Most of the time, turning off comments makes things worse. It can come across as cagey and potentially cause further negative sentiments among users.
"Let people vent; otherwise, if you shut down comments, they will invade all other social channels," said Casanova.
Tip: Clap back (within reason)
It can be OK to respond to negative comments, as long as your response matches the tone of the feedback.
"If it goes with your brand values and archetype, you can always comment something witty back," said Casanova.
For instance: Eugene J. Candy Co., a small candy business, posted a video about chocolate-covered sour candies—and users commented saying they were grossed out by the concept (video is at right.) People weren't taking serious issue with the video, so it felt OK for the business to like critical comments and leave lighthearted replies—especially since users enjoy it when brands jump in the comments.
| 76% of TikTok users agree that brands that post or reply to comments feel like part of the community
Tip: Acknowledge concerns—they're clues
It's often valuable to validate users' concerns, especially if their tone is more serious.
"Acknowledge that something is going on and let people in the comments know that you will be looking into the matter ASAP," said Casanova.
Negative comments aren't always a bad thing, either. They just come with the territory of being online, according to Casanova. Take note of what people are saying in comments because honest feedback can help refine your content strategy over time.

"Understand where the fire is coming from," said Casanova. "The key is self-awareness."
| 73% of users say they feel a deeper connection to the brands they interact with on TikTok vs. the other sites and apps they use
Concern: What if users create negative organic content about my brand?
There's always a chance this will happen. Here are a few things you can do to mitigate the impact of these negative videos when they appear.
Tip: Own the narrative
Build up your organic presence. If you make ample videos that talk about your brand in a happy, funny, or otherwise engaging light, then you can impact how people view the business.
| 69% of TikTok Users say they feel closer to brands who use TikTok
Tip: Work with Creators
They may have a completely different take on what's valuable about a brand. When they share that take, they diversify the number of perspectives that exist about the brand on TikTok and increase the chance that someone will find a positive video on their For You page.
| 78% of TikTok users agree that the best brands on TikTok are those that feel like they're sharing ideas and working together with users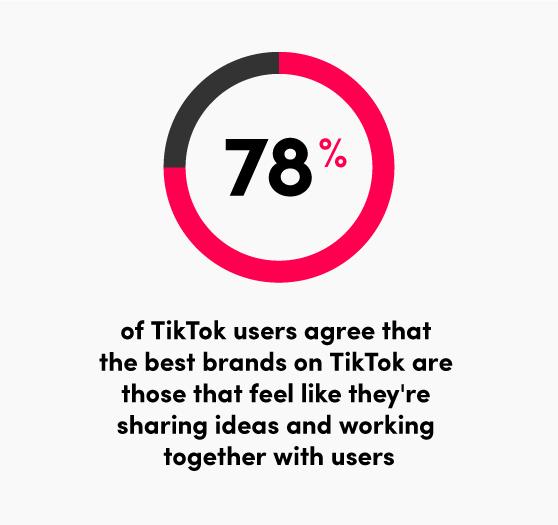 Concern: How can I run my brand account in a way that avoids flopping?
Again, there's no single right answer—it depends on your business and what you want to get from your TikTok presence. But there are a couple of things you can do that may help.
Tip: Be consistent
On TikTok, it's OK—even encouraged—to try new formats, make content about niche interests, and leverage a bevy of trends. But your core mission as a brand should be clear no matter how you tell your story.
"To create consistent content and have your brand stand out, you need to be clear on your values and beliefs," said Casanova. If your goal is to connect through lighthearted entertainment, make sure that your videos are lighthearted and entertaining—no matter which trending audio you use or Creator you work with.
"It's okay to showcase your personality and think outside the box as long as what you stand for remains part of the conversation," said Casanova.

Tip: Call on heavy users at your business
Casanova also recommends having an internal TikTok team, since this can ensure a common thread throughout content—and it helps you move fast.
"Making everything in-house is the best move. [It lets you] hop on conversations and trends in a timely manner," she said, since you have someone dedicated to the task.
Encourage that internal team to be active TikTok users. The more they observe what other people do on the platform, the easier it will be to make content that clicks with our users.
"Actively scrolling [helps you] keep up with [TikTok's] ephemeral nature," said Casanova.
Your For You page can teach you a lot about what's happening on TikTok at any given time. But if you want to see what's going on outside your FYP, browse the TikTok Creative Center, which has platform insights, Trend Discovery resources, and Creative Tools.
And if you want to learn more about storytelling on TikTok, and what our users want to see from TikTok storytelling, visit our latest Trend Story, which dives into how brands can be the #maincharacter on the platform. (Isn't that what we all want, after all?)
Source for all data: TikTok Marketing Sciences Global Community and Self-Expression Study 2021 conducted by Flamingo.