Attribution Analytics is a new tool that helps you gain deeper insight into your conversion data. We are currently in Beta and all advertisers should have access to this tool by September 2023. The first feature to roll out in Attribution Analytics is called Performance Comparison and offers you the ability to compare your performance across different attribution windows. Note that this tool only reports out conversion data and does not have any impact on optimization. The attribution window you set in Attribution Manager still determines the window of conversions we report and optimize towards in TikTok Ads Manager.
Performance Comparison will allow you to check how many additional events you would report on if you change your click-through and view-through attribution windows. You can access this feature under TikTok Ads Manager, click Analytics, select Attribution analytics.
You will be able to compare performance at three different levels:
Ad account level

Campaign-level

Ad group level
Please see details below on each level of reporting.
Performance Comparison can help you:
Arrive at the right attribution window: The number of days a prospective buyer spends shopping for a product varies by industry and using the default attribution windows does not capture the true value driven by your marketing. Use Performance comparison to help you understand how many conversions happen at various attribution windows and arrive at a setting that best suits your business.

Value TikTok Views: TikTok is an immersive video platform, and performance comparison helps you see the value driven by view through attributed conversions (1 day and 7 day VTA windows). If you are on the edge about increasing your VTA conversion, this reporting can help you see the impact this will have on your reporting.

Think beyond last click: Performance comparison data helps you understand how many users convert after just seeing an ad, and how long they take after clicking and seeing an ad to finally make the purchase. This data shows you the real impact driven by your marketing, which click-based measurement tools cannot capture.

Onboard new measurement solutions: This data can help you rethink your measurement strategy and help you lean towards alternate measurement methods like Lift Studies, Post Purchase Surveys, and Multi-Touch Attribution.
We are excited to announce that we have planned many more features as a part of the attribution analytics product that will further help you understand the true value driven by your marketing. You will see these updates roll out over the next few months. In the meantime, if you have any questions or feedback please reach out to your account team!
The entry point for Attribution Analytics is within the Analytics tab in TikTok Ads Manager.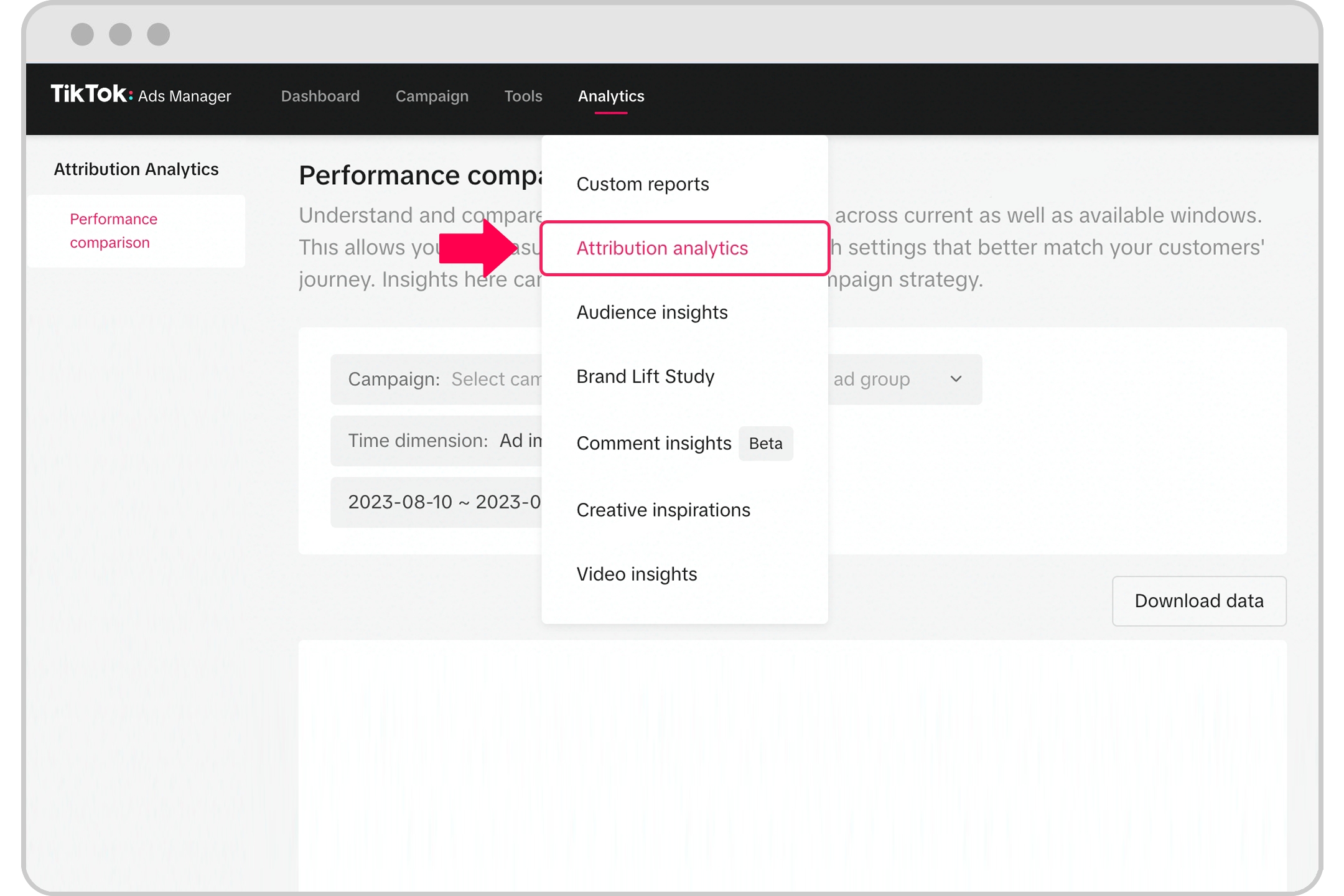 Ad account level view showing the following detail for all attributed events:
Attributed events by different attribution windows. Note that these are all attributed events we are receiving for the ad account.

1d, 7d, 14d, 28d for Click-through attributed events.

1d, 7d for view-through attributed events.

Hover over the horizontal bars to see the number of events in each window, and the % increase/decrease vs current window.

Metric for current attribution window for the ad account (set in Attribution Manager).
Select Campaign: will let you filter this data for a campaign (see Campaign-Level reporting below).

Select ad group: will let you filter this data for an ad group within a campaign (see Ad group Level reporting below).

Ad Impression time/ Real Time filter: The default selection is ad impression time which is how TikTok Ads manager data is recorded. This means the information you see is based on the time of impression. Selecting "Real Time" filters your data based on when the actual event happened (irrespective of the impression time). Use Ad impression time for comparing data with Ads manager.

Date filter: allows you to select the time range for which you want to see this data.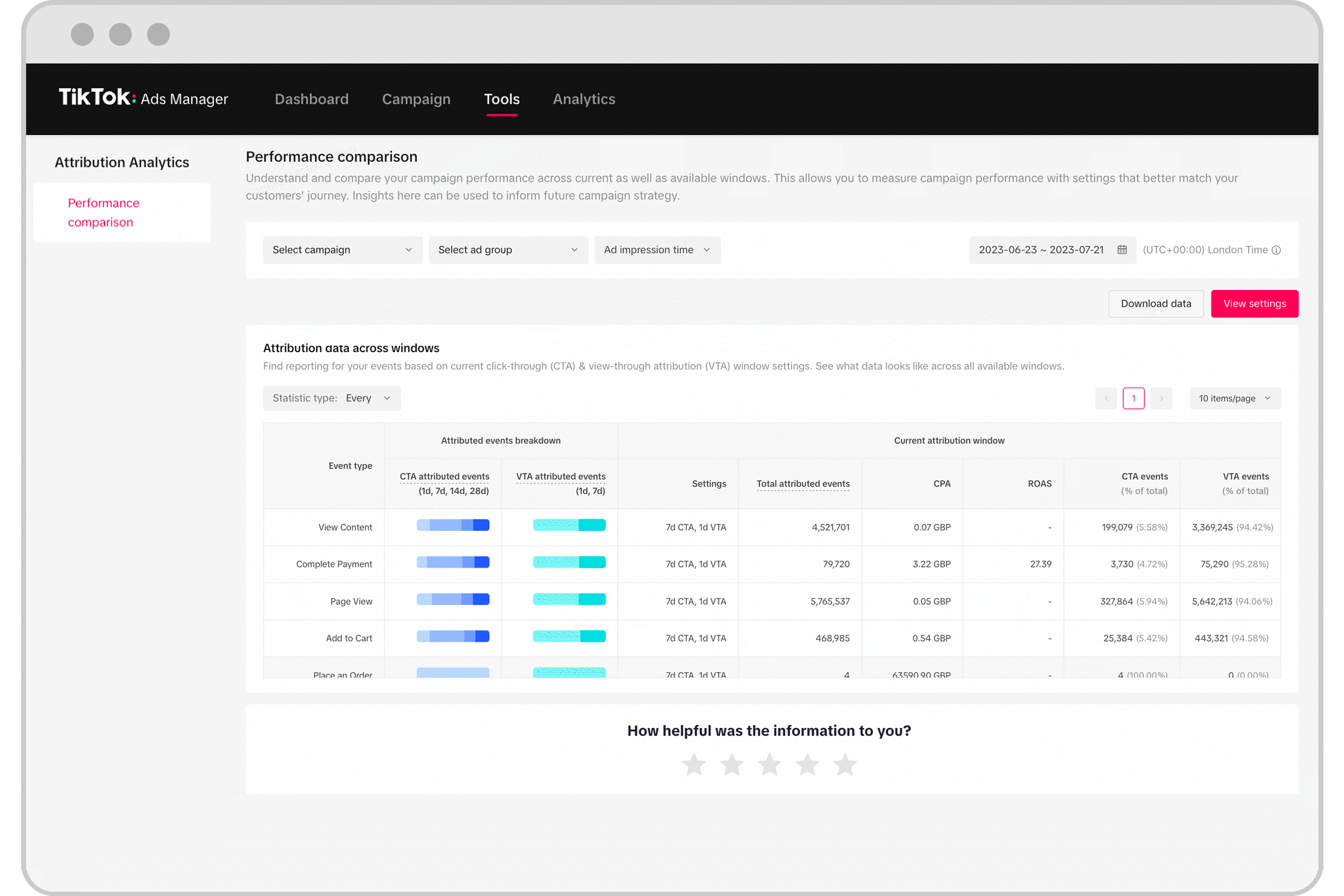 Select a campaign in the same window to generate the campaign-level view. View includes:
All the data above but at the campaign level. Note that the conversions refer to the optimization goal for the ad groups under this campaign.

Additional information in a tabular format to show the number of conversion events across a combination of click and view windows.

Visual representation of the tabular data to show the increase or decrease in conversion events with a change in window. Hover over the bars for additional information.

Use the filters to add or remove different window options.

Include CTA and VTA toggle breaks down your conversions by CTA and VTA.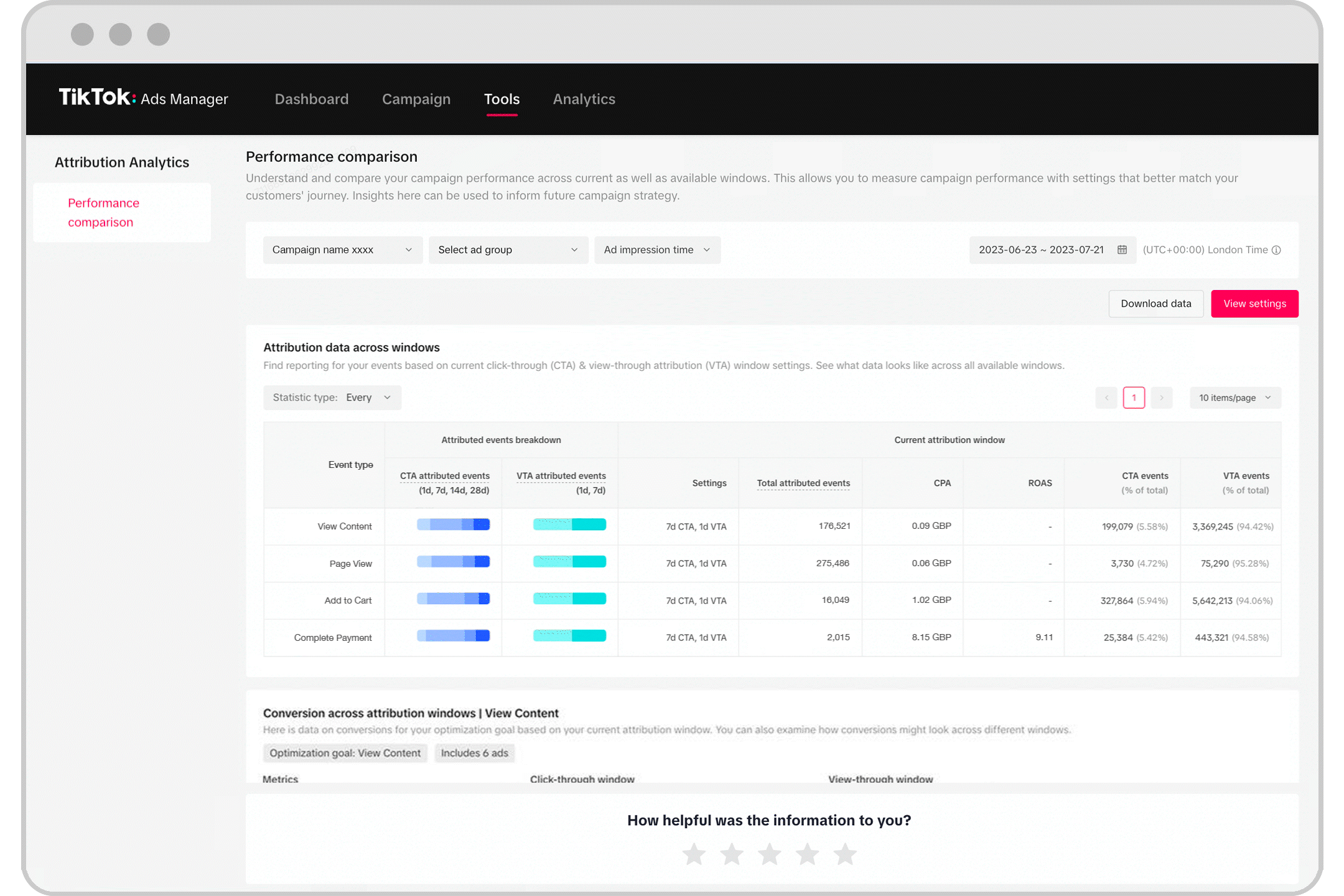 All the information above but at the ad group level. If the campaign has only one ad group, the data from the campaign level will match with the data at the ad group level.