Effective September 12, 2023, Storefront will be discontinued globally, and the service will no longer be available for use.
Here at TikTok, we are committed to building native, engaging and entertaining shopping experiences that empower you to meaningfully engage with customers and grow your business. As the retail industry changes rapidly, we are committed to enhancing and expanding our product offering to meet your evolving needs. That's why we built TikTok Shop.
TikTok Shop is an innovative new e-commerce solution that's integrated within the TikTok app. It enables brands to showcase and sell products directly on TikTok through shoppable in-feed videos, LIVE shopping sessions, and a store page. Learn more here.
TikTok Shop is an innovative new e-commerce solution that's integrated within the TikTok app. It enables brands to showcase and sell products directly on TikTok through shoppable in-feed videos, LIVE shopping sessions, and a product showcase tab on your TikTok profile page. Learn more here.
Storefront will be officially discontinued and unavailable for use. This means your Storefront products will no longer be visible on your TikTok profile, or be eligible for inclusion in short videos, LIVEs and ads. You will also lose access to your Storefront on Store Manager. It's important to migrate from your Storefront to TikTok Shop as soon as possible.
Step 1: Register for TikTok Shop (Guidebook).

Step 2: As soon as you register for TikTok Shop, your Storefront will be automatically disconnected once you complete your TikTok Shop onboarding

Please note that your storefront product list does not automatically sync to TikTok Shop. Therefore, kindly remember to upload the products to TikTok Shop manually.
We're here to help every step of the way. Join our upcoming Office Hours on Aug 2, Aug 17, Aug 31, or Sept 7 to speak directly with an Account Manager (AM) (register here). If you have questions, contact us here.
🛍️ Seamless Shopping Experience: Viewers can now make purchases directly within TikTok. It's a frictionless experience that lowers dropoff rates and turns viewers into loyal customers faster than ever before.

📊 Full Conversion Data Visibility: With TikTok Shop, the entire shopping journey takes place in-app, so you'll have complete access to accurate store performance analytics to help you make better decisions.

🚀 Reach New Audiences: The TikTok recommendation system will learn who your customers are, then automatically serve your content up to lookalike audiences, so you can find more customers, faster. Take your targeting even further with Video Shopping Ads.

🤓 Know Your Buyer: Gain full visibility and insights into your buyers and their demographics, behavior, and preferences. Use this information to improve customer engagement and loyalty.

📹 Creator Collaboration at Scale: Get access to TikTok Shop's Affiliate Program, which enables you to easily partner with creators and grow your business.

🤝 TikTok Shop Seller Success: Our AM team and best practices in TikTok Shop Academy are here to help you create better content. We also offer native integrations with e-commerce platforms and a suite of ISV partners to help you deliver bespoke e-commerce experiences.

🔥 And so much more! TikTok Shop is continuously experimenting with new commerce solutions. We use your input to drive our product innovation, with the goal of helping you get the most out of TikTok. Check out our webinar series for the latest and greatest on all things TikTok Shop.
After September 12th, all active Video Shopping Ads and Live Shopping Ads using Storefront will no longer run or be available to use.
Upgrade to TikTok Shop first. You'll be able to setup Video Shopping Ads and LIVE Shopping Ads once your TikTok Shop is up and running.
Video Shopping Ads is available in 2 formats:

With TikTok Shop: Use your native videos or your creators' videos in TikTok to power in-app shoppable ads automatically optimized for relevant people who check out your products.

With your ecommerce Catalog: Use your content to drive customers to purchase the tagged products directly on your own store, after syncing your product catalog to TikTok Ads Manager

LIVE Shopping Ads with TikTok Shop: Drive more engagement to your LIVE Shopping events and showcase your products to TikTok shoppers who are more likely to buy.
Learn more here.
Note - TikTok Shop Ads are currently in Beta testing.
The ad solutions available today are Video Shopping Ads and Live Shopping Ads driving to TikTok Shop, which take the best features of previous experiences combined with an even more powerful and seamless shopping experience than before.
Once you are fully set up on TikTok Shop, click here to get started on TikTok Shop Ads.
After Storefront is deprecated, you will no longer have access to data reporting in Store Manager, but will still be able to view historical ads data in Ads Manager. If preferred, you can still choose to export your data from the Store Manager ahead of Storefront deprecation.
Please go to your store manager, and click Export.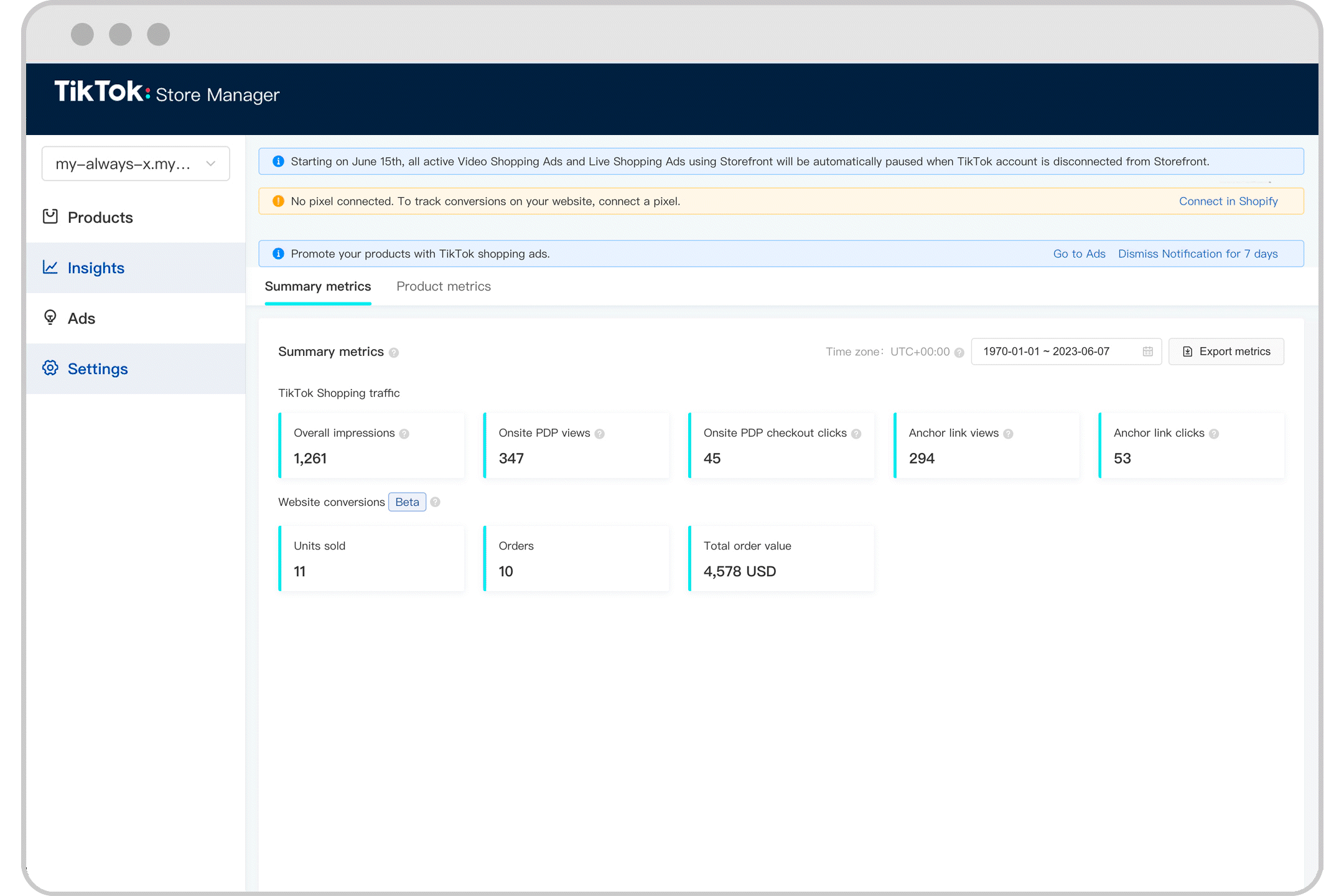 TikTok Shop is entirely contained within the TikTok app. Product discovery, product details, checkout, and post-payment activity—is powered and performed all within the TikTok App, creating a seamless shopping experience from beginning to end. Users are not redirected to third-party marketplaces.
The Standard Settlement Period on TikTok Shop is a total of 15 days from the day the order is delivered to the day funds are received from TikTok Shop for the completed order(s). This period is currently applied by default to all TikTok Shop sellers. Learn more here.
TikTok Shop Academy: We have an always-on, online education training platform designed to help you start and run a successful e-commerce business on TikTok. It contains courses, guides, videos, and more.

TikTok Shop Webinar Program: We host daily webinars highlighting best-in-class practices that will help you achieve success on TikTok Shop. No matter what you sell, we'll cover the information you need to increase your account knowledge, optimize your sales, and maintain great shop health, at 1pm ET every Monday through Friday.