Interest Targeting is a way of finding people based on their long-term interests and interaction with content on TikTok. Using Interest Targeting is a great way to find a relevant audience for your ads.
There are two types of Interest Targeting: Interest Categories and Additional Interest. You can use these categories to define the audience you want to target. Under the Unified UI of Interest and Behavior Targeting, your can find your desired user-interest in the Interest Categories by searching it in the search bar, and the system will return relevant interests.
If you are advertising an age-restricted product or service, or the content of your ad may not be suitable for younger users, it is especially important to use our age targeting options and consider the categories you target against.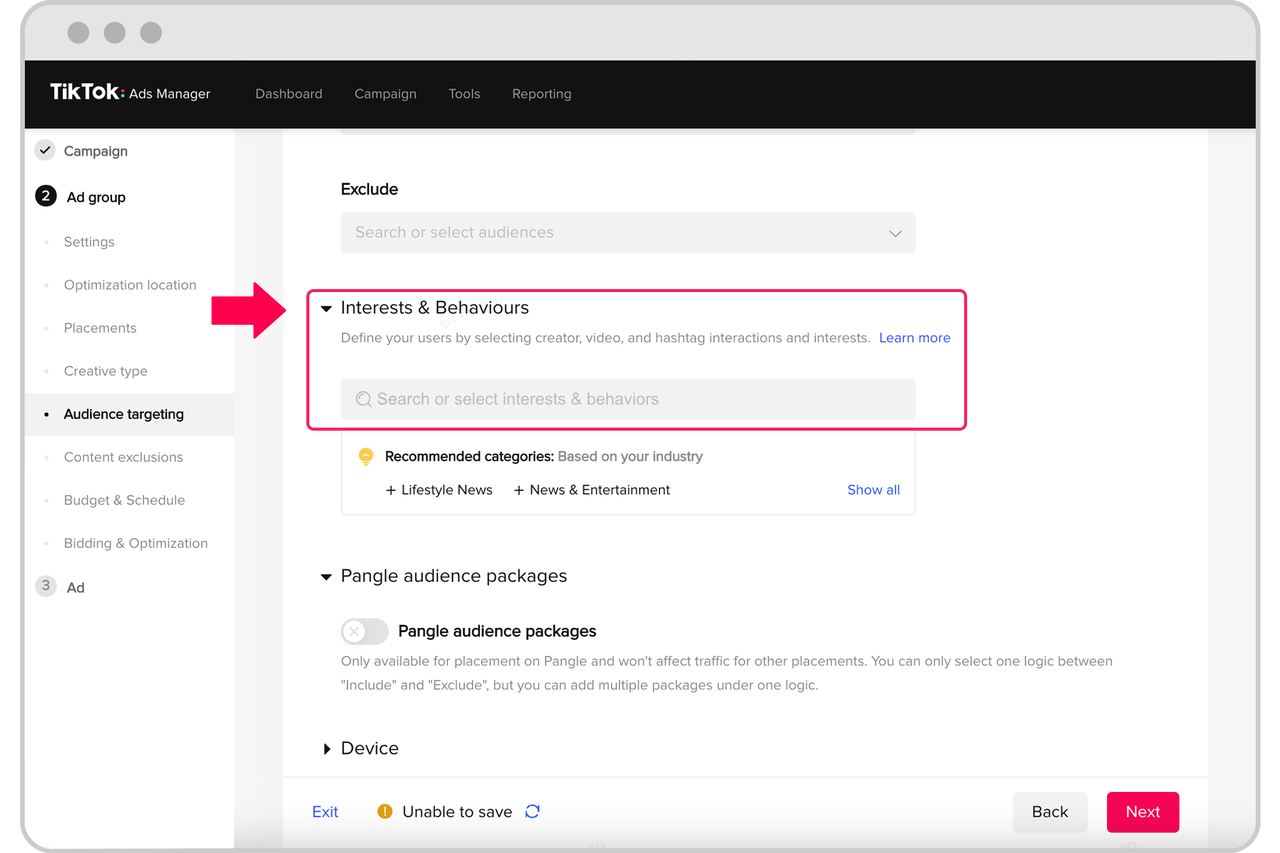 Type your search query in the search bar to find all available interest categories. Available Additional Interest categories will show based on your search query, you may find them by scrolling down the list.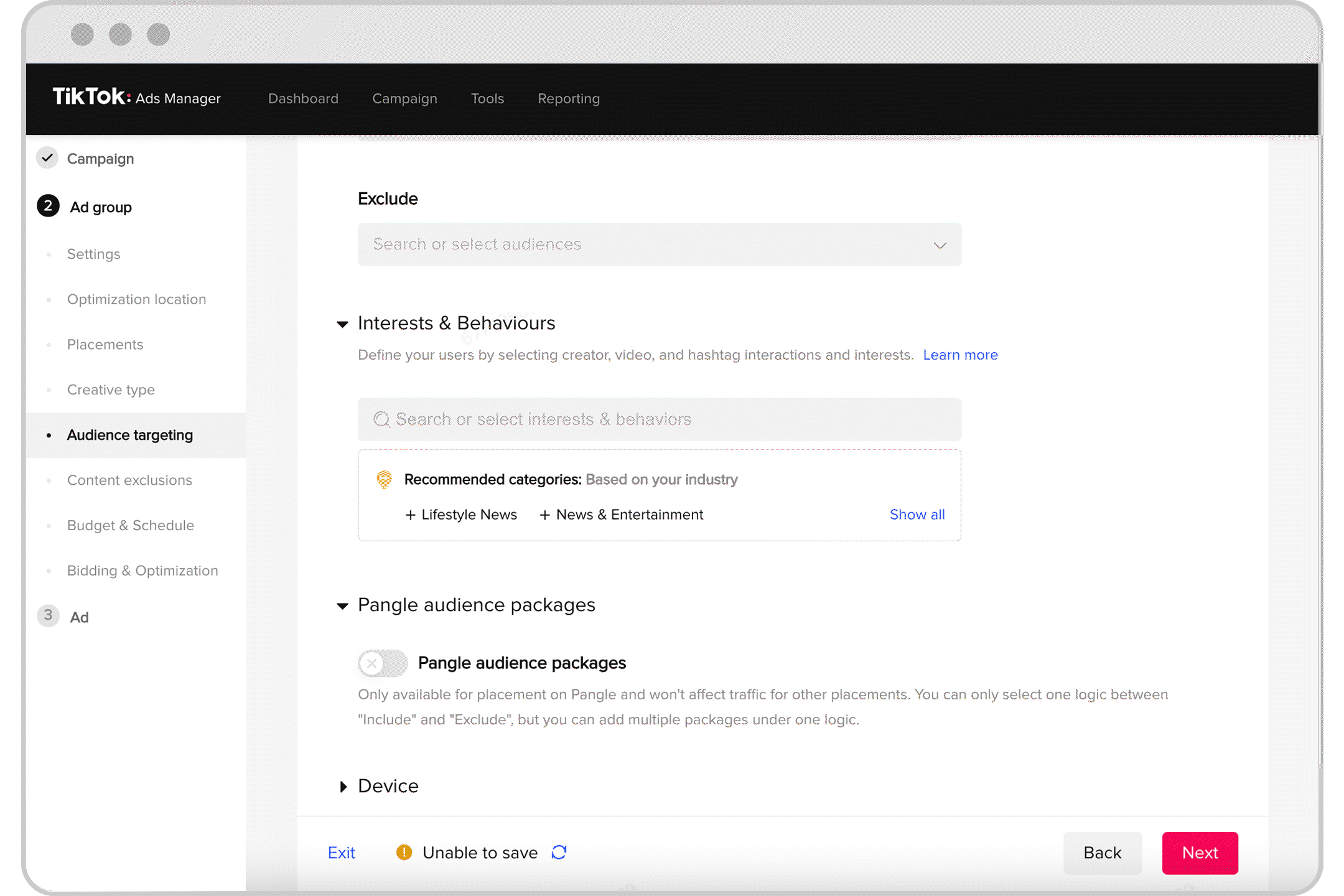 When you do not have a strong hypothesis about your target audience, we recommend using a relevant interest to your business or product so the system can help find your audience.
By selecting interest tags on TikTok according to the personas or characteristics of your target audience, you can directly reach the most relevant audience for your business.
We recommend applying multiple and specific Interest Categories to ensure you create a Balanced to Broad audience. Similarly, selecting a 1st tier interest category will help the system explore ad delivery and find the most relevant audience.
If you don't know which categories to select, you can use Targeting Recommendation and Targeting Expansion to help find the right audience.
Note: Interest Targeting is not supported on Pangle and may not filter out any people on Pangle.
User profiles can have multiple interests associated with them.
For example, if you only select Games as your target interest, the system will only deliver your ads to a user associated with the "Games" interest. However, this user can be associated with multiple interests, for example - Games and Travel.
This logic means that when a user converts (clicks or installs), the system will record all the user's interests in your report, including Games and Travel. Regardless of the number of interests a user has, conversions are only counted once in your actual billing.
Reviewing ad performance by interests is an excellent method for gaining insights about your audience and optimizing your ads. If you notice that a large share of your conversions come from a particular user interest, you have not selected previously used, adding that interest to your targeting can help your ad reach more potential users that convert!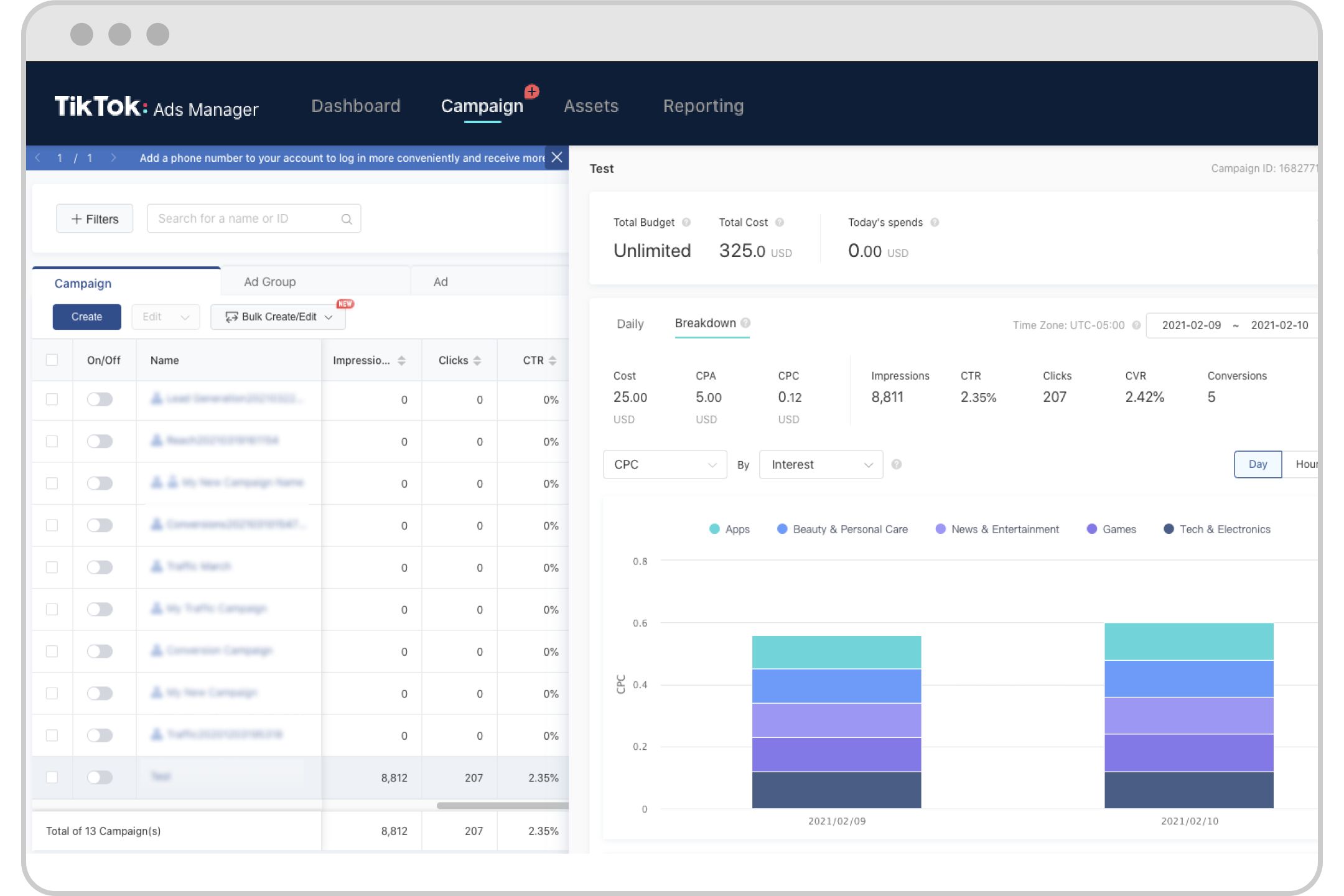 Only a select pool of keywords are available at this time. Be sure to check back for updates.