TikTok Events Manager is a workspace to manage website pixels and events, see event setup best practices, and troubleshoot setup. Technical experience is not required when using Events Manager, so you can easily use the tools provided to:
Create a Pixel: Create a new pixel by connecting your website with one of our partners or by manual installation. Learn more about creating a pixel on our Get Started with Pixel page.

Create Events: Select from a list of standard events, or create custom events, that best align with your business goals and define how they are measured. Learn more about creating events with TikTok's Event Builder tool.

Add or Edit Events: Make changes as your website evolves by editing existing events or adding new ones.

View Event Data: See how often visitors view your page and take action.

Monitor and Diagnose: Check Pixel setup, monitor and test events in real-time, or troubleshoot common issues with error messages and suggestions on how to fix.
Once your integration is set up, you can add new events or edit existing events by clicking Add Events or Edit in the pixel details page within Events Manager.
To add events to an existing Pixel, click a Pixel to reach the details page.

Click + Add events which will direct you to Pixel installation instructions.

Click your preferred integration tool and method (TikTok Pixel: Custom Code, TikTok Pixel: Event Builder, etc.) and complete setup.

When you're done, review all your events and details under the Events summary. Click Complete Setup to finish.
To edit events to an existing Pixel, click a Pixel to reach the details page.

Using your cursor, hover over an event you'd like to edit and click Edit.

Select the integration method you would like to edit the event with and follow the instructions to complete editing.

When you're done, review all your events and details under the event summary. Click Complete Setup to finish.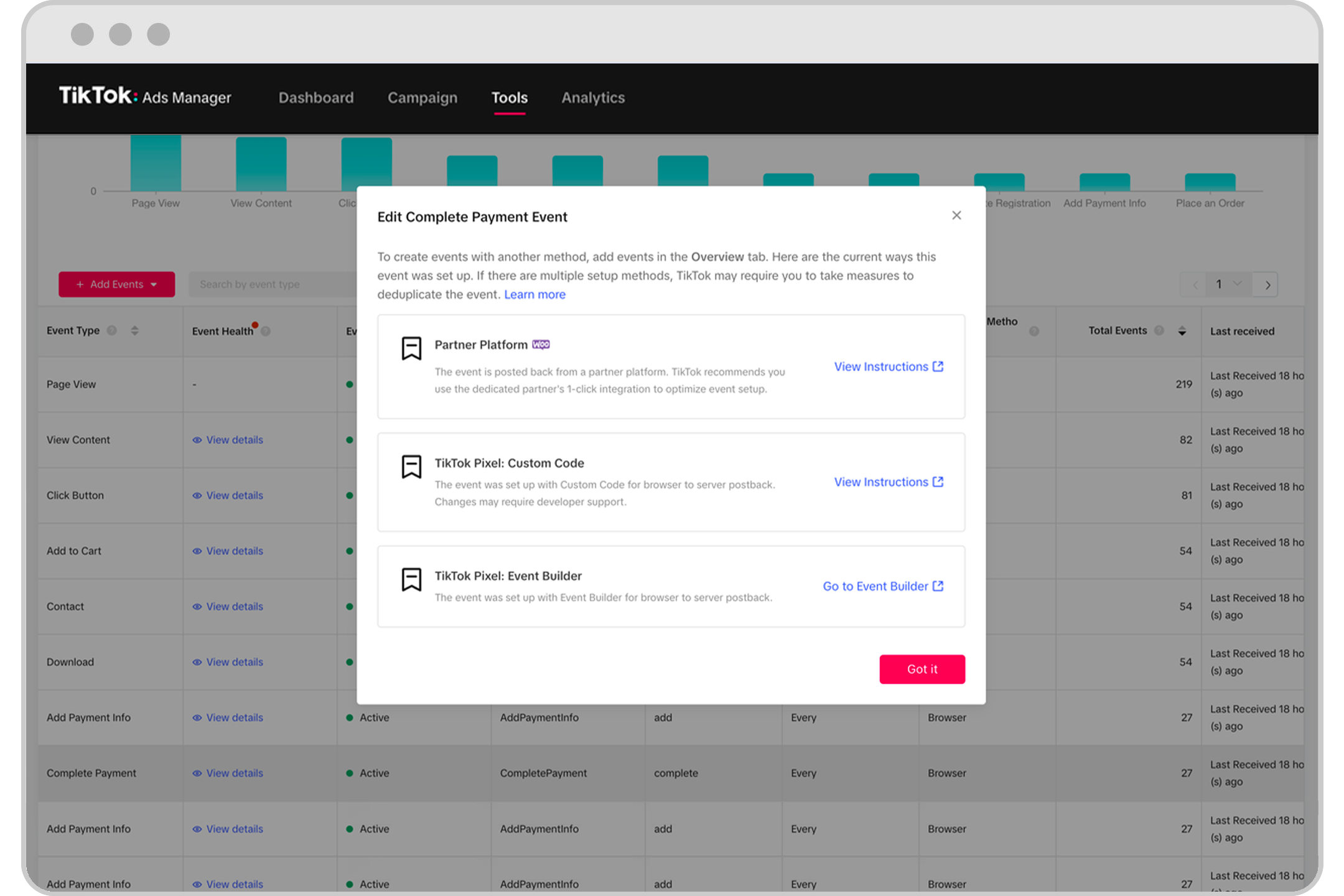 Events Manager has a number of tools to help you verify your setup including event-level health reporting and testing events in real-time to troubleshoot common issues.
Verify your integration and monitor activity with access to key metrics, such as Event Health.
The Overview tab displays high-level web event details to help you verify web measurement setup and monitor activity.
Event Type: The type of event you are measuring on your website, like View Content, Add to Cart, or Complete Payment.

Event Details: Parameter, matching, and event deduplication information. Learn more about Event Details modules below.

Diagnostics: The diagnostics column contains an icon for event_types with issues that need further attention.

Event Status: Status of the event based on activity. Active indicates that an event was shared with TikTok in the last 7 days, while No recent activity indicates that an event has not been shared with TikTok in the last 7 days.

Connection Method: Indicate if the event is shared via browser pixel or server connection.

Total Events: Total number of events (attributed and unattributed) shared with your integration method via the connection method.

Last Received: Most recent hour TikTok received the event. This can help you verify that web events being shared are being recorded by TikTok.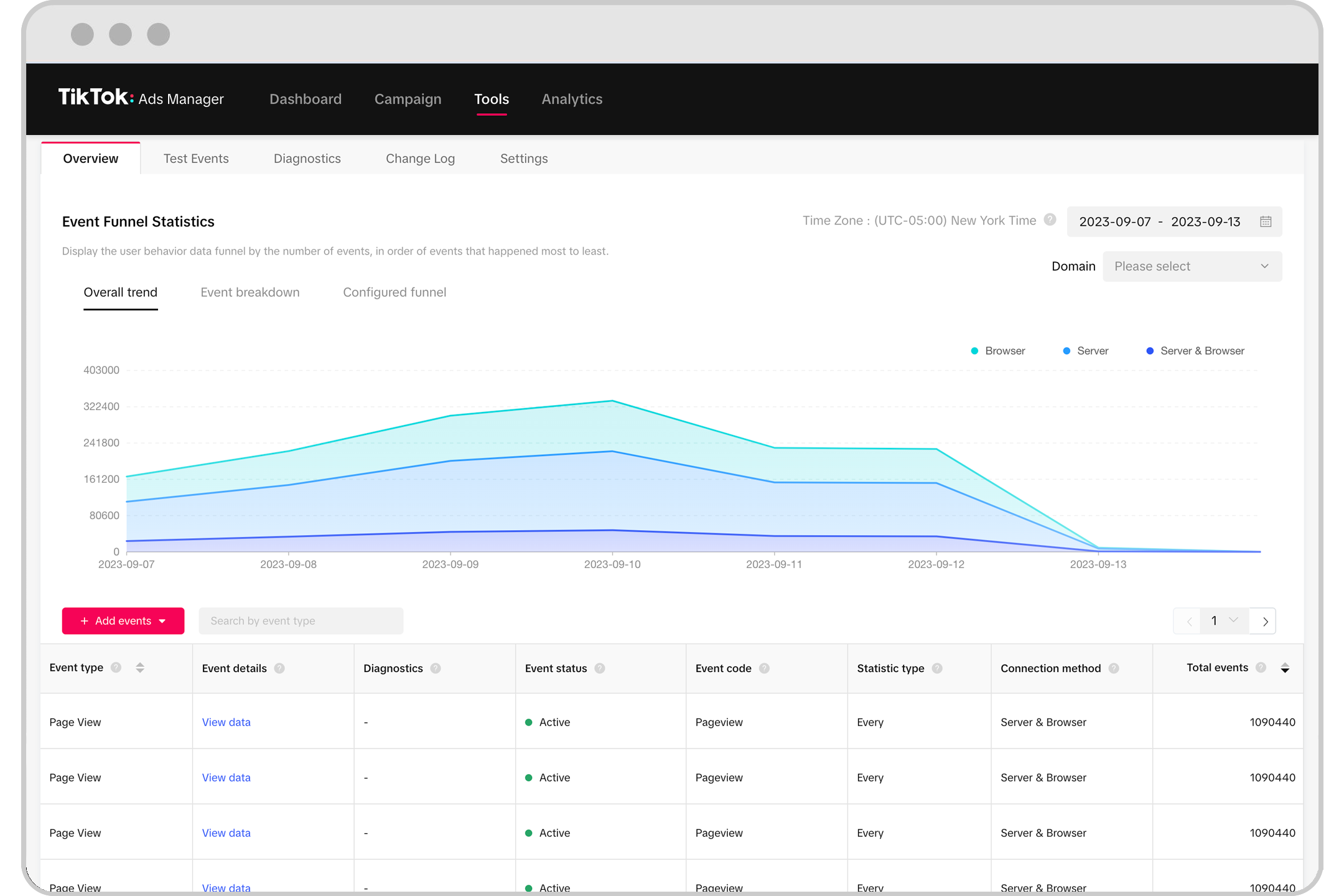 The Event Details column in Events Manager provides more transparency on parameters, matching, and deduplication health at an event level to help you improve your setup and therefore positively impact your campaign performance.
When clicking on view_data you will get an overview of the event connection method as well as parameter details and coverage issues: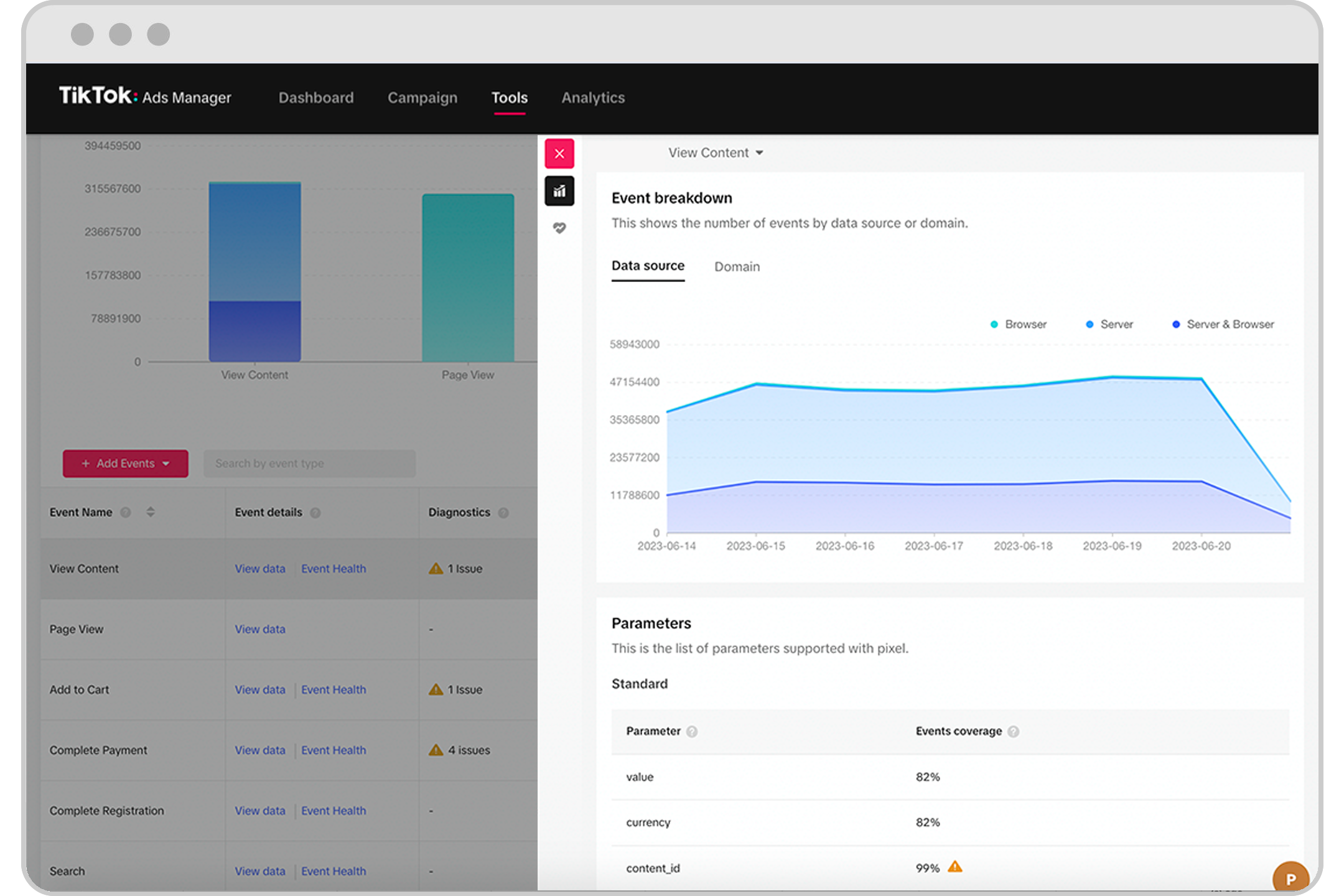 When clicking Event Health, you will see detailed information about event matching and deduplication health where applicable. There will also be recommendations, best practices, and links to relevant help center articles where you can learn more about Advanced Matching among other features.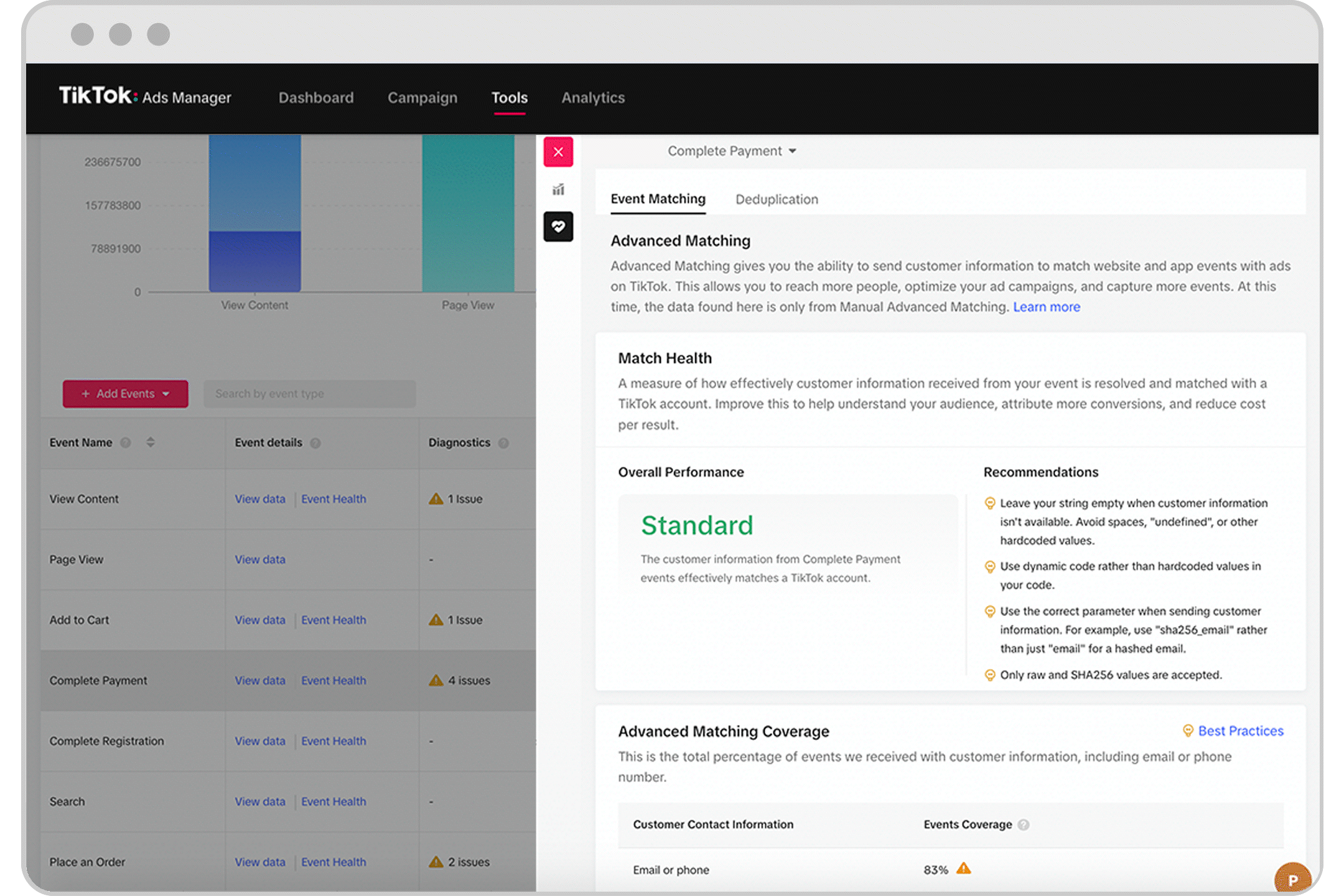 Test web events in real-time using a live test environment that mimics how your website will show up in the TikTok app. After scanning the QR code (pixel) or sending the test_event payload (Events API), you can verify events are configured and triggered as expected on your website. As each event rule is triggered, an event will be recorded and displayed in real-time, along with details associated with the event. Learn more about test events.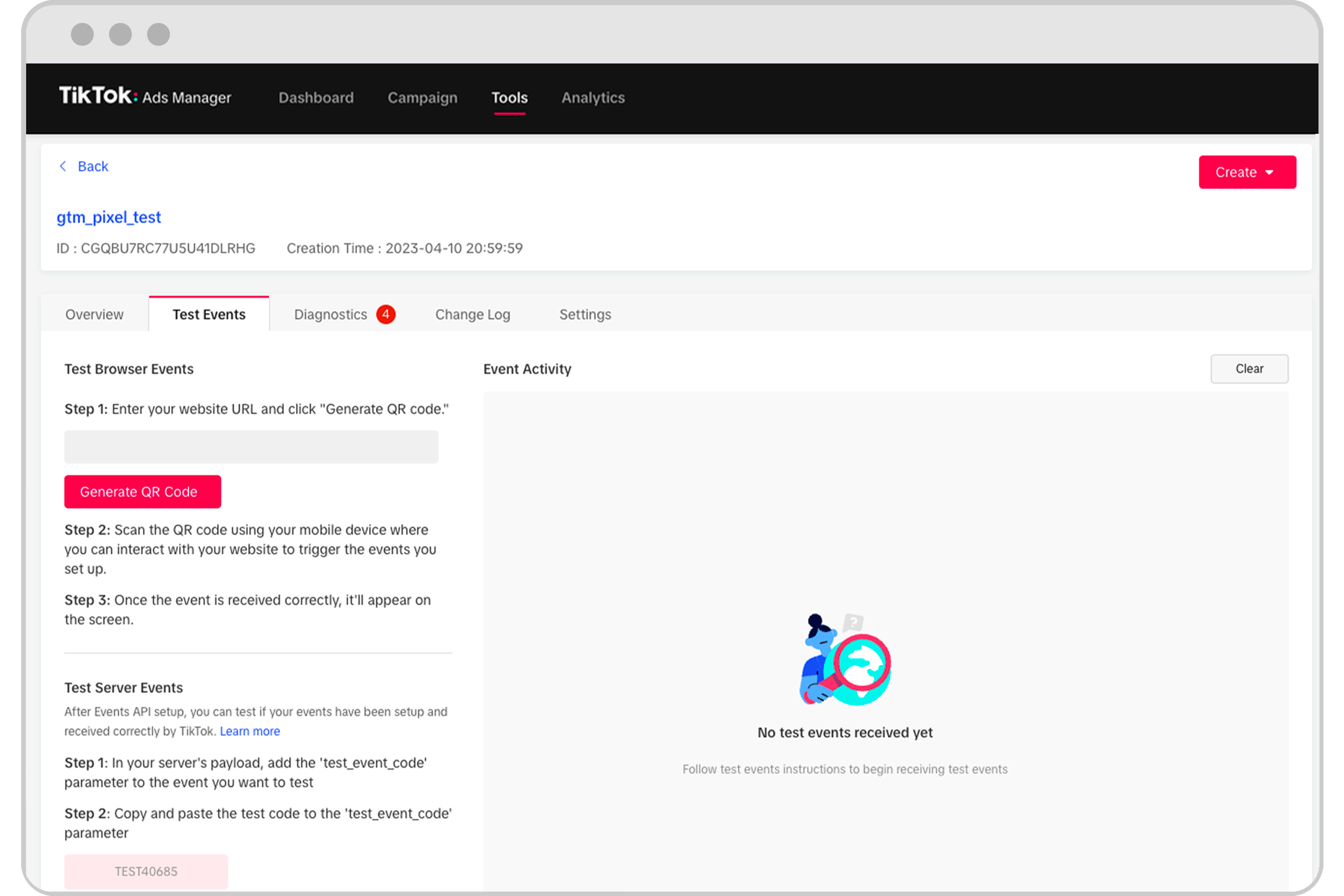 The change log is the last tab located in the Web Events details page within Events Manager. Within the change log, you can adjust the window to any previous time period which will display the following information for each change:
Time: A timestamp of when the change occurred.

Object: The name of the object the change applied to.

Activity Type: General type of change.

Activity Details: Detailed description of the changes made.

User: Name under the account of who made the change.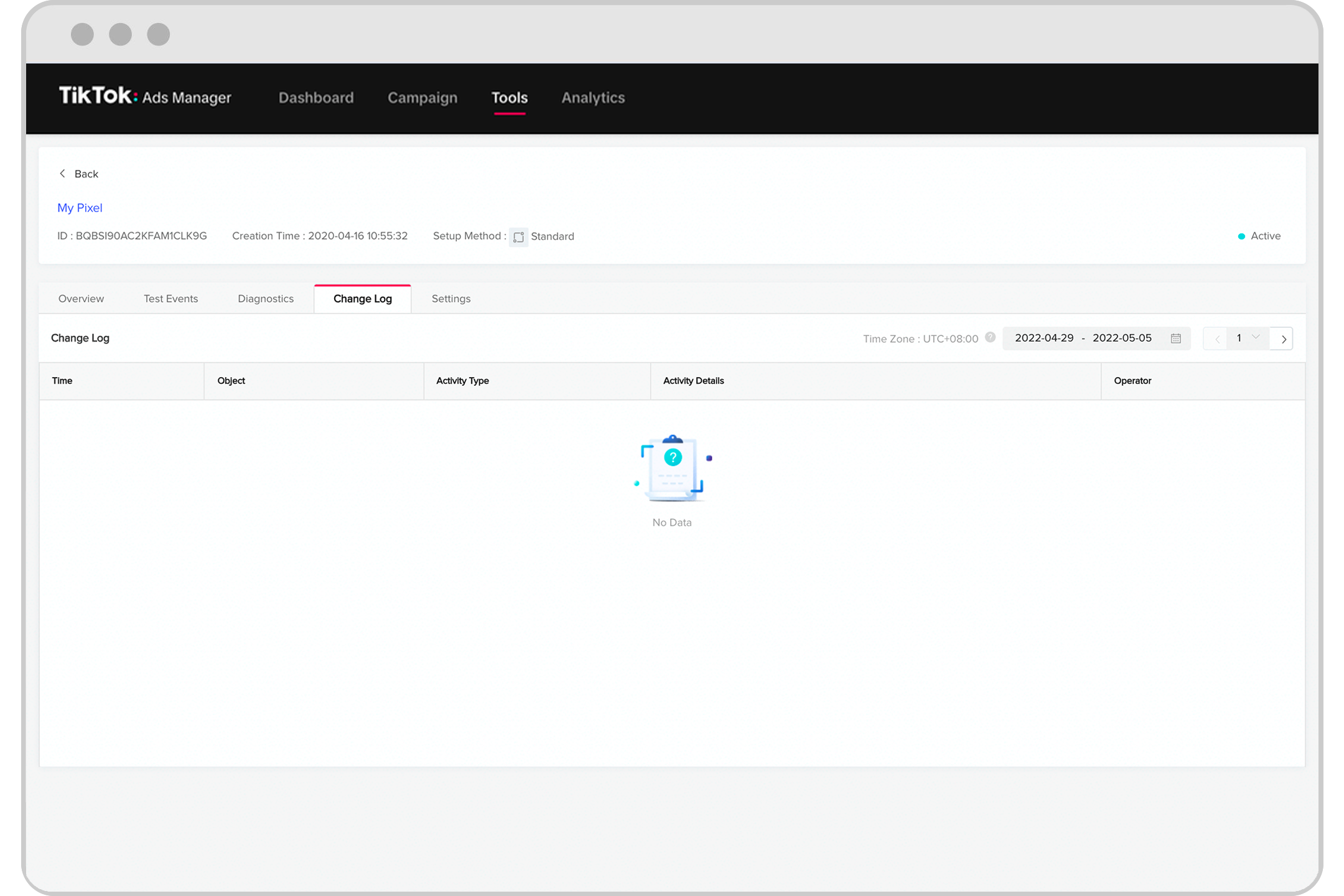 Note: For developer mode and Events API, only changes made to settings in Events Manager will display in the change log but changes made to your website code or events will not be reflected.