With any of our web attribution solutions, you can find new customers, optimize your campaigns and measure ad performance. In addition, you can track website visitor actions, like "view page" or "purchase," and create audience segments to re-engage previous site visitors or model lookalikes to find new customers. Learn more about Web Attribution and other solutions.
The TikTok Pixel is a piece of code that you can place on your website that allows advertisers to share website visitor events with TikTok via browser. The pixel might be right for you if you're looking for a solution that's already prebuilt and is easy to set up and maintain.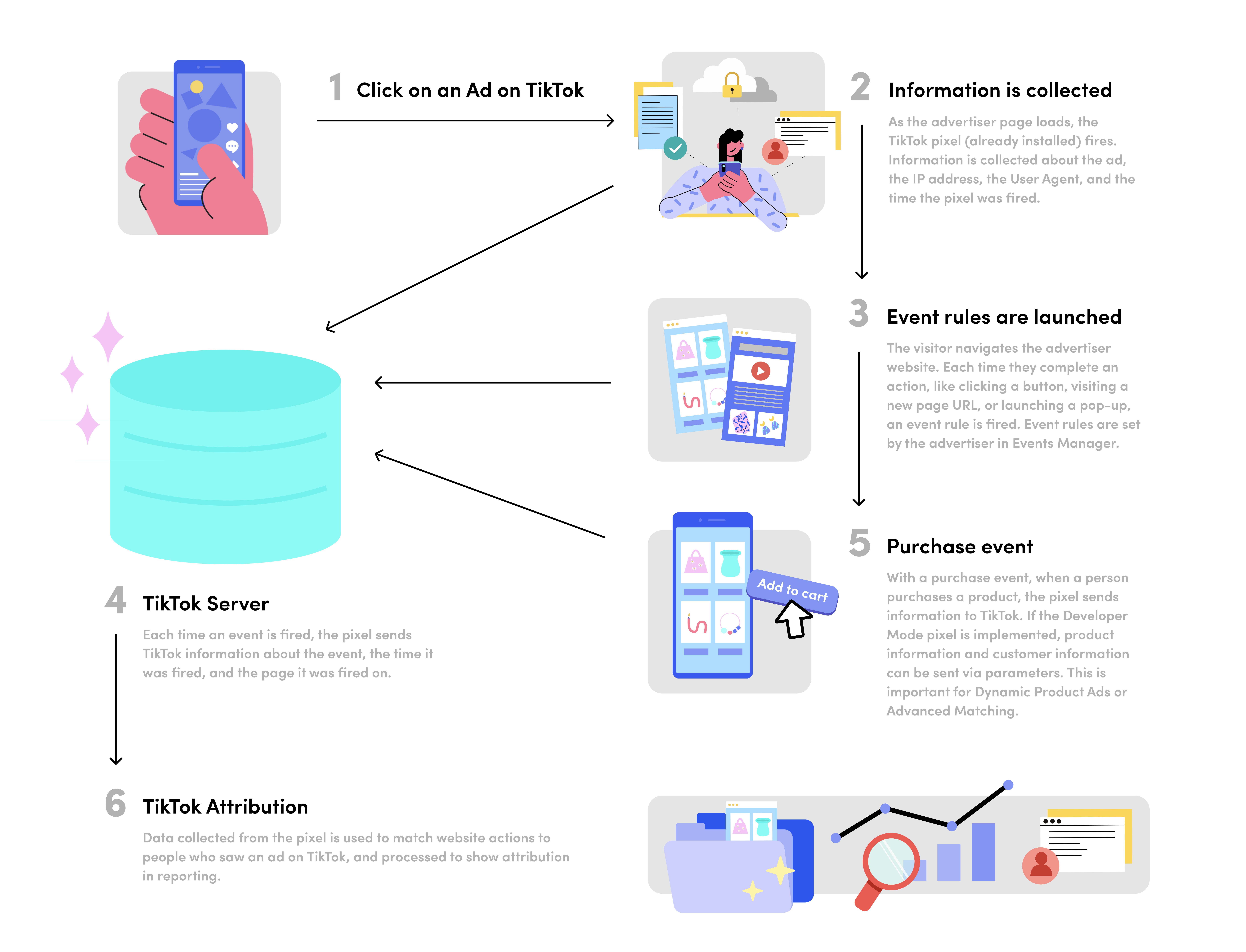 The pixel collects information available via standard web browsers, like Chrome.
​Ad/Event information: Information about the ad a TikTok user has clicked or an event that was triggered.

​Timestamp: Time that the pixel event fired. This is used to determine when website actions took place, like when a page was viewed, when a product was purchased, etc.

​IP Address: Used to determine the geographic location of an event.

​User Agent: Used to determine the device make, model, operating system and browser information.

​Cookies: First-party cookies are optional but third-party cookies are on by default with the TikTok Pixel. Cookies help the measurement, optimization, and targeting of your campaigns. Performance is boosted when first- and third-party cookies are paired with Advanced Matching. See Using Cookies with TikTok Pixel to learn more.
For more information about data collection policies, refer to TikTok Business Products (Data) Terms and TikTok Privacy Policy.
TikTok Events Manager is a workspace to manage website pixels and events, and quickly access event data. Technical experience is not required with Events Manager, so you can easily set up your website to track visitor actions with self-services such as:
​Create a Pixel: Create a new pixel in one click by connecting your website with one of our partners or by manual installation.

​Create Events: Select from a list of standard events that best align with your business goal and define how they are tracked.

​Add/Edit Events: Make changes to your Pixel as your website grows and changes by editing existing events or adding new ones.

​Monitor and Diagnose: Check Pixel setup, monitor and test Events in real-time, or troubleshoot common issues with error messages and suggestions on how to fix them.
There are two options for installing the TikTok pixel. You can manually install the base pixel code on your website or leverage one of TikTok's partner integrations.
​Create pixel: Name your pixel and select Manually install pixel code.

​Install pixel code: Copy the pixel code and add it to your website.

​Create Events: Track website visitor actions using code or with Click Events and/or URL Events.

​Test Events: Verify pixel status and test events using Pixel Checker and/or Pixel Helper.

​Create ads and view data: Link the pixel to ad groups and select an event as the optimization goal. After your campaign goes live, you can view all event data within Events Manager.
​Create pixel: Name your pixel and select 'Automatically Install Pixel Code via Partner Integration.

​Choose a partner: Connect your site by selecting a partner.

​Connect account: Install the pixel by connecting your account to the partner account.