w:730

5 Creative tips for TikTok ads that break through the clutter
In this day and age, there's fierce competition for consumers' attention. With the plethora of digital content, and the wide range of channels on which consumers spend time, marketers are scrambling to find the best ways to reach people. These days, the power is in the hands of the consumers, and in order to captivate them, it's up to brands to 1) meet them where they're at, and 2) target them with the most compelling, resonating creative.
With its dynamic community of over 1 Billion monthly active users1, there's no doubt that TikTok is where people are at, and where they go for joyful moments and interactions. TikTok's unique attention-grabbing power makes it especially conducive to noticeable, memorable advertising. On the platform, brands are embraced as members of the community, which means ads aren't disregarded as bothersome - if done correctly. Relative to other social platforms, ads on TikTok are significantly more likely to be seen and processed, and not glossed over.
A global study found that
99%

of the time, TikTok users are fixated on their screens while an ad is playing, compared to

76%

of the time on other platforms.2

It shouldn't come as a surprise that ad creative itself plays an essential role in the effectiveness of a marketing campaign. Now that brands realize the value and potential of the TikTok platform, how do they produce creative that generates results? We've consistently gotten questions from brands about how to level-up their creative. While there's no single secret formula for success, we wanted to dig deeper to better understand how different creative elements impact performance.
To get to the bottom of this, TikTok's Marketing Science team has performed a comprehensive analysis of
40+ global studies

, including measurement meta analyses, third party research, and data science projects.

We've uncovered some fundamental truths around what drives creative performance on TikTok, and distilled our findings to better guide our advertisers towards success. Note that these insights should be used as guidelines, and are not prescriptive by any means, as we're still learning along with our community. If there's one thing that's certain, however, it's that brands must show up authentically, and be willing to experiment.

When we say show up authentically, we really mean creating content that's specifically tailored to TikTok's platform and audience, if possible. Research has shown that generally, creative that's made with a TikTok-first mindset drives the strongest results for brands in terms of engagement, view-through rate, recall, and relevance. There's a lot of flexibility in what it means to "create for TikTok," and again, there's no single recipe. Ultimately, brands should aim to mirror the organic content from creators and users, to create an immersive holistic experience for their audience3.

To be more specific, embrace TikTok's unique characteristics by ensuring that your videos are: mobile-first, vertically-formatted, entertaining, sound-on, aligned with the current trends, and aesthetically authentic and unpolished.

An effective way to achieve all this is to tap into our creator community and collaborate.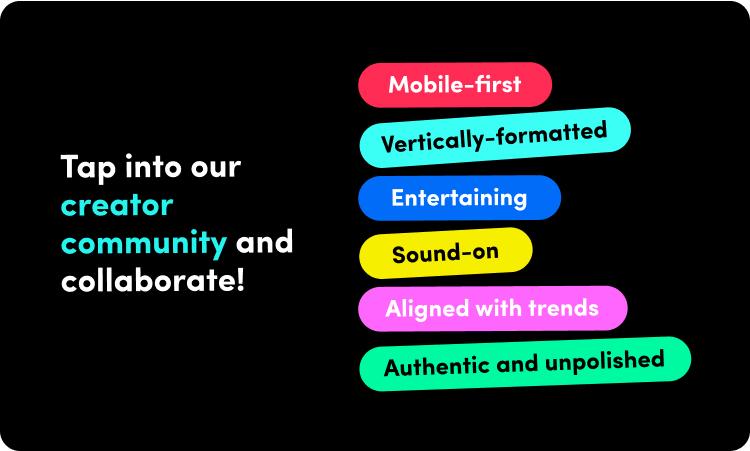 The ideal length is less definitive, but various studies have pointed to the first 2 seconds of a video being absolutely crucial, making or breaking an ad's recall and brand awareness. 50% of total impact to these metrics take place in that tiny window of time, so make sure you hook them4. Our research has found that incorporating these TikTok-specific 'ingredients,' and focusing on an attention-grabbing opening hook will lead to the strongest performance.
Let's take a closer look into these elements that make up our unique platform characteristics, and dive into some actionable tips for each:

Be more authentic with an unpolished aesthetic
TikTok users not only prefer ad content that feels native to the rest of the content on the platform, they actively notice when it doesn't. The content ends up sticking out like a sore thumb. 71% of global TikTok users prefer brand posts that don't feel too polished, and 65% say overly professional-looking videos from brands on TikTok feel out of place5. From coding 3,000+ ads that are tracked to metrics across 650 brand lift, MMx, sales lift, and store visit measurement campaigns, we found that moving from perfect TV-style content to more casually shot, less polished, UGC-friendly ads almost double media metrics (2sec watch rate, engagement rate, and average watch time)6.

Why so serious? Spark joy by making them smile or laugh
Let's be real, people go on TikTok to be entertained, and that's what they expect when they open the app. In fact, 3 in 5 users cite entertainment as their purpose for opening TikTok7, and 44% say they want to see something fun from brands - that includes advertising8! Needless to say, successful ads lean into the entertaining nature of the platform. Brands can leverage sound, ride the wave on current trends, and work with TikTok's community of creators to deliver their messages in unique, amusing ways.

Sound-on to make some noise
What sets TikTok apart from other platforms is its fully immersive user experience. 93% of users enjoy the platform with sound on9, and 88% agree that sound is integral to the overall app experience10. These high numbers say it all. Sound is a powerful sensory tool that is a must-have for ads, since it's effective in helping the creative break through the noise and capture attention. In fact, we've found that users are 15% more likely to skip an ad that doesn't have sound11. We'll go a bit deeper on the nuances around sound in upcoming blog posts within this series, so stay tuned! In short, don't underestimate the power of sound.
Explore the Commercial Music Library for free and accessible commercial music

Top of trends, top of mind
What's trending = what's currently going viral or hot at the moment. Make the most of these while they are top of mind for your audience. Brands that jump on trends are better liked, and their ads are watched for longer. 77% of TikTok users say they like when brands leverage trends, showcase memes, or start participatory challenges on TikTok5. If brands go a step further and add some creative flair, research has found that ads that feature a remixed trend experienced a 14% boost in watch time12. Aligning your content to current trends and riding their waves is an easy way for brands to show that they're listening to and involved in the TikTok community. Bonus points for brands that can start their own trend for users to join in on!
Check out Creative Center's Trend Discovery tools to discover what's resonating with your audience.

Say hello to your new best friends - creators
Creators know the platform inside-out, and many have already gained the respect and trust of the community. Why not have a true expert from your vertical help get your brand out there? They can serve as mentors, help build connections, and drive results. Hello, new besties! TikTok users actively want to see brands partnering with creators, and it's proven to have a massive positive impact for brands, both tangibly and perceptually. 78% of TikTok users like it when brands interact and collaborate with regular users, not just celebrities5. Plus, creators can help shift brand perception for the better. After viewers watched creator-made branded content on TikTok, brand perception increased across descriptors like 'easygoing' (+8%), 'down-to-earth' (+7%), and 'like you (relatable)' (+7%), strengthening brand favorability by +24%13. Last but not least, creators can play a critical role in influencing purchase decisions. Of course, you want the results that matter - conversions. Purchase intent can get a +17% boost after users view ads from TikTok creators13. There are countless reasons to collaborate with creators, so what are you waiting for?
Check out TikTok Creator Marketplace, browse and search for over 800,000 qualified creators across 24 countries. Contact creators, manage branded content campaigns and outsource creative production all in one place. Check out TikTok's branded content policies here!
Creating for TikTok is always the gold-standard, but we understand that not every brand has the time or resources to produce brand new creative for each campaign and channel. If you have no choice but to repurpose creative for TikTok, creative storytelling is something that should be prioritized, to remain in line with TikTok as an entertainment platform. An analysis on repurposed ads on TikTok found that a good storyline drove stronger search intent, and creativity had the biggest impact on purchase intent[3]. If possible, reformat vertically to fit with TikTok's mobile-first, immersive nature. Vertically reformatted ads saw a +44% uplift in ad recall and an +8% boost in purchase intent[3].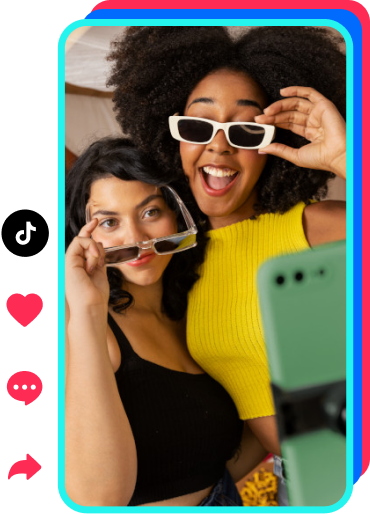 Explore our free online tools on Creative Center to optimize your next ad on TikTok.
In summary, there's no single formula for what a successful TikTok ad must look like or include. The possibilities are endless and exciting, and we encourage brands to find their flair. There's a wide spectrum of effective creative that comes in all forms, and brands should take the time to experiment to understand what works and what doesn't for them. The good news is that TikTok users are forgiving, accepting, and embracing. In the same way that creators get several chances to fine-tune their content, brands are met with that same openness.
What we do recommend is creating with a TikTok-first mindset as much as possible, by incorporating the 'ingredients' above for maximum effect. We hope these findings around what drives creative performance will help you skyrocket your success on the platform, and produce consistently impactful creative that resonates. Depending on your specific campaign objectives, there are certainly nuances within each creative component. Stay tuned for future blog posts where we'll dig even further into the creative elements! For now, we hope this serves as a helpful guiding north star.
Sources:
TikTok Internal Data, Global, Sep 2021
TikTok Marketing Science Global Ad Attention and Brand Building Study 2021 conducted by Neurons
TikTok Marketing Science [US,UK] Understanding the strength of TikTok ads 2022, conducted by Magna
TikTok, "Creative Guide: Driving Brand Equity", 2021 (TikTok "Value of a view" analysis)
TikTok Marketing Science Global Self-Expression and Community Research 2021 conducted by Flamingo
TikTok Marketing Science US Kantar Creative Coding Research 2022
TikTok Marketing Science US Kantar Creative Coding Research 2022
TikTok Marketing Science, Global Retail Path to Purchase Research 2021, conducted by Material
TikTok Marketing Science, US Music Perceptions Research 2020, conducted by MRC Data (formerly Nielsen Music)
TikTok Marketing Science, US Cross-Platform Sound On Research 2021, conducted by Kantar
TikTok Marketing Science, EU Music in Ads Research 2021, conducted by Hotspex
TikTok Marketing Science US SMB Creative Effectiveness Study 2021, conducted by Lumen
TikTok Marketing Science Global Creators Like Me Study 2021, conducted by Hotspex
*Neither TikTok Inc. nor any of its affiliates, or its or their respective directors, officers, employees, or agents ("TikTok") make any representation or warranty, express or implied, in relation to the accuracy or completeness of the information contained in this document, and accepts no responsibility, obligation, or liability in relation to any of such information. TikTok expressly disclaims any and all liability which may be based on this document and any errors therein or omissions therefrom. TikTok undertakes no obligation or responsibility to update any of the information contained in this document. Past performance does not guarantee or predict future performance.