w:934

The TikTok shopportunity: How the FYP is the new shopping mall
Oct 10,2022
Emily Holler, Global Brand Strategist, TikTok For Business
The booming e-commerce industry is no new concept, but the way it comes to life on TikTok is ushering in an entirely new era of shoppable entertainment.
Online shopping has been around for decades, and its speed and convenience made it an especially appealing way of life during COVID-19 lockdowns. But innovations across the landscape were missing the mark on what consumers were craving in their e-commerce experiences: entertainment.
On TikTok, that gap is being filled at every stage of the e-commerce purchase journey. Our platform brings the joyful experiences of window-shopping and treating yourself straight to users' fingertips, and it's encouraging them to show up in the checkout lane time and time again.
Employee of the month: Entertainment
Since the introduction of e-commerce, consumers have gravitated towards online purchase journeys to spare themselves the time and energy it takes to roam crowded department stores and expansive shopping centers. But TikTok's unbeatable entertainment value offers them the same convenience with more joyful and more satisfying results.
Creativity on TikTok as standout storefronts
By entertaining and inspiring users, TikTok has become a dominating source of discovery. The creators of our platform show up on the FYP through unboxing videos, tutorials, and hauls that give genuine context to products and brands. These unscripted, authentic videos bring products to life through the voices of everyday people on TikTok. Trends—which are arguably the lifeblood of what powers entertainment on TikTok—spark creative formats and storytelling driven by sound that allow brands to leverage the TikTok community's culture of connection. When you speak our users' language, you reap the benefits of feeling more accessible, relatable, and relevant to them.

Journeys that go past the check out lane
And when the magic of discovery on TikTok leads to a purchase, the joy and creativity only continue. Our users are eager to show off the products and brands they find on our platform, and they want the community to be in on their new finds—no #gatekeeping, only content that invites more and more consumers onto TikTok's e-commerce journey.

A place for everyone to set up shop
For brands, there are no barriers for entering TikTok's e-commerce opportunity. Across all verticals, consumers are finding influence from their FYPs, Discover Pages, and Following Pages on TikTok, and they're putting their trust into creators, brands, and the ads they see. For the #fashiontok community, verified creators are the most influential in driving them to the check out lane. For tech consumers, organic content from brands hold the most power. And for personal care consumers—think #skintok and #hairtok—ads on TikTok are driving purchases in a big way.

Let us do the heavy-lifting: Introducing TikTok Shopping Ads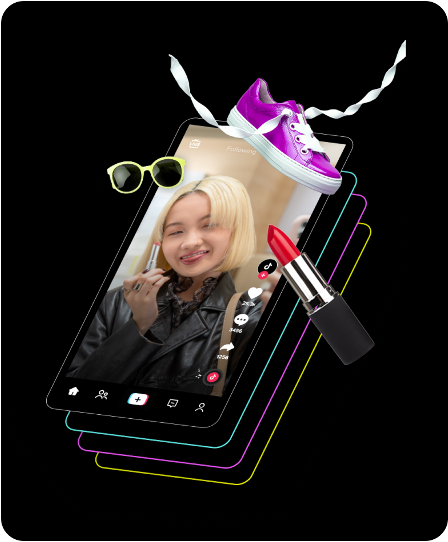 As the shopportunity has continued to rapidly and organically grow on TikTok, we've been keeping up. TikTok Shopping Ads are our new solution for advertisers to meet consumers at any stage of the purchase journey with shoppable, entertaining content that drives sales—all within the TikTok app. Adopt and combine three different formats—LIVE Shopping Ads, Video Shopping Ads, and Catalog Listing Ads—to get your brand's shoppertainment journey started.

Shop till you drop your next great TikTok with these tips

Keep up with the platform's ever-changing trends to show up natively to users

Give tutorial videos a try to show your product in action and drive authentic discovery

Partner with creators to learn from their expertise and merge their community with your own
Sources:
1. TikTok Marketing Science Global Ecommerce Study 2022 conducted by Material
2. TikTok Marketing Science EUI Ecommerce Vertical Research 2022 conducted by GIM
3. Internal TikTok Data, August 2022
4 TikTok Marketing Science Global Shopping Ad Products Study 2022 conducted by Material
*NOTE: For detailed information about TikTok's branded content toggle and our policies regarding what can be posted as branded content on TikTok, please refer to our Branded Content Policy.