w:731

Box Office Hit: Movies & Television on TikTok
Mar 28,2022
Emily Holler, Global Brand Strategist, TikTok For Business
At the center of entertainment, social media, and culture is TikTok — the platform where trends take off and go viral when backed by joyful and engaging content, so it's only natural that content focused on the latest movies and TV shows thrive on our platform. From behind-the-scenes looks into the making of big- budget films, to makeup looks inspired by what audiences are binge-watching and streaming, TikTok is where what's climbing the ranks on the big screen shows up natively on our platform's small screen.
And the Award for Growth Goes to... News & Entertainment Content
From cooking to fashion, there's a side of TikTok for everyone, and the For You Page algorithm curates a personalized and relevant stream of content for our users that aligns with their interests.
In 2021, views for News & Entertainment content grew steadily throughout the year, as users came to TikTok to discuss, create, and engage with content about last year's biggest on-screen cultural moments.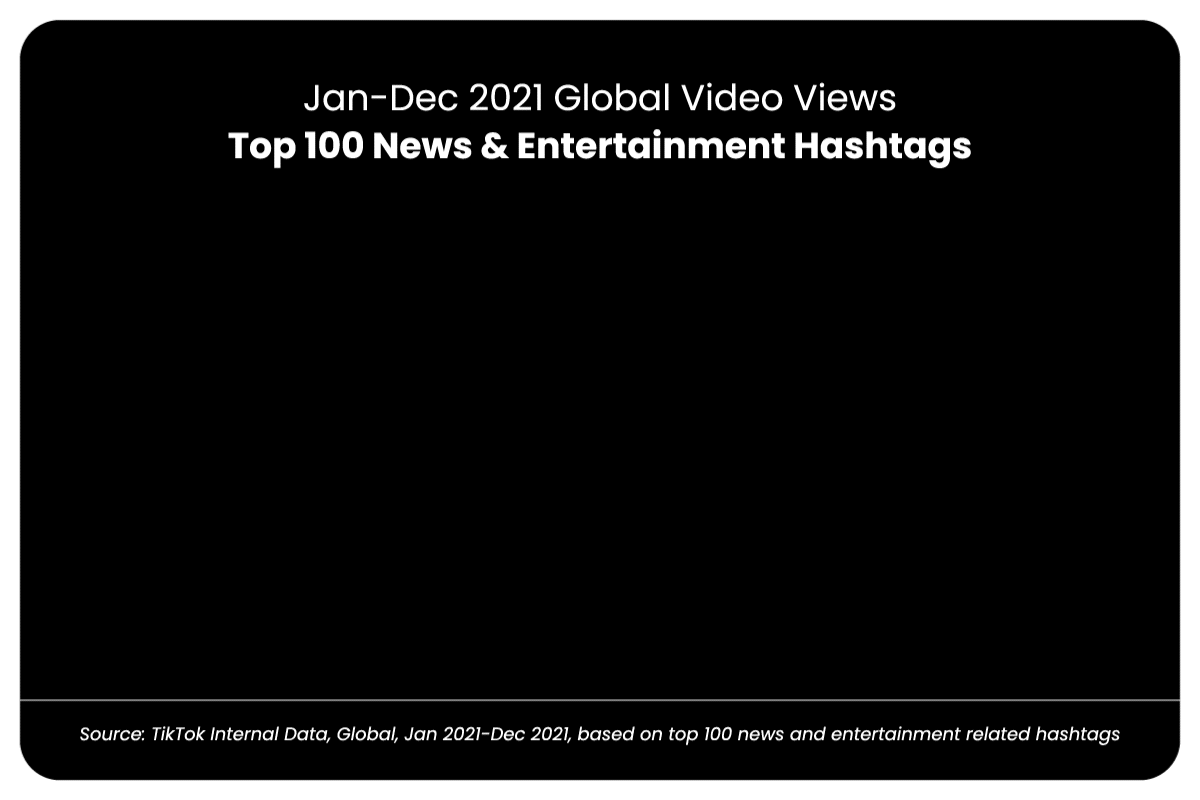 Lights, Camera, Action on TikTok
On our platform, discovery is fueled by the For You Page algorithm, which feeds our users hyper-personalized content based on their interests and preferences. When it comes to entertainment, 52% of our users say they've discovered a new actor, movie, or TV show on TikTok1, but it doesn't end there. Our users create content, spark conversations, and drive engagement about the movies and TV shows they find.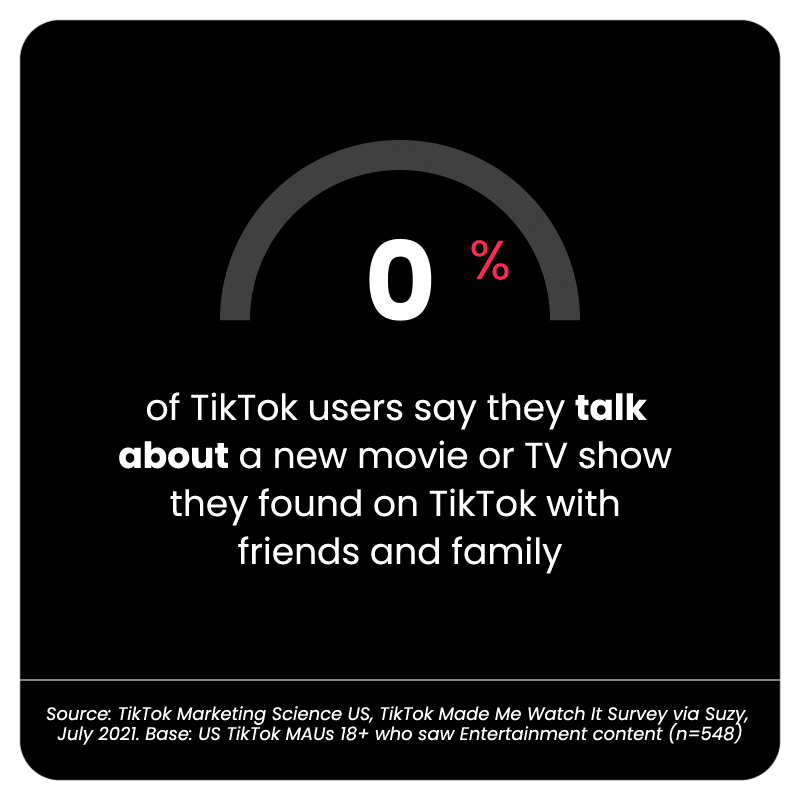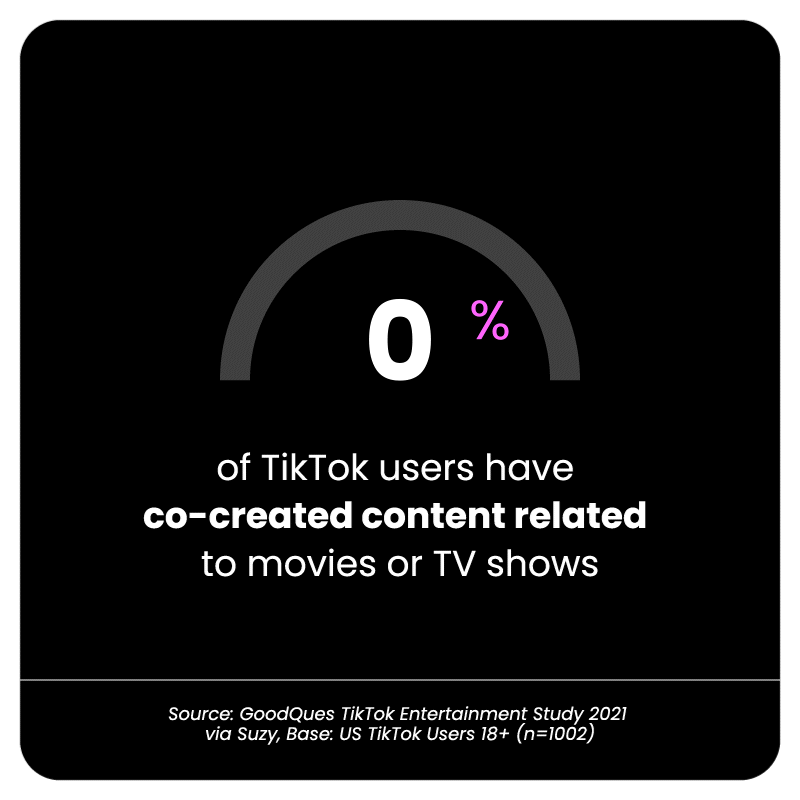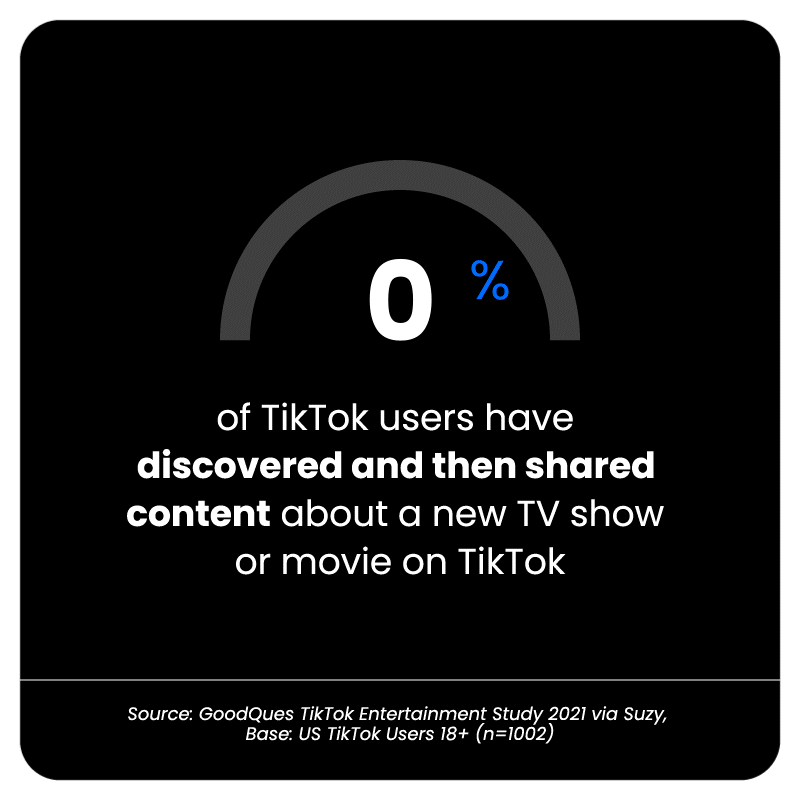 From the Couch to the Cinema, Our Users are Watching
Outside of the app, our users are watching the movies and TV shows they discover on TikTok. When they discover new entertainment content on TikTok, 29% of users say they stream it2, and 25% say they buy a ticket to see it live/in a theater3.
They're inspired to check out the latest trending movies and TV shows, which is made clear by the billions of views amassed by 2022's biggest entertainment hits.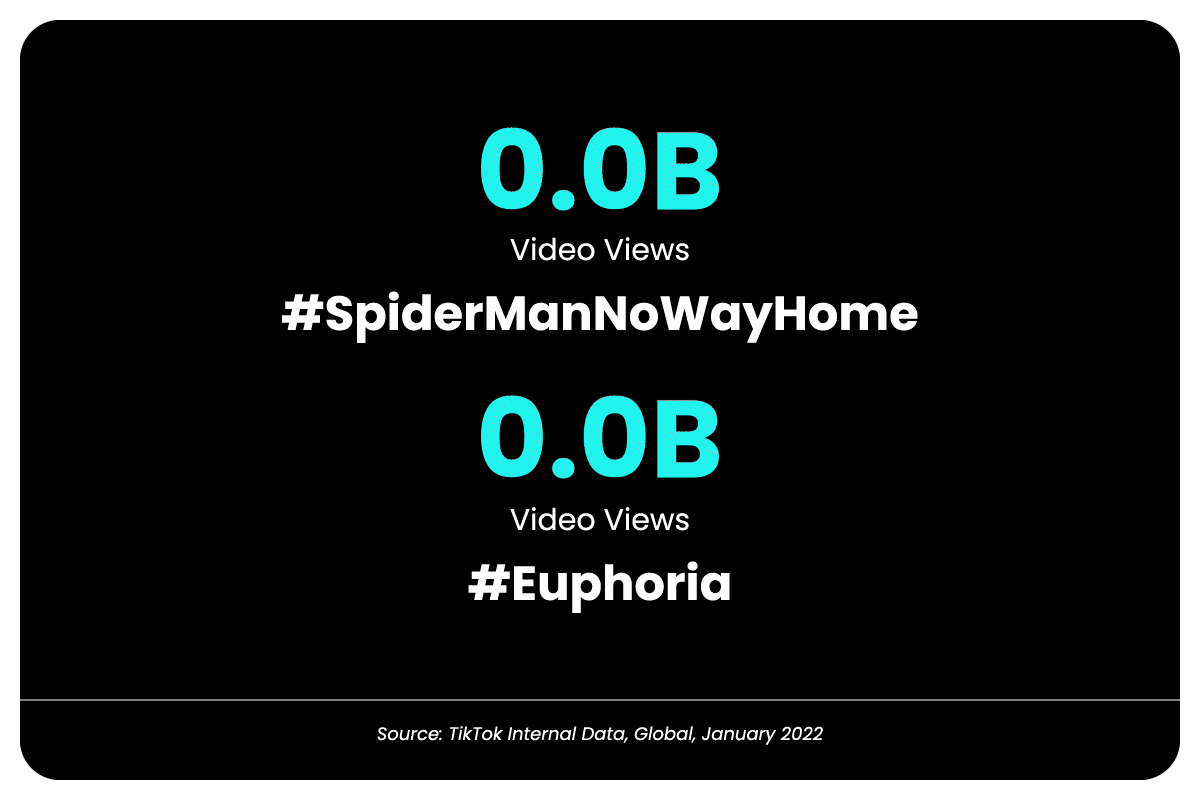 But They've Put TikTok in the Director's Seat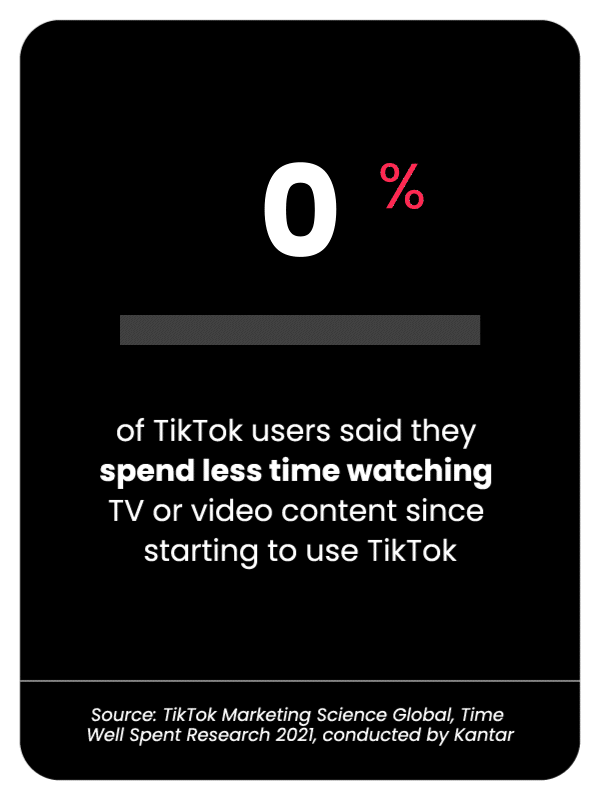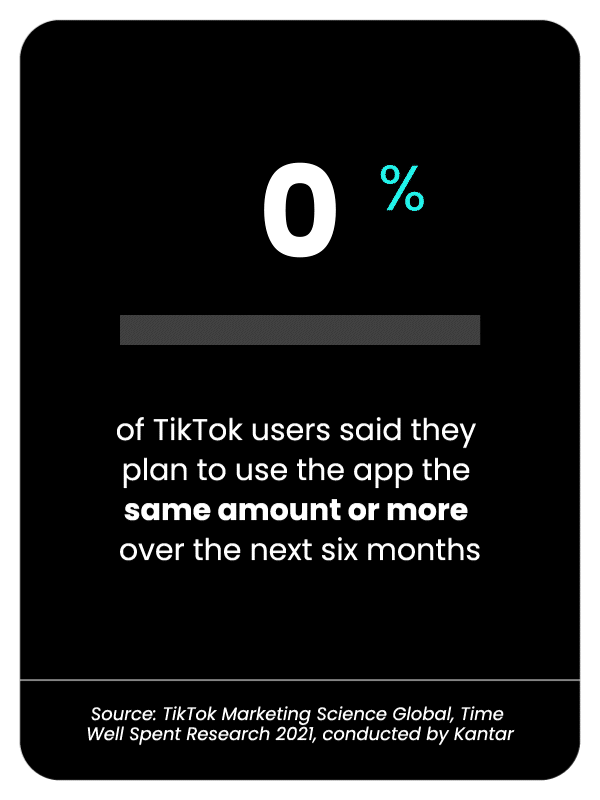 Our platform is creating a shift in how much time users spend on streaming platforms because TikTok has become such a major part of the entertainment cycle. In fact, when they have an hour to spare, TikTok is our users' #1 activity outside of streaming4.
Our platform's short-form, volume-on content keeps users engaged and plugged into the TikTok experience, driving them to continue to engage with what they're watching now in new ways.
Be the Main Character on TikTok: Our Recommendations for Entertainment Brands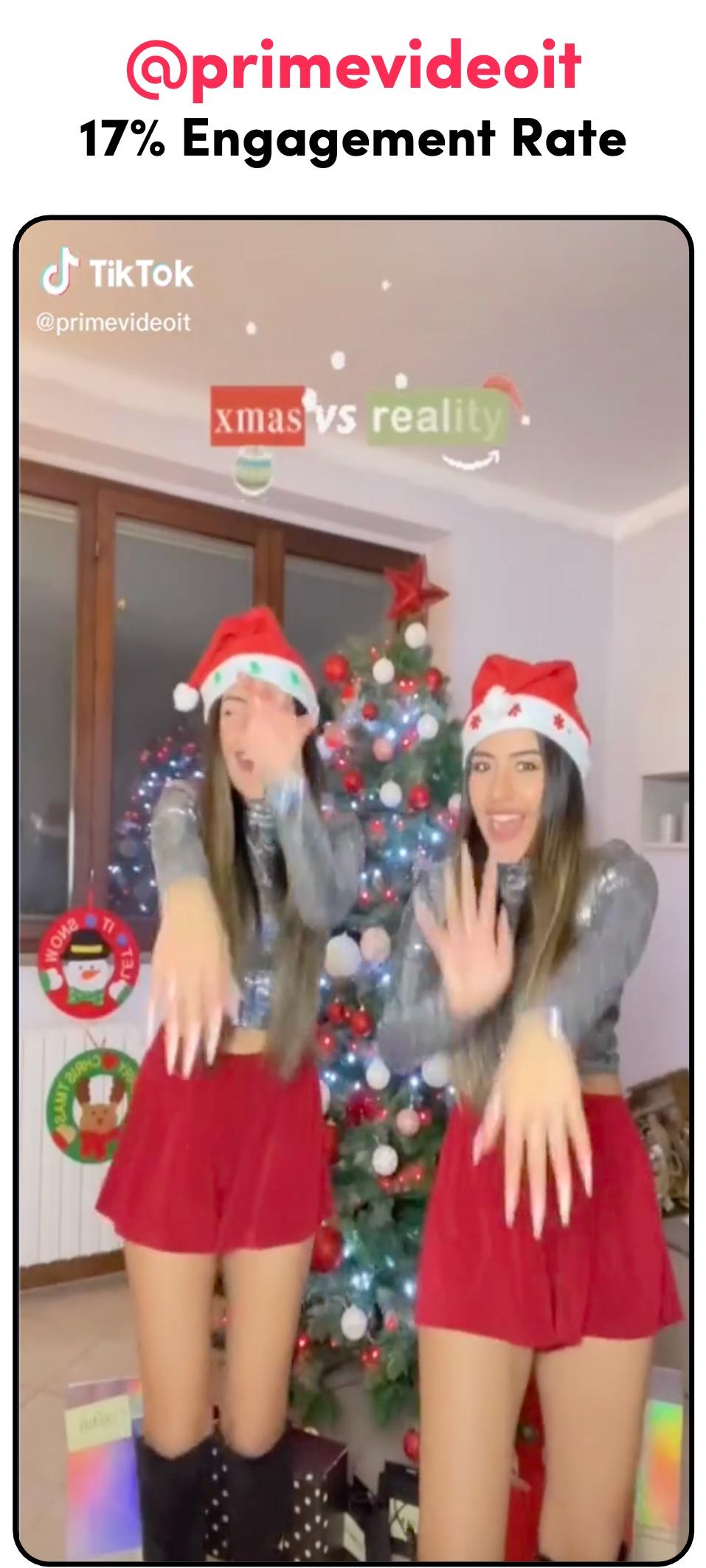 Turn up the volume with original sounds
In TikTok's sound-on ecosystem, creating original audios adds authenticity and a unique brand voice to your campaign. When Amazon Prime Video Italy ran its #XmasVsReality ads on TikTok, they paired up with some of Italy's top Creators to bring their original sound to life, leading to major success and a CTR of 16.24%.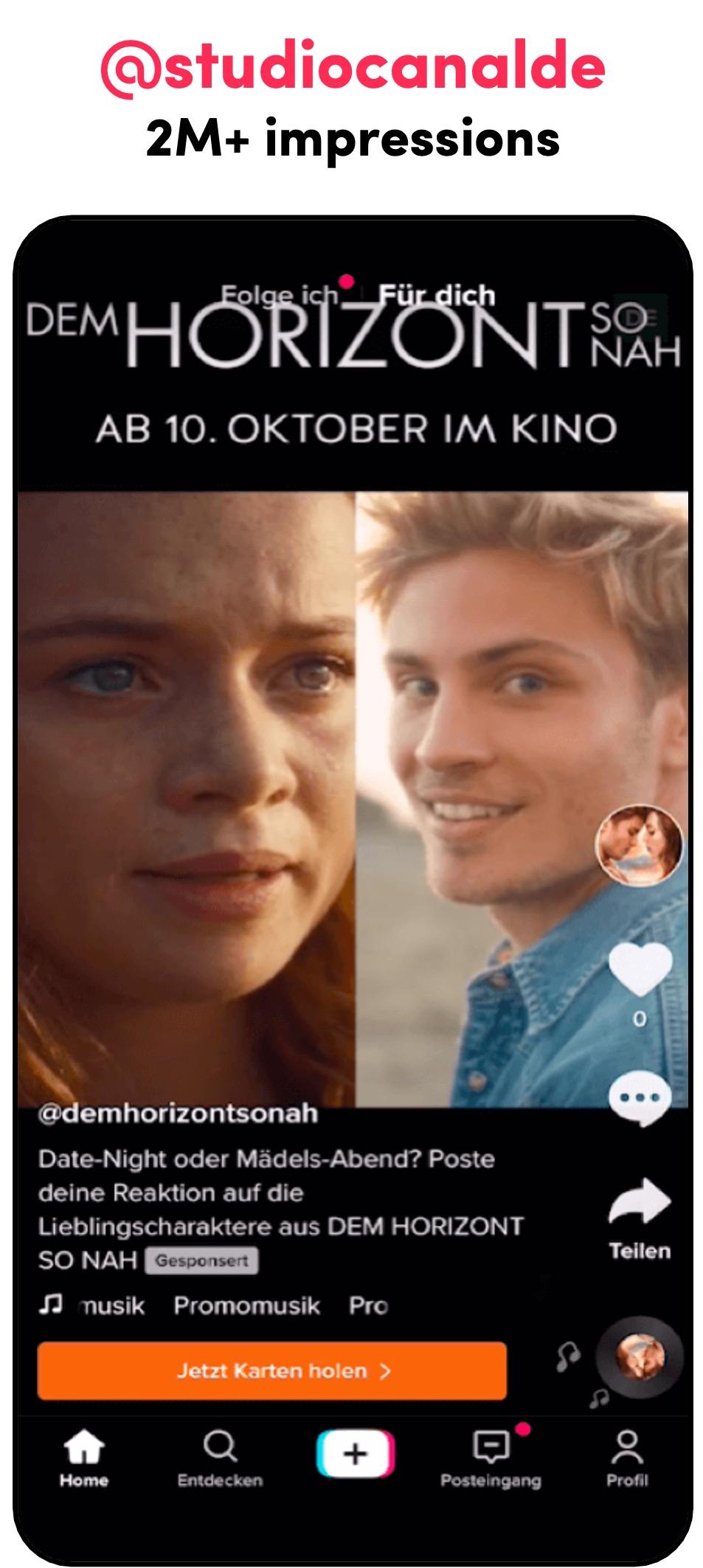 Bring tix to TikTok
Get your TikTok audience into the movie theatre audience with a call to action. European production company—StudioCanal— promoted its new movie in Germany by utilizing In-Feed Ads to draw in Gen-Z viewers and lead them directly to a ticket-buying landing page that resulted in a CTR of 1.63%.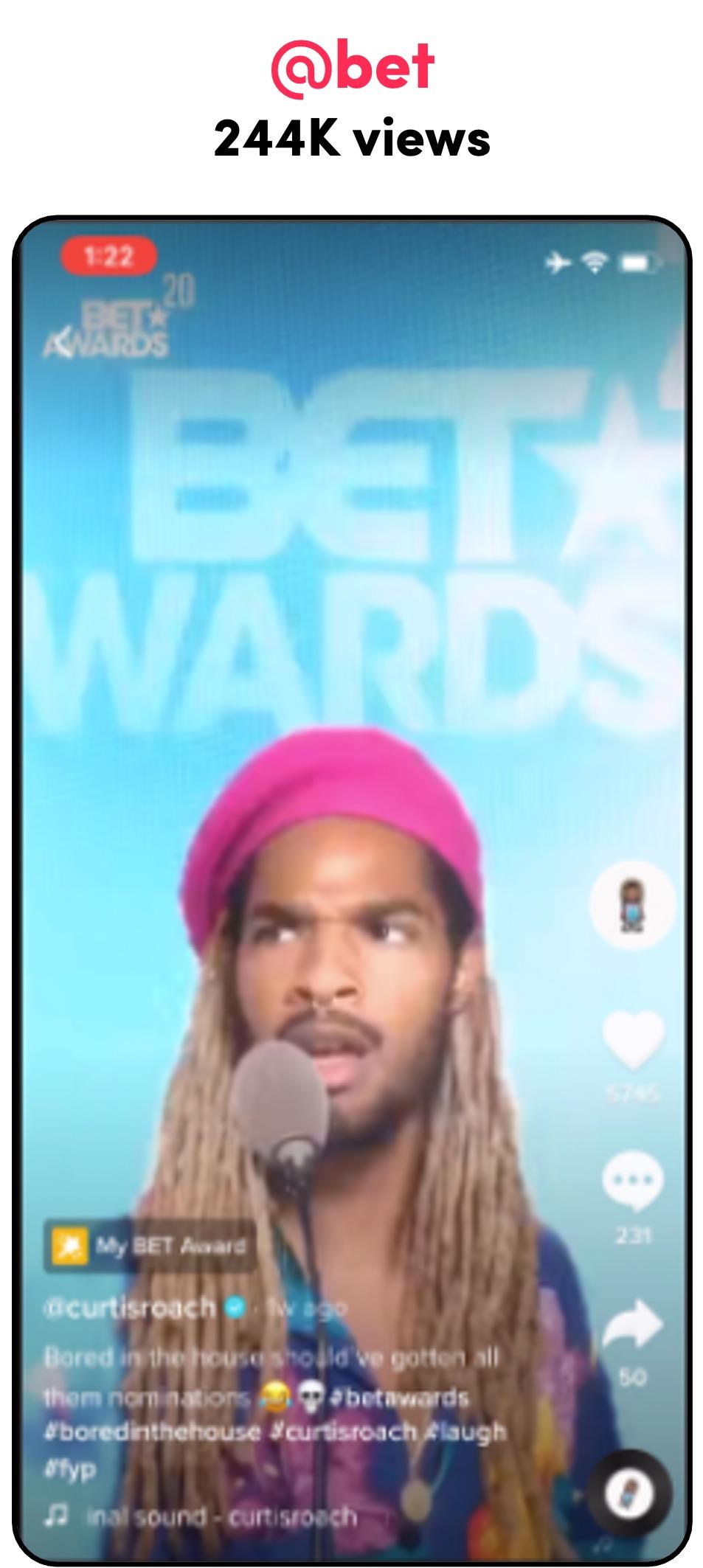 Drive interaction with Branded Effects
Bring our users into your brand's studio. Ahead of its iconic awards show recognizing Black excellence in entertainment, BET partnered with TikTok's Product team to bring an immersive Branded Effect to users, encouraging them to create their own acceptance speech.
*NOTE: For detailed information about TikTok's branded content toggle and our policies regarding what can be posted as branded content on TikTok, please refer to our Branded Content Policy.
Sources:
GoodQues TikTok Entertainment Study 2021 via Suzy, Base: US TikTok Users 18+ (n=1002)
TikTok Marketing Science US, TikTok Made Me Watch It Survey via Suzy, July 2021. Base: US TikTok MAUs 18+ who saw Entertainment content (n=548)
TikTok Marketing Science US, TikTok Made Me Watch It Survey via Suzy, July 2021. Base: US TikTok MAUs 18+ who saw Entertainment content (n=548)
GoodQues TikTok Entertainment Study 2021 via Suzy, Base: US TikTok Users 18+ (n=1002)