w:934

TikTok is the secret to CPG success
Dec 18,2022
TikTok For Business
TikTok helps Consumer Packaged Goods (CPG) brands break through the clutter
"Things I never knew I needed" is something advertisers wish consumers would say when their ads are seen, because that's a good sign that the ad has reached the right audience - someone who may not have been actively looking for the product, but immediately saw how they'd get great value out of it. This is especially true for CPG brands because it's a highly cluttered and competitive space, full of so many similar products that run similar ads. If you take a look around you, packaged goods span such a wide range of categories that make up people's daily lives, from snacks to bath products. You've probably already identified your favorite brands that you repeatedly buy from. So, how do brands break through the noise and differentiate themselves to drive discovery and attention? TikTok is the secret.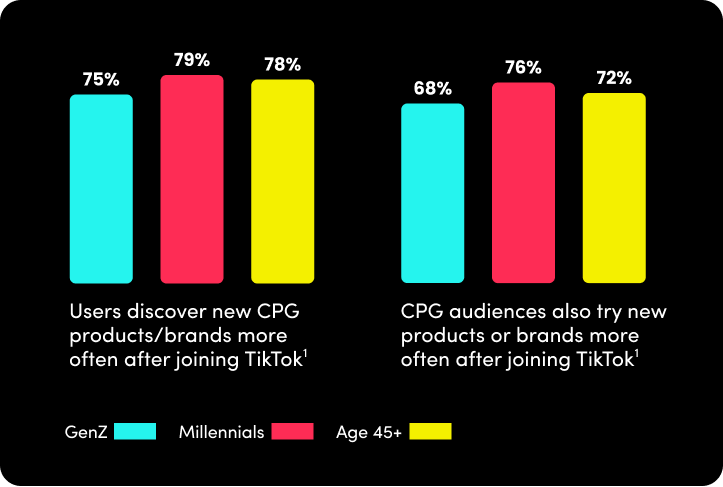 Jump in and get involved
TikTok has a strong community of open-minded users, ready to discover and explore new CPG brands and products. Not only should brands have a presence on TikTok, they should actively join in on conversations and harness the power of the community. TikTok users truly love our platform, so much so that 3 in 4 of them make the majority of their household purchase decisions right on TikTok1. If you dive in and get active on TikTok, you'll maximize your chances of getting seen and noticed by the right audiences.
Let's break it down
Out of the countless CPG products out there, which are the most popular categories? Let's zoom in and take a closer look at the breakdown. The most purchased categories within CPG are Food and Beverage, Personal Care and Household Care1. All of these categories are present on TikTok.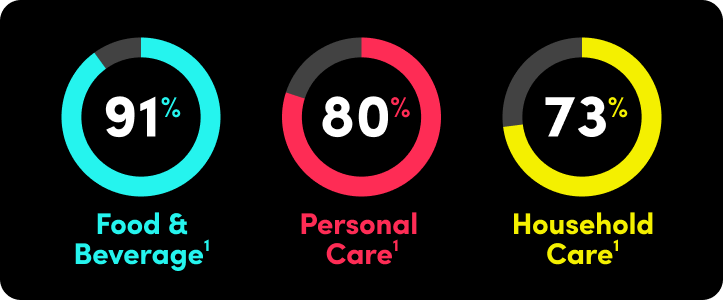 1. TikTok Marketing Science Global CPG Insights Survey via Suzy, February 2022
How to win them over on TikTok
Now we know that CPG audiences are all hanging out on TikTok. So, how should you be speaking to them? TikTok users are a special bunch that embraces brands on the platform, as long as their content resonates and feels native. TikTok users enjoy humor, and are drawn to brands that strive to establish relevance. In addition, they like brands that believe in diversity and inclusivity.
There's another important tactic to keep in mind, which you've probably heard multiple times – work with creators! CPG TikTok users love Creator-made branded content, illustrated in the figures below. Creators are a highly effective way to ensure that your content blends in natively.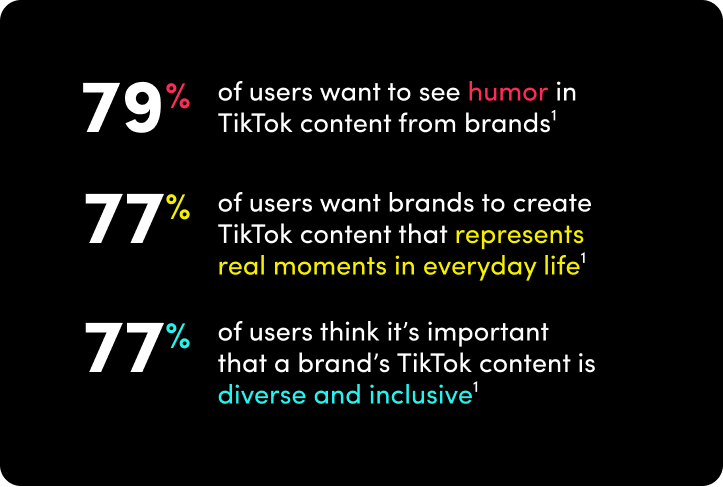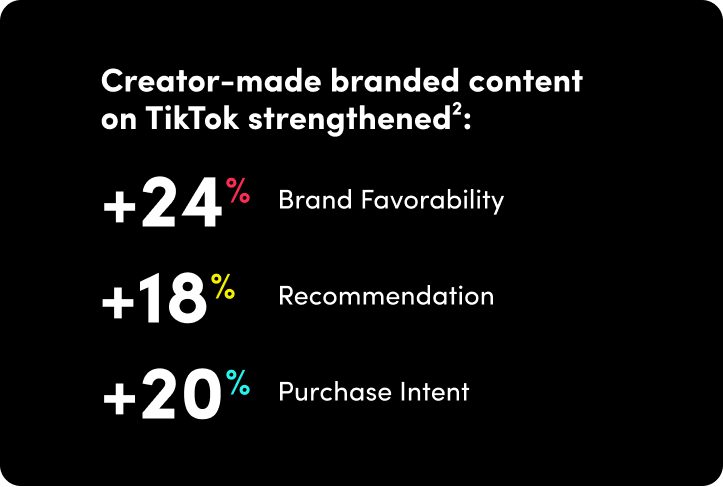 Ride the trends
Rather than passively waiting for your video ad to reach your target audience, you can also leverage hashtags to maximize your reach to unexpected groups. Regardless of the sub-category of your product, you can still make the most of trending hashtags to increase the likelihood of your ad being seen. Below are the top trending hashtags across all CPG sub-categories. Ride the trends to make a bigger splash!

Key Takeaways

CPG audiences are on TikTok, so you should meet them there! TikTok is full of opportunities for CPG brands to reach their audiences and get results.

Speak the same language as your audience by creating content that they like and expect on TikTok. This will ensure that your videos blend in natively and resonate well.

Leverage trending hashtags to reach unexpected audiences.
Sources:
1. TikTok Marketing Science Global CPG Insights Survey via Suzy, February 2022
2. TikTok Marketing Science Global Creators Like Me Study 2021 conducted by Hotspex
3. TikTok Internal Data, Global, January 2022
4. TikTok Internal Data, Global, January 1, 2021 – December 31, 2021