w:730

Creative Tips | Home and Lifestyle
Feb 08,2023
Ava-Marie London , Global Creative Expert, TikTok For Business
View the Chinese Version/中文版请查阅: 创意贴士|居家生活
Overview
If you're here for the first time,
welcome

!

This playbook is designed to inspire and guide advertisers who want to Create for TikTok, and includes some key observations from our Creative Expert team.

These are observations that the team have noticed, and are not rules that must be followed.
This playbook is structured into
3 PARTS
1. Best Practices for Creative Success
Understanding TikTok
Ad Specifications
Creative Best Practices
2. Creative Insights:Think About the T.I.K Components
Video Type
Video Ingredients
Key Narratives
3. Script Guidance
Script Structure
Recommended Narratives
Thought Starters
Best Practices for Creative Success
TikTok Cheat Sheet
💡 HOT TIP: Brands succeed by combining quality content with community engagement. Think about community behavior when producing creative content - they go hand in hand!
AUDIENCE: Consumers come to TikTok to discover, create, and consume content.
GOOD FOR: Recipes, demonstrations, storytelling, and trend-based narratives.
SUPPORTS: Video is king, and sound-on experiences are vital.
CONTENT: Creativity and entertainment in any form. Inspire and engage with humor, skits, hacks, movement, and more. Produce digestible content that leaves an emotional mark.
INTERACTION: Like, save, or comment on videos. Follow accounts.
ENGAGEMENT: Include your calls to action in the video itself, either through text or audio - or both.
CREATORS: With a dedicated and engaged following, content creators understand what your community wants, and what they want to see on their FYP. Trust them to do their thing on behalf of your brand.
Ads created for TikTok with creator partnership achieved 83% higher engagement rates. SOURCE

2. Ad Specifications
To leave an impression and deliver key messages, videos should be above 10s
For an optimal viewing experience, videos should have a resolution of at least 720p and be formatted to 9x16 (vertical) aspect ratio

Videos should always be full-screen to blend in with other organic creatives
To capture attention, videos should always include audio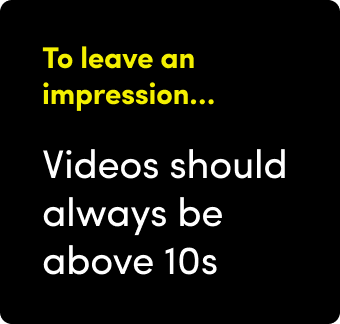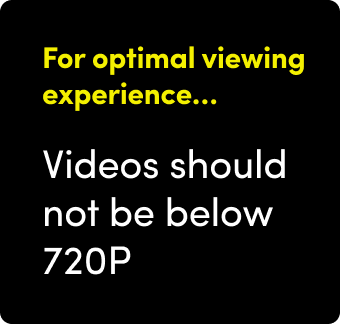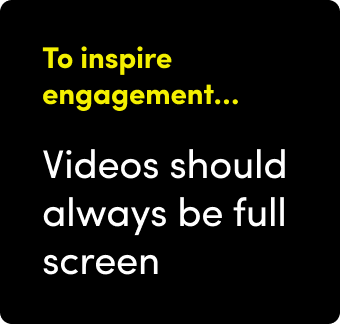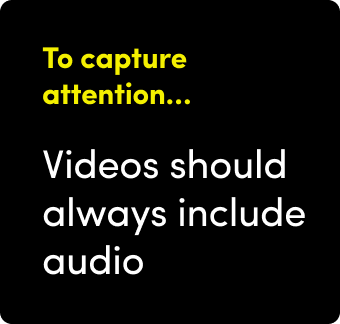 3. Creative Best Practices
Increase your chances of generating better performance and results by producing a larger quantity of videos, made up of a diverse range of concepts.
Here's Why
Creative Quantity A high number of creative assets allows for better optimization of asset selection. We recommend spreading your creatives across multiple ad groups, with 3-5 creatives per group. This enables you to use and learn from each creative, allowing the system to understand and identify what's working best for you.
Creative Diversity TikTok's unique approach to content means there are no hard-and-fast rules to follow. Explore different visual, audio and content ideas to boost your chances of producing successful, high-performing creatives!
Creative Insights: Think About the T.I.K Components
On TikTok, there really is no single formula for success. It's more about finding your own voice. Being unique and authentic is what will get you noticed.
In order to make it easy, we've summarized the essential components that make up the building blocks of great creative content that's native to TikTok in the Home & Lifestyle industry. These components are: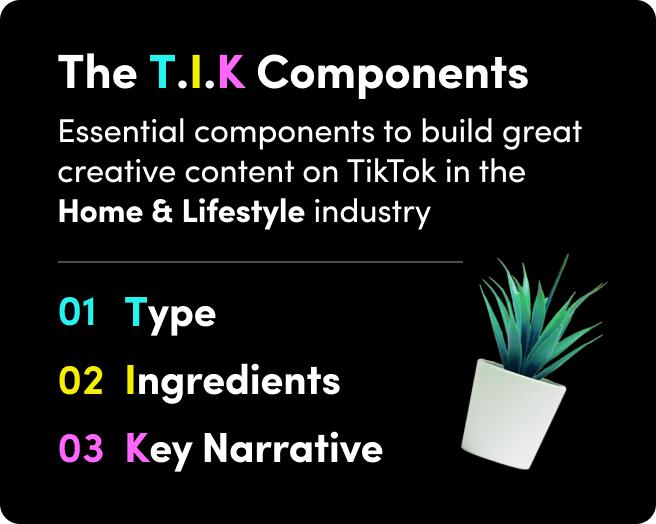 So, if you don't know where to start when trying to come up with content ideas for TikTok, begin by thinking of T.I.K. Consider these components, and you'll be on your way to making TikTok content like a natural in no time.

There are various options around the type of video you can choose to create. Choose the type of video that's best suited to your goals, and follow the general structure below. Then, build a compelling narrative around it and add creative elements to make it your own.

Opening: Present the theme of the video in the first 3-6 seconds to set expectations and establish context. In the case of this video, we know that it will be about: "Living with your boyfriend: Bedroom Edition."
Message: Introduce the specific product that will be featured in the video. Share the experience of unpacking the product while pointing out its details and selling points.
Closing Remarks: Pique interest with an ending that re-iterates the product's benefits.
📚 Consider this: We can all relate to the excitement of opening up the front door to see that the anticipated package has finally arrived. There's something similarly exciting about watching others receive and unwrap a product that they've been looking forward to receiving. Unboxing videos are an effective way of building anticipation before the big reveal.
Opening: Reveal the product on display - it can be at home or in use in its natural environment. Captivate the right audience by appealing specifically to certain groups of people who would benefit most from the product.
Message: Continue to showcase the product in use in real-life scenarios through visually appealing imagery, in which the product is the main focus.
Closing Remarks: Drive action with a compelling CTA like "Shop Now!" and include any promotional offers or discounts that are currently available.
📚 Consider this: People crave confidence before buying a product. Most wouldn't buy something without seeing it first. Product Showcase/Glam videos make for a good opportunity to display your product in a satisfying and appealing way - either in a well-lit location that shows all the details, or in a real-life scenario. Zooms and close-ups show off the product details, while giving you a chance to talk about any product benefits or answer any questions viewers may have.
Opening: Create desirability by showcasing multiple clips of the product(s) together, accompanied by text that offers supporting information (benefits, brand and/or product name.)
Message: Emphasize the versatility or range of product benefits through the multiple clips. This way, the product can be featured from different angles and in different use cases. Closing Remarks: Remind the viewer where they can find your product(s) and encourage them to take action.
Opening: Immediately introduce your product's purpose and include any promotional reasons that would help the viewer understand why they should buy from your brand.
Message: Illustrate specific situations for which having your product would benefit the viewer. Demonstrate how the product is used in these situations, and how it can make their lives easier. Offer any unique selling points that support why the product is better than any alternatives from competitors.
Closing Remarks: End with a reminder of the value of purchasing your product(s) at the listed price. Re-iterate any discounts, and consider including a strong CTA
📚 Consider this: Show, don't only tell! Showing products in-action empowers viewers to really envision how they would benefit from a product in real life. Product demonstration videos are a great way to prove the claims that you've made about your product by showing it in action. Make it easy for your audience to imagine elevating their routine/home/lifestyle with your brand.
Opening: Grab your audience's attention by using a trending/recognizable sound on TikTok, and introduce the theme of the video through text and/or VO.
Message: Follow up with shots of the featured product(s) and include supporting text/VO that clearly states the product name, brand, and the personal opinion of the featured talent in the video. Ensure that the message is aligned to the theme that was presented in the opening.
Closing Remarks: End with a link or call to action that guides viewers towards where to explore/buy the product(s) featured in the video
📚 Consider this: Riding on existing TikTok trends opens up a unique opportunity for brands to engage with existing and new communities on the platform. Participate in trends, challenges, and use sounds that are currently popular to reveal the brand's true personality, making it feel approachable and human. You can even create your own version of a sound or ask for permission to use sounds that aren't commercially available.

Perspectives
From which point-of-view should you tell your story? Identify a unique and interesting perspective by asking yourself the question: "Who should be speaking to the viewer in the video?"
Brand POV
Opening: Introduce your brand, product by having the designer or a team member speak to the audience directly.
Message: Show behind-the-scenes footage of the creative process of designing the product(s), while the designer or team member shares unique insights. It can be production-related, about how the product was made, or how the idea of the collection came to be.
Closing Remarks: End by telling the audience how/where to find the product(s). They should know exactly where to go to purchase or to learn more about the brand.
Opening: Open with a statement that introduces the theme of the video, along with supporting text/visuals.
Message: Now that the viewer knows what to expect and wants to know more, continue to show visuals that elaborate on the theme that was set in the opening.
Closing Remarks: This example does not include a direct CTA. However, for different ad objectives, we would suggest closing with a motivational line that encourages the audience to try the product themselves.
📚 Consider This TikTok gives brands a unique opportunity to interact with potential customers on a more personal level. Speaking directly to the customers from the brand's perspective can be a valuable tool for establishing trust and building deeper relationships, making the brand feel more approachable.

Customer POV
Opening: Open in the home of a customer who is trying/has tried the product(s) out. Capture your audience's attention with an opening line that piques their interest.
Message: Next, go into the customer's review of their personal experience ordering/receiving/trying the product. Be sure to include the product name, company, and unique selling points.
Closing Remarks: Include a conversational call-to-action, encouraging viewers to give the product a try.
Opening: A simple way to feature a POV is to describe the exact perspective from which the viewer should be viewing the video.
Message: Include footage of a customer happily trying out the product(s). Keep the "POV" text on-screen for the entire duration of the video so the viewer always has the context.
Closing Remarks: The video doesn't have to end with a direct CTA. But you can always consider encouraging action in the last few seconds.
📚 Consider This
Unleash the power of word-of-mouth recommendations. Videos that depict a real customer's experience with a product alongside a positive review or endorsement are likely to build trust with new customers. Engage with customers/creators, and encourage them to promote your product(s) with their own unique story and creative flair.
Visual Elements
Visual elements refer to any component of the video (footage, images, text, graphics) that help emphasize your key message. Think about what kind of impression you want your videos to leave and leverage a mix of different visual elements to effectively convey your message.
Native Smartphone Footage
The footage in this video is shot in a 9x16 aspect ratio format, and appears to be shot by a smartphone. One of the great things about TikTok is that it doesn't take an expensive production to create high-performing content. In fact, most of the content that performs well on the platform is recorded on smartphones.
Hi Resolution Camera Footage
Some brands prefer a cinematic approach and choose to shoot high-resolution footage on external cameras. Some also repurpose existing footage that was shot for other platforms. The footage in the video above looks like it was shot on a professional camera in 9x16 aspect ration. While not entirely necessary for TikTok, high-res camera footage can serve as an elevated way to promote your brand on the platform.

Whether you film a moving continuous shot, or set up the camera on a tripod and film a static shot, you can use one continuous shot with no cuts as an effective way to structure your narrative and promote your product(s) in a simple way that doesn't require much editing.
Editing multiple clips together is another popular way to present content on TikTok. A video with mixed clips can be as simple as two video clips edited to cut scenes at a set "beat", or it can be many pieces of footage/images stitched together, following the pace of the music and/or voiceover.

You can feature still images in your ads to show off your product(s). However, since TikTok is mainly a video platform, it helps to have some moving text or graphic elements to keep the content visually stimulating. In this video, the still image is clearly placed at the forefront of the video, accompanied by graphic and text that highlights product details, and music that establishes a calm, chill mood.
Multiple types of media can be edited into a video to keep the creative visually interesting. Images and video footage can also be combined to work together in order to spice up the creative. Try to add elements such as text, effects, music, and/or voiceover when using still images, so the content can be as engaging as a video.

Creative transitions are a fun way of showing a delightful "before and after" transformation. This video uses a "snapping" movement transition to match cut* to a captivating room transformation. Users on TikTok love a surprising transition, so consider leveraging this great visual element for cutting from clip to clip in an engaging way.
Special effects and graphics add movement and dynamic emphasis to any video. The effects in this video help to show off the multiple candle types that this brand sells in a energetic and memorable way. Graphics like this one are a great way to bring a product to life, especially if you don't use organic camera footage.
Remember that you can always leverage TikTok's in-app "Effects", such as the popular "greenscreen" effect, to boost the creativity of your videos!
Text is one of the most useful tools to add to your video, to provide supporting details or context. Even if you simply add subtitle text, you can make more video more accessible. This video begins with text that announces a sale, while the customer talks about their experience purchasing the product in the VO. Use text to re-iterate important points from the voiceover. By using text, you can add emphasis to a story, provide additional information, and more.
📚 Consider This
Have you seen a video on your For You Page that leverages an effect or visual element in an innovative way? Don't be afraid to use videos you've seen from other creators on the platform for inspiration!
Check out Creative Center for tools that will empower you to make the best creatives for TikTok.
Make your videos pop with a range of effects and styles that are native to TikTok.
Audio Elements
As TikTok is a "sound-on" platform, the audio that accompanies a video is a vital element. It is important to think of how you will use sound to emphasize your message in the early stages of strategizing your TikTok video concept. Use special audio effects and/or background music to add a powerful splash of excitement and memorability.
🔉 Choose recommended TikTok sounds from the Audio Library to make use of audio that's currently hot and trending.
Pay attention to sounds that other users and brands are currently leveraging in their videos so that you can always keep a pulse on what's trending and join in in a timely manner. Popular sounds are constantly changing, evolving, and getting remixed on TikTok, so every day is a new chance to incorporate new sounds into your creative concepts. Brands should take advantage of sounds that are available through the app in order to jump into current conversations and connect with users in a personal way.
Voiceover (VO) is a traditional and proven way to deliver key messages with audio. You can record VO in the app or edit it yourself in an editing program. Try switching up the VO style/narrative and keeping the visuals the same for a concept as an easy way to iterate creatives. This video uses voiceover in the form of a customer review, delivering product information and selling points. The video includes easy-to-read subtitles that match the voiceover.
There are many common in-app effects that you can integrate into your videos. This unboxing/product showcase video uses the text-to-speech effect that has become extremely popular on TikTok.
You don't have to go out of your way to record audio on an external device. Given the casual nature of many TikTok videos, it is perfectly fine to use the native in-camera audio for your videos on TikTok.
📚 Consider This
If you think of any viral TikTok video, there's most likely a viral sound that accompanies it. Keep track of popular sounds and music and join in with your own take to reveal your brand's unique personality to your audience.
Leverage VO to your advantage to set the tone, highlight the key selling points, ask a question, or simply to engage your audience.
Explore the wide range of fun in-app voice filters and text-to-speech voices that are popular with users
Sometimes the most successful videos are also the simplest. Always try to record sounds in-camera that happen naturally, and use them as a tool to elevate your videos.

Creative storytelling should be used in conjunction with whichever video format and visual/audio elements you choose to create with. Narrative is key to offering more natural and personable associations with a brand or product.
Share Brand Background/Behind-the-scenes
Connect with your audience by giving them an insider sneak peek into your brand, and the faces behind the product! Talk about the purpose behind creating the product(s), tell a story about the history, or simply showcase some behind the scenes footage of the preparation and packaging of orders.
Viewers are likely to stay engaged when they have a clear understanding of exactly what to expect from a video, and can anticipate what they can get from it. Create series and listicle videos and tell viewers what value they can expect from the rest of the video/series to give them something to look forward to.
Give viewers an enticing glimpse into an aspirational/easier lifestyle that can be attained by introducing your product into their lives. Showcase the product(s) in a way that makes it easy for customers to imagine incorporating into their own life or home.
State a Problem/Offer a Solution
Spotlight common pain points that may resonate with your target audience, and introduce your product as a solution. Proactively solving problems for your viewers is a great way to get them to listen and care. They will be more likely to want to purchase the item if it can help them tackle their everyday challenges.
Gifting can be tricky! Make life easier for a potential customer by suggesting your product(s) as a gift idea around holidays, birthdays, anniversaries, etc. There's always a good reason to give someone a gift.
Word of mouth continues to be a powerful tool on TikTok. Simply share customer experiences and honest reviews in a casual, conversational way in order to tap into the power of recommendations.
Offer valuable information so that viewers feel like they've benefited from seeing your content. Establish credibility by sharing knowledge, tips, and hacks that make the viewer confident that the people behind the brand know what they're talking about.
Get creative and use a "content-first" approach. Product promotion should be secondary. In the end, users open the TikTok app to be entertained, so don't only focus on selling. Try to make your videos fun for viewers.
Interact with Comments/Other Videos
The comment sections on TikTok videos can often be just as engaging as the videos themselves. Be sure to show customers that they are seen and heard. TikTok offers the ability to respond directly to comments with a video, so take advantage of the opportunity to have an engaging conversation with your audience!
📚 Consider This
Once you have an idea of the type of video that you want to create, think of creative narratives that could help bring it to life.
Think beyond your product(s). Use creative storytelling to emphasize your key message and to highlight product features and selling points.
Test different narratives to understand what resonates best with your audience. Base your video around a specific topic that can serve as a natural way to deliver product/brand information to a relevant audience - even if it's an unexpected topic or angle.
Script Guidance
Write with your audience in mind. Ask yourself these questions: "How do they want to be spoken to? What resonates with them? What are common painpoints they have? Are there any relevant trends to tap into?" To stand out from competitors in a crowded industry, make sure your content clearly illustrates how your product is unique and why your target audience would benefit from it.
Script Structure
Before we dive deep into detailed scripts, let's take a look at the general script structure, which, like many other content formats, can be broken down into three parts: the beginning, middle, and the end. Each section serves its own purpose, with different content that supports the overall narrative of the video. Understanding the logic behind each section will help simplify the script-writing process.

Beginning
The hook:
The first 3-6 seconds of your video are crucial. Captivate your audience with a powerful, attention-grabbing hook that draws them into the video and sets the overall tone. Make sure the hook is related to your message and the concept's key narrative. This will ensure a smooth transition from the initial hook to the message that follows.
Middle
The Key Messages:
Following the hook, deliver your primary message in a clear and memorable way. It is important that your primary message is connected to your product and key narrative organically and cohesively. This portion of the video continues in the tone of the video that was set up in the hook, and should contain main highlights that you want the audience to take away.
End
The CTA:
End with a CTA to encourage interaction from the viewer and inspire action. Provide closing remarks that you want to leave the viewers with, through text, VO, and/or graphics.
Creative Suggestions
The Hook
Comment Reply
Examples of types of comments/questions that your video could respond to:
Is this product renter-friendly?
Can I use this in my living room?
I don't have enough space
Where can I get that?
Can you show us how it works?
Introduce a common problem or pain point, and offer a solution
Having trouble keeping your rug clean?
Are your pots and pans in need of an upgrade?
Tired of your messy home, but not sure how to go about cleaning it?
Highlight the price or a promotional offer to encourage purchase
All items $25 or less!
The BEST $10 home decor you'll find!
20% off all items!
Hook viewers in by suggesting that you'll be revealing a hack, secret, or valuable tip
$10 curtain hack that will change your life
Hacks that will make your home look more expensive
How to decorate your hallway for under $50
Call out a specific target audience to capture their attention
To all my girls who want a clean, organized home!
Stop scrolling if you have trouble falling asleep
If you sleep in any of these positions, this is the mattress for you
Unbox the item to build anticipation around the product's reveal
Look what finally arrived today!
Time to unbox my new couch
This mattress was delivered to my door in a box!
Ask a question that piques curiosity and makes the viewer stop in their tracks
Are you looking for an easy way to decorate your living room?
Is your kitchen cluttered?
Did you know there is one easy thing you can do to completely upgrade your bedroom?
Introduce a listicle/list or series with numbered ideas to draw viewers in and improve viewer retention
Things to do to upgrade your apartment
3 reasons you NEED this mattress
What I bought, and how I styled it
Talk about the product's popularity and positive reviews to establish credibility and trust
TikTok made me buy it
I finally bought this viral product that I've been seeing everywhere
POV: You caved and bought this to see if it's worth the hype
Showcase the product and its key design details to spark desire
Look at this beautiful sofa I just got
I LOVE my new bedding
Check out our new glassware
Tell a story
I never used to be into decorating until I found this brand
I felt like no matter what I did, my space never felt cozy
One thing about me is that I LOVE a good area rug
Show an appealing before vs. after transformation
How I took my bedroom from this to this
My bathroom before using this product vs. after
Watch my living room transform with just one change
Key Messages
1. Product Information/Selling Points
Quality/Durability
One of the most important factors that people consider when investing in home decor is the quality and how well the product holds up over time.
This is seriously the best quality that you can get at this price point.
I'm so surprised by how well-made this looks!
These pots will last you a LIFETIME! They are literally so well-built and durable.
I've had this rug for 3 years and it still looks like it did the day I bought it.
Texture/Feel
If you don't highlight the feeling or texture of the product in the VO, try to show how soft or textured it is through footage of someone touching the product.
You won't BELIEVE how comfortable these pillows are! It's like laying in a cloud.
Their silk sheets feel SO SMOOTH on my skin!
This shag rug is unbelievably soft! Even the dogs can't get enough of laying on it.
Design specifications
The couch cushion is made out of waterproof material that repels any liquid that might spill on it.
These are washable area rugs that you can just pick up an throw in your washing machine whenever they get dirty.
These pans have an authentic non-stick ceramic coating that stands the test of time!
Made from 100% Mulberry silk that is VERY soft to the touch!
Convenience
You get new products every month, so you don't have to worry about running out and rushing to the store for more.
I used to spend so much time trying to scrub stains out of my rug, but with this, I can just easily throw it into the washing machine!
I can turn this product on and off through the app on my phone!
Lifestyle Elevation
This literally elevated my hallway area so much. I can't believe how much more cozy my apartment feels!
This bedding makes me feel like I'm sleeping in a bed at a 5-star hotel every night!
This product is for all my clean girls who love an organized home.
This is the BEST way to make your apartment look expensive on a budget.
2. Social Proof
Positive feedback shared by credible source
After 1 year of having this sofa, I can honestly say, it's the best investment in my home.
Gordon Ramsey LOVES these pans!
My favorite interior designer's home is filled with this brand's decor!
I've been buying these rugs for 3 years because they just hold up so well! I'll never go back to regular rugs.
Shared experience
As an entrepreneur who works from home, I really need products that don't add more stress to my busy days.
These pans are super helpful for busy moms like myself who don't have time to scrub dishes clean at the end of every meal.
I'm always spilling wine on my sofa, which is why I need something that is easy to clean.
Trending popularity/Product's virality - everyone is buying it!
Okay, so after seeing this product ALL over TikTok, I had to give it a try.
Here's another thing TikTok made me buy. (Part 2,3,4....)
Everyone is talking about this product lately!
I'm trying out this viral product to see if it's worth it so you don't have to.
3. Promotion Info
Time-limited promotion to build a sense of urgency
Hurry up and get one for yourself before the promo ends!
Head to the website before the Memorial Day Sale ends!
At 20% off, these sell out super quick, so make sure you hurry if you want to try it yourself!
These aren't on sale all the time, so take advantage of this Black Friday sale now!
Quanity-limited product to build a sense of scarcity
At 20% off, these wont be in stock long!
Hurry up and go to the website before these sell out again!
These are finally back in stock after being sold out for months!
They sell out FAST, so make sure to get yours now!
4. Unique Services
Risk-free trial
They have a satisfaction guarantee, so if you don't like it, you get your money back
You get a 365 day trial, so there's plenty of time to try it and decide if you like it
Free shipping
Plus, they have fast and free shipping!
It all ships to you for no extra shipping fee!
Order today and get FREE SHIPPING!
Customization/Design options
With so many color and design options, you're sure to find the perfect one for you!
I chose the periwinkle color but there are so many other colors and sizes that you can choose
You can chose from a variety of customization options to make sure it's perfectly tailored to you!
Customer service
Their service team is on-call 24/7 to answer any questions you may have
If you can't decide which one, you can get help from the company's team of experts
Payment options
Rest assured knowing that there are options to pay over time rather than all at once
You can even pay using Paypal, Afterpay, Affirm, or Klarna
Call-to-Action
Direct Call to Action
Shop now!
Run, don't walk to get this!
Swipe to try it out yourself!
Promotion + CTA
0% off today!
Head over to get 20% off now!
Hurry and get yours before the sale for 20% off ends!
Product efficacy + CTA
This totally improved my sleep and can do the same for you!
Try the pans that chefs can't live without!
Try this and never have to pay for a blender again!
Website Link
Click the link below to learn more👇!
Buy from [retailer] Link in bio.
Go to [website] to get yours today!
Try It Out
With the basic best practices in mind, experiment with the above creative components (T.I.K) in your existing and new concepts. Don't be afraid to mix and match different patterns and include your own fresh new ideas. Using the suggested "Hook + Message + CTA" script structure. Try out some different combinations of video elements and narratives to find the right content balance that works best for you!
🙌🏻 Communities
TikTok is made up of strong communities that consume and create content around certain topics. If your product(s) or brand is relevant to any of these niche communities, consider taking the time to research these groups for inspiration, to create compelling content with key narratives that appeal to them. Below are some relevant communities in the Home & Lifestyle Industry:
#TikTokMadeMeBuyIt

#HomeStock

#MomLife

#HomeOffice

#InteriorDesign

#HomeInspo

#HomeHacks

#HomeTips

#CleanTok

#NewApartmentVibes
#HonestReview

#SmallBusiness

#MarriedLife

#SingleLife

#ApartmentDecor

#AestheticHome

#NYCApartment (Tailor to a specific city)

#CleanGirlTikTok

#ApartmentHacks

#ApartmentDesign
#HowToDecorate

#HomeOrganization

#PetParent

#ApartmentEssentials

#LuxuryTikTok

#MustHaves

#FirstApartment

#MovingEssentials

#DormEssentials
Helpful Links
Check out these resources to learn how to use TikTok to your advantage. Get inspired to make your own viral ad!
1. What's Next: TikTok 2023 Trend Report
2. Unlocking a library of creative possibilities on TikTok
3. Helping brands unlock the power of music and sound on TikTok
Get started now by jumping into TikTok Ads Manager and let your creativity take over!