w:730

Creative Tips | Simulation Games
Feb 07,2023
Jinghui Xu, Global Creative Expert, TikTok For Business
View the Chinese Version/中文版请查阅: 创意贴士|模拟游戏
Overview
If you're here for the first time,
welcome

!

This playbook is designed to inspire and guide advertisers who want to Create for TikTok, and includes some key observations from our Creative Expert team.

To clarify, these are observations that the team has noticed, and are not rules that must be followed. We're not trying to box you in and impose a formula for how to succeed - quite the opposite!

The next level
Through our observations, we have concluded that with a larger quantity of videos and a diverse pool of creatives, advertisers have an increased chance of better performance.
WHY?
Creative Quantity
A high number of creative assets allows for better optimization of asset selection. We recommend spreading your creatives throughout multiple ad groups, while maintaining 3-5 creatives per group. This enables you to utilize each creative, allowing the system to learn what works best for you.
Creative Diversity
Refreshing and uploading new assets to your campaign will increase your chance of finding a winner!
Observations for creative success
On TikTok, there's really no single formula for success. It's actually more about finding your own voice - being unique and different is what will get you noticed and excite your audiences.Creative Patterns can be split into 2 main groups.
We understand that "being unique" is easier said than done, and may be intimidating if you're new to content creation on the platform. That's where our Creative Expert team can step in to help. Upon reviewing the top-performing creatives that targeted the United States within the fashion industry, they've identified a few key observations. The best creatives often follow a certain pattern around the way the story is told - some similar components that make up a compelling storytelling flow. We call these Creative Patterns.
By familiarizing yourself with these Creative Patterns, we hope you will be inspired to experiment and try out different creative methods across the 2 groups, to land on the strategy that's best-suited to you. Because on TikTok, it pays to be different.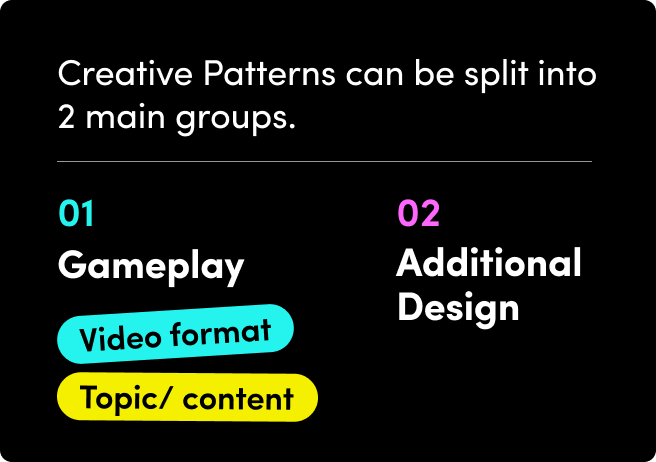 Creative patterns

Mixed clips
By mixing various scenes from a game into one video, advertisers can provide a complete overview of what users can expect throughout different levels and stages of the game. A combination of clips that show different levels and characters can add excitement over a single, straight gameplay shot.
💡Think about it
Try stitching scenes from different levels together to illustrate the excitement and diversity of all the scenarios and possibilities in your game.
Which scenarios do you want to portray to excite your players?

Is there a hidden "sneak peek" that you want to give your viewers?

What are the main aspects of your game that you would show in a highlight video?
Blend real & virtual worlds
Lift: +0.21% CTR
(TikTok internal data, CTR compared between ad groups with this creative pattern vs ad groups without, August 2022.)
Leveraging a blend of both real-life and virtual scenarios can make your creative more relatable to your audience. Rather than being fully immersed in a total fantasy world, realistic elements can help you achieve higher relatability and engagement.
💡Think about it
Think of ways to seamlessly integrate your game into a real-world scenario. This way, audiences can envision themselves completing the task IRL and better resonate with your creative on an emotional level. If the real-life equivalent is not obvious, go ahead and stretch your imagination!
What is the real-life equivalent of your simulation game?

What is an experience that your intended audience would want to take part in?
Game commentary
Real voices commentating on the game can drive emotional appeal, while adding a helpful layer of extra context for deeper understanding.
💡Think about it
Leveraging voiceover for game commentary is an excellent way to talk your audience through game strategy, with an added layer of excitement and emotion. It also provides them with more context and helpful information. Think of the emotions you'd like your audience to feel when they watch the video, and ensure that the voiceover contributes to these feelings. Don't forget to make the most of sound to add a dose of excitement!
Perspective switch
Showing a particular scene from different angles and perspectives can make for a more immersive and engaging experience for your audience.
💡Think about it
Moving the camera angle and switching perspectives is an effective, action-packed way to keep things exciting and boost engagement with intended players. When leveraging this tactic, be careful not to focus only on aesthetics. Follow a clear and distinct storyline to ensure that you don't lose the plot.
Think about the ideal timing to switch perspectives. Is it best to change the camera POV at the beginning as a hook, or use it for plot twists later on?

How many switches are suitable? Beware of too many perspective switches, as you may end up confusing the audience.

Role play
Lift: +0.19% CTR
(TikTok internal data, CTR compared between ad groups with this creative pattern vs ad groups without, August 2022.)
Get in character and leverage role play to show your game from the unique perspectives of your various characters.
💡Think about it
Highlight the interactions between characters to creatively illustrate the experience that the game offers. Role play is most common for dress-up, make-up, and storytelling-related games. Remember to emphasize the "before" and "after" of your game situations so that audiences will understand the impact that their decisions will have on the game, enticing them to play.
Lifestyle
Imitate different scenarios from your game in real-life, so that audiences can creatively imagine themselves immersed in the world of your simulation game.
💡Think about it
The lifestyle format is common when showing home decor, farming or store operations, or even parties with friends - depicting anything that is relatable in real life is a great way to effectively attract audiences. Try to inspire audiences towards lifestyle changes or scenarios that might be different but amazing, to motivate them to play!
Specific simulation
Lift: +0.28% CTR
(TikTok internal data, CTR compared between ad groups with this creative pattern vs ad groups without, August 2022.)
Showing a first-person perspective of someone who has direct control of the game is a good way to showcase the game, game elements, and buttons, while giving audiences an idea of what to expect in the game.
💡Think about it
If your game has a specific view of a certain type of controller that simulates the experience, take advantage of this format. Immerse your audience by vividly showing what it's like to be in their shoes. Try to also balance the controller simulation with the feedback view in the video, so that audiences can easily grasp how your game works.

Instant feedback
Lift: +0.20% CTR
(TikTok internal data, CTR compared between ad groups with this creative pattern vs ad groups without, August 2022.)
Giving feedback instantaneously when players make choices in the game is a great way to captivate your audience and hold their attention. Use emoji, points, "right" or "wrong" visuals, or even emotional feedback via characters' expressions to agree or disagree with players' actions in real-time.
💡Think about it
Having fun in a simulation game is all about making "meaningful" and impactful choices. Players are always curious whether they're capable of changing the course of the game with their strategies. Instant feedback is the most efficient way of highlighting the "meaningful choices" that players make. The tricky part is combining feedback with gameplay.
Engaging add-ons
Instruction buttons: Lift: +0.19% CTR
Guilding hands: Lift: +0.12% CTR
(TikTok internal data, CTR compared between ad groups with this creative pattern vs ad groups without, August 2022.)
Interact with audiences through engaging visuals like buttons or "hands" that serve as intuitive signals for gameplay instructions.
💡Think about it
Captivate your audience's attention through eye-catching visual add-ons on top of your game world. Try out the following to boost engagement:
Select buttons with a shiny effect

Use different shapes of hands in the game. Ideally, use your target audiences' hands if possible. This way, they can picture themselves playing the game.

Build urgency around the situation in your game, to encourage audiences to respond quickly.
Script analysis
Script Structure
In terms of flow, we can break down script into three parts: the beginning, the middle, and the end. Each section should have its own unique purpose and content that supports the overall video. Understanding the logic behind each section will help simplify the script-writing process.

Beginning
The hook:
The first 3-6 seconds of your ad are precious.
Make the most of this window of time by captivating your audience with a powerful, attention-grabbing hook that draws them in to keep watching. Make sure the hook is
related to your game in some way.
This will ensure a smooth transition from the initial hook to the key message that follows.
Middle
Gameplay:
Right after the hook, it's time to highlight gameplay and deliver your key message to your target audience in a clear, concise, and memorable way. It's also important to communicate gameplay/key message in a natural and cohesive way. This will help build trust in your brand.
End
The CTA:
End with a simple and straightforward CTA to continue the momentum and get your audience to take action. It should be easy enough to follow as a next step right after they watch your content.
1️⃣Beginning: Hook
Take advantage of the first 3-6 seconds to capture your audience's attention. This is your time to shine, so do whatever it takes! Add intriguing, attention-grabbing elements that will make viewers want to watch for longer.
💡Think about it
The three kinds of gameplay shown above aim to evoke different feelings from our audience.
Footage of a hand holding a phone on which the game is played shows that the video content is truthful, and is not fake.

A recording of the gameplay will efficiently motivate audiences to stay focused on the game itself

Adding role play and engaging effects to your storyline might take some time, but it will be worth it!
2️⃣Middle: Gameplay
Needless to say, attractions of the game itself are highly effective selling points of the game. Show gameplay recordings and share strategies, extraordinary characters, and your unique artistic style. Reveal the elements within your game that make it memorable and unique to new audiences.
💡Think about it
The three kinds of gameplay shown above aim to evoke different feelings from our audience.
Footage of a hand holding a phone on which the game is played shows that the video content is truthful, and is not fake.

A recording of the gameplay will efficiently motivate audiences to stay focused on the game itself

Adding role play and engaging effects to your storyline might take some time, but it will be worth it!
3️⃣Ending: Call-to-Action
Visual format
Don't forget to add a compelling call-to-action at the end of your video ad. Use your game slogan, catchy slogan, and a clear button to direct users to the next step. Keep up the momentum and transfer your audience's attention to the next action - downloading or purchasing the game.
💡Think about it
Usually, the call-to-action includes game slogans, a slogan, and download buttons, but there are other ways to be memorable! Try to think outside the box with your CTAs and add a different type of motivational action that's more open-ended. For example, it could be an unresolved story that encourages audiences to learn more about the game. This can drive further engagement that will ultimately lead to game download.
Script Tips
Key selling points
Various gameplay systems + Social elements + Unlimited freedom game world + Failure at the end
Think about your strongest game attractions and your audience. What are some of the high-priority messaging that would appeal to them most? Since you don't have a lot of time to convey these messages in a short video, ensure that they're focused and memorable for your audiences. Try to stay top of mind and stand out from your competitors by differentiating your selling points. As a plus, eye-catching gameplay will also help!
Unlimited freedom game world
Failure at the end (CTR lift: +0.4%)
Emotional appeal
Curious + Relax + Challenge + Unease
Core players of simulation games expect immersive feelings when experiencing your games, which should mimic the emotions they have in real life. Using plot twists and variations in the creative can help enhance these emotions, and keep them watching for longer.
Challenge (CTR lift: +0.5%)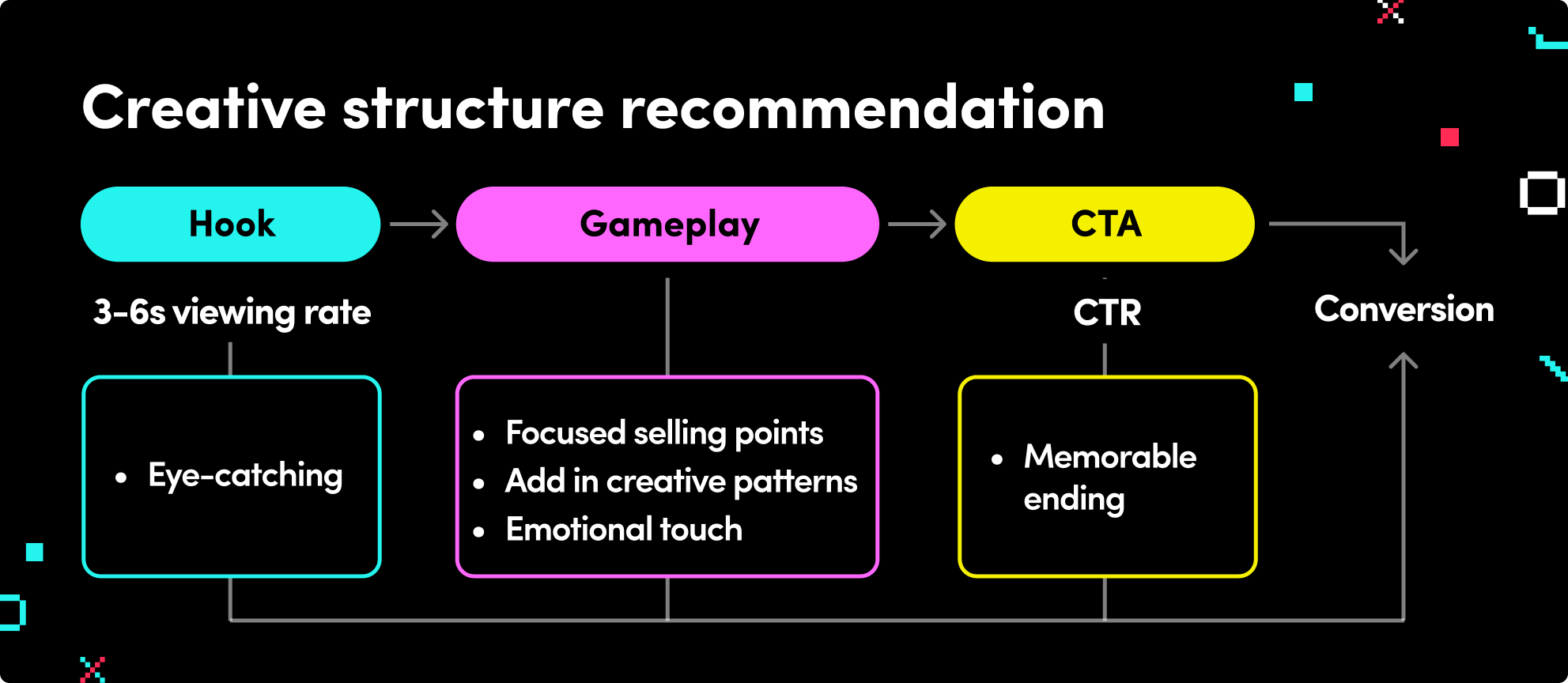 TopAds example analysis
Hook: begins with an eye-catching skit about a break-up at a wedding. This is a dramatic situation that is sure to grab people's attention.

Gameplay: the player comments on her gameplay with instant feedback, which emphasizes the outcome of each choice that she makes. This shows that each individual player can have a meaningful impact on the game, and will make people want to try the game out for themselves.

Call-to-action: ends with a "Play now" button, while the player encourages users to download the game.

Creative patterns:

Game commentary

Perspective switch

Lifestyle

Instant feedback

Engaging add-ons
Immersive within TikTok
❣️Four basic guidelines
Don't forget some of the fundamental guildlines from the start. Below are some basic guidelines when creating ads for TikTok. By familiarising yourself with these guidelines, your chances of improved average ad performance will increase significantly.
The Essentials
We've noticed that when performance advertisers follow these essential best practices, performance and ROl of ad spend see a significant boost: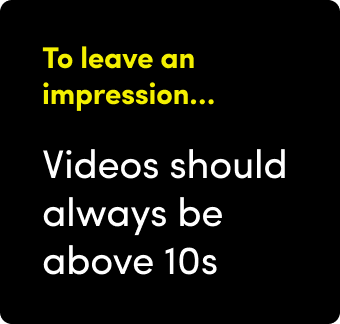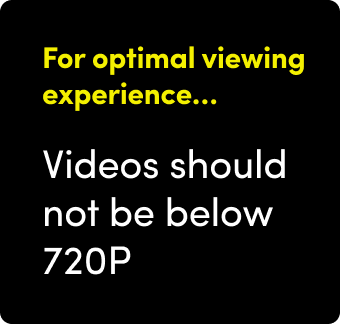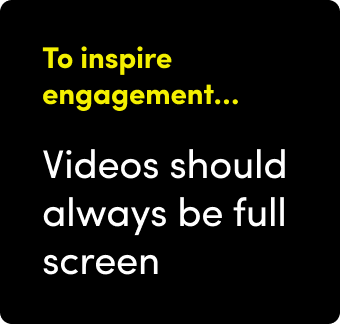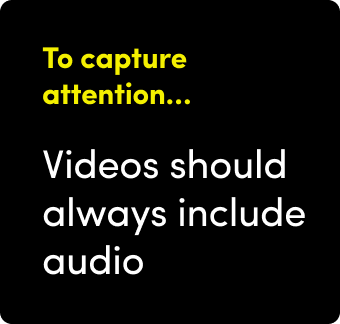 📲Safe zone
Don't forget to check the preview of your video ad to see what it will look like on real phones. This way, you can ensure that everything looks perfect and that the content is well-formatted.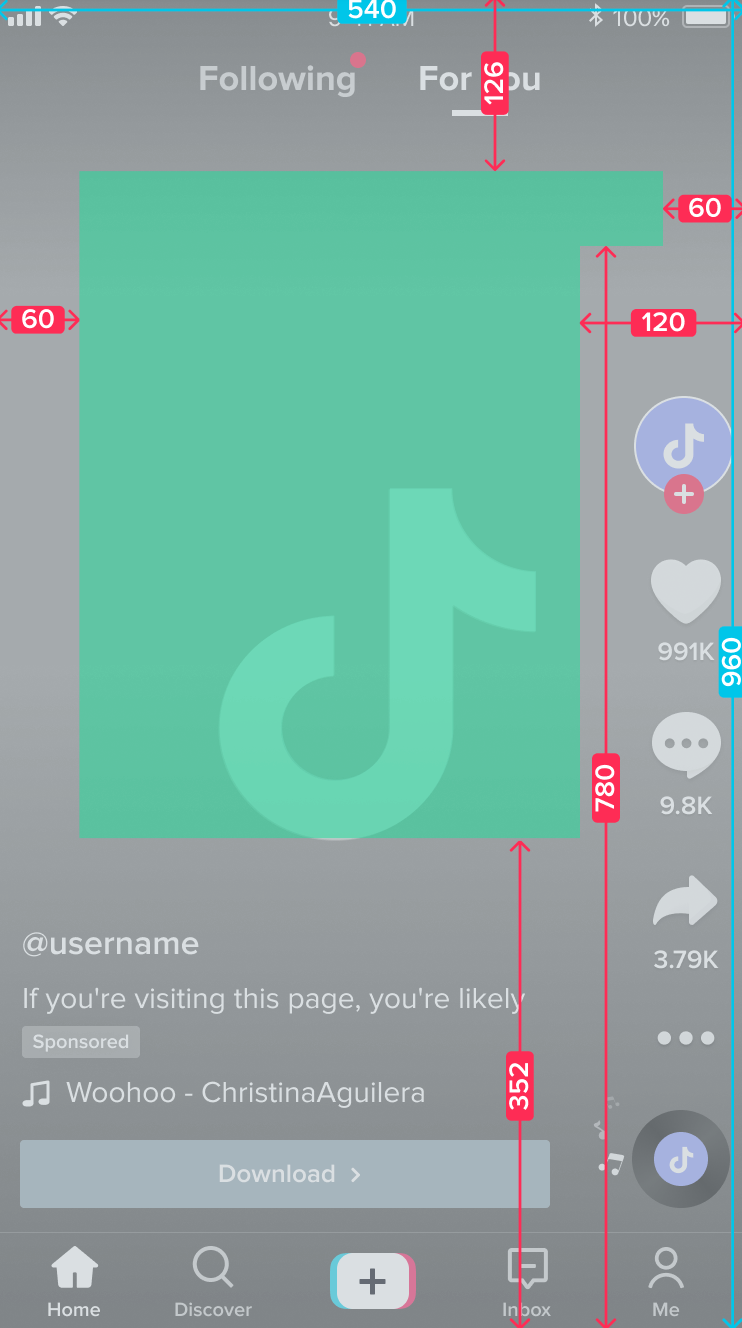 🎼Background Music
🙌Community
Start exploring different communities on TikTok, to discover new audiences and where you might fit in! Hashtags:
#anime

#roblox

#dc

#dance

#halloween

#kpop

#blowthisup
#christmas

#dlaciebie

#endlessjourney

#makeup

#cat

#happy
#strangerthings

#cute

#blackpink

#dog

#art

#fakebody
Try it out!
· Have you tried add additional design to the gameplay part? Review your existing assets. Are there elements you could add to create a new layer of depth?
· Try 5 new creative patterns or mix and match to modify your videos. Test and compare to see if there's a lift in results.
· Test 10 new creative scripts using the formats suggested above. Make sure the message is clear throughout your video. A/B test to see if results are affected.
Get started now by jumping into TikTok Ads Manager and let your creativity take over!