w:694

TikTok Creative Accelerator: Create Top Video Ads
Aug 14,2023
Yaxu Hu, Katie Ventura, Global Creative Expert, TikTok for Business
After understanding the storytelling factors and fundamental information of creative ads, now is time to start to make your first batch of TikTok creative ads. In this playbook, we will introduce assets of creative ads, the creative formula, creative tools, and how to create creative ads on the production & post production side, as well as ads policy and auction ads knowledge.


Producing a video may not sound that hard, but creating eye-catching video ads that effectively deliver your product's messaging, while motivating your target audiences to take action is a challenging task. So, how do you deliver an impactful and captivating video ad? In the following section, we'll take a look at the video assets that are currently popular on TikTok, to give you a better understanding of how to deliver your message through video.

Did you know that over 93% of top-performing videos use audio? data source. Sound is a key component of TikTok videos, however, it's an element that's generally ignored by advertisers. We encourage you to think about how to maximize the value of sound when creating your ads. Using the best-suited soundtrack or trendy sound, on top of your own remix or take, can reveal your brand's unique personality.
Music
Music is an effective way to set the right tone in your ads, while also showing your brand's personality. Recognizable music improves attitudes towards brands, as well as ad interaction (likes) and purchase intent. Custom music that's created by the brand may be helpful in boosting ad recall and intrigue.

Non-Music Audio
Non-music audio can help drive awareness & trigger an emotional response. Compared to music audio, non-music audio can trigger an emotional response in their audience up to 1.5 seconds faster.
Voiceover
Voiceovers are the most common way to narrate ads. Leverage VO to your advantage by highlighting the key selling points, asking a question, or simply engaging your target audience.
Voiceovers and direct-to-camera narration are simple yet effective ways to make a positive impact on your performance marketing efforts. Our data has shown that using a voiceover in ads can lead to an additional 12% increase in conversion rate.2 It also improves recall and recognition, and is considered more informative.

ASMR
ASMR is a popular trend on TikTok that features mesmerizing, soothing sounds that have been proven to have a stress-reducing, mood-boosting effect. Jump on this trend with your own products, to achieve the same effects on your audiences.
Research shows that ads that feature ASMR are considered higher-quality than those that use other audio types.
💡Tip: For ASMR, try to record sounds at the same time that footage is being filmed. It's ideal if the sounds happen naturally during the shot.
Trending TikTok Tracks
If you think of any viral TikTok video, there's likely a viral sound that accompanies it. Take advantage of currently trending tracks to boost the popularity of your creative ads!

Live Action
Live action video ads are a popular and effective way to make an impact on TikTok.
There are plenty of ways to incorporate Live Action. One way is to showcase the product from a user's perspective. By showing the actual product and sharing real experiences, your audiences can better understand the product's benefits. You could also show the usage scenario of the product, enabling people to visualize themselves using it themselves.
Live Action content has seen a 25% lift in click-through rate, compared to computer-generated-imagery creatives.3
CG / Animation
Computer-generated imagery (images, animation etc.) can also be used in creative ads.
This is a cost-effective method, but the visuals may be less eye-catching. Audiences tend to be attracted by high-quality and entertaining video content that features real humans.
If CG imagery is your only option, try to add more visual and sound elements to enhance the value of your video ad.
Transition
A creative transition can be a helpful tactic for elevating your content. It grabs attention, helps the progression of the story, and makes your creative ads flow better.
TikTok users tend to love good transitions, so consider leveraging this great visual element for cutting from clip to clip in an engaging way. Seamless transitions have also proven to boost view time by +14%.4

Captions / Subtitles
Captions have proven to be one of the most useful additions to videos, as they help provide supporting details or context, while ensuring correct understanding of the audio.
Adding captions can positively boost performance in terms of view time, brand affinity, likability, recall and uniqueness.
Text / Text Overlay
Text overlay is another prominent way to emphasize key messages. In fact, text boxes are used in 86% of all ads.5
This can be a highly effective way to visually engage and spark interest in potential customers, as it results in a significant 64% lift in conversion rate.6

Stickers / Graphics
Animation-style stickers make your creative ads more attractive and dynamic. These eye-catching add-ons can help you attract audiences and encourage them to keep watching your ads.
They can also help you emphasize key information that you want your audiences to remember, such as selling points.


Generic patterns to Follow for Successful Creative
Product showcase
Showcasing your product in action is another highly effective way to demonstrate the product experience and encourage people to try it out. When a product is illustrated in use within a creative ad, we've seen a 175% increase in conversion rate.8
The product is shown in-use, while highlighting the main features and selling points.
Showing real people can make an ad feel more personal and elicit an emotional response. In terms of emotion, videos in which talent showed a range of 4+ emotions resulted in a +3.3x conversion lift, compared to when the talent showed 3 or fewer.
Text, voiceover and visual content focuses on the consumer experience and reviews of the product. Reveal real-time results and demonstrate the effectiveness of your product.
Tutorial / Step-by-Step Guides
Give your audience a step-by-step guide on how to use your product, while mentioning how they can take advantage of its benefits.
Hacks and tips are great ways to give the community insider, exclusive info on how they can achieve their desired effects easily and quickly, with less hassle.
Take viewers through the exciting process of unboxing a package, while showcasing the products and how they look upon opening.
Skits / Creator Personality
We encourage advertisers to leverage creators to act out skits with product placement. Tap into TikTok's wide range of expert creators across various communities to highlight your brand and appeal to your audiences. Their unique self-expression in different skits/scenarios will add a unique twist that's memorable to your audience, and attract more people to your brand.
Share the backstory of your product or brand, such as how the idea behind your product originated. This will make audiences feel closer to your brand.
Price & Promotions
If reasonable pricing is an attractive selling point of your product, it's best to inform your audience by mentioning it in the text or voiceover of the video.
Everyone loves a good discount. By revealing a significant discount directly in the videos, (e.g.: 50% discount, buy one get one for free. etc.) users will be captivated by the fact that they're getting a good deal and be encouraged to buy.
If your business sells cheaper products, leverage the 'psychology of discounts' by positioning it as a comparable alternative. Highlight the quality of your product by talking about its longevity and impact.
Brand Awareness
Share never-before-seen footage, such as scenes at the office at HQ. This serves as "exclusive footage" and an insider sneak peek into your brand, helping your audiences feel closer to you.
Engage your audience by sharing your brand's values, or the founding story behind how the company was born.
Our research has shown that creative assets that incorporate 1-2 brand elements generate a 56% increase in conversion rate compared to those that don't have any brand elements.10
Audience Perspective
Create intrigue and interest through the text and/or VO that mentions your product's virality. Your video might include the phrase "TikTok made me buy it" or some variation of this.
Share how easy the product is to use, wear, play, etc. This is a compelling way for audiences to understand that the product is simple, hassle-free, and has no barriers to entry.
Provide a solution to common problems / pain points of the community and highlight how your product can solve these issues.
Create a video that leverages the product to make your audience feel a sense of satisfaction, which could also highlight the product's key features or selling points.
Think of Before & After creatives as a real-time review of your product. The "After" results allow your intended audience to see the immediate results of using your product, and will motivate them to try it out themselves.
Identifying Trends
Nano-level trends capture audiences at high frequency, and have the ability to make users take action right away. They tend to manifest in formats like: challenges, sounds, and education.
Micro trends gain momentum over longer periods of time and are comprised of clusters of nano trends from different categories, verticals or topics. Examples of micro trends include community commerce and joyful entertainment.
Macro trends are generally intangible, but can be observed through behavioral changes in people. Some examples include: Reframing the Protagonist, New Culture of Community, and Next Gen Influence.
Trending Patterns - In-App Features
Responding to real comments and questions is a great way to convey key product features, while resonating with the audience and allowing them to feel like their voice is heard. Addressing common questions from your community will pique their interest and keep them engaged.
You can always leverage TikTok's in-app effects, such as the popular "green screen" effect, to boost the creativity of your videos!
Take advantage of the Commercial Music Library to tap into audio tracks that are trending on TikTok. Capture the attention of your audience and provide them with the best possible TikTok experience by making the most of what's already hot and top of mind.

Writing your video script might seem intimidating at first. Where to start? There are so many possibilities!
Don't worry, we're here to provide you with a few creative examples that should serve as thought starters to get you going. As you write your video script, always remember to write with your audience in mind. Ask yourself these questions: How do they want to be spoken to? What resonates with them? Make sure to keep it conversational and casual - infusing the right humor, tone, and inflection accordingly.
The first 6 seconds of your video are crucial. Captivate your potential customers with a powerful, attention-grabbing hook that draws them into the video and sets the overall tone. Make sure the hook is related to your message and the concept's key narrative. This will ensure a smooth transition from the initial hook to the message that follows.
Middle -- The Key Messages
Following the hook, deliver your primary message in a clear and memorable way. It is important that your primary message is connected to your product's selling point and key narrative organically and cohesively. This portion of the video should continue in the same tone that was set during the Hook, and should feature the main highlights that you want the audience to take away. This is your time to get your audience interested in your product and build trust around your product's benefits.
End with a CTA that encourages interaction from the viewer, and inspires action. Keep up the momentum and motivate them to take the next step. This is also an opportunity to leave your viewers with memorable closing remarks, through text, voiceover, and/or graphics. Note that 80% of top intent campaigns use a call-to-action prompt. Ads using a CTA display card see +45% Stronger recall and 19% Uplift in likeability, as well as a 30% increase in conversion rate lift.

Examples
Everyone on TikTok is talking about this [product]. I finally got one!
This [product] is always sold out!
I finally received the [product] that has been highly recommended.
Recently, I've noticed that I have [problem]...
3 signs that you need...
3 ways to improve [problem]
You're not gonna believe this! [Product] helped me overcome [problem] so fast
My [scenario] must-haves...
I couldn't have been more excited about receiving this package today...
I finally received my package from [brand]
Can't wait to open up this box and show you guys what's inside!
Middle -- The Key Messages
I'm so surprised by how well-made this looks!
These [products] will last you a LIFETIME! They are literally so well-built and durable.
I've had this [product] for 3 years and it still looks like it did the day I bought it.
At 20% off, these won't be in stock for long!
I can't believe I got all of this for 50% off with the promo code!
If your family looks like mine, then you know how important it is to have a [product].
Do you ever find yourself wishing you could upgrade your bedroom, but have no idea how?
Swipe to try it out yourself!
Click below to order!
You have to check this out for yourself!
This totally improved my sleep and can do the same for you!
Try this and never have to pay for a [product] again!
Click the link below to learn more👇!
Buy from [retailer] now. Link in bio.
Buy from this link for a discount when you place an order.


E-commerce: Men's Tops
Structure
Before & After
Real User Review
Scene
The same person wears different t-shirts in three different scenarios: in the kitchen, driving, mowing his lawn
Man showing the before & after contrasts of himself wearing other t-shirts compared to True Classic Tees
A man wearing the product and carrying a baby girl to validate the softness of the product.
Showing the packs of t-shirts that you can order now.
App: Internet Finance
Structure
Step by Step Guides
Oddly Satisfying
Scene
The subject's hand opens a mailbox to reveal an envelope, then opens it and takes out a credit card.
The subject uses the Self card for various purchases.
The subject uses the Self app and clicks on the phone's screen.

Creative Center is a free, public-facing website that serves as a one-stop shop for TikTok creative resources globally.
Our resources can help advertisers better identify trending products, get creative inspiration, and keep up with organic trends on TikTok. Research shows that by using Creative Center, advertisers have saved an average of 5 hours on finding inspiration for their creative ads. The best part is that after using Creative Center, advertisers produced 21%+ more effective ads. data source.12
Now, let's explore the creative tools at your disposal in Creative Center. Link 👉 TikTok Creative Center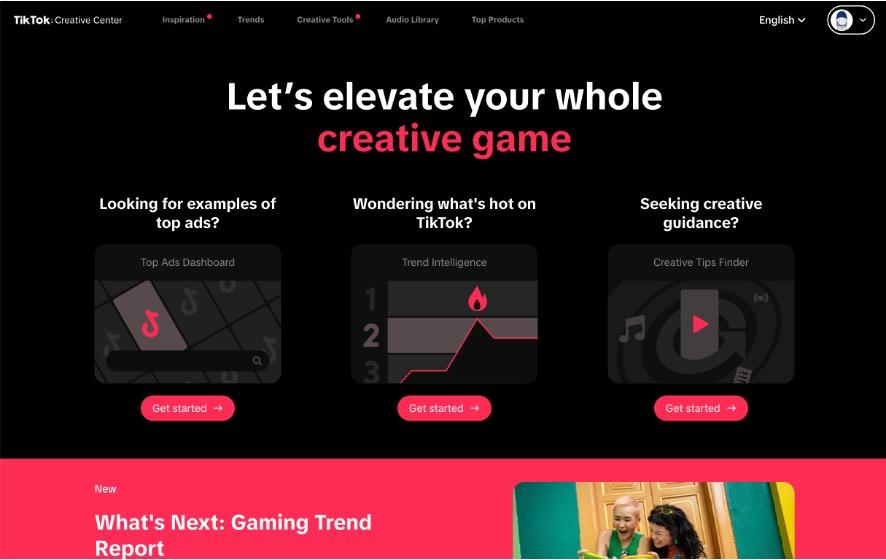 1. Top Products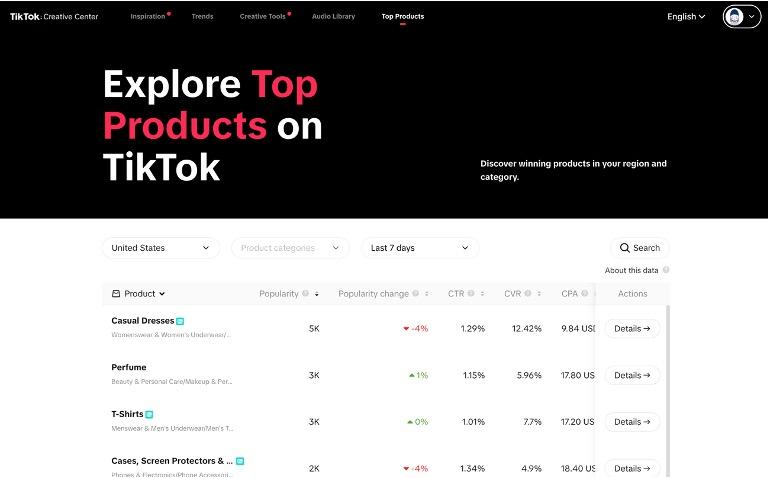 Top Products spotlights the latest trending products featured in TikTok ads, to help advertisers identify which products to showcase in their creative ads. This is a great resource for discovering the most successful products in your category, and for gaining insight into the products that audiences are most interested in.
2. Audio Library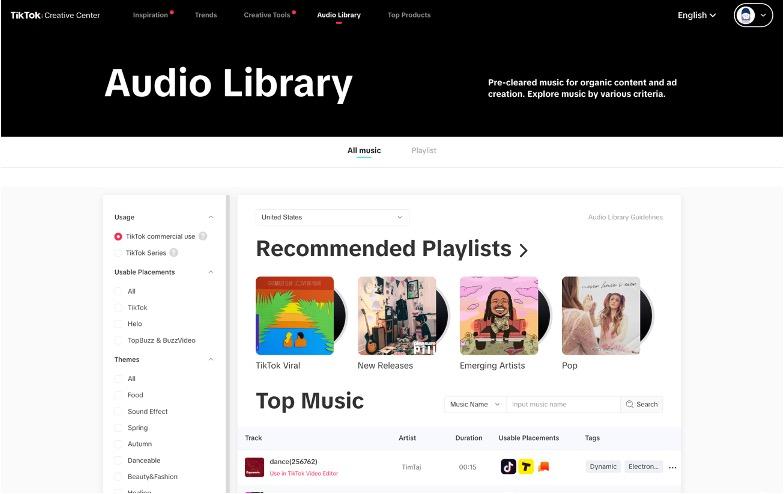 Audio Library is a searchable collection of pre-cleared audio clips that can be used for commercial purposes (i.e. ads). Take advantage of our Audio Library to enhance your creative assets with the perfect sound, while simultaneously saving costs around music rights and audio creation.
3. Creative Strategy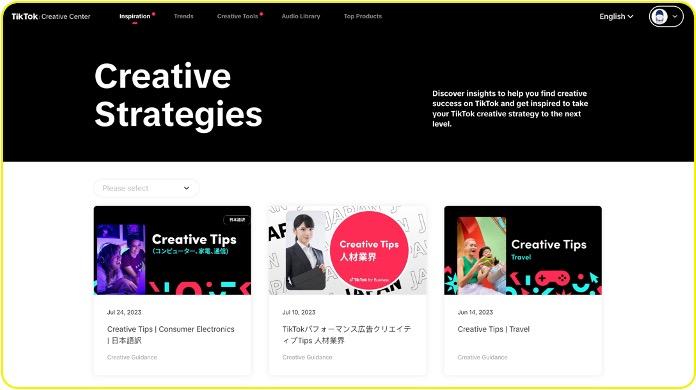 Our Creative Expert team has reviewed thousands of top-performing ads, and have broken down the detailed methodologies on how to produce great creative ads for specific verticals.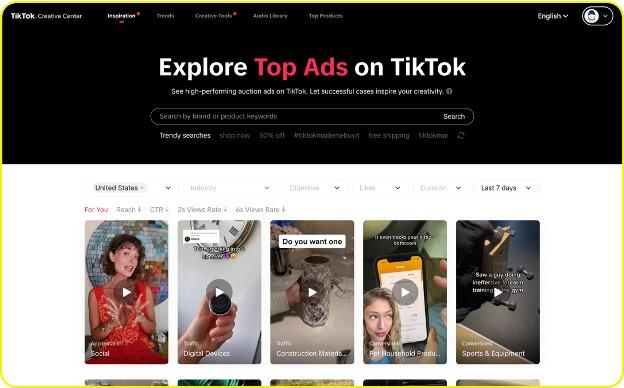 Top Ads is a collection of top-performing ads from around the world (that have been authorized by advertisers). Leverage this resource to get creative inspiration from TikTok ads in your region or vertical. You can also review the performance factors behind a top ad's success.
4. Trending Insights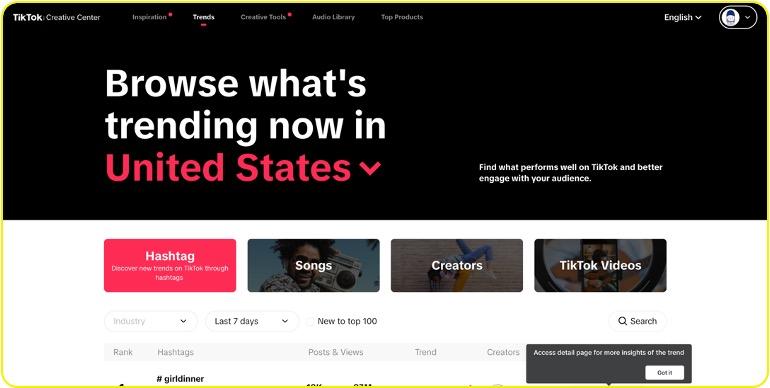 TikTok hashtags help categorize user-generated video content so that users can find it easily and search for additional, similar content. This is a great way to check the pulse of hot topics on TikTok in your industry or region, which helps you identify how you can jump in on certain trends and join the conversation.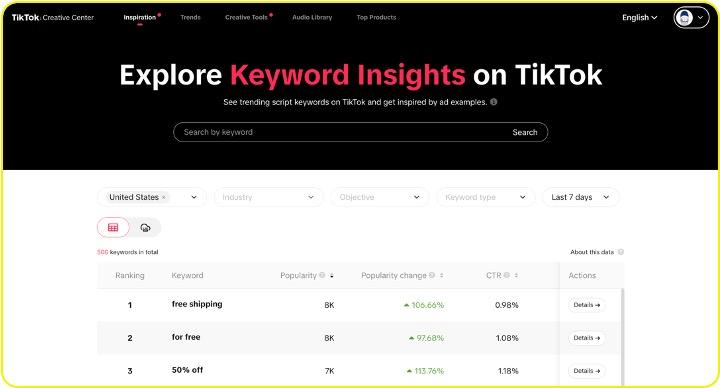 Keyword Insights is an insights tool that highlights top keywords and phrases from TikTok ads, to inspire advertisers with ad copy and creative messaging ideas. Users can browse commonly-used and top-performing keywords from TikTok ads in their respective region/country, industry, and marketing objective, and also see how the keyword was used in the context of ad copy from real TikTok ads.

To create a new video in TikTok:
Tap + at bottom of the screen
Upload content from your device Library or use the TikTok camera to record
Add Sounds, Effects, Filters, or leverage other camera tools
If you plan to record content, press the Record button to begin shooting
Record your content
Tap the check mark
Make additional edits on the post page
Post your video!

A prop is an object that the subject(s) in your shot physically interacts with - this is typically the product you're trying to showcase, but can be other things as well. Go through your script and identify any objects that would be helpful in conveying your message.
Stick to solid and rich colors to stand out in your videos. Avoid wearing white clothing, which may be distracting to viewers.
Avoid any clutter in your background - make sure to remove items or subjects that will distract the viewer from focusing on you and your product. Design your set in a way that supports the story you're trying to tell.
For anyone creating on TikTok, basic lighting techniques are important to understand. The most popular technique on the platform is natural lighting, which replicates real life, and is ideal for illuminating your subject(s), product(s), and/or background.
Shot List
When planning your TikTok video(s), get organized by putting together a shot list that maps out each scene in your video. Consider the size and angles of your shots. Imagine that your audience is the camera, and go from there.
This type of shot frames the product/subject very closely, to the point that it takes up most of the screen. Capture the fine details of your product, service and/or your subject's facial reactions for a greater impact.
Medium shots are filmed at a medium distance from the product/subject. This type of shot allows the audience to clearly see more of the setting and the creator's body movements.
Wide shots are more zoomed out, and filmed from a greater distance. Show your product/subject in the context of its surroundings. This type of shot allows your audience to absorb all the information within the frame.
Camera Movement
Lock your camera to a fixed position using your tripod. This is a great position for maintaining the audience's attention on a subject that's speaking to camera.
Move your camera horizontally, left to right, to reveal new information in the frame or sync with the subject's movement.
Move your camera vertically, up and down for a surprise effect that elicits awe from the audience. You can also use this movement to give your subject dominance and/or capture emotion while eliciting intrigue.
Move forward towards your subject to draw your audience's attention to a specific detail in the frame.
Move backwards away from the subject to make them look smaller and reveal their surroundings.
Zoom in to magnify your subject/product, or zoom out to reduce its size as the focal point in the frame.

Safe Zone
To ensure that your content shows up fully and properly on TikTok, please be aware of the Safe Zone.
When a user is served content on their For-You-Page, there's a number of fixed elements in the UI that can potentially block your creative ads.
Always keep your product or important elements of your creative ads in the safe zone ( 👇 indicated the green box in the images shown below), so that no message is lost and the focal point is within the safe zone.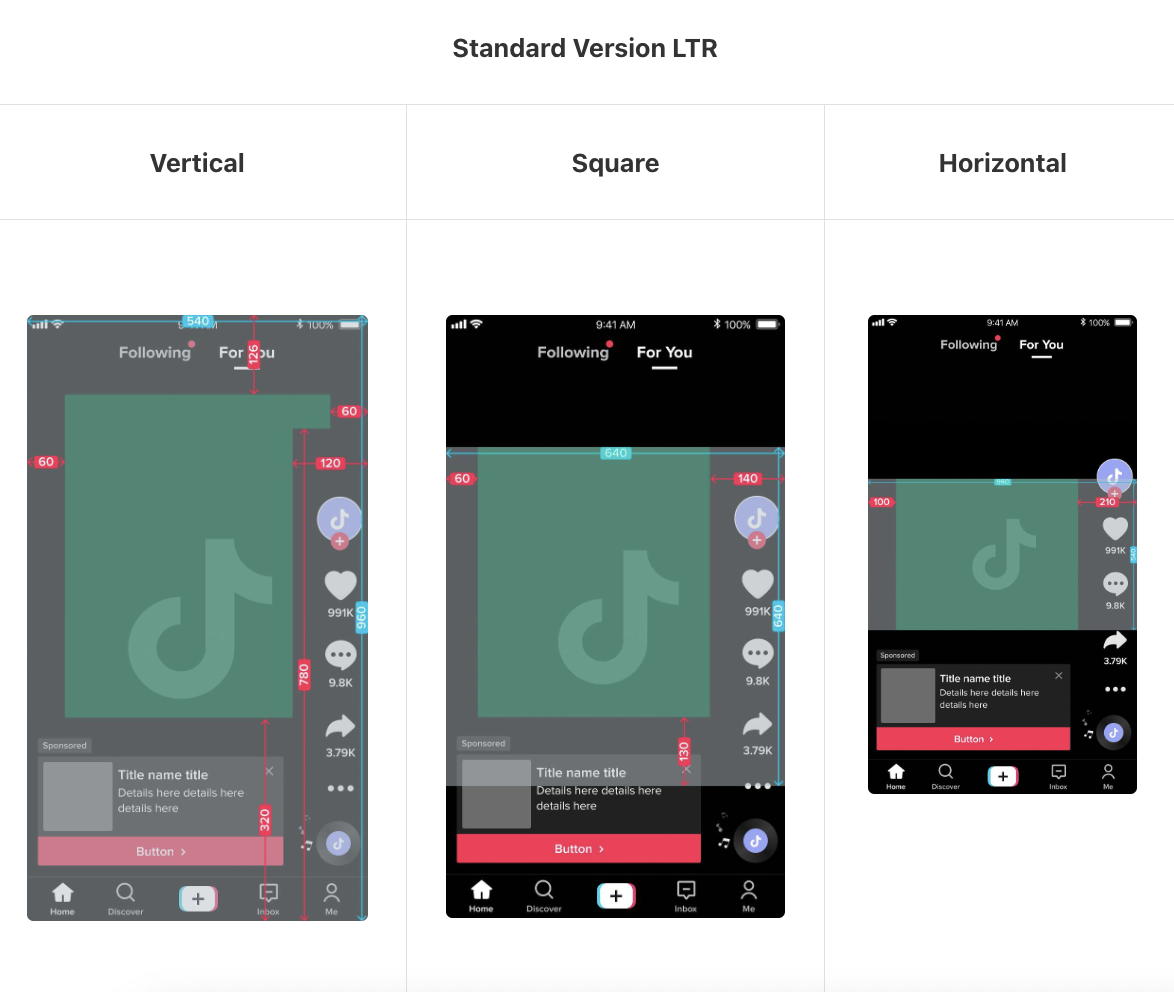 Ad formats and functionality
Ensure ad consistency. The various ad elements (caption, text, image and video, CTA) on TikTok ads must match their respective landing pages.
Landing pages must be:
Live, active, and complete
Include all required information
Informative and helpful, and not demanding of personal information
Free of inescapable pop-ups and prohibited information
Ad quality - Text
Captions must be complete and legible
Ad title must not be a URL or incomplete sentence
Avoid typos, punctuation errors, or gimmicks around prohibited messaging (see below)
Ad quality - Image
Must not be horizontal or vertically flipped images. They should be vertical by nature for a fully immersive experience.
Must be a clear, complete image
Still images must appear for longer than 5 seconds
Prohibited & restricted content
Discriminatory Content Ad must not discriminate based on:
Race
Ethnicity
National origin
Sexual orientation
Gender identity
Religious affiliation
Age
Family status
Medical or genetic condition
Sexual and Adult Content Not allowed:
Adult products (prohibited industry)
Sexually suggestive products
Sexually explicit lyrics in songs
Sexual innuendo
Excessive skin exposure
Focus on sensitive body parts
Misleading claims Not allowed
Depictions of excessive and irresponsible drinking
Alcohol brand names
Scenes of drinking in real life
For more information related to ads policy click here
Creative review stage
How long does it take to get a new ad group approved?
Typically, most ads are reviewed within 24 hours, although in some cases it may take longer. For more information on how to track the status of your ad review, see Campaign, Ad Group, and Ad Status.
What is the exact reason that my ad got rejected?
An ad is rejected when it violates one or more of our advertising policies. You may refer to the details provided on the ad rejection prompt, which you can find on your Campaign tab's Ad Group and Ad lists.
Make sure that your promoted products or services are not listed as a prohibited industry according to our industry entry policy.
Make sure that text, image, caption, audio, video, landing page, and language in your ads are created in a consistent and appropriate way that makes for a positive user experience.
Avoid any misleading claims, false information, and sensational or shocking content.
Avoid any sort of infringement of intellectual property.
Avoid any political, religious, or culturally sensitive content.
For more information related to Ad review, please visit 👉 https://ads.tiktok.com/help/article/ad-review-faq?lang=en、source


Create multiple ad accounts:
You can create a new ad account for better management and analysis. For example:
You have different agencies/teams managing your accounts.
You need an account for auction ads and another account for reservation ads.
You have different games/apps to promote under iOS14 Dedicated Campaigns.
You have one account for App, one account for Web.
Scenarios in which you don't need to create a new account:
When overbidding/under-delivering, or when creative fatigue happens: as long as the creative/ targeting/bid/budget is the same, then creating new accounts will not help advertisers improve their ad performance. What advertisers really need to do is to refresh their creatives, and adjust their tagalong or bid/budget.
When selling products from different categories: Advertisers can leverage different targeting options available on TTAM to guide our algorithm, such as:
Target females for yoga leggings and target males for belts.
Target different age groups when the audience for the products varies by age.
Target different markets if the websites are different, e.g. www.xxx.fr / www.xxx.de / www.xxx.us.
📌 Does it help to run multiple different ad accounts?
A good, mature account is beneficial to all ad group users, and only one account is really needed.
The more conversions/data the account accumulates, the more accurate the algorithm will be at re-editing the CVR. As a result, both underestimation and overestimation can be improved, and higher budget consumption, learning phase pass rate and lower CPA can be expected.
Create multiple ad campaigns:
It is recommended to have 3-5 diversified ad groups within one campaign. Advertisers can add ad groups into one campaign, as long as the ad groups share the same objective.
📌 There is NO need to only put 1 ad group in 1 campaign.
Don't duplicate campaigns without any adjustments.
Create ad groups:
📌 Simply duplicating ad groups without any adjustment will NOT help! Creating multiple diversified ad groups will help the ads experiment and scale.
Diversify means:
Different creatives (suggested).
Different targeting products: custom vs. automatic targeting, interest & behavior targeting, custom audiences, etc.
Different optimization goals: Click, View Content, Add to Cart, Complete Payment
Different bidding strategies: Cost Cap, Lowest Cost, Minimum ROAS, Highest Value
Uploading creative ads into ad groups:
Don't upload too many creative ads under the same ad group. If there are multiple creatives/ads in the same ad group, a few ads will typically get the most impressions/clicks/conversions, while the rest of the ads tend to get much fewer impressions.
📌 Advertisers need to upload new creatives (3-5), whenever they detect that creative fatigue happens (around every 7 days). Creative refresh frequency is the Top 1 factor which determines the lifespan of one ad group.
How to set a bid (eCPM=BideCTReCVR*1000)​?
📌 Setting the highest CPA bid advertisers can accept for Cost Cap, or the lowest ROAS bid for Minimum ROAS is extremely helpful for the ad groups to pass the learning phase and scale. Increasing your bid for Cost Cap or decreasing your bid for Minimum ROAS is the most direct and effective way to improve low delivery/scaling issues.
Advertisers should try to set the highest CPA bid they can accept for Cost Cap, or the lowest ROAS bid they can accept for Minimum ROAS.
Bid doesn't equal the final CPA/ROAS. For Cost Cap, the actual CPA might be lower than the bid, whereas for Minimum ROAS, the actual ROAS might be higher than the bid.
TikTok follows a second price auction model. Instead of paying the price the winner bids for, the winner only needs to pay one cent higher than the second highest bidder.
The higher the bid, the greater the audience the algorithm can explore. As a result, more conversions are expected, which in turn will bring more accurate predictions of CTR and CVR. Therefore, the actual CPA could be less than advertisers' bid.
Since more flexibility is given to the algorithm, setting a higher bid for Cost Cap or a lower bid for Minimum ROAS is extremely helpful for the ad groups to pass the learning phase and scale.
How to set a budget
📌 It's very important to set an appropriate budget, and try not to go too low or too high.
Advertisers are recommended to set the budget they truly want to spend.
Within your reasonable range, the higher daily budget, the better.
20 times target CPA is better than 10 times target CPA.
50 times target CPA is better than 20 times target CPA.
Advertisers should avoid setting a very large budget as their daily budget for one ad group. If you have a very large overall budget, you're better off allocating the budget to different ad groups and uploading different creatives to each ad group.
A daily budget is recommended over a lifetime budget, since the daily budget will have a more stable budget consumption on a more regular basis (daily) than a lifetime budget.
Make sure to either set an open budget at the campaign level, or the campaign budget needs to be equal to or higher than the total budget of all the ad groups under the same campaign. Otherwise, the performance of the ad groups will be impacted when the campaign is out of budget. Leverage Campaign Budget Optimization if needed.
Make sure you have enough budget for the ad group to accumulate sufficient (50) conversions and pass the learning phase within 7 days.
Recommended daily budget below:
Ad Group-level Budget: Use Daily Budget instead of Lifetime Budget.
App
MAI: Initial budget to cover at least 50 * target CPA
AEO (upper and mid funnel events): at least 20 * target CPA
AEO (purchase): at least 10 * target CPA
VBO: at least 10 * target CPA
Web
Complete Payment Optimization Event (VBO & non-VBO): at least 10 * target CPA
Other Optimization Event: at least 20 * target CPA
Within your reasonable range, setting a higher initial budget will definitely help the ad group pass the learning phase faster and benefit the overall performance of the ad group.
For all types of ads, if advertisers can set at least 50 times the target CPA as the daily budget, that would be ideal. If everything goes well, this means the ad groups can pass the learning phase in just 1 day.
However, we understand that for certain types of ads (e.g. for Web Complete Payment and AEO/VBO), the CPA can be very high, and 50 times the target CPA can amount to a huge amount of money. In these cases, advertisers can set a relatively low number (e.g.: 10 times the target CPA) as the daily budget.
📌 Avoid setting a budget that's too low, since this will definitely limit the delivery of the ads. It is strongly suggested to NOT to set the CPA as low as 1 times target CPA as the daily budget.
*Neither TikTok Inc. nor any of its affiliates, or its or their respective directors, officers, employees, or agents ("TikTok") make any representation or warranty, express or implied, in relation to the accuracy or completeness of the information contained in this document, and accepts no responsibility, obligation, or liability in relation to any of such information. TikTok expressly disclaims any and all liability which may be based on this document and any errors therein or omissions therefrom. TikTok undertakes no obligation or responsibility to update any of the information contained in this document. Past performance does not guarantee or predict future performance.
Source:
TikTok Marketing Science, US Music Perceptions Research 2020, conducted by MRC Data (formerly Nielsen Music);
TikTok Marketing Science, Retail performance creative analysis, May 2023
TTMP Creative Expert Center, Creative Tips for Beauty Industry, May 2023
TikTok Marketing Science, US SMB Creative Effectiveness Study 2021, conducted by Lumen
TikTok Marketing Science, The ARF, "How Advertising Works", 2017
TikTok Marketing Science, Retail performance creative analysis, May 2023
TikTok, "Creative Guide: Driving Brand Equity", 2021 (VidMob x TikTok Creative Analysis 2020)
TikTok Marketing Science, Retail performance creative analysis, May 2023
real user review
TikTok Marketing Science, performance creative analysis, May 2023)
TikTok Marketing Science, Retail performance creative analysis, May 2023
https://docs.google.com/presentation/d/1-MxSNtyGexTNvf-w4WB3HbYHkrDWE4sButn8ObIGazA/edit?pli=1#slide=id.g228edee399e_0_558