Ads run on TikTok Ads Manager have three parts: campaigns, ad groups, and ads. A campaign can include one or more ad groups. After creating a campaign, you will need to set up your ad group.
At the ad group level, you can define your:
Note:
​Ad Group names support 512 characters.

​There is an ad group creation limit of 999 ad groups per campaign.
When you create an ad group, you are able to choose where you want your ads to appear. We call the places where your ads show as Placements. We suggest selecting Automatic Placements so that our system will optimize your ad delivery across all placements to reach more people and drive more traffic.
​Automatic placement: If you select Automatic Placement, we will optimize delivery across all placements under TikTok Ads Manager.

​Select placement: If you choose Select Placement, you can manually choose where your ads appear.

​Block list (Pangle): To ensure Brand Safety, undesired media placements of Pangle can be added to Block List to help prevent your ads from appearing. However, this will decrease the reach of your ads. Block list using Pangle is currently only available in Japan.
When Automated Creative Optimization is turned on, the system will automatically generate combinations of your creative assets (images, videos and ad texts), and deliver only the high-performing combinations. You can upload your creative assets when creating your ad.
Targeting on TikTok Ads Manager offers numerous options including creating or excluding a custom audience or lookalike audience. There are also demographic and device options for you to narrow your audience, including age, gender, interest, operating system, and carrier targeting. For a full list of targeting options, see the article on Ad Targeting.
In the Budget & Schedule section, you need to select the timing and budget for your ad.
​Budget: Whether you set a Daily Budget (no less than $20) or a Lifetime Budget (no less than $20), your ad spend for the ad group will not exceed the budget.

​Schedule: Under Schedule, you can set the start and end time for your ads. You can choose a date range to run your ad or continuously run your ad after the start date.

​Dayparting: This allows you to select certain time periods within the day. The selected time period ranges from half an hour to 24 hours

​If you select All day, your ads will run throughout the day during the scheduled campaign time.

​If you choose Select Specific Time, your ads will run at specific time periods during the scheduled campaign time.
Here you can select your bidding process & optimization options and input third-party tracking links to monitor ad performance.
Note: CPM bidding is currently only available for Resso.
​Optimization Goal: There are three types of optimization goals to choose from: "Conversion", "Click" and "Reach". Some campaign objectives will set this by default.

​Billing Event: The system automatically sets the billing event based on the "Optimization Goal".

​If your optimization goal is "Reach", your ads will be billed as CPM (Cost Per Mille).

​If your optimization goal is to "Click", your ad will be billed as CPC (Cost Per Click).

​If your optimization goal is "Conversions", your bidding method is oCPM (optimization Cost Per Mile) and the payment method is CPM.

​See more details in Bidding Methods on TikTok Ads Manager.

​Bid Strategy: In "Standard Bid" mode, the system tends to control your cost per result more strictly so that the average cost per result stays within your bid throughout the delivery process.

​Bidding: Set how much you are willing to pay per thousand impressions, per click, or per conversion, and our algorithm will deliver your ads based on your bid.

​Delivery Type: There are two different ad delivery strategies to determine how your ad budget will be spent. You can choose either "Standard" or "Accelerate".

​"Standard": Your ad budget will be spent evenly during the scheduled campaign time.

​"Accelerate": Your ad budget will be spent as quickly as possible during the scheduled campaign time.

See more details in Delivery Type.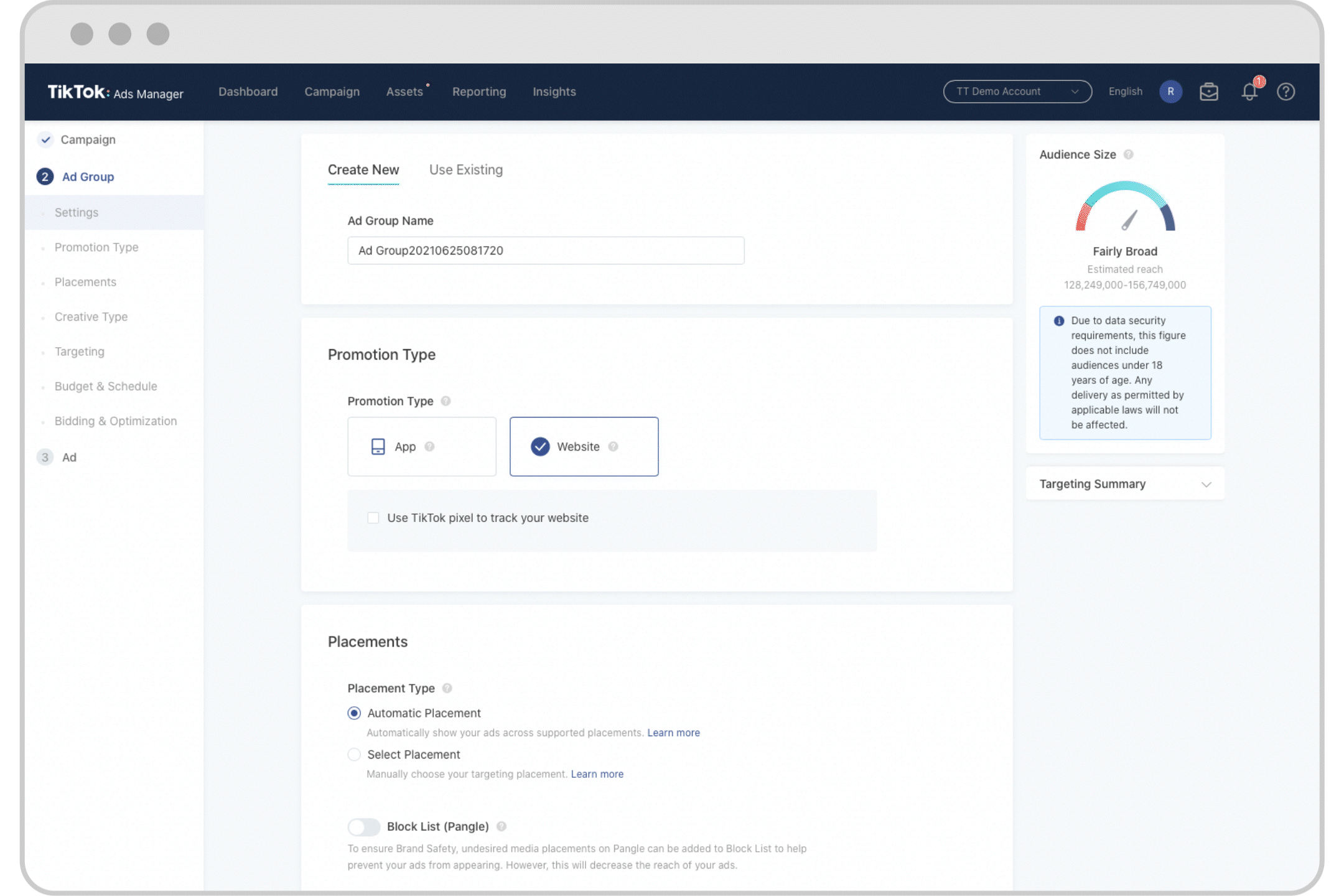 Note: Once your ad group is created, the Start Date, Optimization Goal, Conversion Event, and Smart Optimization cannot be changed.
Once you've finished your ad group setup, click "Next" and you'll be taken to the ad creation page to Create an Ad.