Before getting started: The information in this handbook provides helpful introductory understanding of TikTok's Advertising Guidelines, together with visual examples. It does not substitute TikTok's full Advertising Guidelines. Please go through our TikTok Advertising Guidelines for full details.
We want to create a safe place for your brand and people to connect.
This Advertisers' Ad Policy Handbook introduces TikTok's underlying advertising philosophy and policy basics.
Together, we'll create the TikTok experience that inspires creativity and brings joy!
As part of TikTok's Ad Review process, we'll go through the following advertisement elements:
​Promoted Product(s) or Service(s) Featured on Landing Page

​Ad Creative Elements, including:

​Caption or text

​Images or visual content

​Audio content

​Any other content that forms part of the Ad Creative

​Targeted Region Information such as:

​Age targeting/ group

​Currency

​Language
For your ads to run smoothly and successfully on TikTok, it is critical that your product/service and ad creative are compliant with our advertising policies.
In adherence to various laws and cultures, products and services are categorized according to their respective industry. At TikTok, we categorize advertisers' industries under one of the following:

You are advised to refer to the Industry Entry Guidelines for each industry's full, detailed information.
​Animals, Animal Parts or Products

​Adult Sexual Products, Services, and Entertainment

​Casinos and Gambling Games

​Cigarettes and Tobacco Products

​Counterfeiting and Piracy

​Drugs and Paraphernalia

​Police/Military Gears and Equipment

​Political Ads

​Unsuitable Businesses, Products, or Services

​Unacceptable Business Practices

​Weaponry and Weapon Parts

​Covid-19 Ads
Our platform prohibits any ads that exploit the COVID-19 pandemic. We also prohibit the sale of medical masks, hand sanitizers or other equivalent respirators, COVID-19 test kits, and COVID-19-related products*.
*COVID-19-related products: Subject to change depending on the COVID-19 situation.
You are advised to refer to the Industry Entry Guidelines for detailed and applicable regional policies for your industry.
​Alcoholic Beverage

​Children's Products such as Infant formula; products or services that are specifically intended for children including toys, games, apps, etc.

​Financial products/services such as Payday loans, pay slip advance, pay on-demand service, wage advance service

​Mail Order Brides; Improper dating services; Mail order brides and improper dating services such as dating motivated by compensation, infidelity, or sexual encounters

​Prescription Drugs

​Simulated Gambling Games such as bingo or other gambling-related content

​Weight Loss Products including fasting and weight loss products

​Random Boxes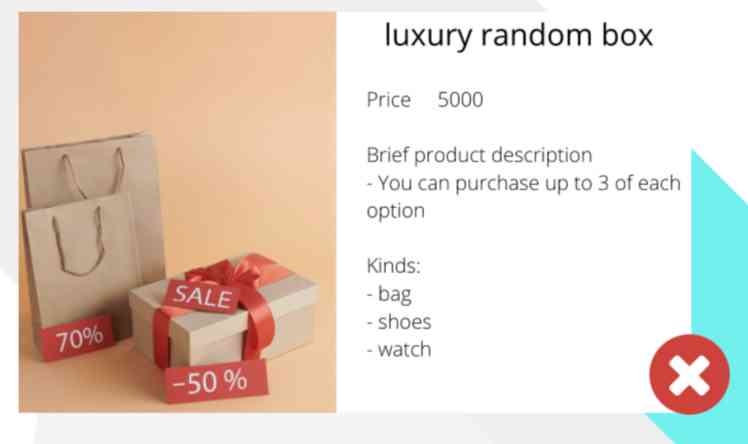 Restricted industries are allowed in some countries or regions upon fulfilling one or more of the following condition(s):
Below is a non-exhaustive list of industries popular in Australia (AU) and New Zealand (NZ).
If you are advertising for one of the mentioned products/services, it will be helpful for you to get familiar with the advertising requirements for these industries. You are advised to refer to the Industry Entry Guidelines for detailed applicable regional policies.
Industry

Requirement(s)

1. Contraceptives

Restricted 18+ cannot have sexually suggestive content and ensure they comply with all policies.

*Need to check with your Account Managers (AMs) for more detailed information

2. Dating Apps & Services

Restricted 18+ and no sexually suggestive content

3. Financial Products

Restricted 18+ and needs license

4. Healthcare & Pharmaceutical

Restricted 18+; exclude prescription drugs

5. High Fat/ Salt/ Sugar (HFSS) Food or Drink

Promote excessive consumption of HFSS; food or drink should not specifically target kids (aged 14 or under)

6. Media and Entertainment

All computer games, TV shows, and films are required to have age classification box in all ads videos.

*Age targeting should be applied in accordance with the classification.

*Age-rating box must be shown on movies, streaming service series episodes, DVD, Blu-ray, cinemas, festivals. Excludes TV and radio networks.
Age classification box example:

The guiding principles for Ad Creatives are as follows:

As a guide, we have provided some examples of positive Ad Creatives for your reference. These are safe guidelines for your brand, our platform, and users. You are advised to refer to the Ad Creative and Landing Page Guidelines for detailed applicable regional policies in your targeting region.
Every ad must be compatible and appropriate with TikTok's platform (both format and functionality) to foster a positive user experience in our community.
The following are non-exhaustive guidelines and examples as a reference. Click here for more information.
Scenario 1

Scenario 2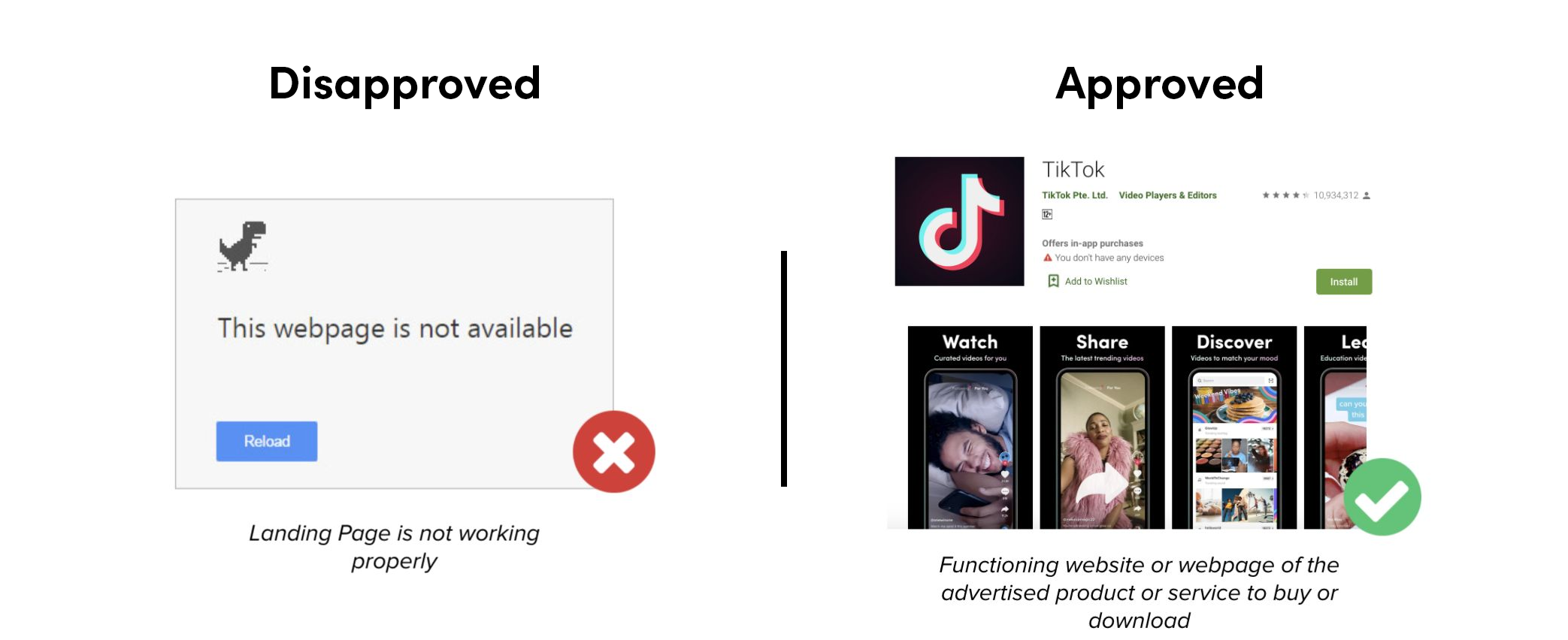 For example: German (language) and Euro (currency) are not an acceptable language and currency for AU and NZ if you target your ad to these regions.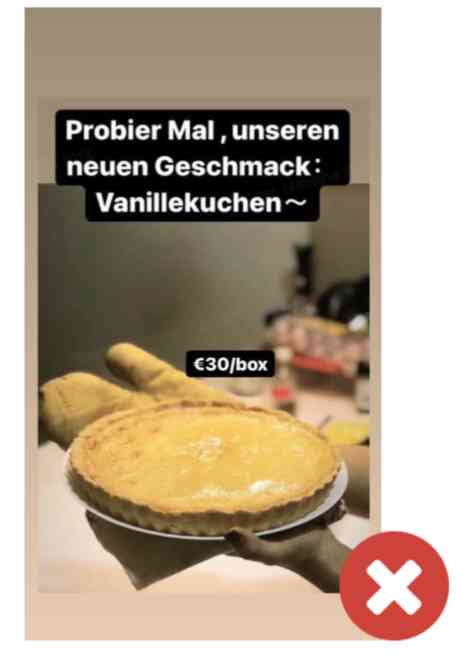 Scenario 1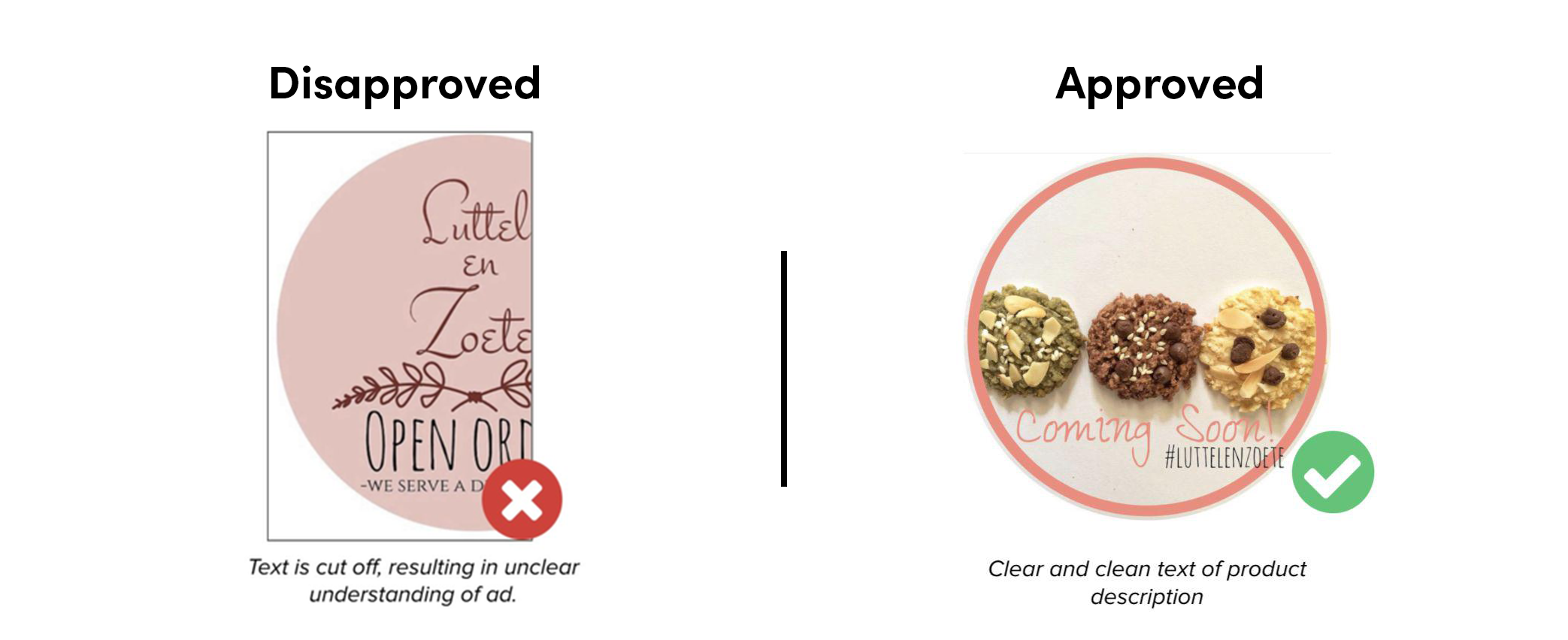 Scenario 2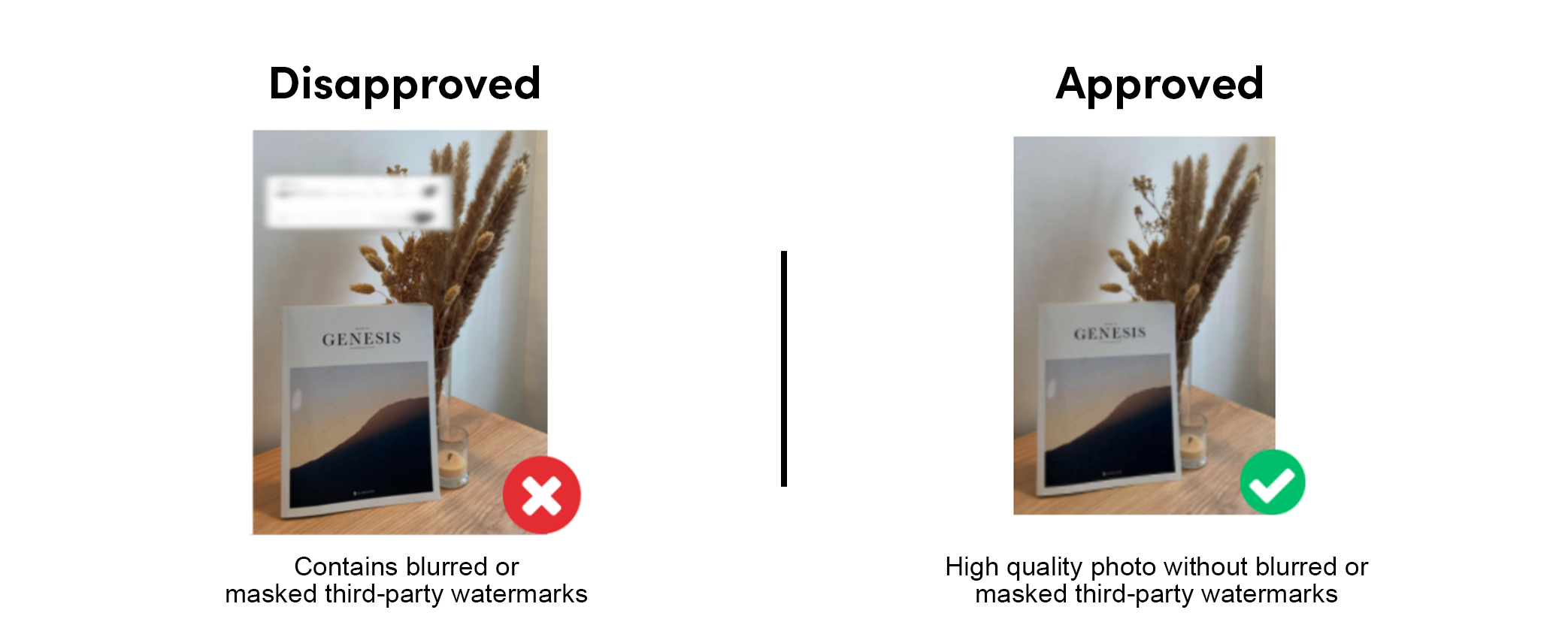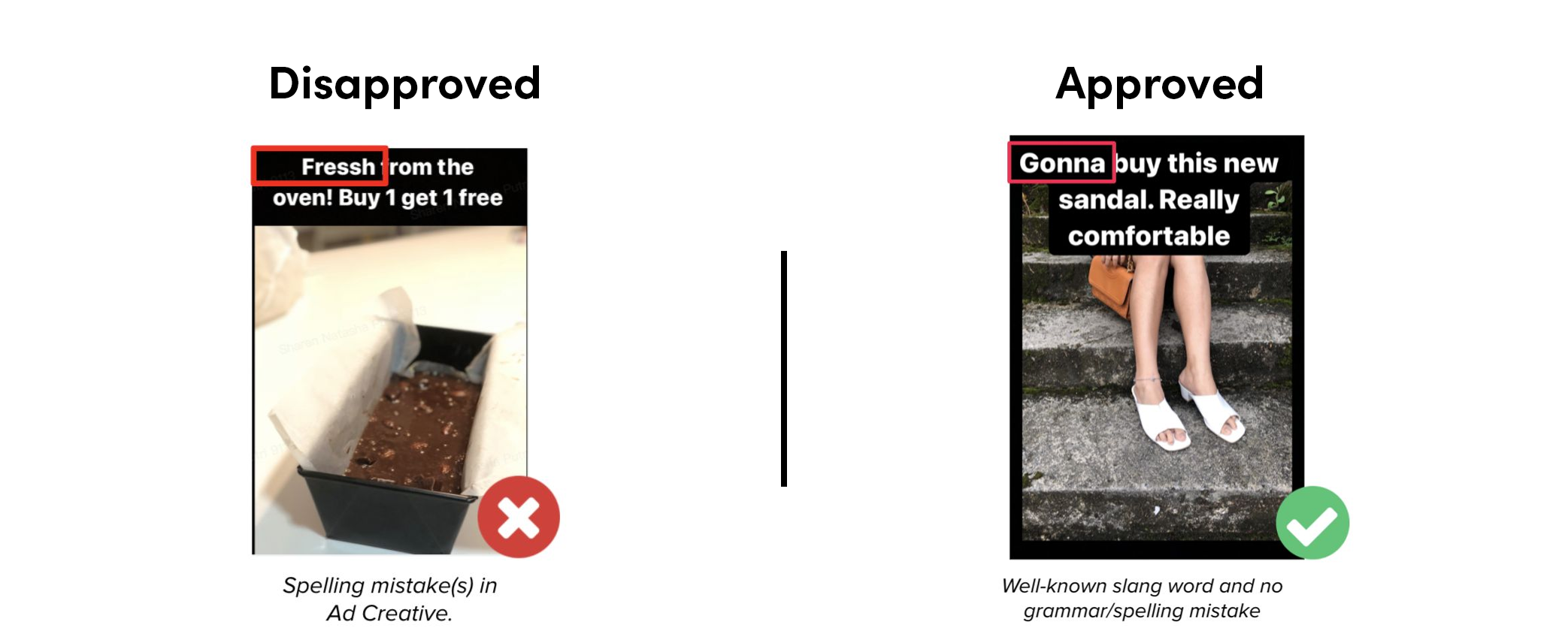 The ad contains incorrect spelling (fressh) and is non-compliant.

The ad contains commonly accepted slang (gonna) and is compliant.
Tip: Use commonly accepted spelling and grammar in ads for a positive user experience.
In some cases, we restrict ads that may mislead our users due to false expressions or exaggerated information.
Below is a non-exhaustive list with examples for your reference. Click here for more information.
*Subjected to evidence provided on such claims or clear disclaimer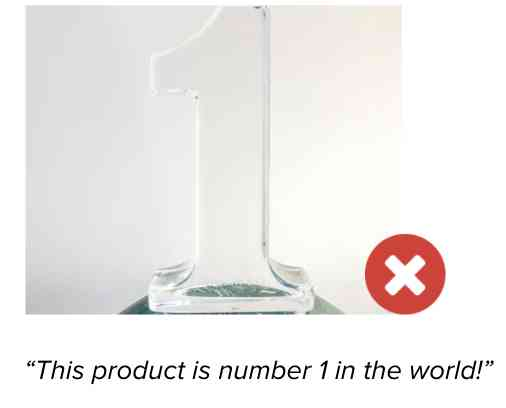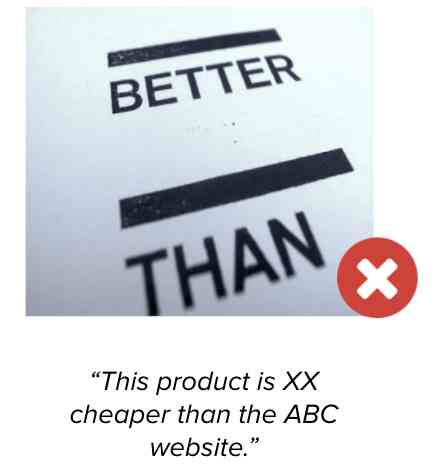 (Ad Creative and Landing Page display different discount rates or prices)
*Including but not limited to discounts and prices
Some ads may feature content that touch on sensitive topic(s). They are restricted as they may provoke controversial issues in our community, and may result in a negative experience for our users.
The following is a non-exhaustive list with examples for your reference. Click here for more detailed information.

(Sexually suggestive action(s) through text, gesture(s), and clothing)

(Cannot be featured in any form, including but not limited to dialogues, gestures, monologues and/or song lyrics)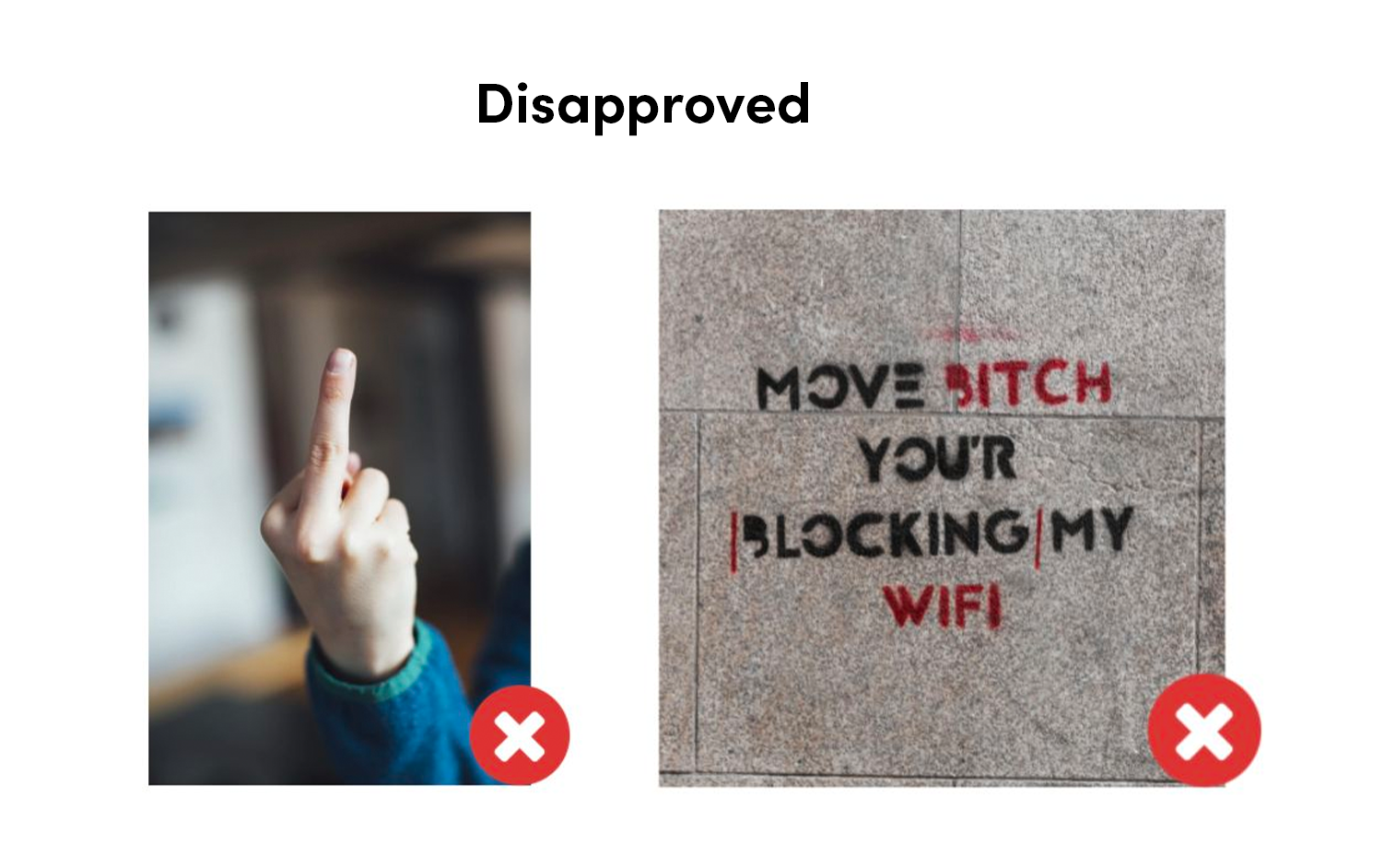 (Depiction of dangerous or illegal behavior)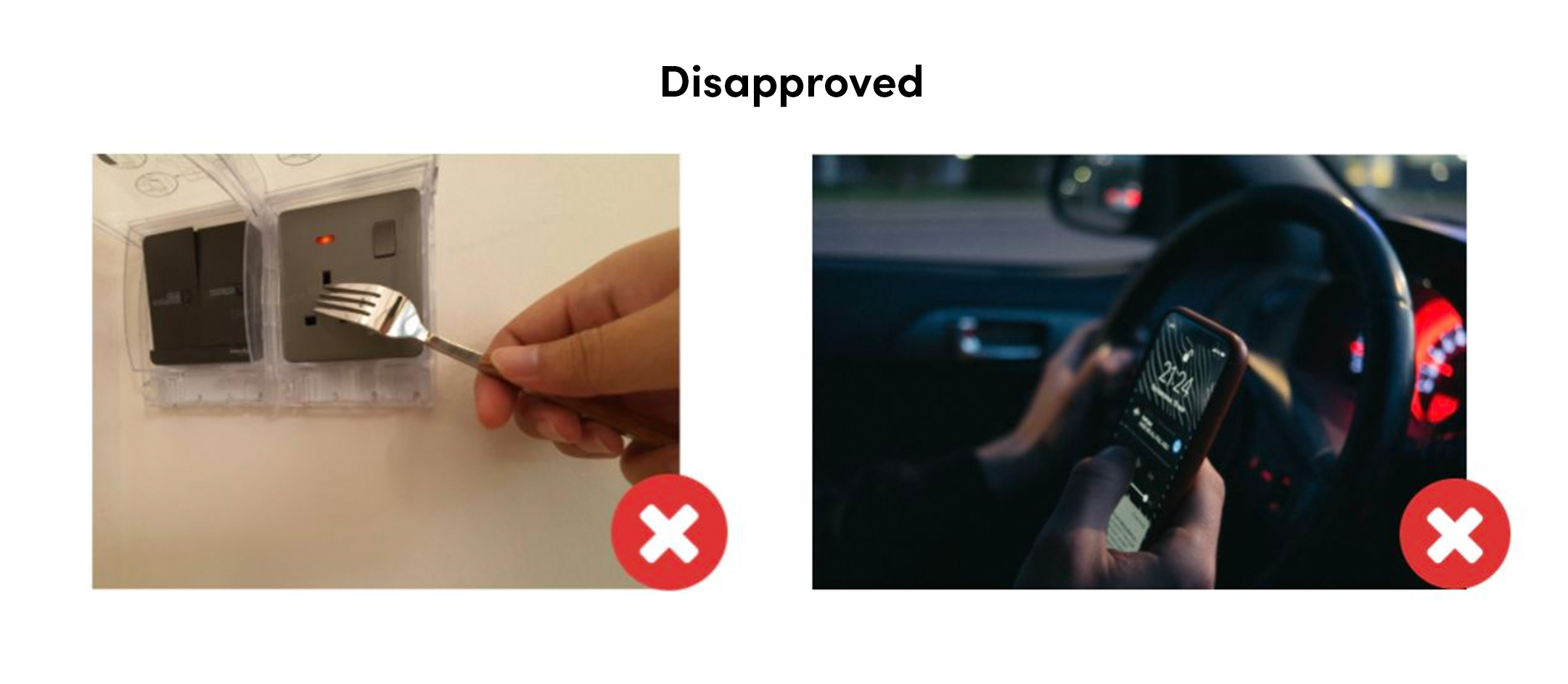 (Bloody or gruesome imagery which are likely to shock or trigger viewers in extremely negative ways)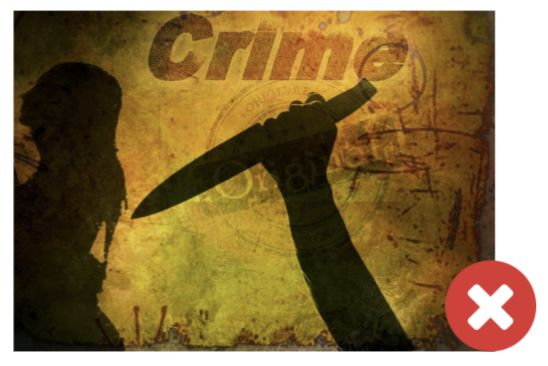 (Hate speech against any individuals or groups)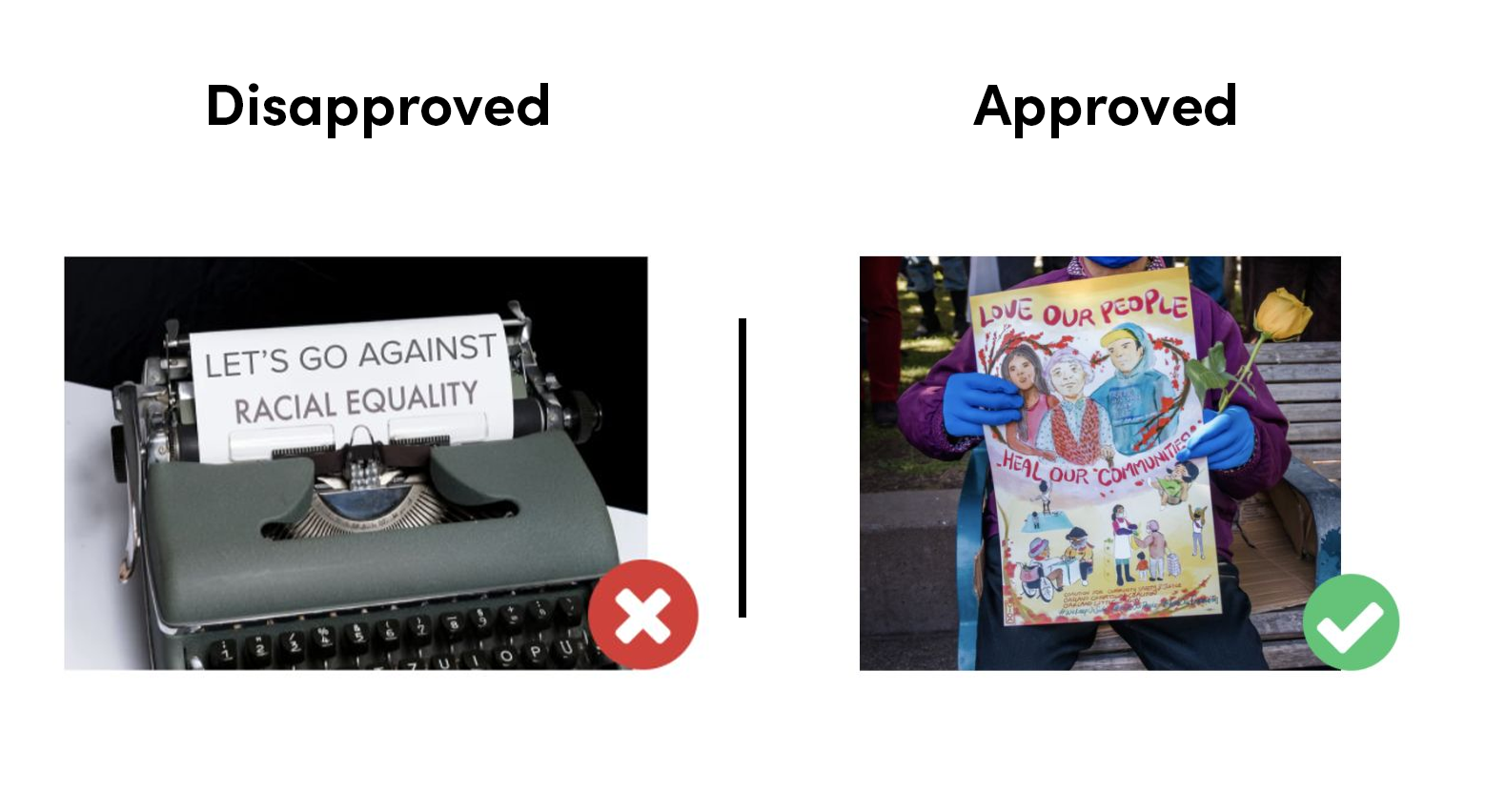 TikTok regulates the appearance of prohibited and restricted products in ad creatives.
The following is a non-exhaustive list with information and examples for your reference. Click here for more detailed information.
(Display of tobacco and tobacco-related products)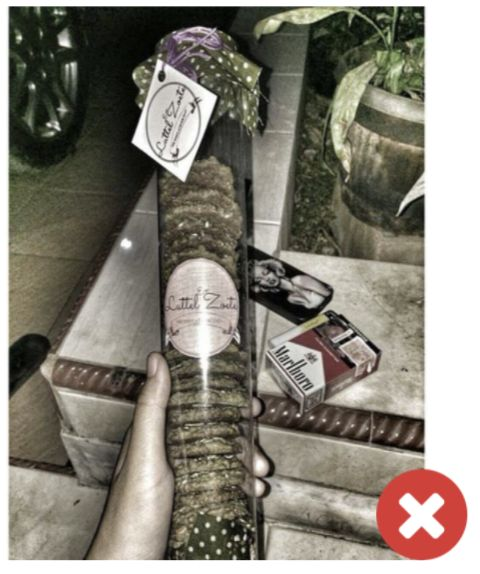 (Display of scenes of drinking, in some regions)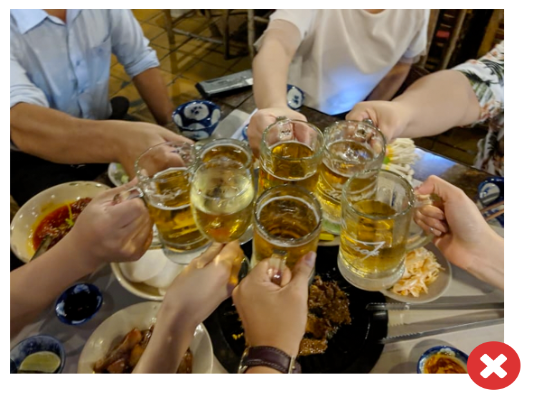 (No showcase of excessive consumption of HFSS food or drink, targeted to kids (aged 14 or under)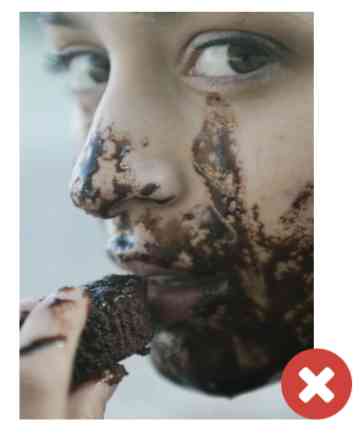 Ads are not allowed to promote any inappropriate content which involves minors in any way.
Within TikTok ads, we regulate scenarios that attempt to cover an infringement of others' proprietary products.
Intellectual property infringement includes, but is not limited to, copyright and trademark of music videos, logos, words, symbols, slogans, designs, etc. Please visit the Help Center for more details.
(Display or selling of fake or replica products)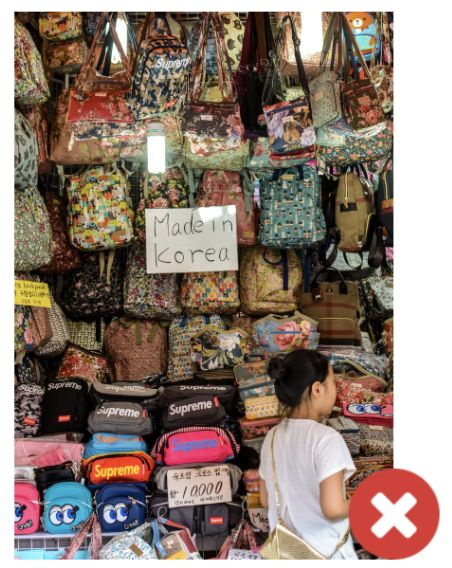 (Usage of TikTok logo or reputation without authorization)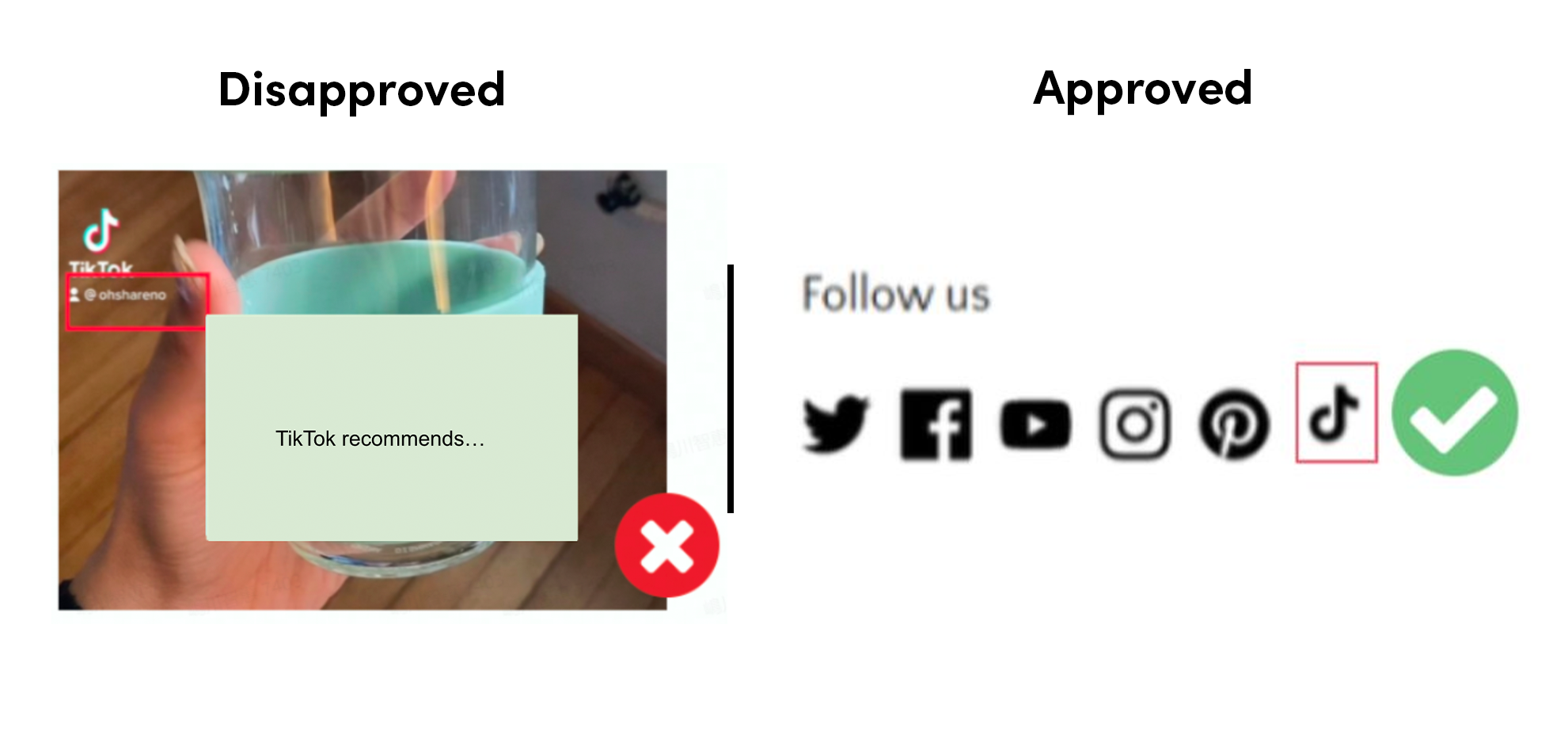 You have probably spent much of your time planning, creating, and finalizing your ads. Getting familiar with the dos and don'ts of TikTok's ad policies can help you avoid some pitfalls that may cause an ad disapproval. Before you submit your ad, don't forget to check the following: