Video Template is a powerful tool that can make compelling videos with only a few assets. Check out this walkthrough and see how you can make videos directly on TikTok Ads Manager in just a few minutes.
Video Template is a tool which makes creating video ads faster and easier than ever before. With this tool, you can simply create a video ad by selecting a template and uploading your photos, text, and logos.
Video Template currently offers dozens of customizable templates for every supported aspect ratio - including vertical, horizontal, and square templates. Whether you're promoting a new product, telling your brand story, or showcasing your app, there is a library of ready-to-use templates for every marketing need!
Fast and easy to use
​Reduce time spent on video creation by letting this tool do the work for. No more long hours at night editing those ads.

​Save money by avoiding those freelancers to edit your media into a marketable video.

​Video creation all in one easy click. Take those pictures you already have in hand and create them into 10 second videos easily - it's almost like magic.
Templates for every marketer's need
​Choose from our diverse library of ready-to-use templates offering style and design to fit your marketing needs.

​Select from thousands of free background music tracks, all without having to worry about copyright issues.
Better videos means better ad performance
​Create an immersive video experience with mobile optimized templates, choose from vertical 9:16, horizontal 16:9, and square 1:1 aspect ratios.

​Easily present your marketing message more clearly with videos that pop, making everyone stop in their tracks and take notice.

​Build a strong brand image by creating videos to appeal to an audience that loves swiping through engaging video content.
We love products with tons of features! More features means more opportunity to present each one in your story. Upload separate pictures for each feature and get your entire product brand story out to the world. This is great for automobile, electronics, and clothing products!
It's like this tool was almost designed with these companies in mind. If you promote multiple products or your product comes in multiple styles, colors, or sizes, then you NEED this tool! Showcase all your products with different photos and combine them into a single promotional video - we are looking at you e-commerce and clothing stores!
Build a strong brand image by sharing your brand story using pictures that describe your brand's characteristics. Sometimes describing your brand takes more than one slide and this tool allows you to spread your story across multiple frames. This is great for anyone who cares about building brand image and increasing awareness.
Do you need a how-to type of video? Show customers how to use your product, app, or software by you using different pictures to describe the step-by-step instructions. For those with apps, cosmetics, and electronics products, this tool is a match made in heaven!
​You can access the video Template Tool from: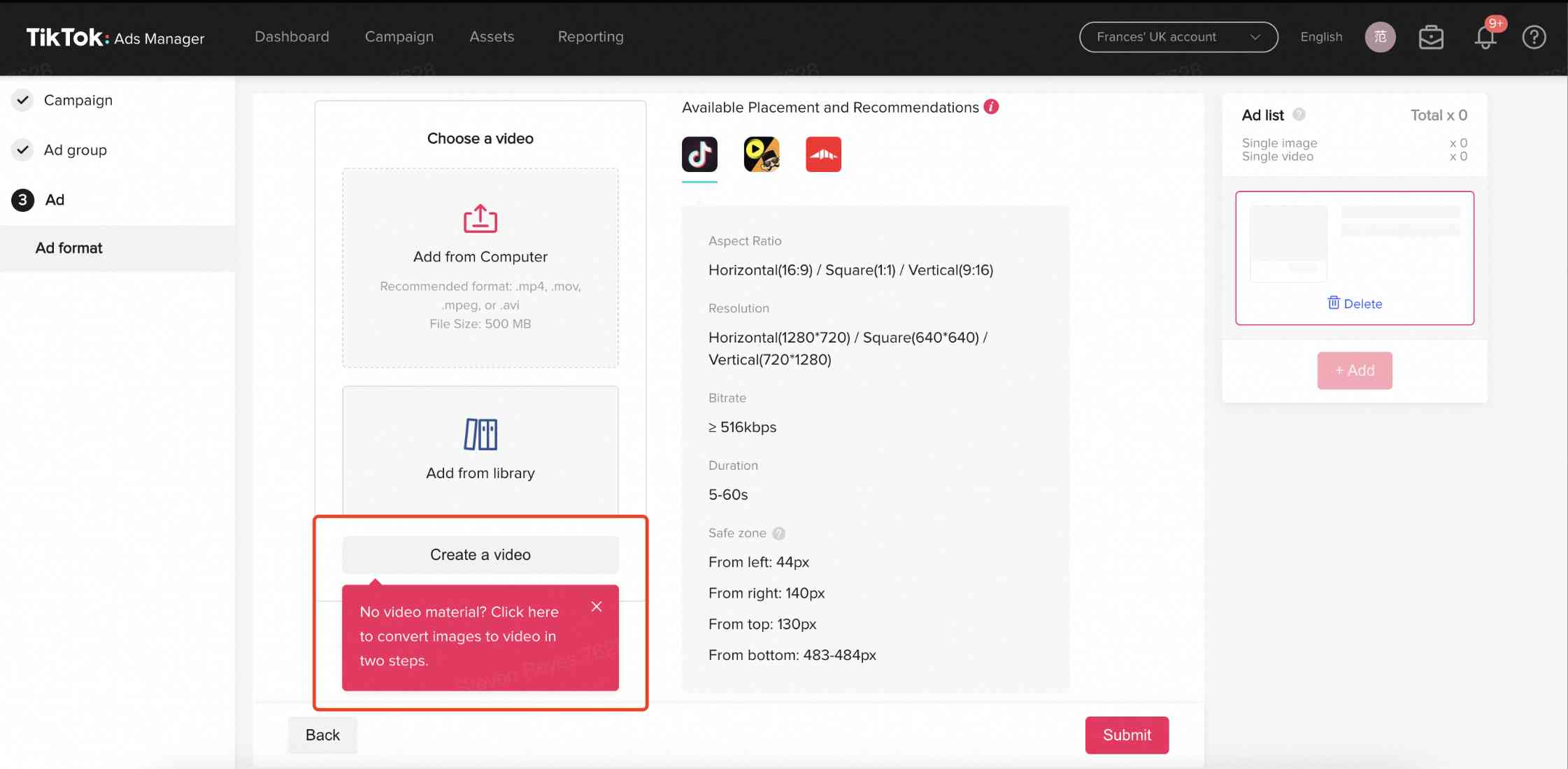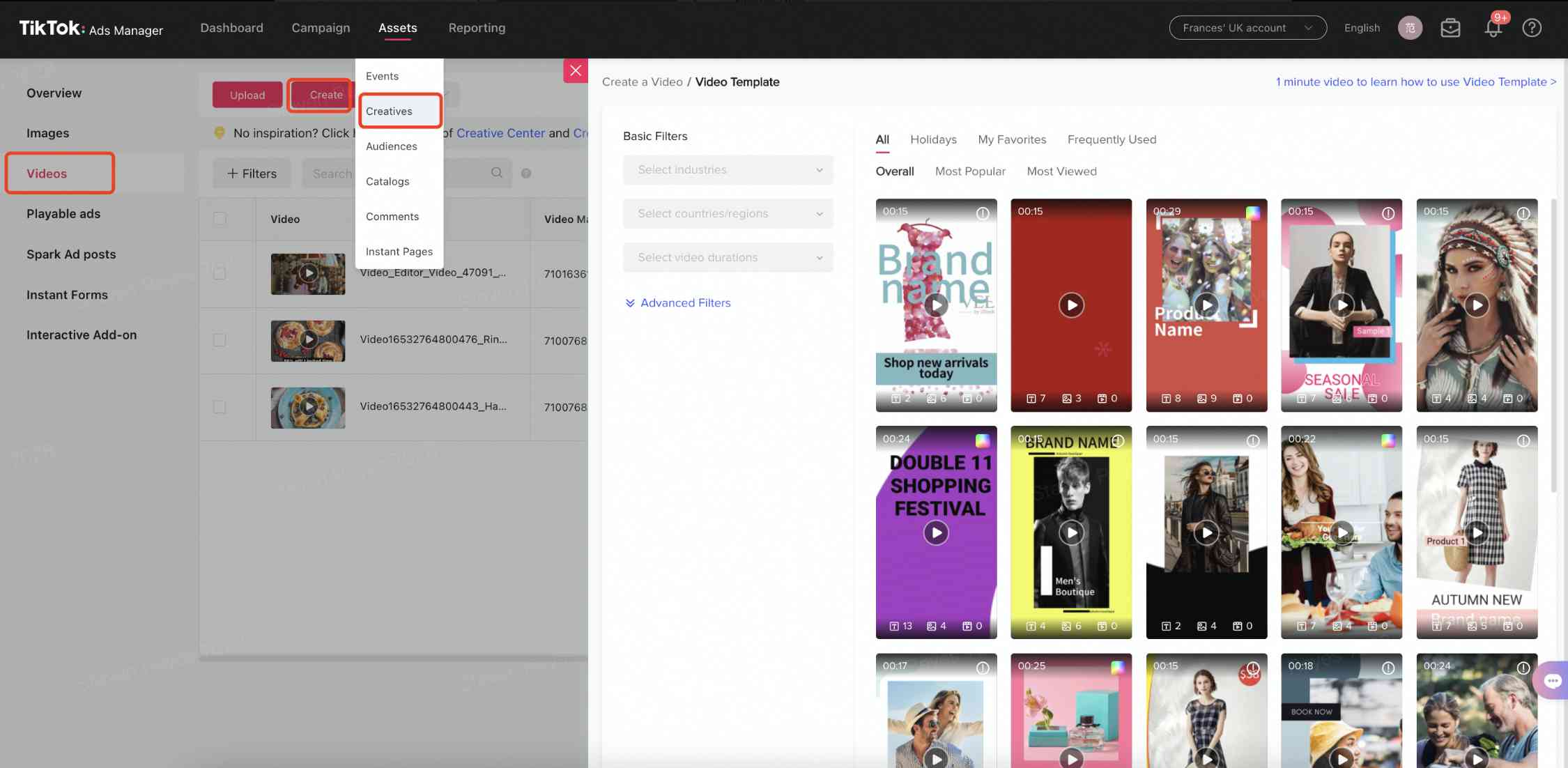 ​From either location, easily get a quick start with video templates by choosing Recommended, Ecommerce, Gaming, or Trending category.

​Browse the library for a template you like.

​You can preview the template by clicking on the play button.

​Simply click on the template to start creating your video.

​Customize each frame of the video and insert your images, logo and/or texts by clicking on Upload from Computer or Upload from Assets.

​Select a music track from the list. We currently have thousands of tracks to use for free and without worry of copyright issues!

​Rename your video file.

​Click Confirm and now you have successfully created your video.
Note: Vertical templates are only available for TikTok placements, while horizontal templates are available for all placements.
​Choose from vertical, horizontal or square template

​Create a video using images or videos

​Customize your fonts, choose the font type and color for your text and calls to action

​Use the Masking feature to preview how your video will appear as an ad on TikTok

​Bulk upload content and use the auto cropping tool to intelligently crop your content into a vertical aspect ratio

​Bulk crop your images, simply click the crop button on any image and can crop all the images used in your video

​Select up to 20 different background music tracks to create 20 unique versions of video
Images
​Use high-resolution images

​Choose images that show people using your product.

​Use images that have received positive results from previous marketing campaigns.

​Less is more. Use simple and clear messaging.

​Highlight one main message. Each image should deliver a single and impactful message.
Ad Performance
​Create and test different ad creative elements (e.g. templates, videos, music, images, texts, thumbnail, logos, etc.).

​Create and test different ad group placements, keywords, audiences (age, gender, location, interest, etc.) on the videos you create.