To benefit ad performance and simplify ad account structure, TikTok is enforcing a limitation on how many active campaigns, ad groups, and ads a single ad account can have. These are limits on how many campaigns, ad groups, and ads (running or idle) an advertiser can create or manage per their ad account in TikTok's Ads Manager:
Campaigns per ad account: 999

Ad groups per campaign: 999

Ads per ad group: 20
Having too many ad groups running simultaneously can negatively impact and degrade ad performance over time, due to non-diverse ad groups competing with each other.
By limiting active ad groups, the remaining ad groups will have a higher chance of passing the learning phase, reaching stable performance, and improving the average lifespan of all ad groups. Therefore, it is highly recommended to focus on existing ad groups and diversify them by following the measures below:
To refresh creatives whenever creative fatigue occurs refer to Creative Best Practices.

Broaden targeting, leverage automatic targeting, targeting expansion, and lookalike audiences.

Increase your CPA bid or lower your Minimum ROAS bid to win more auctions.

Increase your budget for Lowest Cost or Highest Value ad groups.
To learn more, refer to Auction Ads Best Practices.
There are three ad group volume tiers with a base quota assigned to each ad account based on their highest spending month in the past 12 months:
| | | |
| --- | --- | --- |
| Tier | Advertiser Monthly* Spending | Base Quota |
| 1 | $0 <= monthly spending < $1,500 | 50 active ad groups |
| 2 | $1,500 <= monthly spending < $150,000 | 200 active ad groups |
| 3 | monthly spending >= $150,000 | 1,000 active ad groups |
Note: Active ad groups are ad groups that are either "active" or "in review".
Advertisers who reach their quota limit can still create new ad groups within their limit by deactivating low-spending ad groups or those without spend. However, activation of newly created ad groups is only possible if existing ad groups are deleted or paused manually or through automated rules, or if some existing ad groups have passed their schedule.
TikTok Ads Manager will display ad account quota utilization for advertisers. This feature will always be on for those advertisers who have exceeded 50% beyond their tier's base quota at any point. This applies to the entire lifetime of their ad account.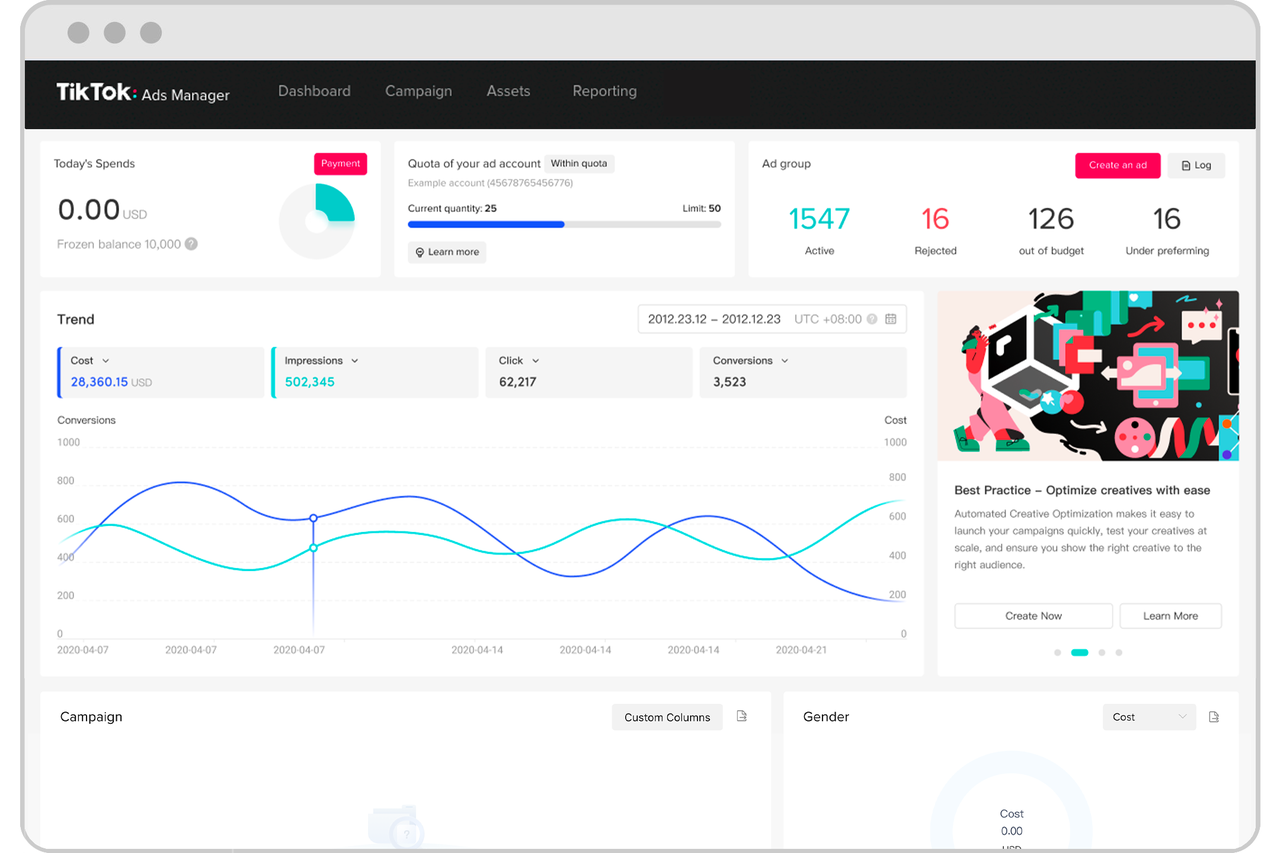 The following pop-up will be displayed if advertisers have reached their base quota and are attempting to create new ad groups: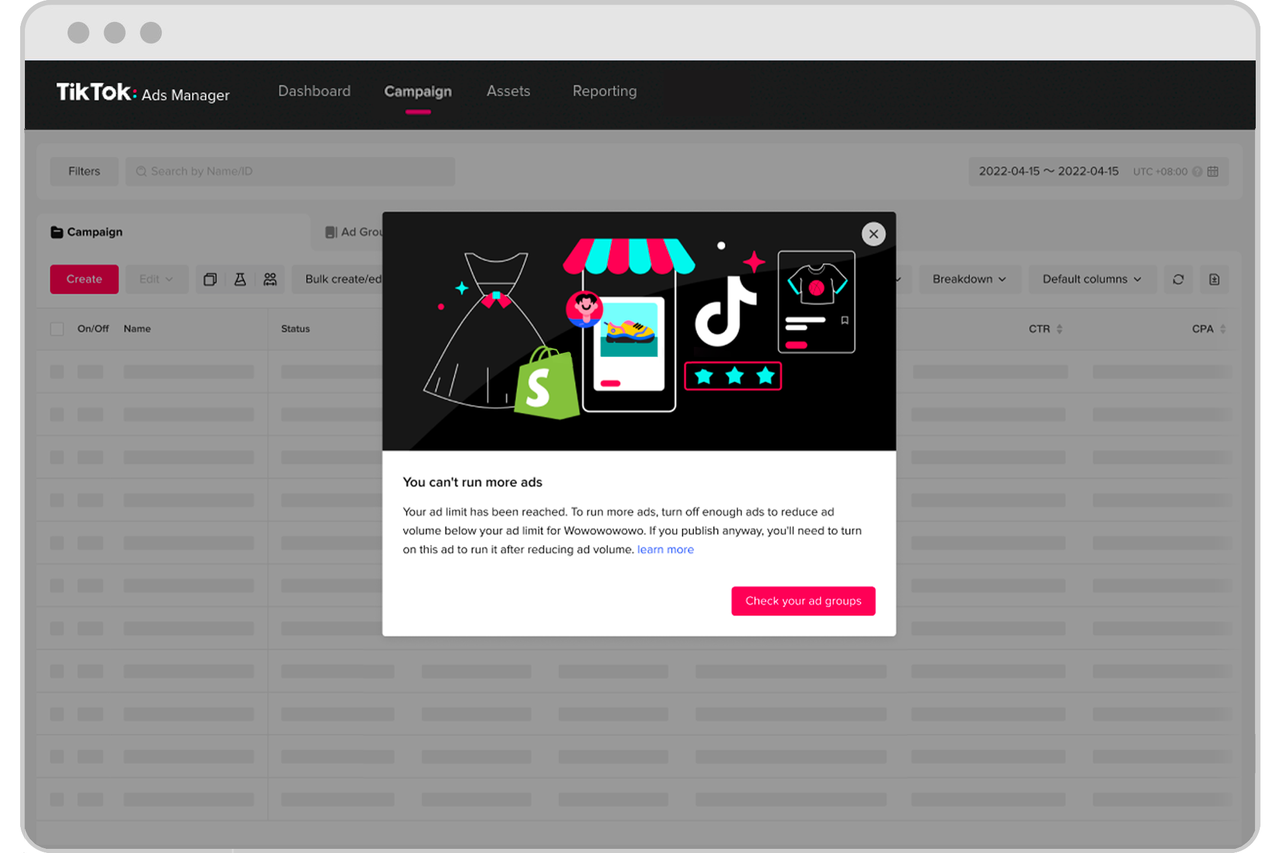 To increase the active ad groups quota, the monthly spending of the ad account should align with the spending of the desired tier. Monthly spending refers to the highest spending month of an ad account in the past 12 calendar months.
Review base quota according to the tier level.

Pause or delete low-spending ad groups if approaching the base quota limit.

Focus on existing ad groups and diversify according to TikTok's Auction Ads best practices.

Use Automated Rules to pause underperforming ad groups and to stay within quota limits.
Read more about TikTok's Auction Ads Best Practices.
Read more about TikTok's Automated Rules.
Read more about TikTok's Terms of Service.