Before getting started: Your campaign advertising objective and ad group selections will impact the fields on the ad creation module.
TikTok Ads Manager structures ads into three parts: campaigns, ad groups, and ads. Once you've created your campaign and ad group, click Next to be taken to the ad creation page. To create your ad, simply upload your videos and images, or design eye-catching ads in minutes using TikTok Ads Manager's creative tools.
TikTok Ads Manager currently supports two ad formats: images and videos. Ads format and specifications will also vary depending on your placement.
Watch the video below to help you get started making ads on TikTok Ads Manager.
Note: There is an ad limit of 20 ads per ad group.
The remainder of this article will explain each section of the ad creation module, as seen in the animation below.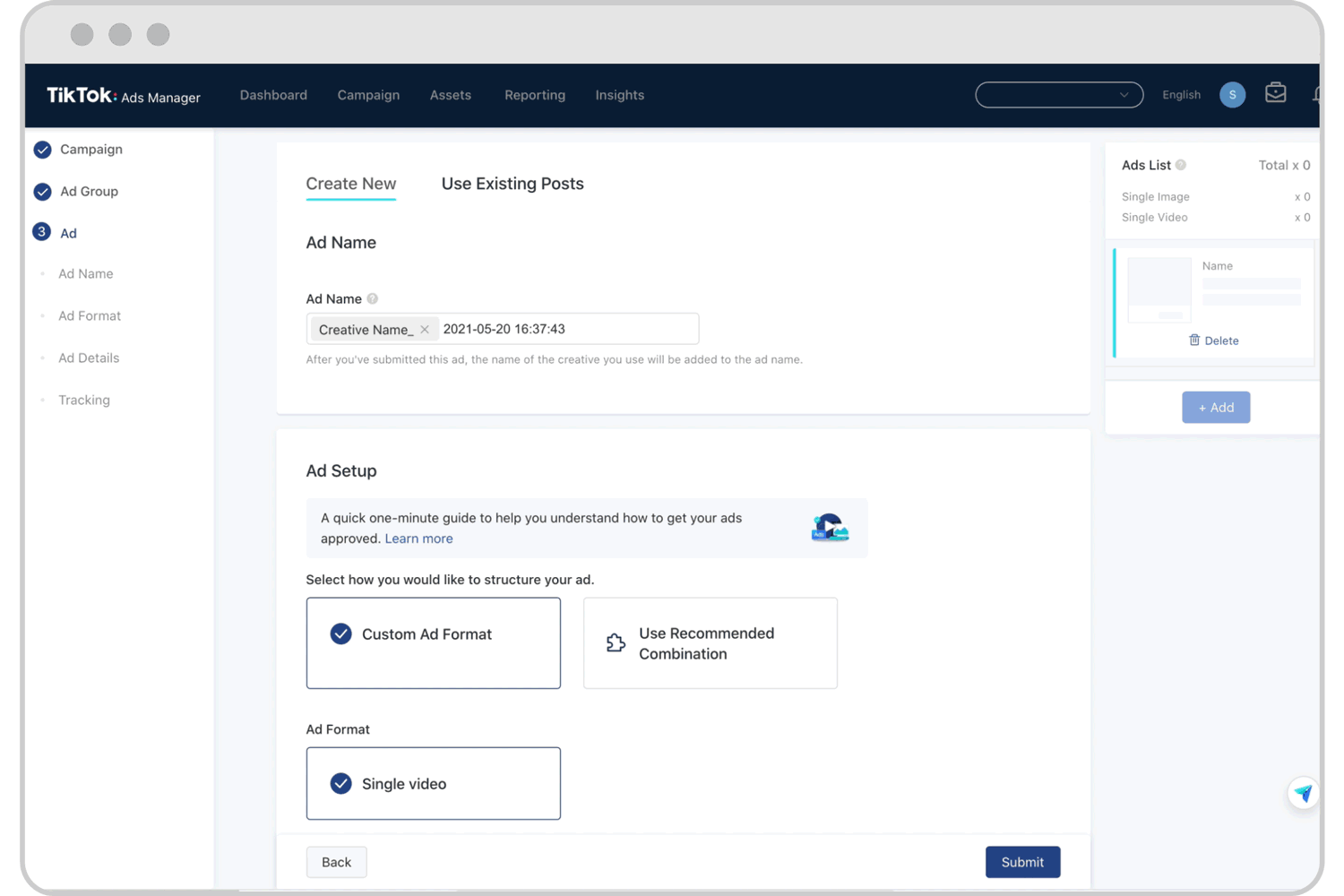 Input what you want to call your ad. This name helps you distinguish between ads within your ad group. The ad name is only for your reference and is not part of your ad.
Note: Ad names support 512 characters.
Select your ad format. Please note that TikTok currently only supports video ads. Our Global App Bundle support both image and video ads.
There are three options for uploading your media:
​Add from Computer: You can upload your media from your computer directly.

​Add from Assets: You can access your media from previous ads here. They will be stored in the assets automatically.

​Create a Video: This creation tool lets you build stunning videos. You can select either "Use Video Template" or "Smart Video"
Video Template - Create video ads based on existing images using our pre-approved stunning templates. Refer to the Video Creation Kit for details on using templates. 

​Smart Video - Use our Smart Video function, which automatically analyzes your media to create edited videos like a pro.

​Smart Video Soundtrack - Upload videos without sound and use smart technology to generate background music.
Choose a cover photo to grab your audience's attention. You can upload your custom cover photo or choose one from one of the pre-selected images from your video. Based on the length of your video, you can choose from up to 8 displayed keyframes.
Once you've added the media to your ad, you'll enter the following elements to be displayed with your ad:
​Display Name: Your brand's identity. This name must be consistent with the brand/product/company name of the promoted website or app.

​Text: This text will appear as part of your ad creative and will be displayed to your audience to tell them what you are promoting.

​Call to Action: Tell your audience what you'd like them to do when they see your ad. For a list of all the available CTAs, see the table below.

​Profile Image: Your brand's image. This image is shown on your ad's creative.

​URL: Enter the URL of the website you want your ad to drive traffic. This URL will only be available with specific objectives.
| | | | | | |
| --- | --- | --- | --- | --- | --- |
| Download | Learn More | Visit Store | | Book Now | |
| Shop Now | Contact Us | Apply Now | | Play Game | |
| Watch Now | View Now | Get Quote | | Interested | |
| Install Now | Get Showtimes | Experience Now | | Pre-Order Now | |
| Subscribe | Get Tickets Now | Listen Now | Read More | Order Now | Sign Up |
Now it is time to preview your ad. Note that these ad previews are not device-specific, and ads are adjusted based on a user's device and network conditions.
We recommend previewing all ads on your device to see the published version. See the How to Preview Ads for the step-by-step method on how to do so.
Note: If you selected Website conversions as your objective, add a Pixel at the Ad Group level.
Add relevant Pixel or third-party tracking URLs to track your ad performance data.
After you've created your ads, click the Submit button to create your ad. You can choose to create another ad by clicking the Add button.
Note: Once you click Submit you will trigger an ad review.