As the global app market matures, marketers are having to think beyond the install event to maximize user LTV and ROI. This change means finding new users who will not only install but go on to trigger specific, valuable in-app events, such as Purchase, Subscribe, Achieve Level, etc. App Event Optimization (AEO) provides the power to do just that, all while controlling costs.
Example
A travel app has a high install volume but low customer LTV. By introducing AEO into their user acquisition strategy, this app can set Purchase as the key event they would like to optimize for in a campaign. TikTok will use data insights to serve the ad to users who fit the target criteria and show a propensity to purchase. Similarly, a gaming app can select Achieve Level to target users who are likely to reach a level that the advertiser has deemed valuable.
​The Learning Phase: When a new campaign is launched, AEO takes time to ingest sufficient data signals from users taking the action for which an advertiser wishes to optimize. Although events will become available for optimization once 1 event conversion is reported, each campaign may take a little more time to warm up and reach its potential. We call this the "Learning Phase." It is important to have patience and allow an AEO campaign to run for some days before making significant changes to the bid/budget/creative.

​Understanding Dedicated Campaigns: TikTok created Dedicated Campaigns to work with Apple's SKAdNetwork. To target iOS 14 (and above) users, advertisers must create a Dedicated Campaign, which has unique configuration requirements and best practices to keep in mind.

​Apple's Privacy Threshold: Serving AEO campaigns to iOS 14 (and above) users requires SKAdNetwork, which enforces Apple's Privacy Threshold. It is important to monitor AEO campaign performance to ensure that each AEO campaign of this type returns at least 90 daily app installs. Failing to reach this install volume may result in SKAdNetwork withholding conversion data, and preventing TikTok AEO campaigns from being correctly measured. These withheld conversions will be reported as Null Conversions by SKAdNetwork and will skew accurate AEO campaign performance on TikTok.

​High-quality creative: Having engaging and entertaining ads go a long way toward achieving a successful AEO campaign. Create ads that look like organic TikToks, and lead with user-generated content. Do not use the same creative across ad groups. Monitor performance to refresh creatives if performance degrades. The best practice is to update creatives every several days.

​Sufficient ad group budget and event bid: When using Cost Cap bidding, please set your bid according to the historical CPA for that event.

The daily ad group budget for a deep-funnel purchase event should be >/= 10* event bid (or historical CPA for no bid).

For shallow and mid-funnel events such as Login, View Content, etc., the daily ad group budget should be >/= 20* the event bid (or historical CPA for no bid).
AEO currently consists of 2 core solutions: In-app Event and Install with In-app Event.
​Use case example: Fintech advertisers focused on minimizing their CPA for a Loan Application event while maximizing Loan Application event conversion volume.
Use case example: Advertisers who want to achieve a specific event volume while prioritizing CPI.
| AEO Solutions | Use Cases | Bid | Optimization Goal |
| --- | --- | --- | --- |
| In-app Event | Aggressively convert the chosen in-app event. | Event | Event |
| Install with In-app Event | Acquire users likely to trigger chosen in-app events while maintaining install volume. | Install | Install & Event |
At the beginning of an AEO campaign, the system may temporarily have a higher CPA due to insufficient samples. We call this period the Learning Phase.
As the number of event conversions increases, the system model will gradually improve, and the optimization effect will also improve.
​​After 20-50 event conversions, optimization will improve, while CPA will reduce.

​After 50 event conversions, the Learning Phase will end, and you will see efficient optimization.
The deeper the event you wish to optimize, the longer the system may take to pass the Learning Phase.
Any drastic change to bid, budget, ads, or targeting demographics will interrupt or restart the Learning Phase.

​If changes are necessary during the Learning Phase, please do not make them more than once daily, and avoid a bid or budget change of > 10%.
​>/= 20* the average CPA for upper and mid-funnel events such as Registration or Achieve Level.

​>/= 10* the average CPA for lower-funnel Purchase events.
Note: Daily ad group budgets should never be lower than $100 for both Cost Cap and Lowest Cost bid strategies.
Cost Cap allows advertisers to control the bid for their AEO conversions, and is suitable for those looking to control costs closely.

Please refer to the historical CPA for that event, and use this as a guide to set a reasonable bid.

Note: Please do not adjust your bid by more than 10% during the Learning Phase.

Note: Cost Cap bidding for AEO for iOS DC is not yet available for App Profile Page. Advertisers must uncheck the App Profile Page checkbox at the campaign creation level, otherwise the Cost Cap bidding option will not show as available at the ad group creation level.
Lowest Cost allows advertisers to maximize their daily ad group budget by having the system control the bid, optimizing for the lowest cost possible for each conversion while maximizing daily budget consumption.
Event Type: Advertisers can select an event to optimize based on their category and use case needs. For example, an eCommerce advertiser may choose to Add to Cart as their optimization event, whereas a gaming advertiser may choose Achieve Level as their optimization event.

Event Depth: Advertisers can target two levels of optimization based on which optimization event they choose: shallow-funnel and deep-funnel events. These are categorized based on where in the user journey these events are triggered. Although all event types only require 1 conversion to be unlocked for use, they require different amounts of data to optimize performance.

​Upper & Mid-funnel events: These events are posted back within a few days of installation, and include events such as Login, Register, View Content, etc. Because the events are shallow and the volume of potential users is relatively large, it is easier to obtain more of these events in a shorter time frame.

​Deep-funnel events: These events are not posted back as quickly, and the time of that post back cannot be predicted, such as Purchase. The volume of potential users is relatively small and more difficult to acquire, so advertisers must be more patient when optimizing for deep-funnel events.
To more flexibly meet our advertisers' needs and increase adoption, App Event Optimization is now easier than ever to unlock and quickly deploy to realize success. You must verify your TikTok App ID with your MMP to take advantage of the below features. 

​Threshold: 1 event

​Window: None, events remain unlocked once the first conversion is received

​Source: Attributed and unattributed event conversions will unlock AEO

​Level: TikTok App ID level.

If App A unlocks Purchase in Advertiser Account 1, App A can optimize for Purchase in Advertiser Account 2 without needing to unlock the event again.

​Your TikTok App ID must be verified with your MMP in each Advertiser Account in which it is used.
AEO Solution

Install with In-app Event

In-app Event

Events

- Purchase

- Registration

- Add to Cart

- Subscription

- ​Achieve Level

- Purchase

- Registration

- ​Add to Cart

- ​Subscription

- ​Achieve Level

- ​View content

- Checkout

- Start Trial

- Search

- Login

- Loan Application

- Join Group

- Complete Tutorial

- Add Payment Info

Unlock Threshold

1 event was recorded at the TikTok App ID level.

1 event was recorded at the TikTok App ID level.

Bid Strategy

Cost Cap (See the section below)

Cost Cap or Lowest Cost (See the section below)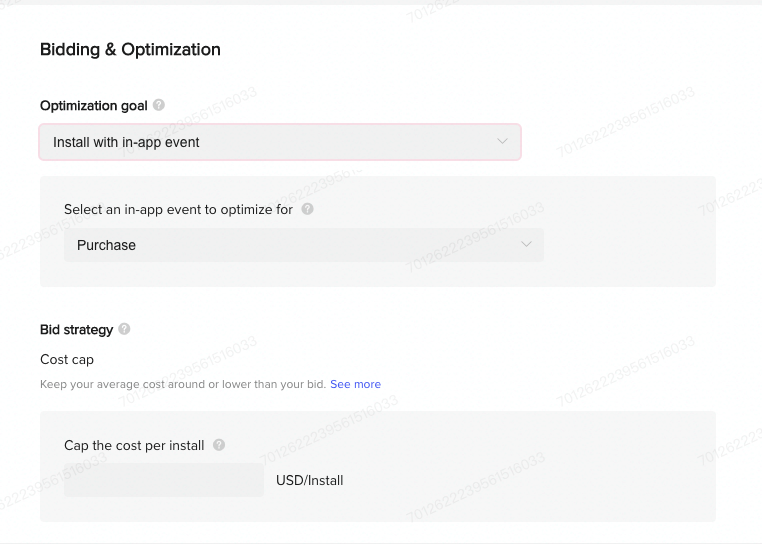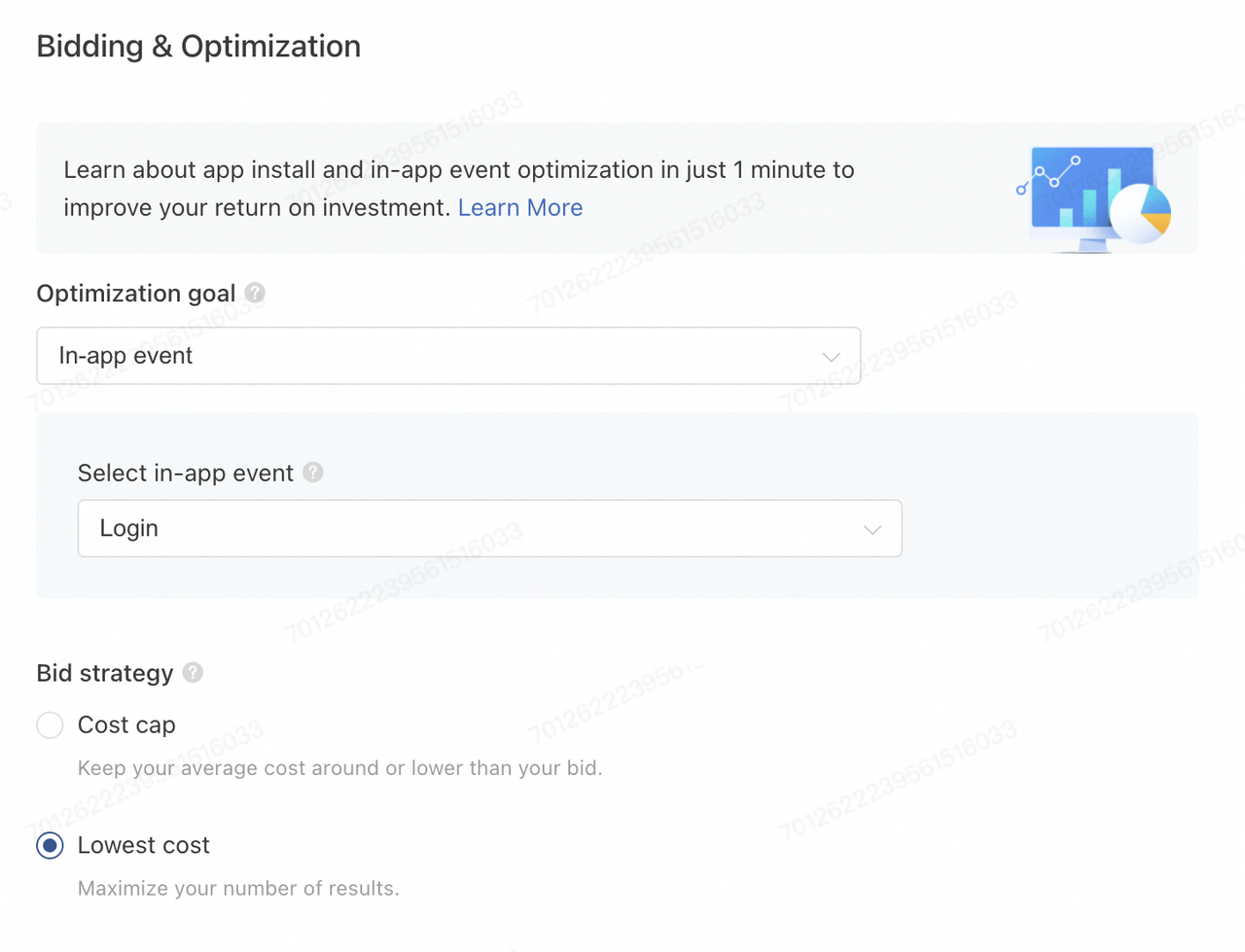 Beyond their ability to unlock AEO events, sharing unattributed events with TikTok can help improve AEO performance by as much as 6%. The larger the volume of events, the better the performance potential.
After Apple announced the enforcement of its App Tracking Transparency (ATT) framework, TikTok launched its iOS 14 Dedicated Campaigns (DC) to adapt to this change. App Event Optimization is available for iOS 14 dedicated campaigns, but there are some unique factors to keep in mind to achieve success using iOS DC campaigns.
You must choose a Dedicated Campaign that conforms to SKAdNetwork setup and data restrictions to target iOS 14 (and above) traffic.
Please refer to the iOS 14 Help Center for more information.
| | Before ATT Enforcement (Before April 26, 2021) | After ATT Enforcement (After April 26, 2021) |
| --- | --- | --- |
| Dedicated Campaign (DC) | iOS 14 and above | iOS 14 and above |
| Non-Dedicated Campaign (Non-DC) | Full Traffic | Android & iOS 14 and above |
​1. Click Create new under the "Campaign" page on TikTok Ads Manager.
2. ​Select Auction as the Buying type and App Promotion as the advertising objective.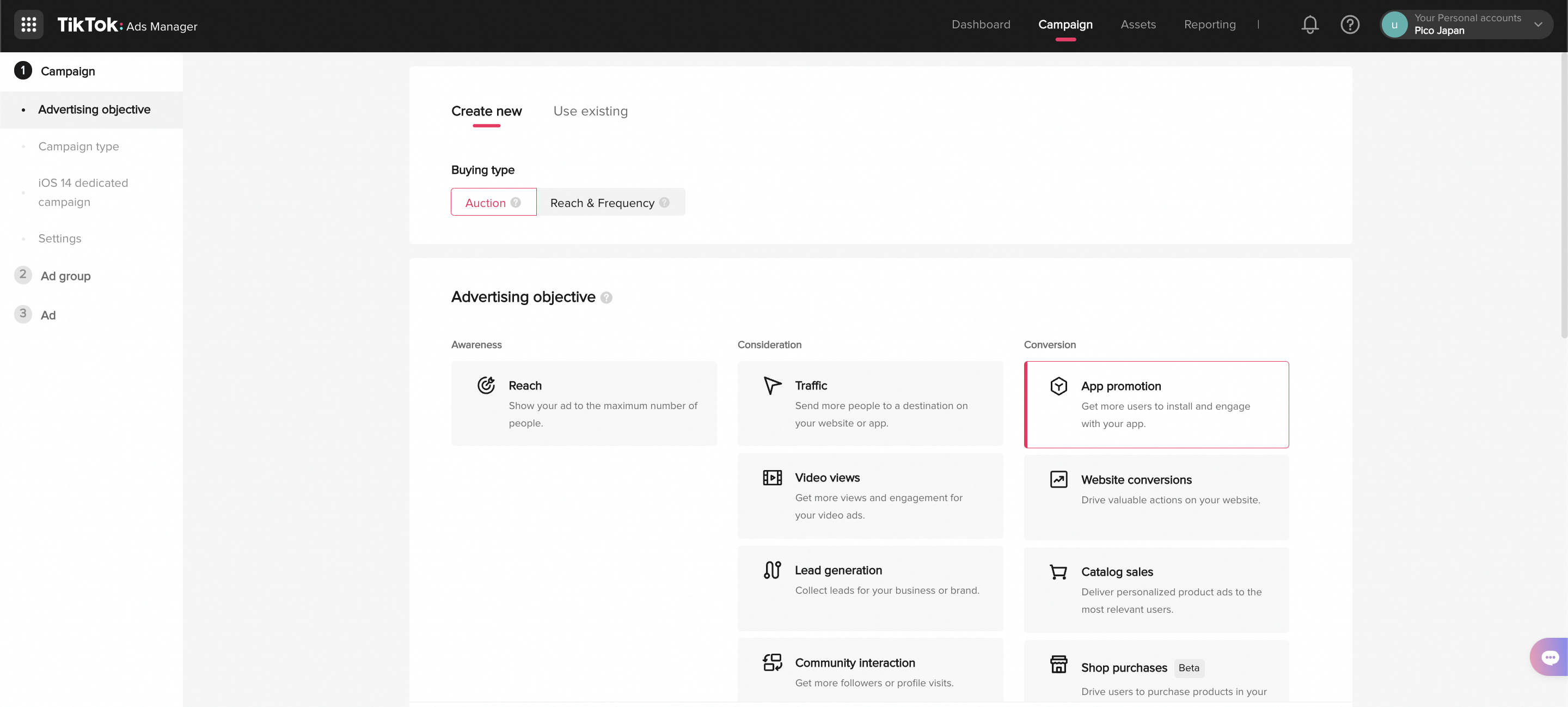 3. ​Select App install as the App promotion type.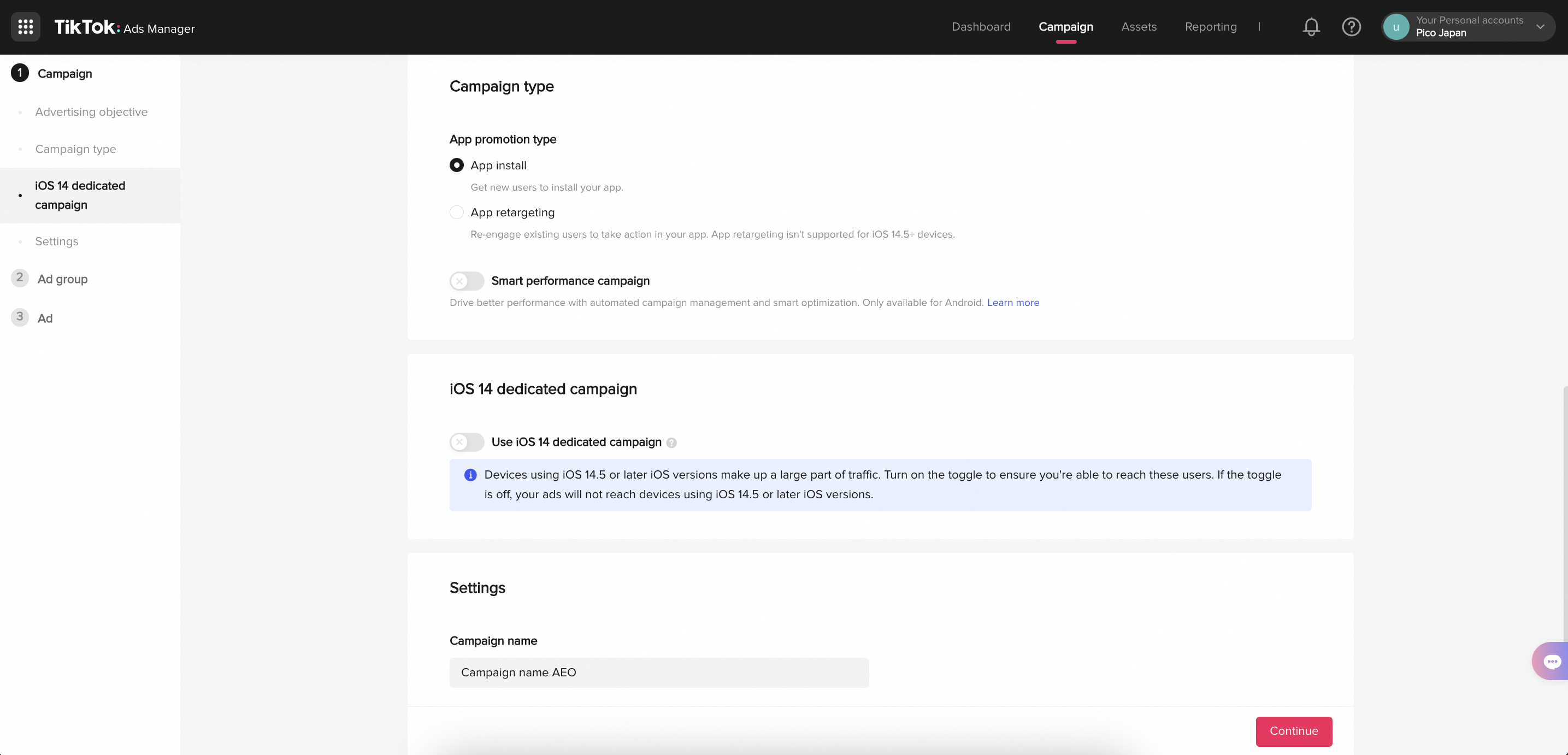 4. Input a suitable campaign name under "Settings".
5. Input your Ad group name. Then, select the appropriate "Buying type", and choose your app from the drop-down list.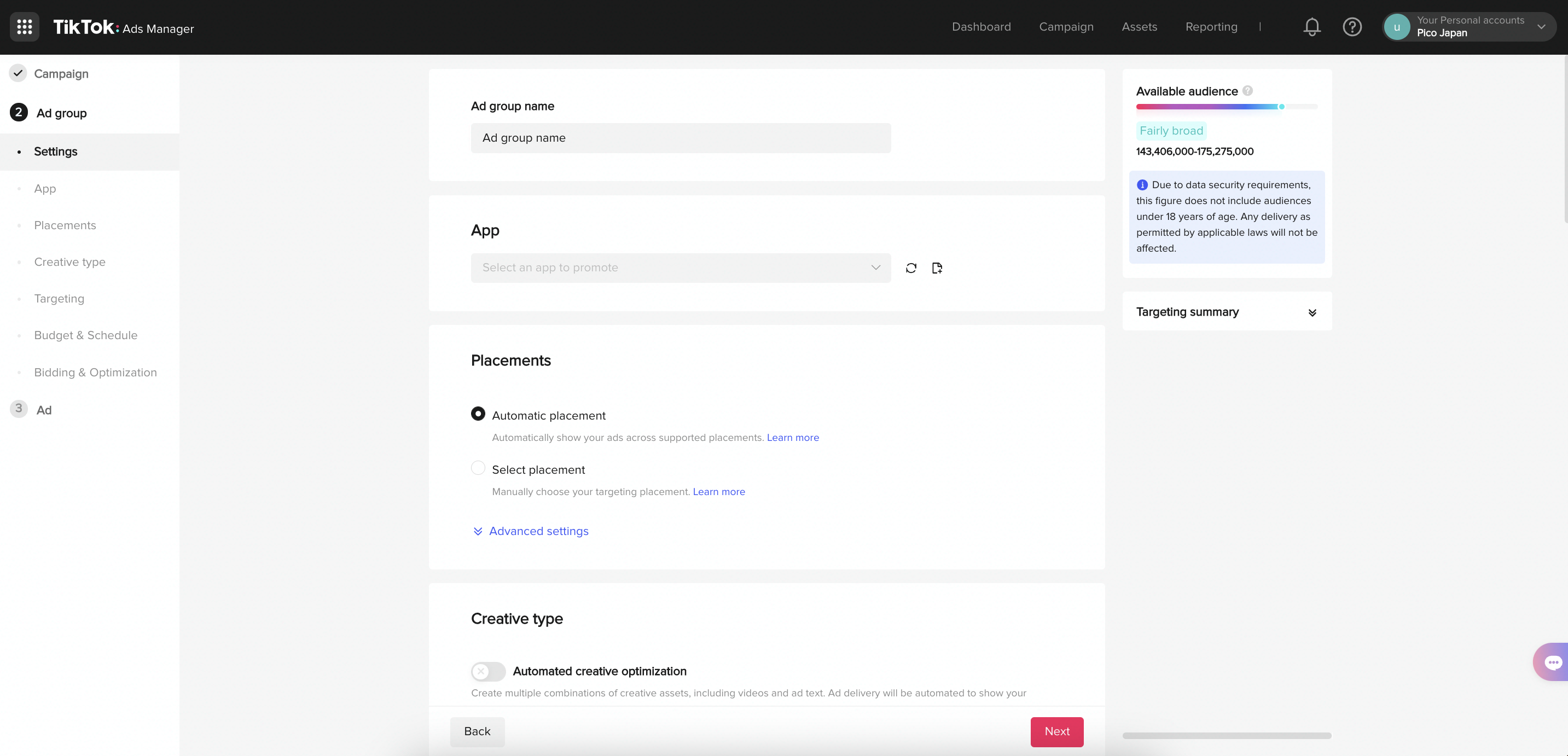 6. Choose your ad placement.
"Automatic Placement" will show your ad across multiple placements (TikTok, Pangle, etc.) where available.

"Select Placement" limits your ad to show on selected placement only. AEO is compatible with both.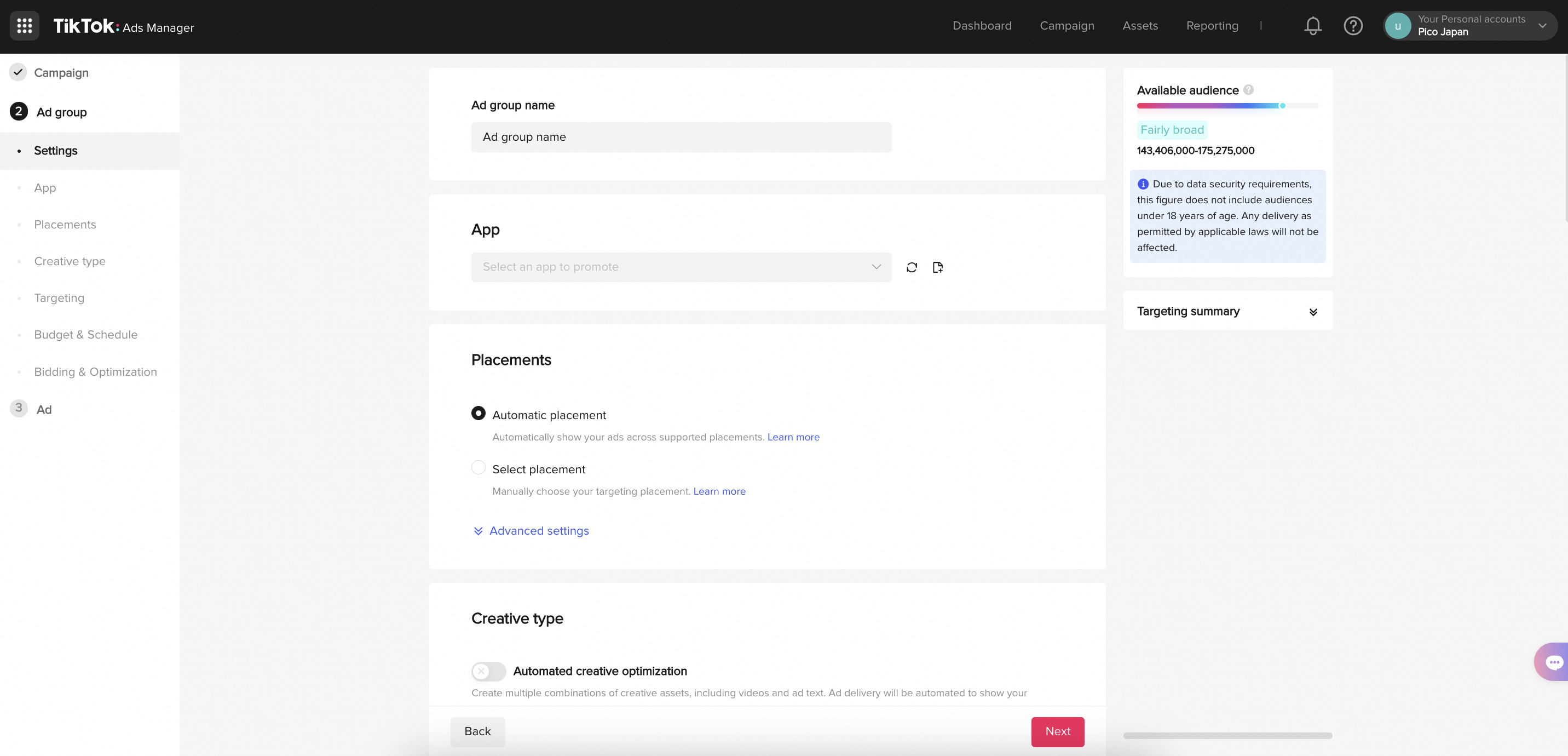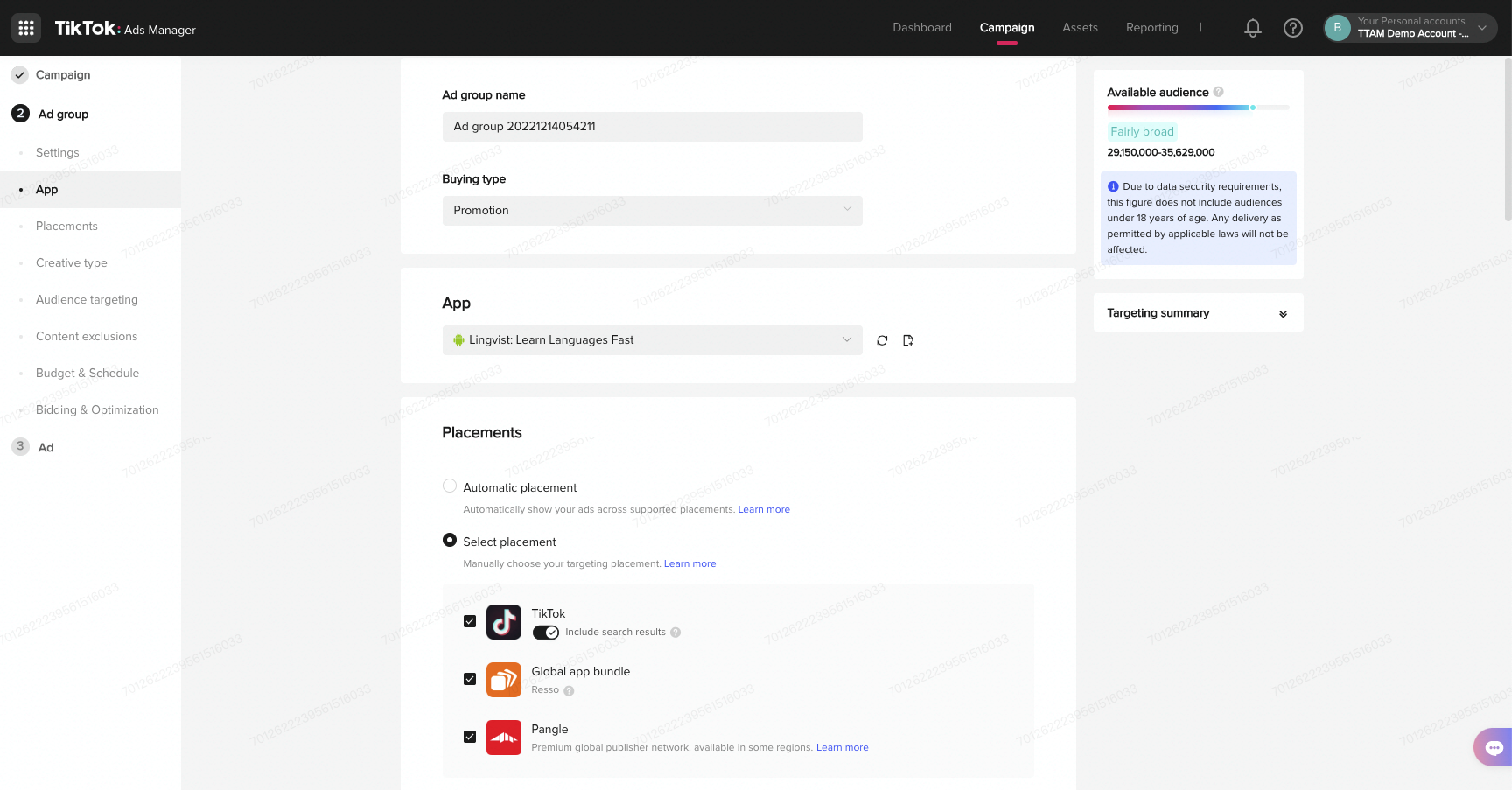 7. Select your audience targeting mode under "Targeting".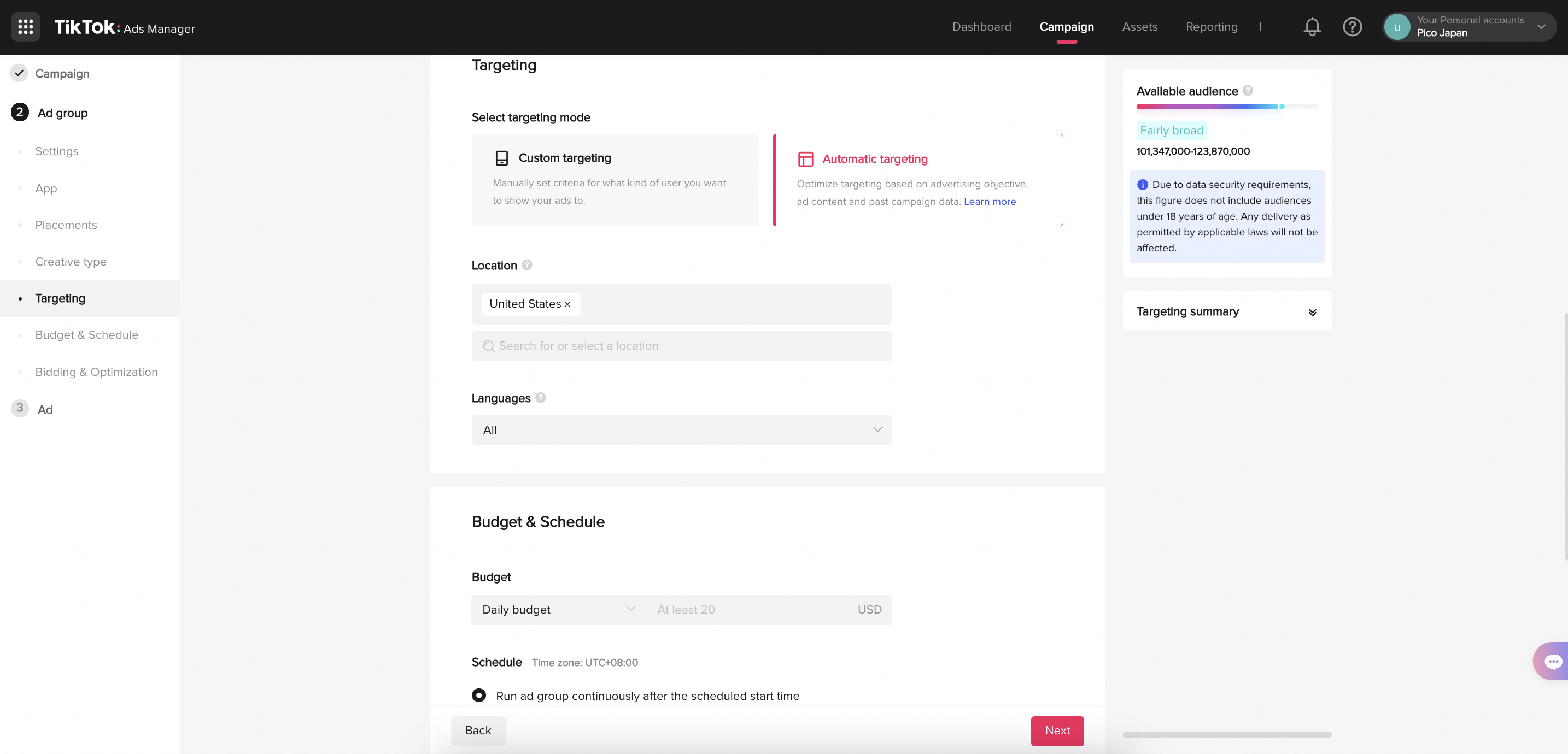 8. Select a Daily budget under "Budget & Schedule".
​Upper and mid-funnel events: >/= 20* historic CPA

​Lower-funnel events: >/= 10* historic CPA for lower-funnel events.

​Schedule setting can be based on your preference and strategy.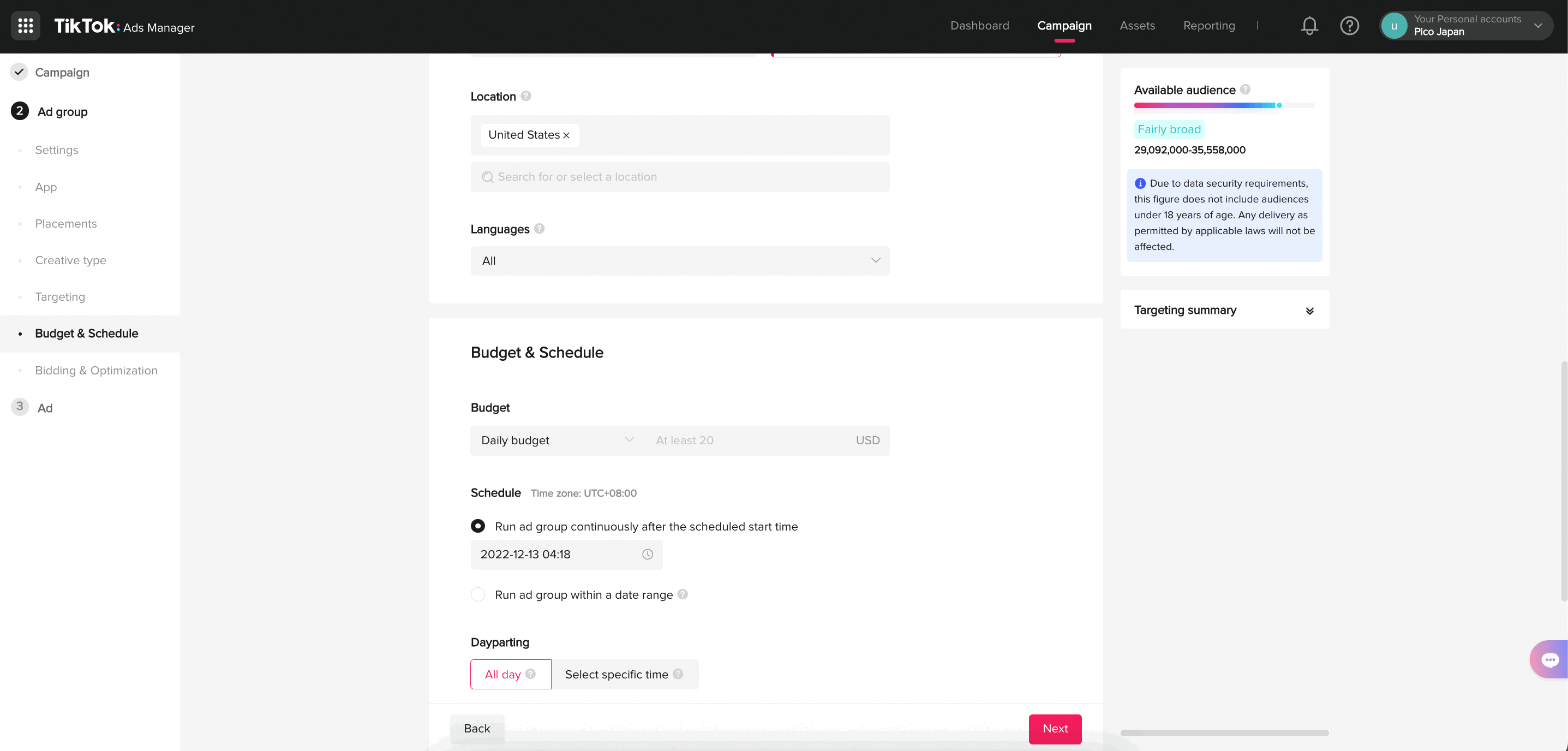 9. ​Select your optimization goal under "Bidding & Optimization" by choosing either "In-app event" or "Install with In-app event".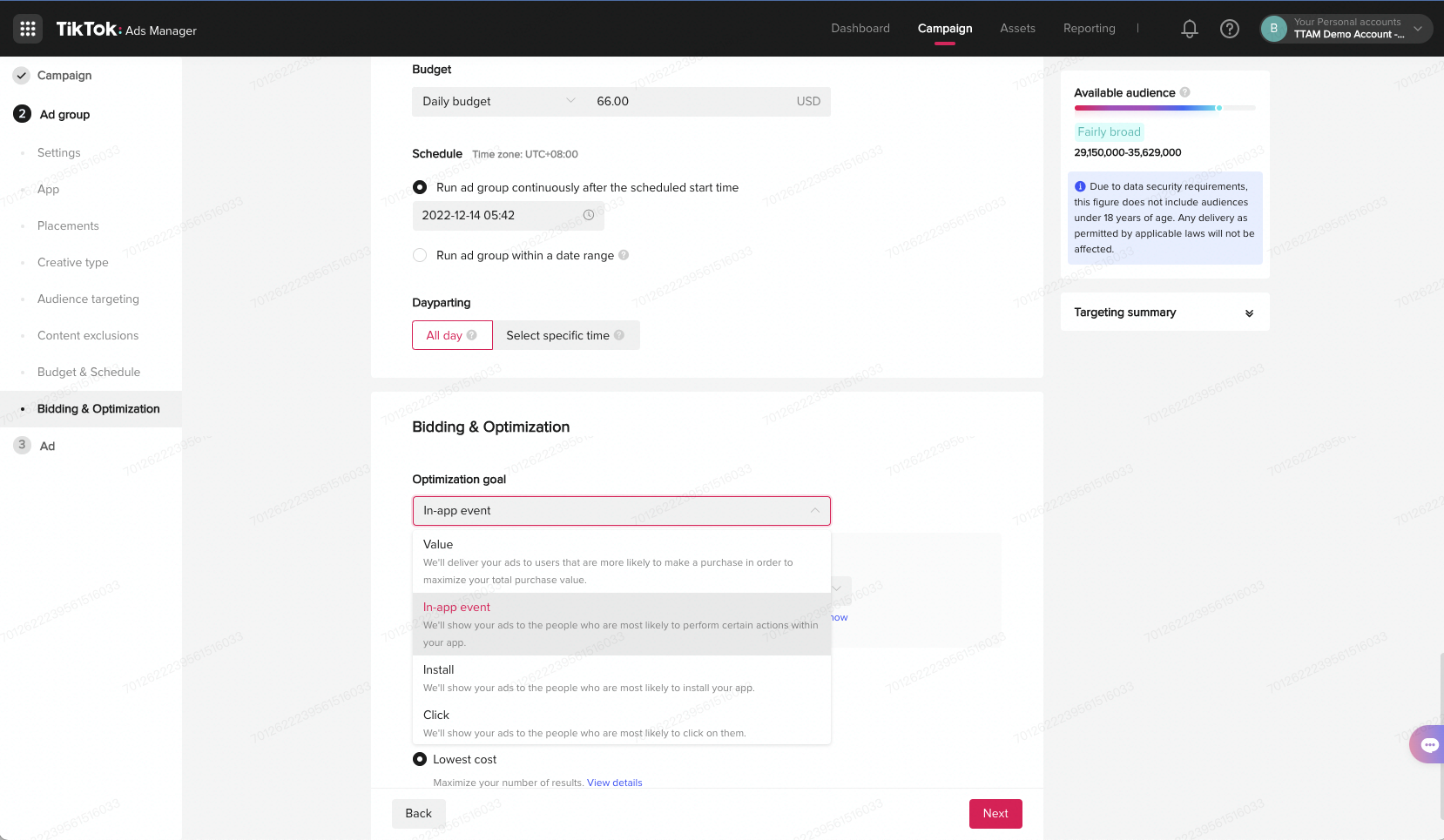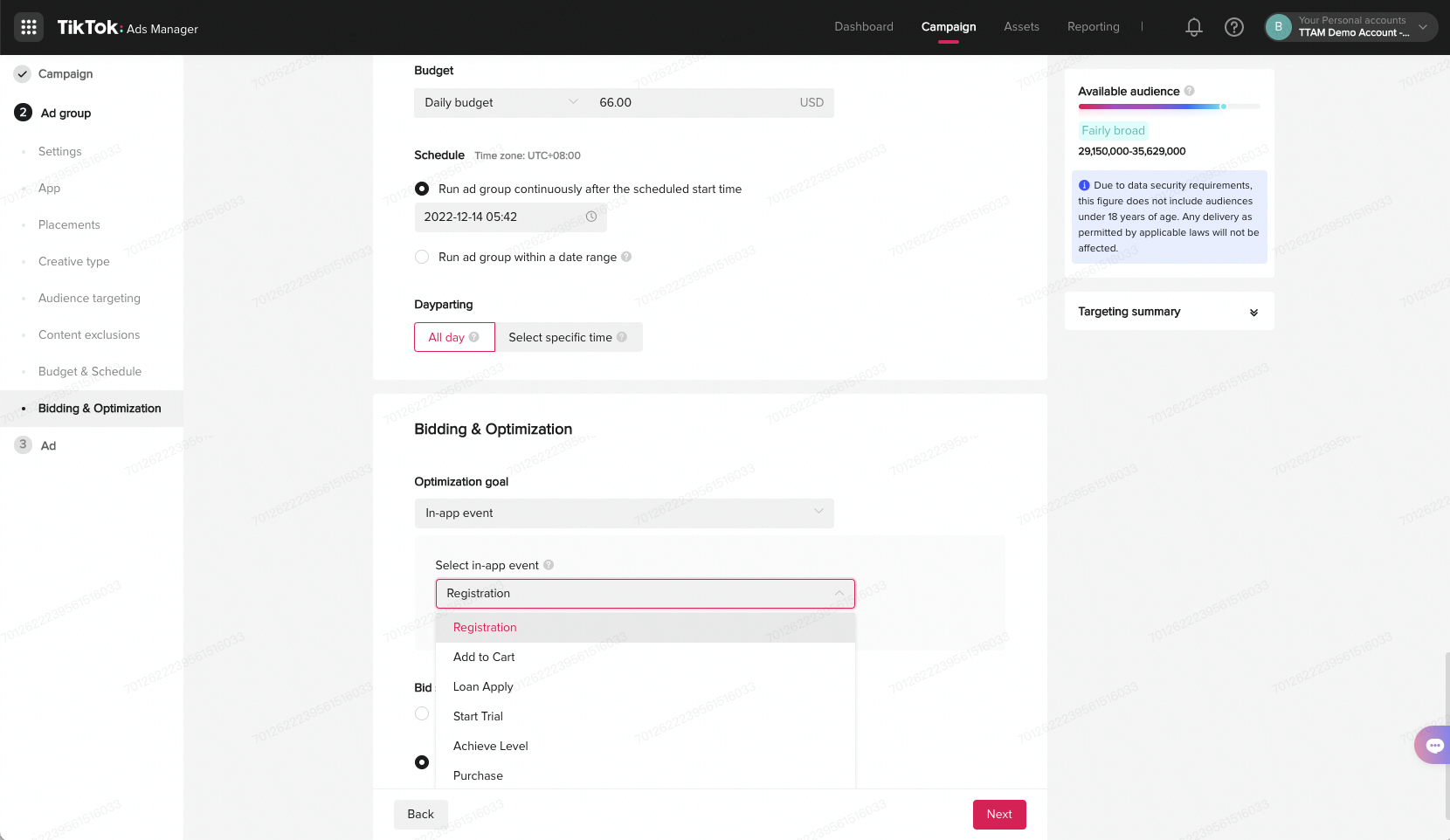 10. ​Select your bid strategy under "Bidding & Optimization":
​Cost Cap: sets a bid and control cost

​Lowest Cost: lets the system choose the bid and maximize the daily ad group budget.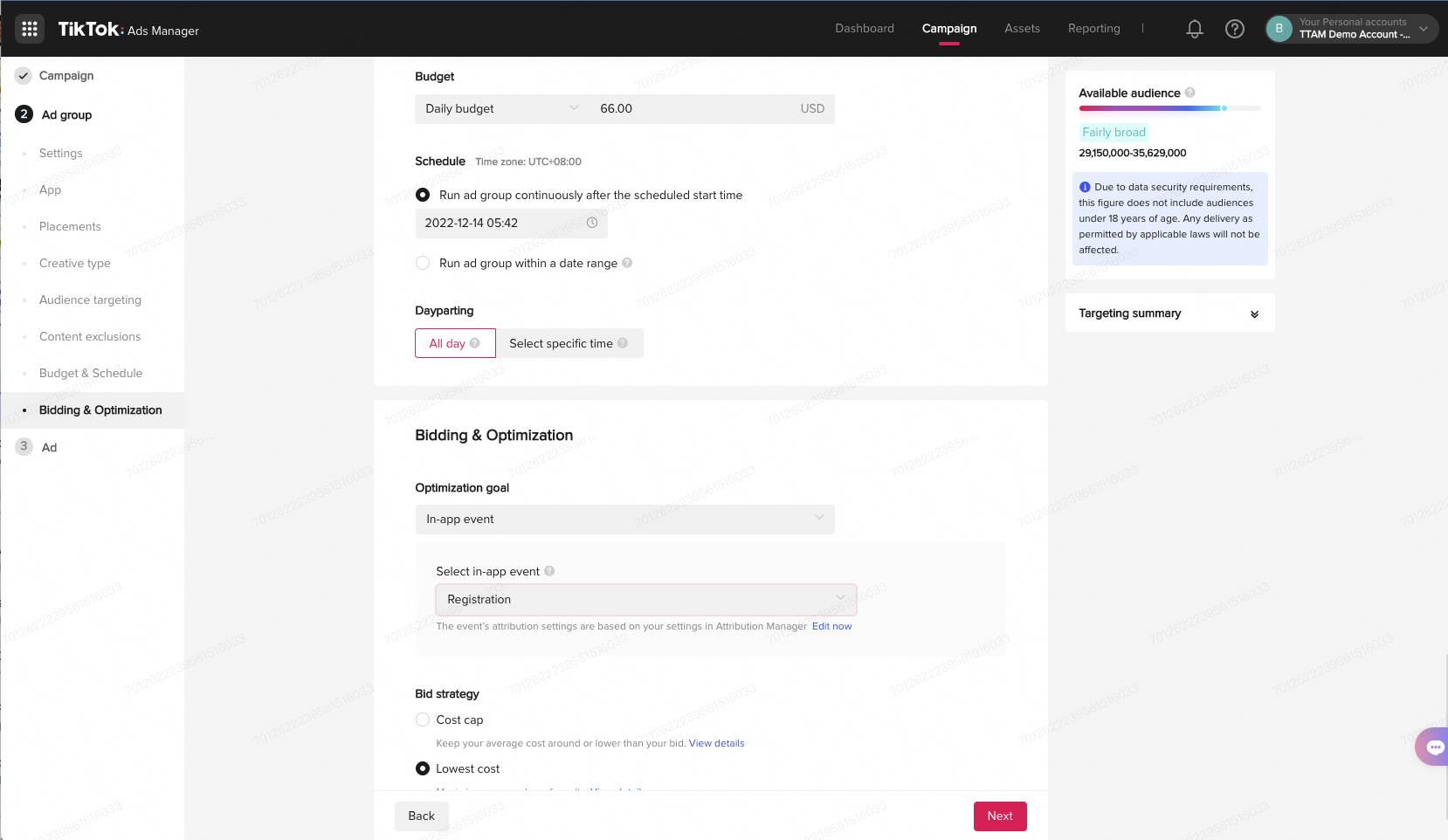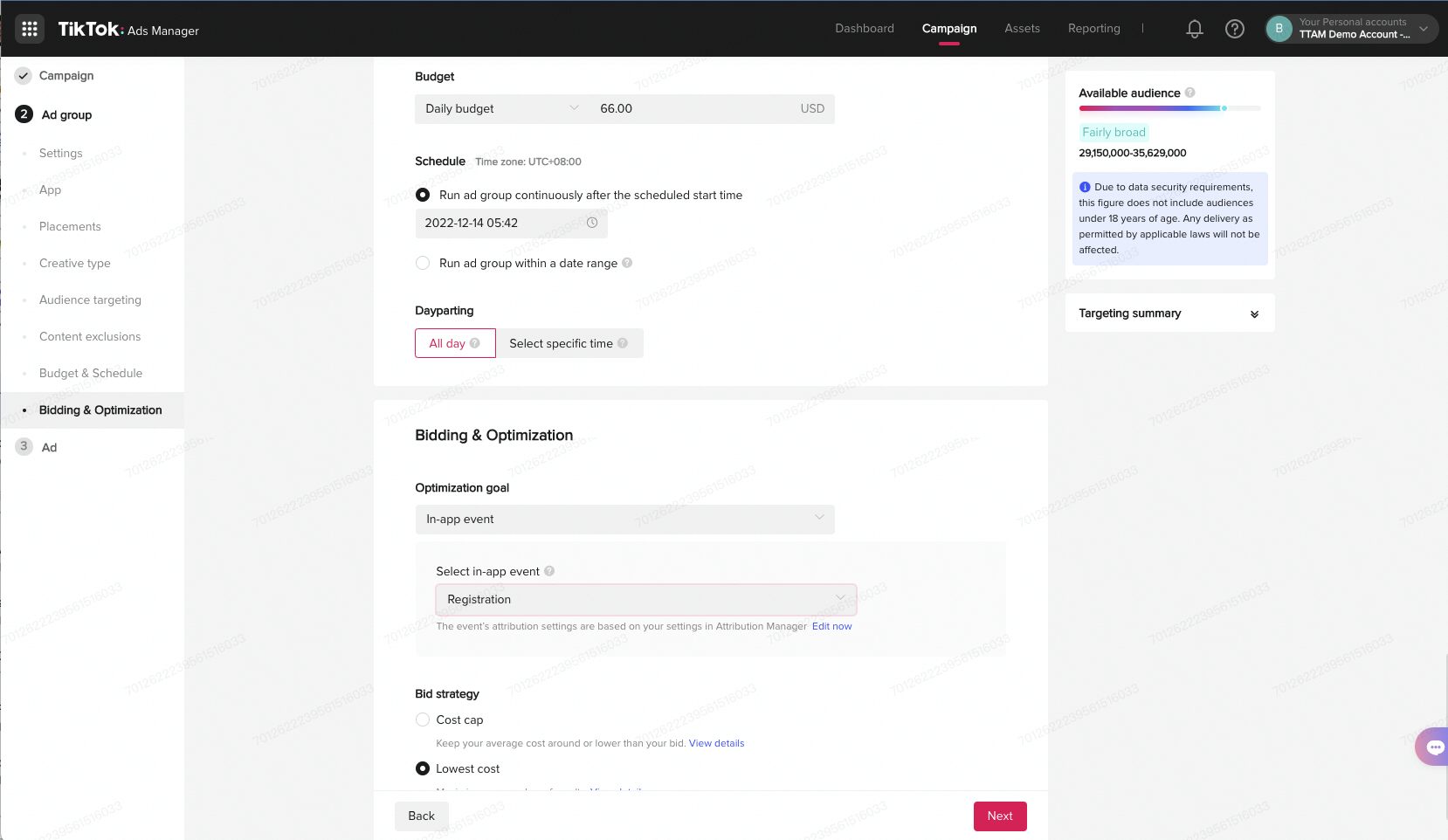 Yes. Choose the strategy that best meets your business goals (installs, event conversions, or value).
Running MAI can be helpful before running AEO campaigns as they may provide good insights on a baseline for historical creative performance, audience performance, and budget + bid best practices.
A Trigger Point is an event you have identified as particularly valuable; one that is a leading indicator of a purchase or other deep funnel event.
For example, a gaming app may identify users who reach level 5 in the app are 10x more likely to continue playing and, as a result, more likely to make purchases. In this case, Achieve Level 5 would be a key trigger point when optimizing for revenue and LTV.
Using the above Trigger Point example, you can link the specific Achieve Level 5 event on your MMP to connect to the standard Achieve Level event on TikTok. This way, all AEO campaigns optimizing for "Achieve Level" on TikTok will be optimized for your valuable trigger point.
No. You must unlock each event on both your iOS and Android version of the apps, even if they share an advertiser account.
Yes. Events will carry over based on the app. However, you must verify the TikTok App ID with MMP each time you load it into a new TikTok advertiser account.
If within the first 2 days of the campaign you notice any of the following: