The LIVE Shopping Ads feature is already available to all TikTok Shops.
There are two ways you can connect TikTok Shop to Ad Account for advertising purposes:
​In Seller Center, connect one or multiple Ad Accounts for advertising purposes. For the steps, refer to How to Set Up Shop Ads in Seller Center.

​In the Business Center, request access to one or multiple TikTok Shops for advertising purposes. For the steps, refer to Requesting TikTok Shop Access from Business Center.
Note: To use LIVE Shopping Ads, you must already have TikTok Shop set up. If you have not set up TikTok Shop, refer to How to Set Up TikTok Shop Direct Integration using TikTok Seller Center.
LIVE Shopping Ads help people on TikTok discover and watch your LIVE videos, and browse and buy your products. LIVE Shopping Ads allow you to bring more traffic to your shop and products on TikTok.
Watch the video below for a brief overview of how to create LIVE Shopping Ads on TikTok Ads Manager.
​Go to TikTok Ads Manager and start a new Campaign.

From the Campaign creation page, select Product Sales as the objective with TikTok Shop product source; then complete the campaign settings.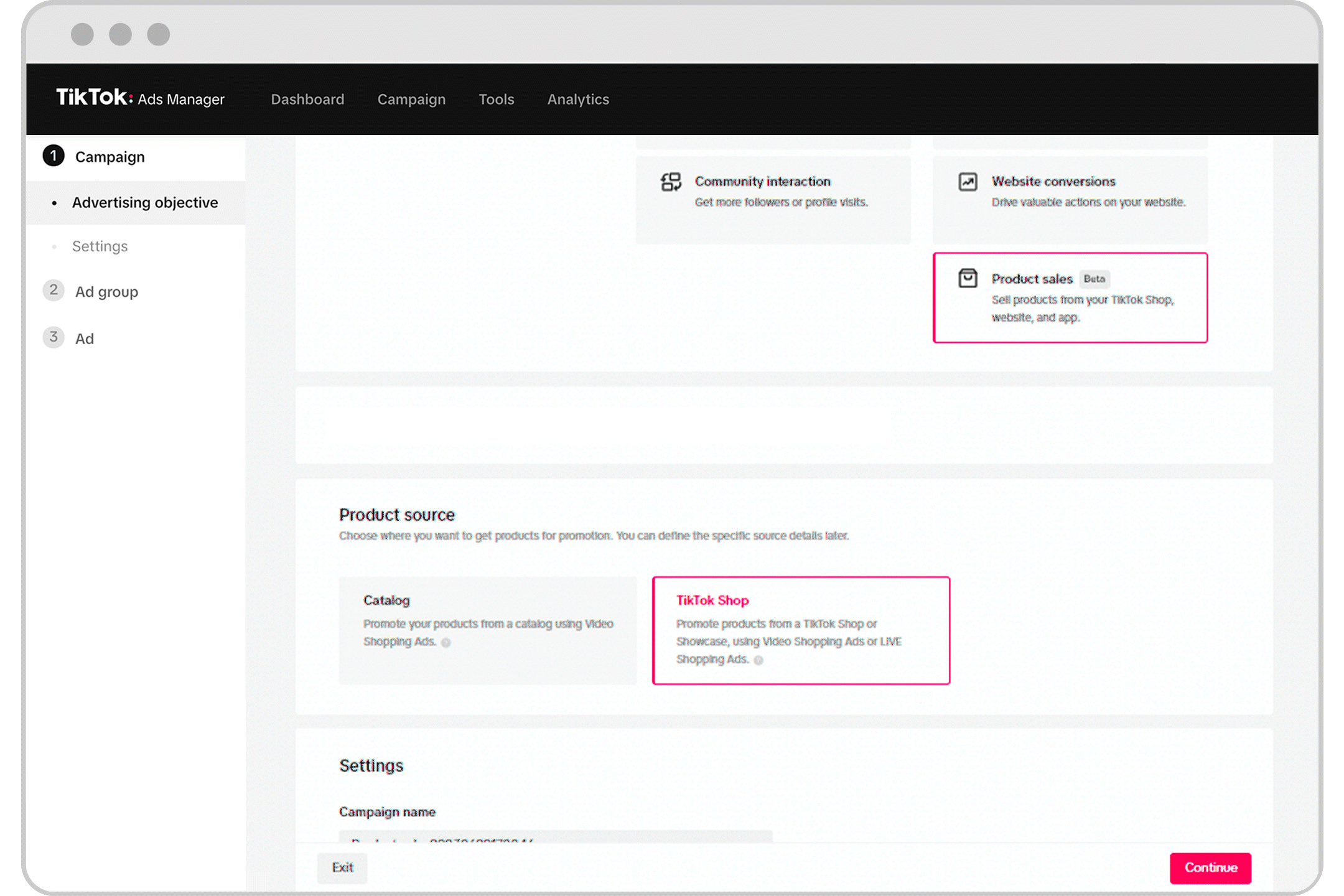 Choose LIVE Shopping Ads as the type.

Select the Identity, a TikTok account to represent your business in your ad.

Select the Shop you want to promote.

Complete the ad group settings.

For Targeting, ensure that your Age selection is set to 18+. We recommend that you ensure the target audience size is Fairly Broad.

​For the Schedule, ensure to enter the start and end date and time to match your LIVE session. For more details on how to schedule your LIVE Shopping Ads, click here.

The following full-funnel optimization goal options are available:

Click Next to continue to your ad settings.
Click Real-time LIVE to use the livestream.

Or select a Single Video as your ad creative. Your ad creative will bring the viewers to your livestream when they click it. This single video can be a TikTok Post that belongs to the Identity you selected, or a video uploaded in TikTok Ads Manager.

Complete the rest of the Ad settings, then click Submit to publish your LIVE Shopping Ad.