Value-Based Optimization (VBO) is a method of delivering ads to people who have a potential for becoming a high value customer. By optimizing ad delivery for value, TikTok will help you find the audience most likely to spend more money on your products or services than other people.
Simply, other optimization goals will find people who will click your ads, install your app, or create a conversion, while VBO will find the people who are most likely to spend the most money on your app. Try thinking of VBO as a way to find customers who travel first class.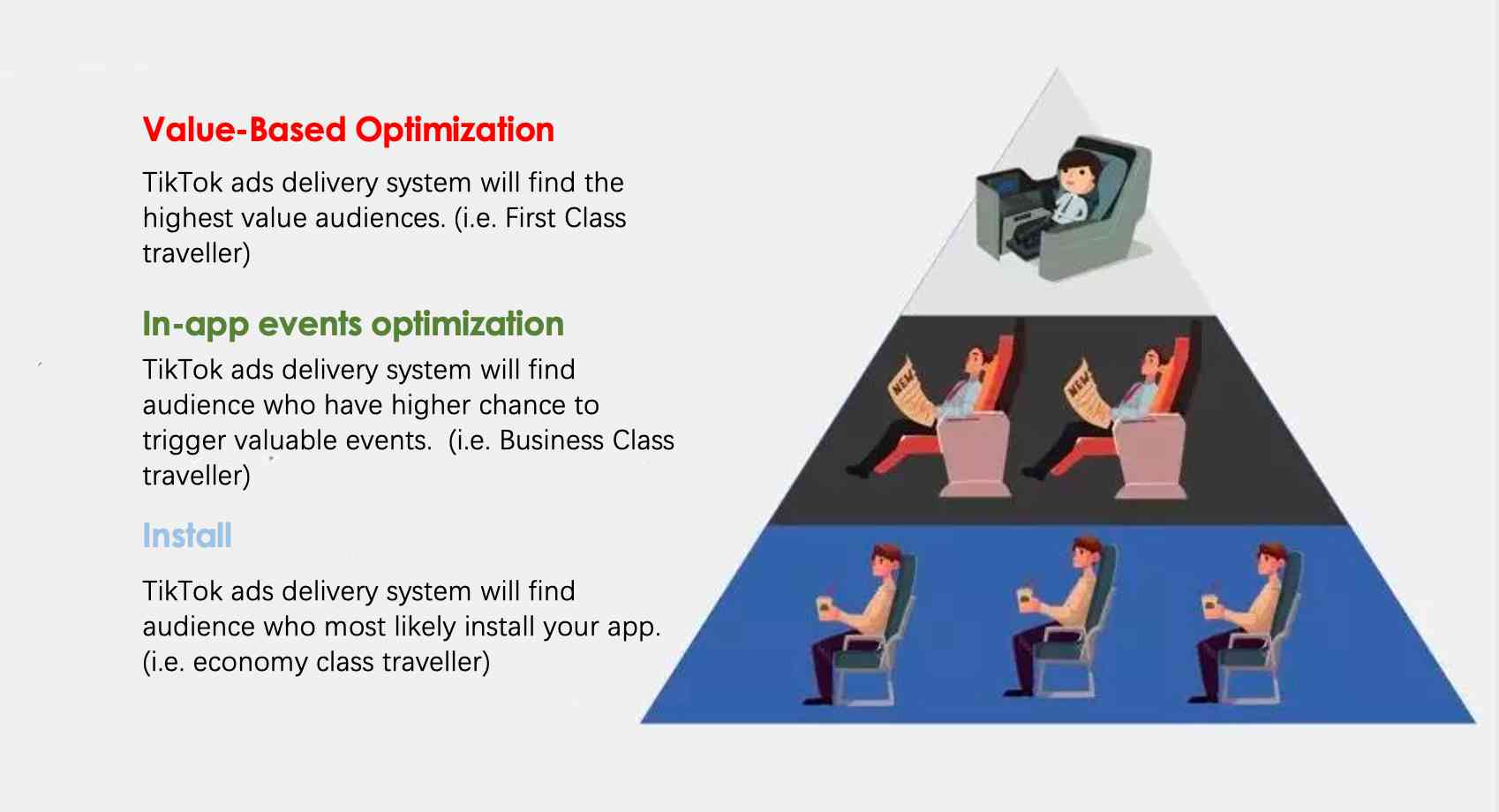 TikTok Ads Manager supports VBO for regular ads and Dynamic Showcase Ads. In the table below you will see the campaign and ad group settings supported by VBO.
Note: VBO will only be available for if you have generated over 30 purchase conversions events with value in the last 7 days on TikTok or News Feed App Series placements, or Pangle.
Supported Campaign & Ad Group Settings

Apps

Advertising Objective

•​App Installs

•​Catalog Sales

•​Conversions

•​App promotion

Operating System

•​Android Only

Optimization Event

•​n/a

Placements

•​All placements, including Pangle

Location

•​All

Optimization Goal

•​Value

Bid Strategy

•​Highest Value

•​Minimum ROAS
The placement where you reached the conversion threshold for VBO will determine how you can deliver VBO ads on Pangle.
​If you reach the conversion threshold for VBO via placement on TikTok or the News Feed App Series, you can use Automatic Placement to deliver VBO ads on Pangle.

​If you reach the conversion threshold for VBO via placement on Pangle, you can use Select Placement to deliver VBO ads on Pangle.
Note: Currently, you can only promote Android apps using VBO.
To promote an app using VBO:
​Create a new campaign on TikTok Ads Manager.

​Select a supported advertising objective: App promotion, App Installs, Catalog Sales, Conversions.

​Under Promotion App, select an Android app.

​For Placement choose TikTok, News Feed App Series, or Pangle.

​From the Bidding & Optimization module, select Value as the Optimization Goal.

​Select a Bid Strategy, choose Highest Value or Minimum ROAS.

​If you selected Minimum ROAS, enter the ratio of revenue to ad spend you want to achieve, like 4.

​Then configure the rest of your ad group settings, create your ads, and publish your campaign.
Set a reasonable Minimum Return on Ad Spend as your bid for your VBO Ad group.
​Using your ad account's performance from the last 7 days to calculate your ROAS. The enter a bid for your Minimum Return on Ad Spend that is ~80% of that.

​Breaking down your historical campaign data results by objectives and countries, to help get a more accurate Return on Ad Spend.
Set an adequate budget for your VBO ad group.
​Using 10*CPA is a good place to start.

​If your CPA is > $100 USD, use another method for calculating your ad group's budget.
Set reasonable target audience.
Let your VBO campaigns run for at least 7 days.
Avoid adjusting your ad settings in the first 3 days.
​Editing your ad settings within the first 3 days may impact your ad group's ability to pass the learning phase.

​After 3 days, make one adjustment at a time, and adjust your budget or bid by +/- %20 at a time.

​If you pause VBO campaigns for over 24 hours, it will go back to learning phase again if you restart it.
Each optimization goal plays in different role in your marketing mix:
​Mobile App Install (MAI) ads enable advertisers to get more people to install and open their apps.

​App Event Optimization (AEO) enables advertisers to deliver ads to people who are more likely to take valuable actions within their app.

​Value-Based Optimization (VBO) enables advertisers to deliver ads to people who are likely to spend more in the apps.
VBO helps marketers acquire higher-value users, while AEO attracts a bigger volume of paying users. However, while different they should be used as complementary products, and you should try and optimize your ad spend across all of them - depending on their app life stage, genre and monetization strategy.
With minimum ROAS, there's less guarantee of spending clients budget fully. This is because we might not be able to constantly meet your required minimum ROAS value. Instead, we'll aim to get you the most opportunities possible, while meeting or exceeding your minimum ROAS value. Highest value tells our system to try to spend your entire budget by the end of the ad set's schedule, while maximizing the amount of value you get from purchases.
Bid Strategy

Scenario

Considerations

Minimum ROAS

•​Want to meet or exceed a specific return on ad spend.

•​Need more control over the purchase value you generate from ads than what is possible with the highest value bid strategy.

•​If your minimum ROAS value is set too high, ad delivery may sometimes stop and your budget may not be spent in full.

•​We'll aim to stay above the minimum ROAS control you specify, but it's not guaranteed.

•​If you care more about spending your budget in full than always meeting or exceeding a specific ROAS, highest value bidding may be a good option.

Highest Value

•​Want to spend your budget in full while focusing on getting higher value purchases.

•​When you use highest value, our system aims to spend your budget and bid for the highest possible purchase values. •​Your ROAS may decrease since your cost increase.