Traditionally, editing a video is a labor-intensive, time-consuming and a completely manual process. The team has to sort through video footage, manually select video clips, search for copyrighted music, edit video ratios, add video captions and transitions, etc.
To help you make awesome video ads, reduce the cost and efforts of your video production, and expand your creative library, TikTok Ads Manager provides you with a handy creative tool, Smart Video.
With the Smart Video tool, you're able to upload one or multiple pictures and videos, and then we will leverage artificial intelligence to automatically analyze those videos and choose clips and music to create beautifully edited videos.
Here are the advantages of using Smart Video:
​Seamless video editing experience: Use artificial intelligence to automatically cut video clips, add video transitions and edit it to the rhythm of the music.

​Analyze and keep the major elements of the videos.

​Analyze the tracks and the rhythm of the music.

​Add video transition effects to match with the music beat.

​Expand your video inventory: Creating videos more easily allows you to produce videos faster for testing different creatives.

​Generate batches of videos all with different styles at the same time.

​Create videos in bulk and expand your video creative library.
There are two ways to access the Smart Video tool.
​When creating your ad, click on Single Video.

​Click on Create a Video.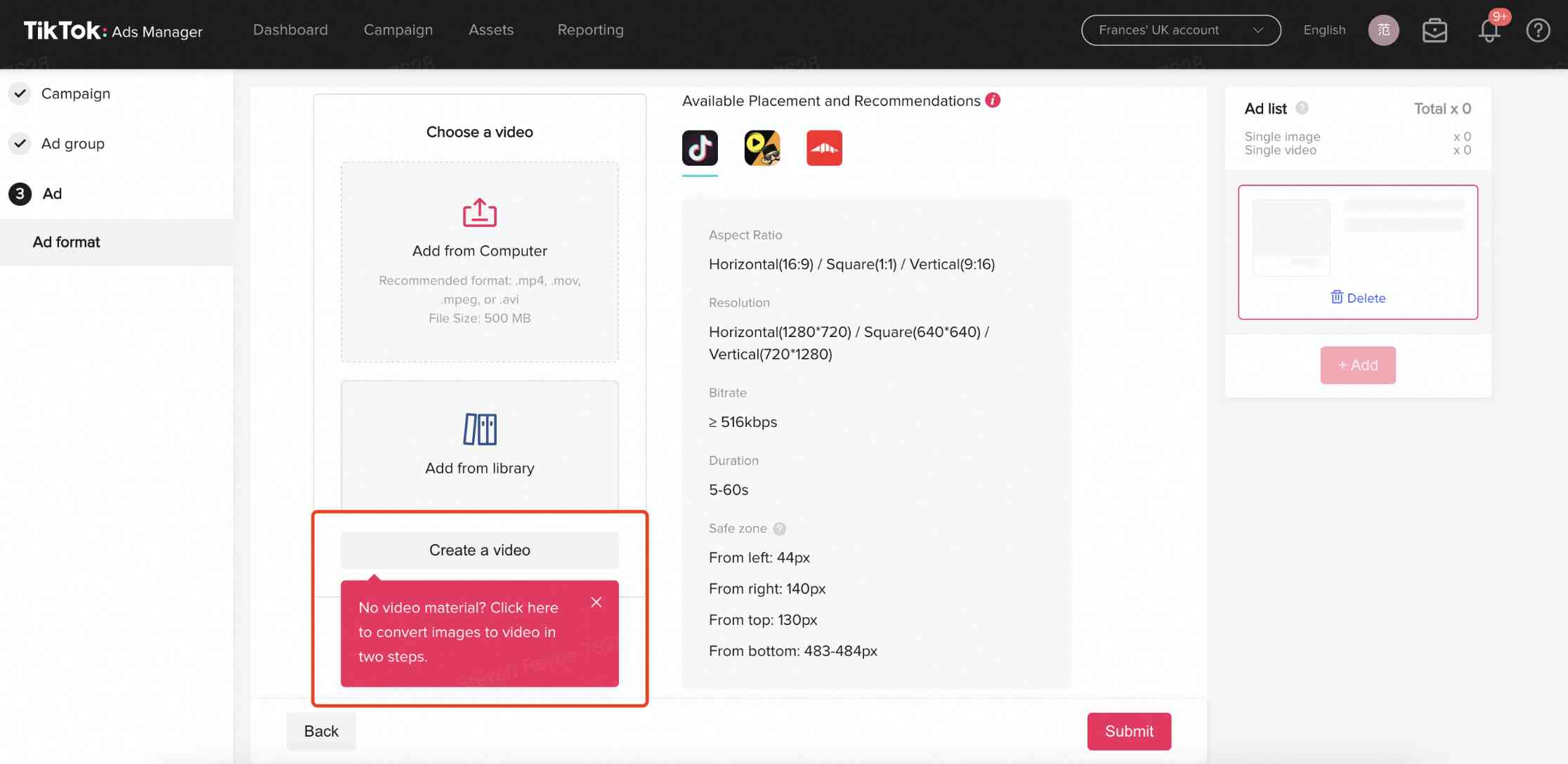 3. ​Click Generate Video.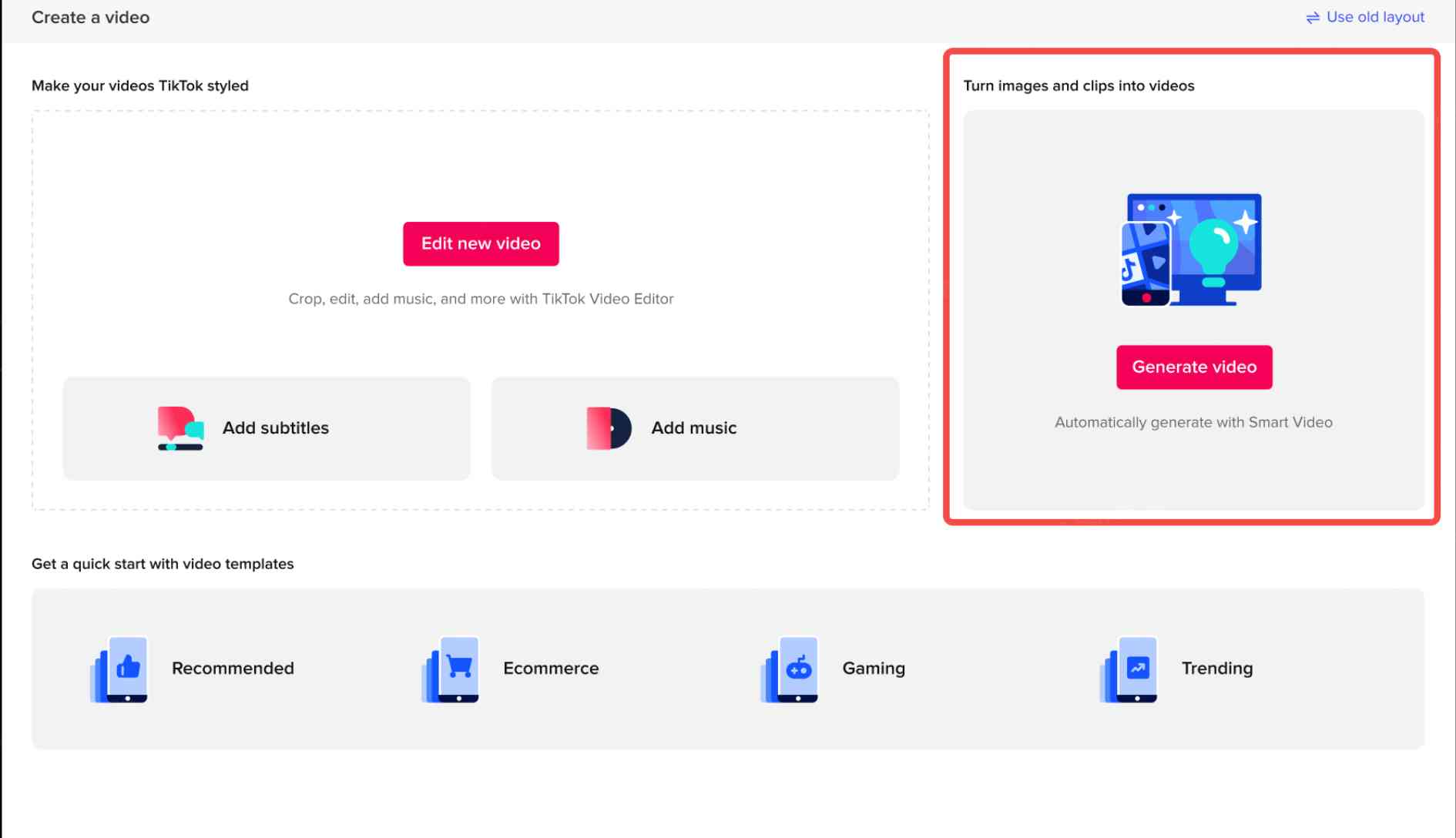 ​Click on Creatives under Assets.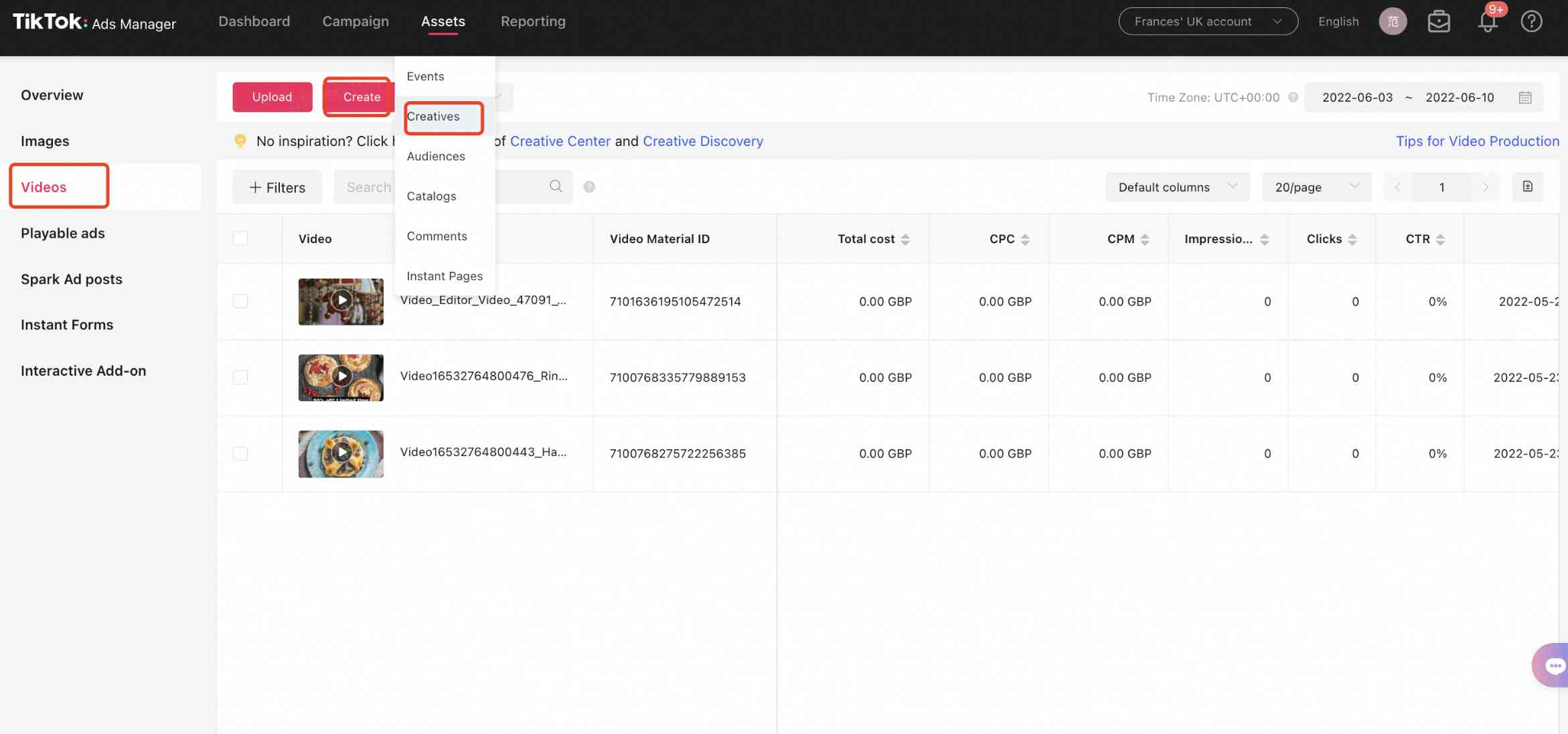 2. ​Click View more in the Creative Tools section. Click Videos and Create.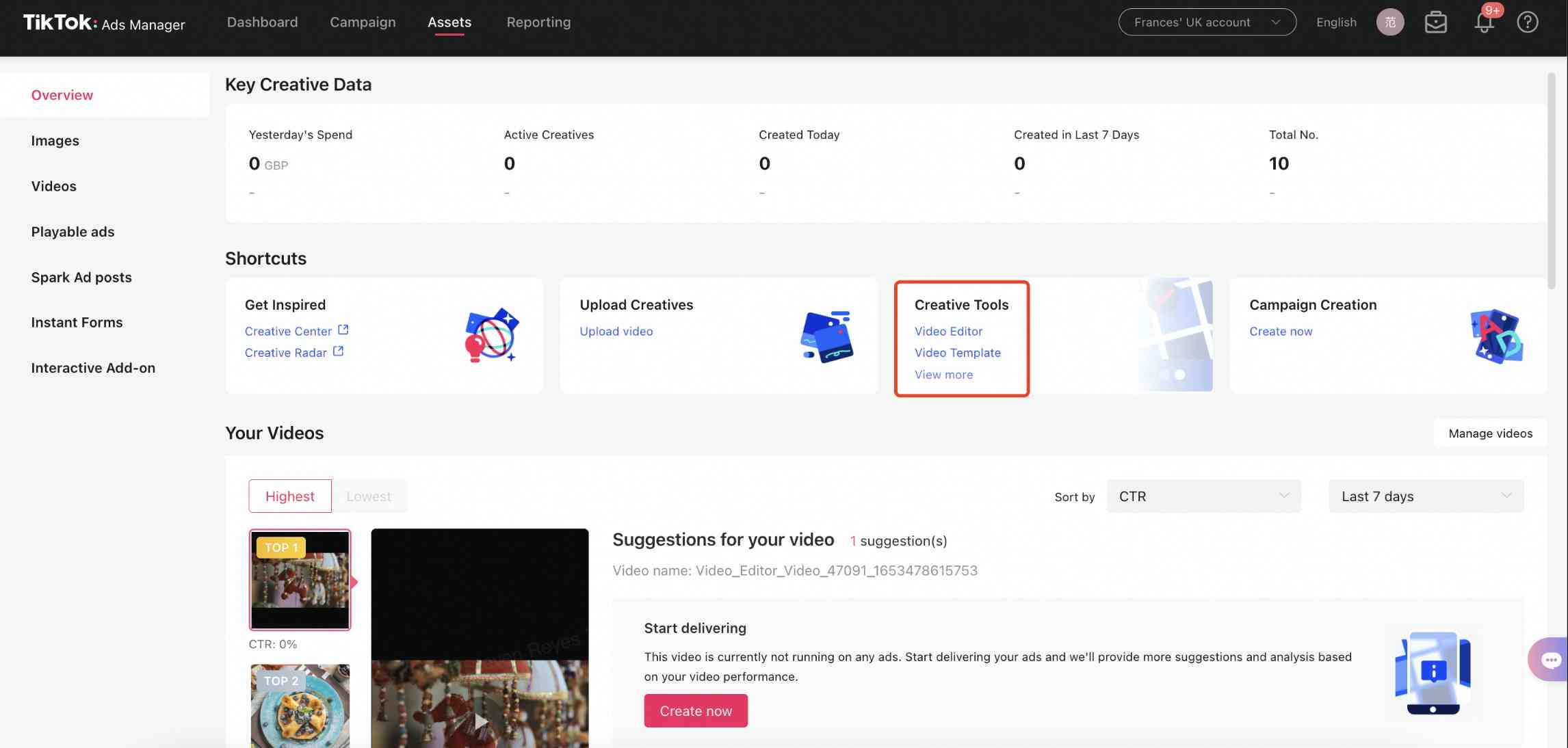 3. ​Click Generate Video.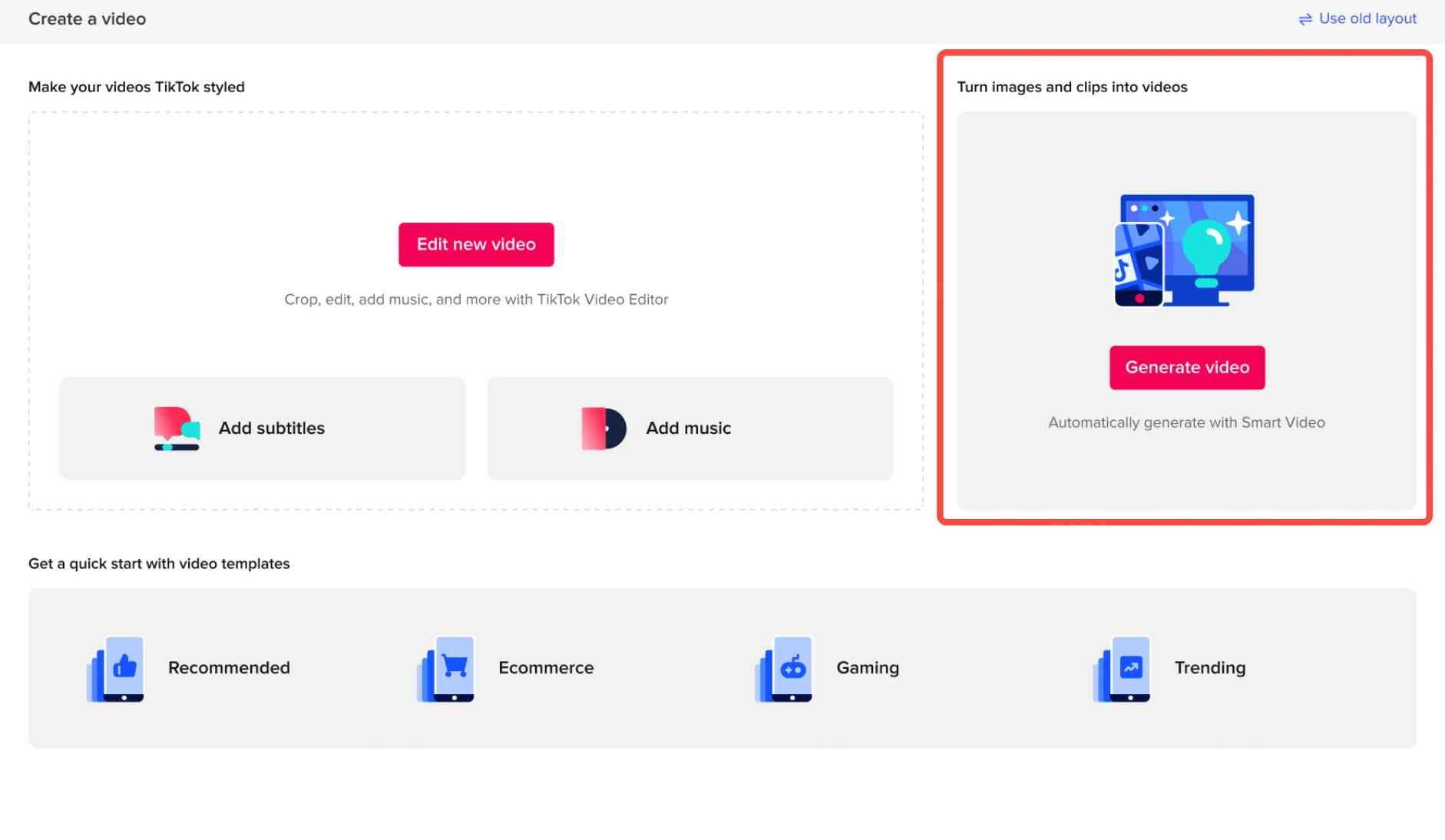 One of the features of Smart Video is you can customize content to fit your specifications:
​Upload image or video material and define video settings:
​Select the video ratio.

​Vertical 9:16

​Horizontal 16:9

​Select the duration.

​Upload original video and image material.

​Upload your own material or choosing from your creative library.

​Supports uploading up to 10 videos and 20 images. Smart Video allows you to mash images and videos together into a video.

​Maximum 10 MB for a single image, 500 MB for a single video. There is no video duration limit.

​The order of your media will be the flow of your video. You're able to drag to adjust the order.

​Choose an Opening frame and Final frame, or use the ones recommended by the tool.

​Enter subtitles (not required).

​Add stickers to provide more information (optional).

​Select the soundtrack.

​System soundtrack: The system will automatically select the appropriate music from the music library for you.

​Dynamic: The video generated is fast-paced.

​Peaceful: The video generated is slower-paced.

​Custom soundtrack: Upload your own audio files, or select from our library of available soundtracks, without worrying about copyright issues.

​Click on Confirm.
2. ​Preview video and save.
​Videos will be generated at the same time. You can click on the play button to preview each video.

​Edit the effect by clicking on Effect Settings.

​Click on Create More to generate more videos.

​Tick the box for each video you wish to save.

​Click Save to save to your video creative library.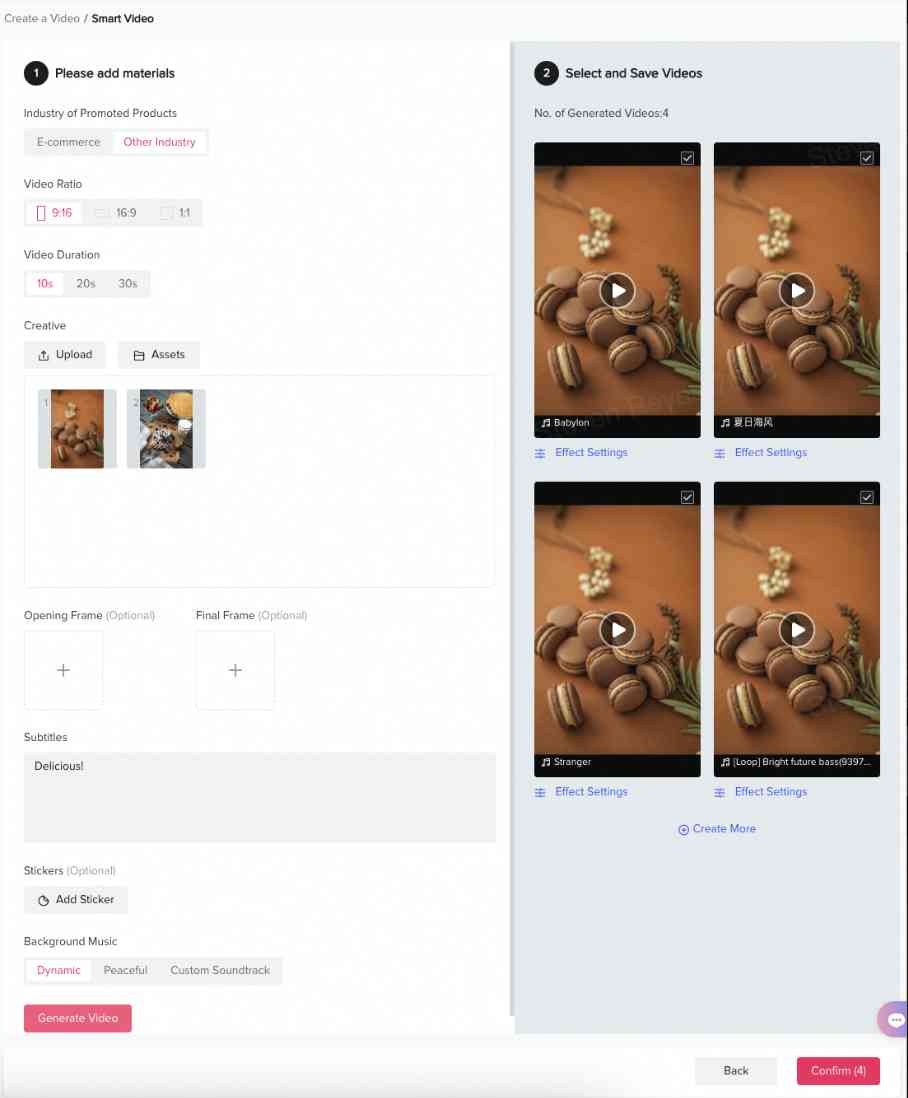 Note: While this solution is optimized for E-commerce businesses, it is available to all TikTok For Business users.
Smart Video has an additional solution for E-commerce advertisers that will help them harness the power of AI to create video content. When you select E-commerce as the Industry of Promoted Products, you will be able to create videos in a way that is optimized to highlight specific details about your products.
​Select E-commerce as the Industry of Promoted Products.

​Upload images and videos from your desktop or add them from your Library.

​Choose an Opening frame and Final Frame, or use the ones recommended by the tool.

​Input the information about your product, including, Selling Point, Original Price, Discount Price, and Promotional Info.

​Select a Soundtrack. Choose Dynamic, Peaceful, or select a Custom track from the music library.

​Then choose the size and aspect ratio. Choose from 9:16, 16:9, 1:1.

​Preview the videos you created. Use the Effect settings to adjust of the effects, sticker style, or subtitles.

​Check the box on the top right corner of the videos you want to use, and click Confirm.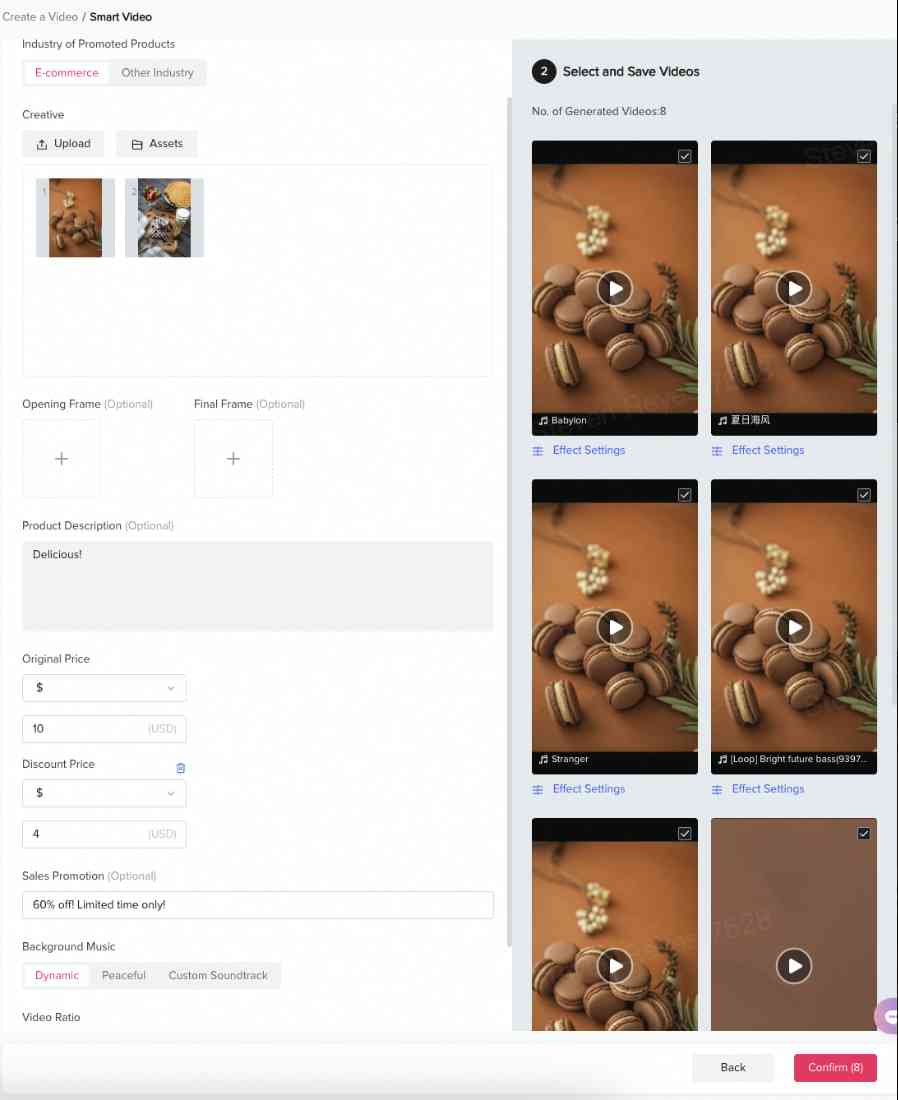 To ensure that your video clips have a good flow, we recommend that you drag and drop your video/images in the right order after uploading to the Smart Video tool. When uploading media, it is recommended that you upload multiple, high-resolution images and videos.