The party doesn't stop when you finish setting up an ad on the TikTok Ads Manager. In fact, this is where it begins. To be a pro-marketer and really take your ads to the next level, you need to be monitoring your results - all the time.
On TikTok Ads Manager, we try to make this as easy as possible for you. First thing you should know are that there are two types of results you can view.
One is all about the macro picture, checking out the overall data across all campaigns. To get a birds-eye view of your summarized data, it's always best to check the Dashboard page.
Another is about the micro, digging deep into the details of each campaign. To get a better idea on the results of your campaigns, ad groups, and ads, you need to head over to the Campaign page.
Let's breakdown each method so you know what to expect.
The Dashboard should be your first stop when on the platform. Stay up-to-date on the performance, ad spend, and status of all your campaigns. Here's a breakdown of some key things to look for:
​Monitor the operation logs of the account by clicking log in the Today's Spends area

​View the status of all campaigns, ad groups, and ads either Active or Not Delivering.

​Keep track of your account time zone in the time selection box. All data is shown based on your timezone.

​View your performance metrics broken down by different dimensions (including gender, OS, dayparting and etc.).

​Download and export chart data for further editing and analysis.
Next step is the Campaign page where you can view all the nitty-gritty details for campaigns, ad groups, and ads. Let's take a look at some key things to consider when filtering, customizing, and viewing your data.
When you become a TikTok Ad Manager pro, you will have tons of campaigns listed. Wasting precious time wading through each row doesn't make much sense. Click the Filter button and select from different criteria to drill down and view only those campaigns you're looking for. Easily change selected criteria or combine multiple criteria to drill down further. Get back even more of your previous time by saving your custom filters for easy access next time.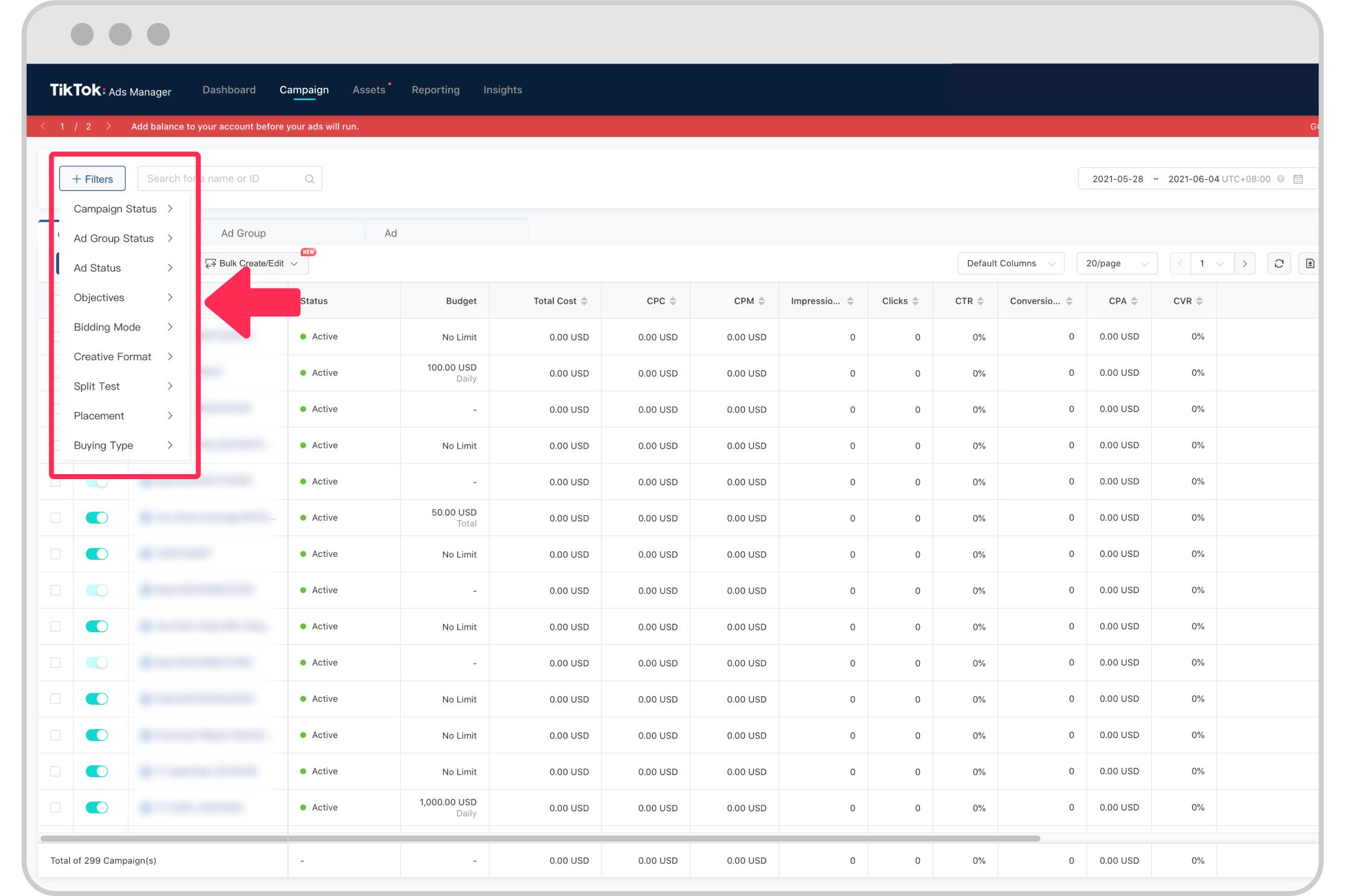 While we spent lots of time considering how to display the data is the table, we understand that the format might not be your cup of tea. Click on the Custom Columns button to select the most important data you wish to display, then drag and drop to change their order of appearance. Once you're all set, don't forget to save your column view for quick access next time.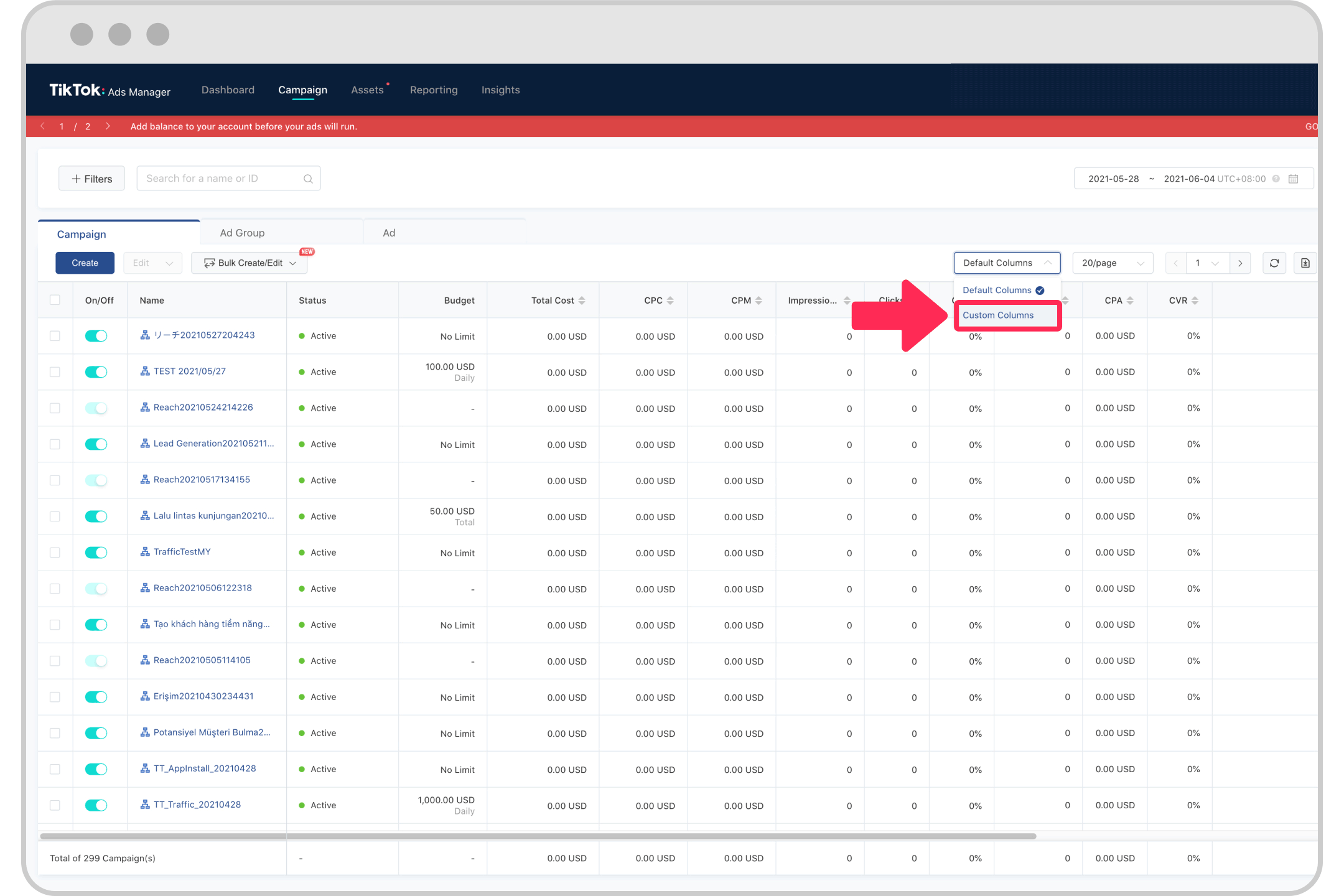 Click View Data under each campaign, ad group or ad to view the performance data and audience analysis.
Looks like no major changes.. great! Now, let's click on View Data to open the panel. Change the date and customize your time period. Then, change your chart display by selecting daily or hourly data.
Select some dimensions from the list and out comes a beautiful chart showing your data, like magic. Some data dimensions include total cost, impressions, clicks, conversions, click rate, conversion rate, CPC, CPM and conversion cost.
Click on the Breakdown tab to view the performance data by audience segments. Some audience dimensions include gender, age, country/area, interest, network, OS and placement.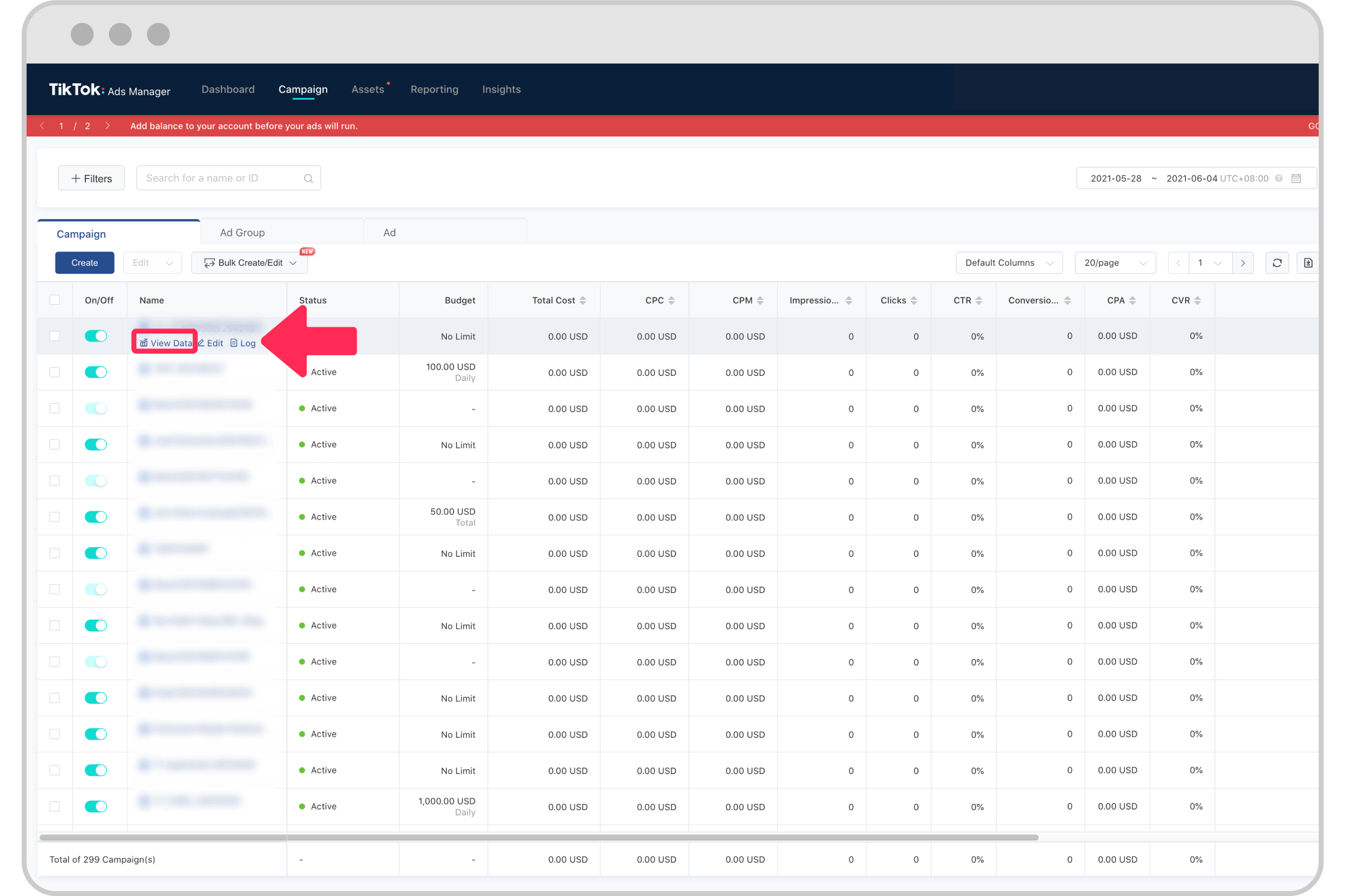 If you find some amazing insights you want to share with your team, export the data directly or download the cool charts.
Whew, you did it! It seems like a stuff to handle, but after a few times, you'll get the hang of it. Once you learn how to view the Dashboard and Campaign data, you'll be on your way to becoming a TikTok Ad Manager expert!