Create and Manage Reports
Your reports can be found under the "Reporting" menu at the top of the TikTok Ads Manager. Reports help you view, organize, and analyze your data. Large amounts of data can be easily put into tables and charts, to better help you visualize your results and spot meaningful patterns and trends.
In this article, you'll learn how to create, save, manage, and export different types of reports.
How to Create a Report?
Start by clicking on the "Reporting" button at the top of your TikTok Ads Manager. Clicking on the "Create" button will give you a drop-down menu to select with a "Custom Report" or a "From Template" report.

How to Create a Custom Report?
Custom Reports are great tool for you to create reports exactly as you like them. Click the "Create" button on the "Reporting" page, and then select "Custom Report".
Opening the Custom Reports page will show you a list of Dimensions and Metrics on the left side. 
Dimensions: Related to groupings of your data, for example - campaigns, ad groups, ads, placements, etc. Dimensions appear as rows in your report.
Metrics: Related to ad performance data, for example - CPM, CPC, CTR and CVR. Metrics appear as columns in your report.
Toggle the options and select the dimensions and measures you want to display in your report. Once selected, they will auto populate on the screen. You can then edit the order they appear in your report by dragging each option up or down.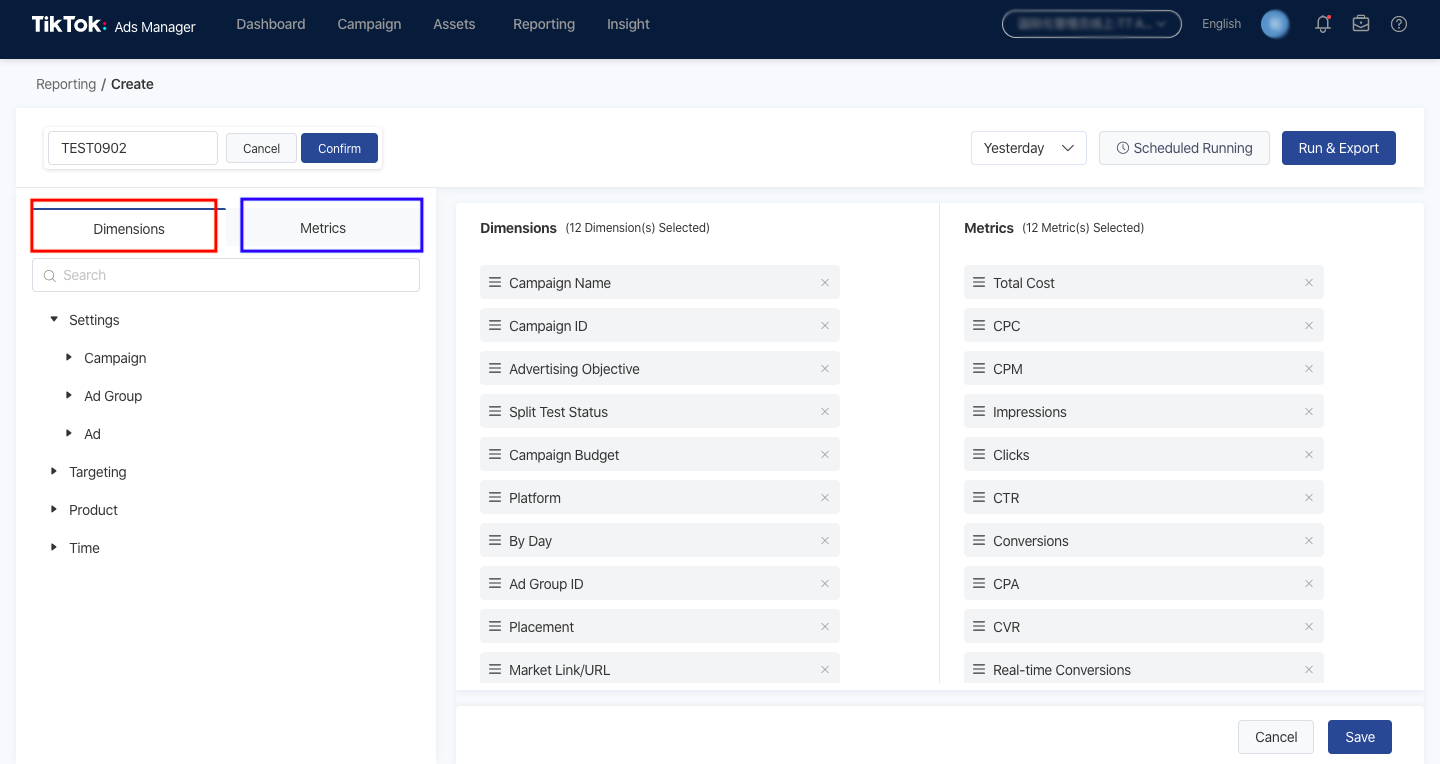 Now that you have selected the data you want, select the time range for your data. You can select the data from yesterday, last 7 days, last 30 days, or enter a custom date. 

If you're tired of running and exporting reports all the time, try out the "Scheduled Running" feature. 
This allows you to set up an automatically generated reports that are delivered via email. Want to include your team or boss? You can designate up to 5 emails to receive the scheduled report. 
Set the frequency and scheduled delivery of your reports. The following options are available:
| | |
| --- | --- |
| Frequency | Scheduled Delivery |
| | |
| | |
| | The first day of every month |
| | The last day of every month |
The system sends the scheduled email right after it finishes processing the data. This normally takes about 5 to 6 hours, depending on the volume of the data. You should receive report email around 5-6 A.M. According to your ad account time zone.
Note:
Only users who have access to TikTok Ads Manager can download the report.
The scheduled report will be canceled automatically if the report is not downloaded by any recipient for 3 months in a row.
Great work! You've now set up your report. If you want your data now, go ahead and click the "Run & Export" button to start preparing your report. 
Click "Save" at the bottom and rename the report. Now you're all set!
How to Create a Report Using a Template?
Unless you're a pro at ads, then building a Custom Report may feel a bit daunting. That is why we've already done the work for you by setting up pre-defined report templates. This is a super easy way to build an awesome report that will impress your boss (he doesn't have to know it's a template).
Click the "Create" button on the "Reporting" page, select "From Template", and then select either "Ad Group Performance" or "Ad Performance". We'll use the "Ad Group Performance" for our example.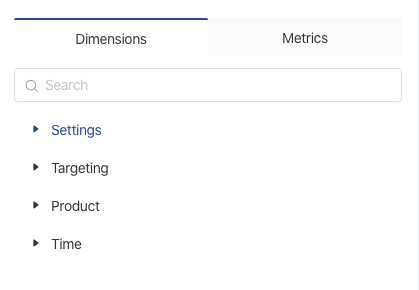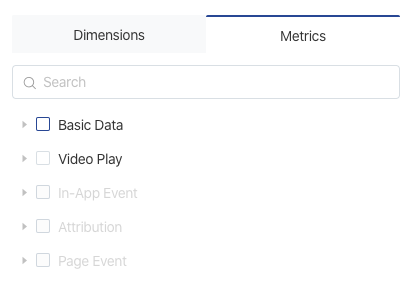 The most relevant Dimensions and Metrics will be displayed based on your selected template. You can add, delete, or modify the Dimensions and Metrics if needed.
Select your time range and set up "Scheduled Running" if needed according to the steps outlined in the "Custom Report" section.
Click on "Save" and rename your report once finished.
How to Manage Reports?
The "Reporting" tab allows easy access to your saved reports, where you can edit, delete and export them. 
To edit a report, click on the report name and a slider will open will your settings. Change your settings and then click "Save".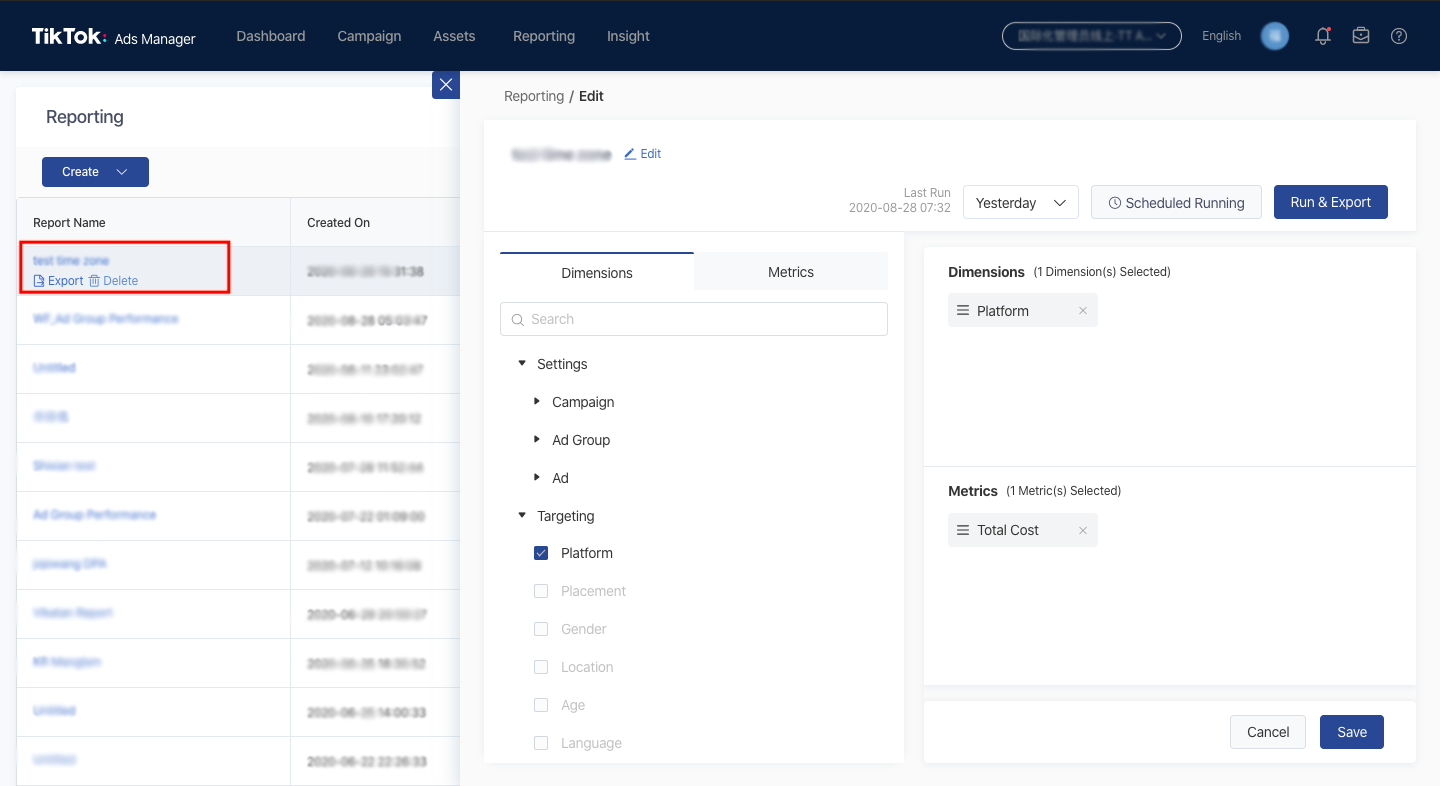 How to Save a Report?
When creating a new report or editing an existing report, don't forget to save it. Do so by clicking "Save" at bottom right corner on the page.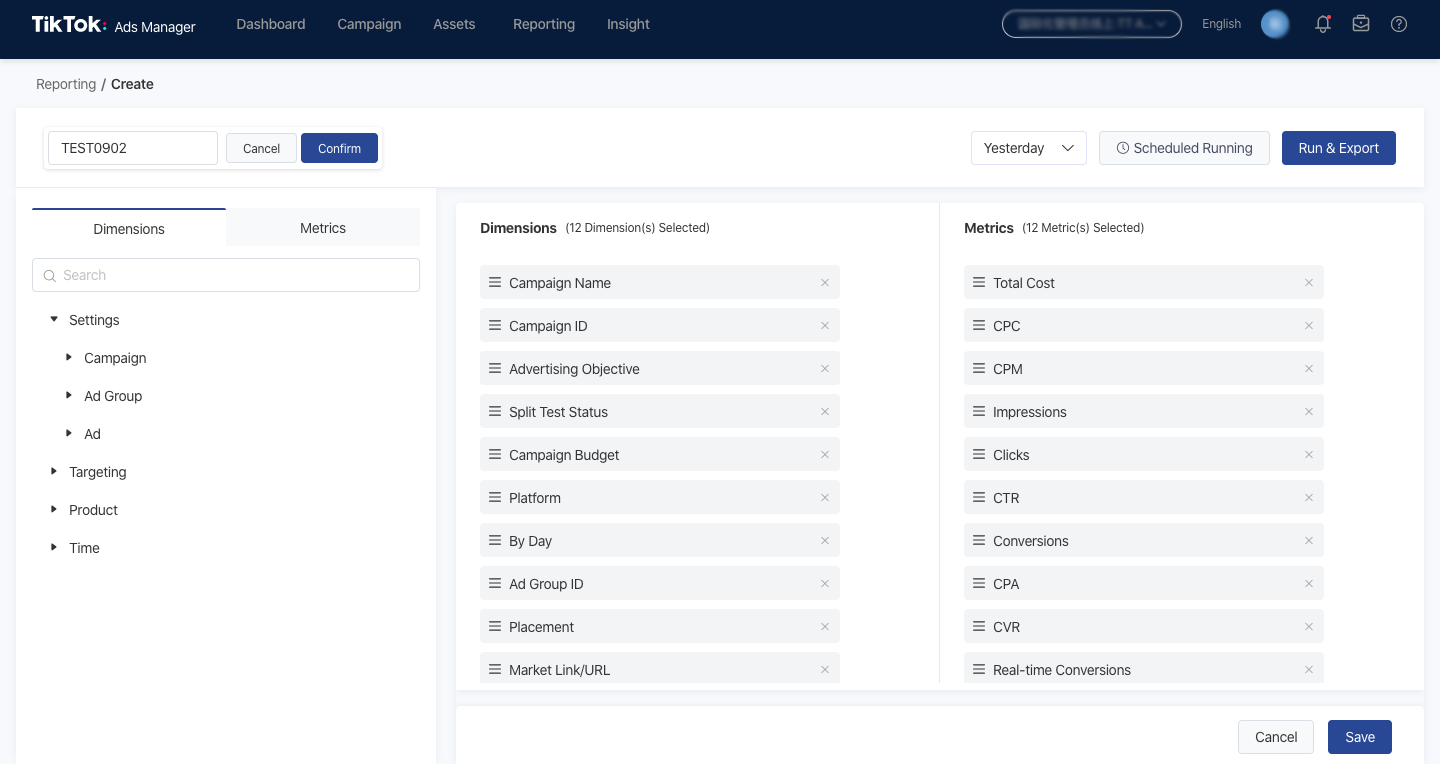 How to Export a Report?
Currently, exports are available in .csv and .xlsx formats. Once a report is created, you can download and export a report a few different ways.
Click "Run & Export" on the Reporting page.
Click "Scheduled Running" on the Reporting page.
Click "Export" under a saved report.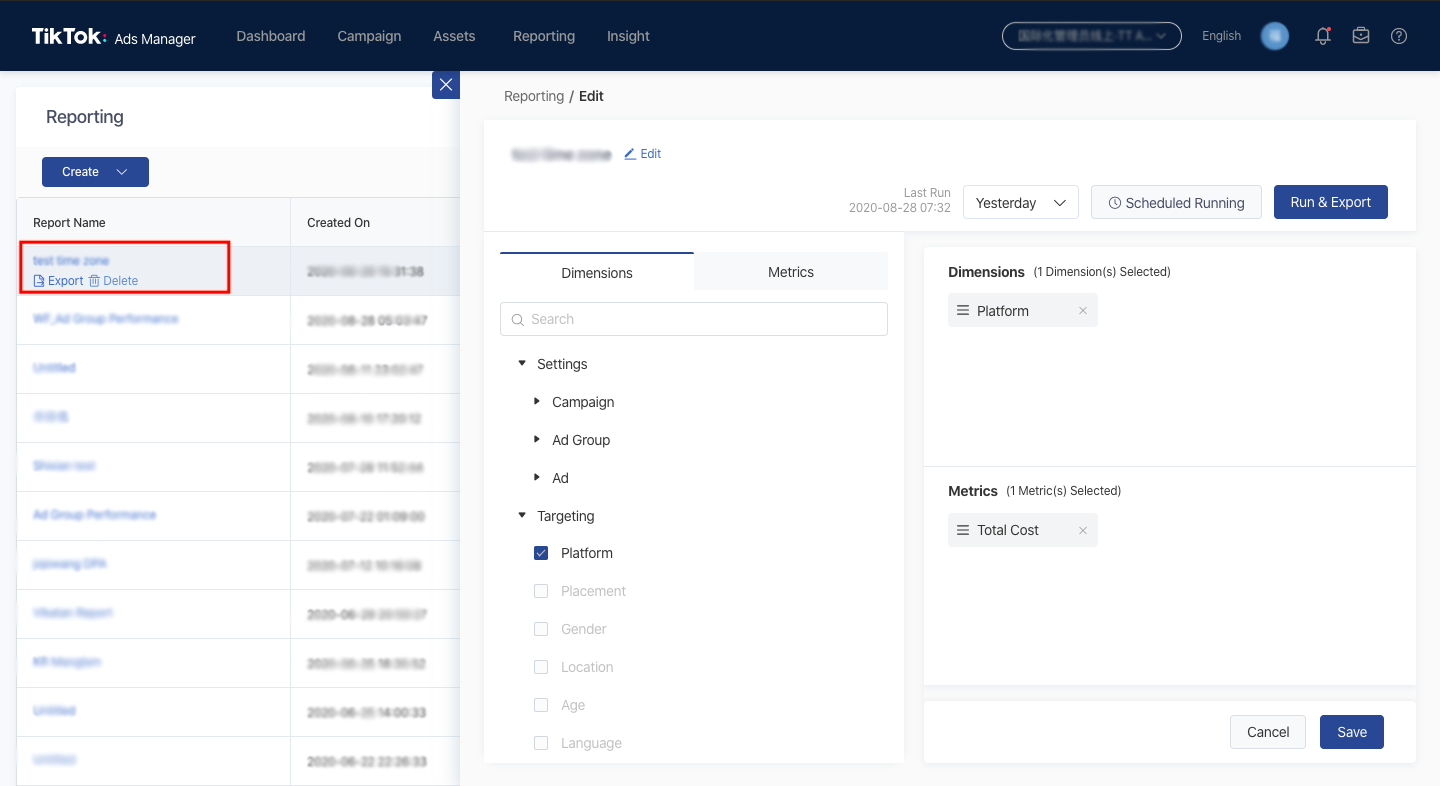 How to Schedule a Report to Your Inbox?
The "Scheduled Running" function lets you schedule reports that are automatically emailed to you.
Whether you are editing a current report or creating a new one, click on the "Scheduled Running" button.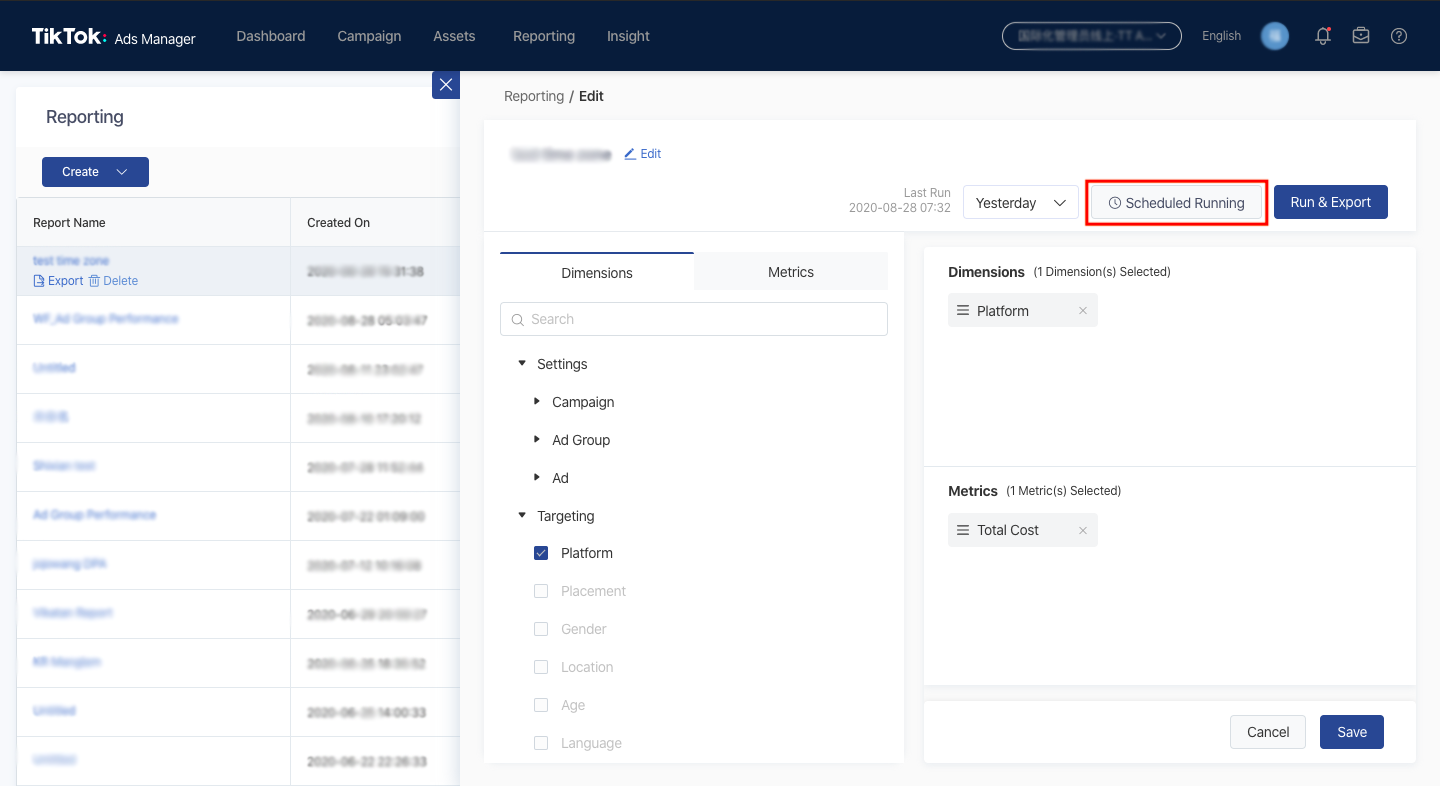 First, set the frequency for either daily, weekly, first day of month, or last day of month. Next, enter the recipient email (up to 5 email addresses) where you want to send the report.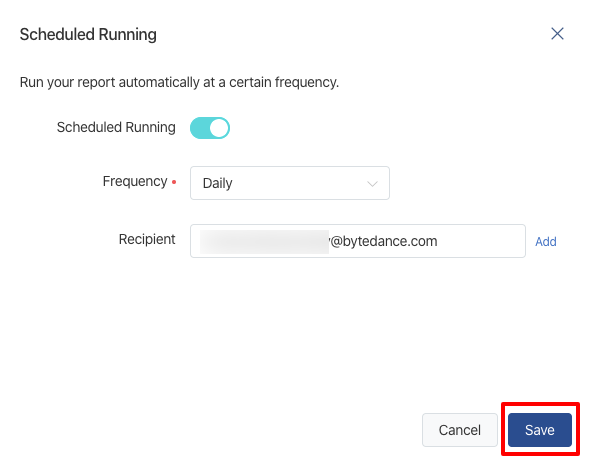 Click on "Save" to save your "Scheduled Running" settings and then be sure to "Save" your report. Now you are all set! Your reports will delivered straight to your inbox!
Was this information helpful?