Creative Tips
Here are some suggestions for how to get the most out of your creative. Having good creative is super important for capturing user's attention and converting. Read the suggestions below on media and copywriting for optimizing your ads.
Media
Resolution: High-resolution videos/images are recommended (or more like a must nowadays).
Color: Use color contrast. Plain is lame. Spruce up your ads by adding different colors - think of it like a painting. 
Consistency: Creative should be consistent with your brand image and resonate with your target audience. Serious brands should have serious ads, trendy brands should have trendy ads, you get the picture.
People: Showcase your product with video of people using your product. Since the people viewing your ads as well... People, it makes sense to include them into your media. It makes us humans feel like you're human (we hope you are).
Testing: Test a variety of images and videos. They say Edison took 1000 attempts before creating the light bulb. There's a lesson to be learned here - every attempt is a lesson learned to better make killer ads.
Copy
Less is More: Make sure your message is clearly stated. While some people are masters of the long copy sales letter, most of us mortals are best off to write messages that are brief (don't they say goldfish have longer attentions spans than us?).
Consistency: Make sure your ad copy is consistent with your brand message. We're not gonna repeat ourselves too much, but keep your copy consistent with both your brand and your media.
Creative Safe Zone
You might have heard of the safe zone being used to describe a place where people feel "safe". Well, your ads are no different. 
TikTok ads have a safe zone to ensure your ad's key message and media is clearly displayed.
We recommend keeping all text and graphics in the safe zone (green part). Here are some guidelines you can compare based on different ad description lengths:
Image 1 (left): One line of description text.
Image 2 (middle): Two lines of description text.
Image 3 (right): Three lines of description text.
For "App Install" ads, the "Download Card" will appear after 9 seconds, shown below. Please note that if the video is less than 9 seconds long, the card will not appear.
We recommend making sure that all your important text or graphics from the video are located outside of the "Download Card" area to avoid getting blocked.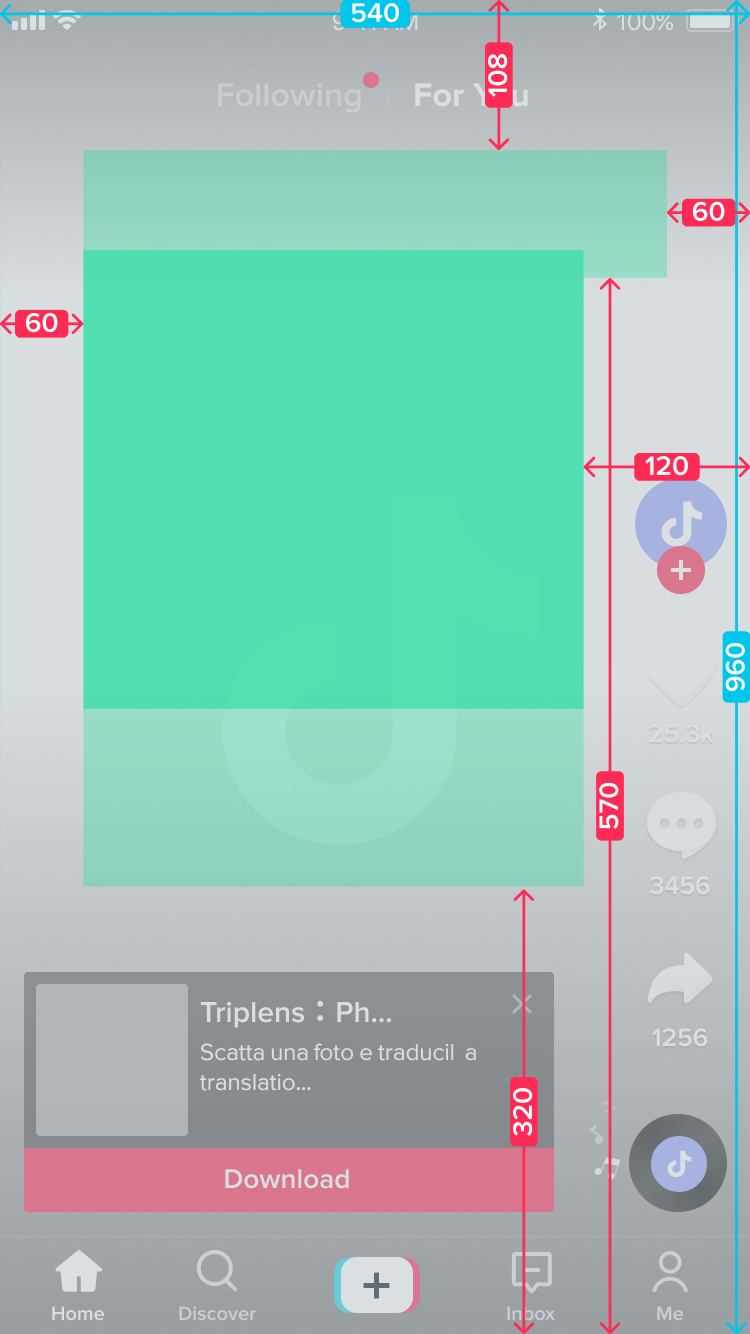 Was this information helpful?