Behavior Targeting lets you deliver ads based on a user's recent in-app behavior on TikTok. We believe this can be an effective method to improve campaign effectiveness.
While interest targeting focuses on a user's long-term content consumption, behavior targeting focuses on a user's recent interactions with content. This article will explain the key benefits of using behavior targeting, how to use it, and cover some frequently asked questions.
There are 2 behavior categories:
​ Video-related Actions

​ Creator Actions
The video-related behavior that we are able to capture is limited to their engagement (video completion, like, comment, share) with organic video content in the past 15 days. Based on users' recent behavior, users will be associated with video tags, which are then provided as category options under behavior targeting for advertisers when creating the campaigns.
Advertisers can target an audience who is following and has viewed home pages of a specific type(s) of TikTok Creator in the past 30 days.
Audience Testing
Behavior Targeting is a great tool to test a hypothesis about your target audience. We encourage you to use behavior targeting to help identify their audience when they start advertising on TikTok Ads Manager.
Campaign in A Plateau Phase
Sometimes a campaign may enter a plateau when it has run out of users based on its existing targeting criteria. Behavior targeting is a great way to identify new users with strong and recent purchase intent for your product/vertical if your campaign begins to plateau.
Creative Ways to Spend
If a campaign is not spending as planned, behavior targeting offers another way to identify and reach high-quality audiences based on your needs.
Audience Insights
With post-campaign reporting, you can evaluate audience performance based on the behavior categories they targeted. Over time these audience insights will help improve your targeting strategy and tactics.
Advertisers can click on the search bar to see all Interest and Behavior Segmentations, and type in the search bar to find all available segments related to their search query.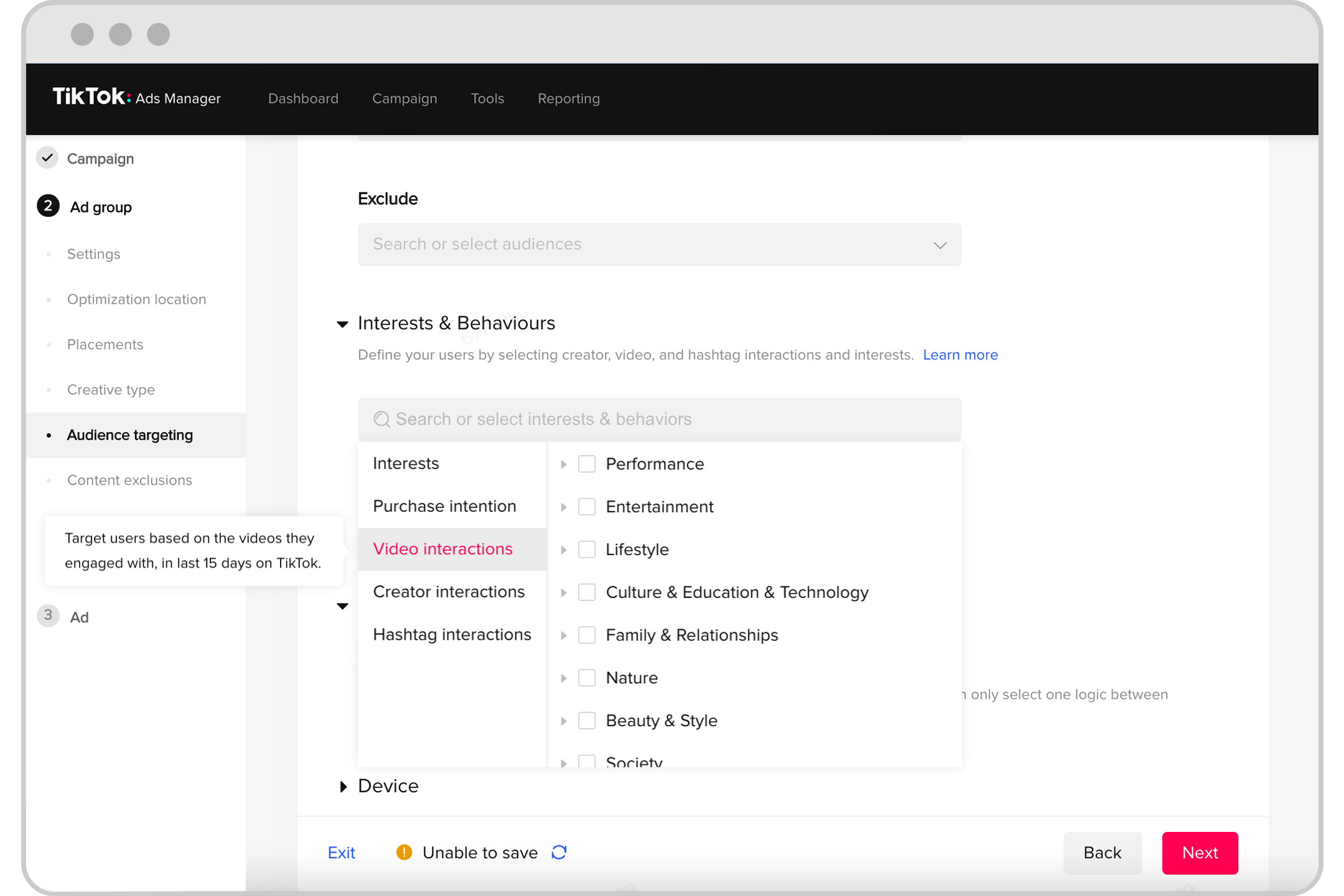 With Hashtag Targeting, you can target users who watched TikTok videos with certain hashtags.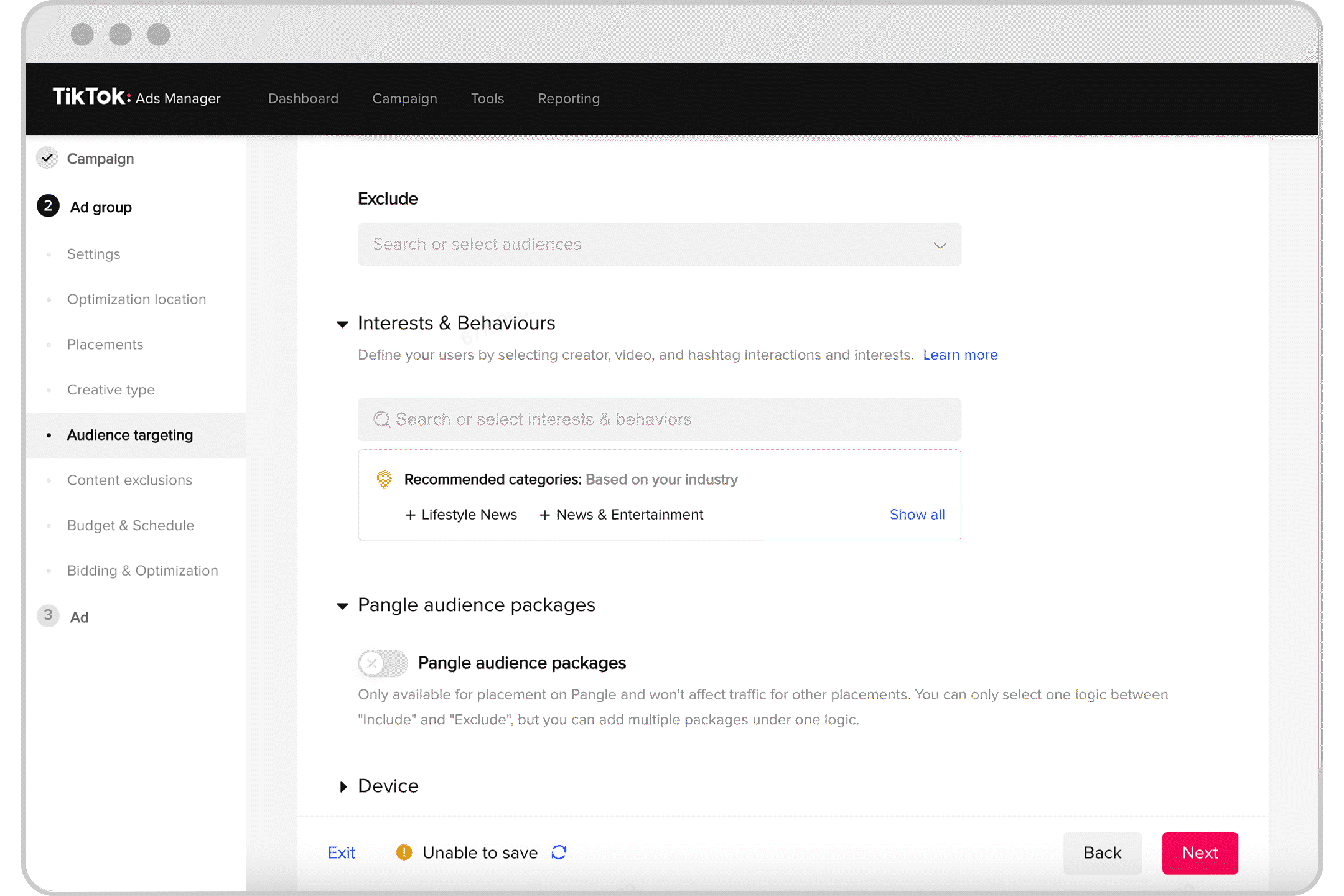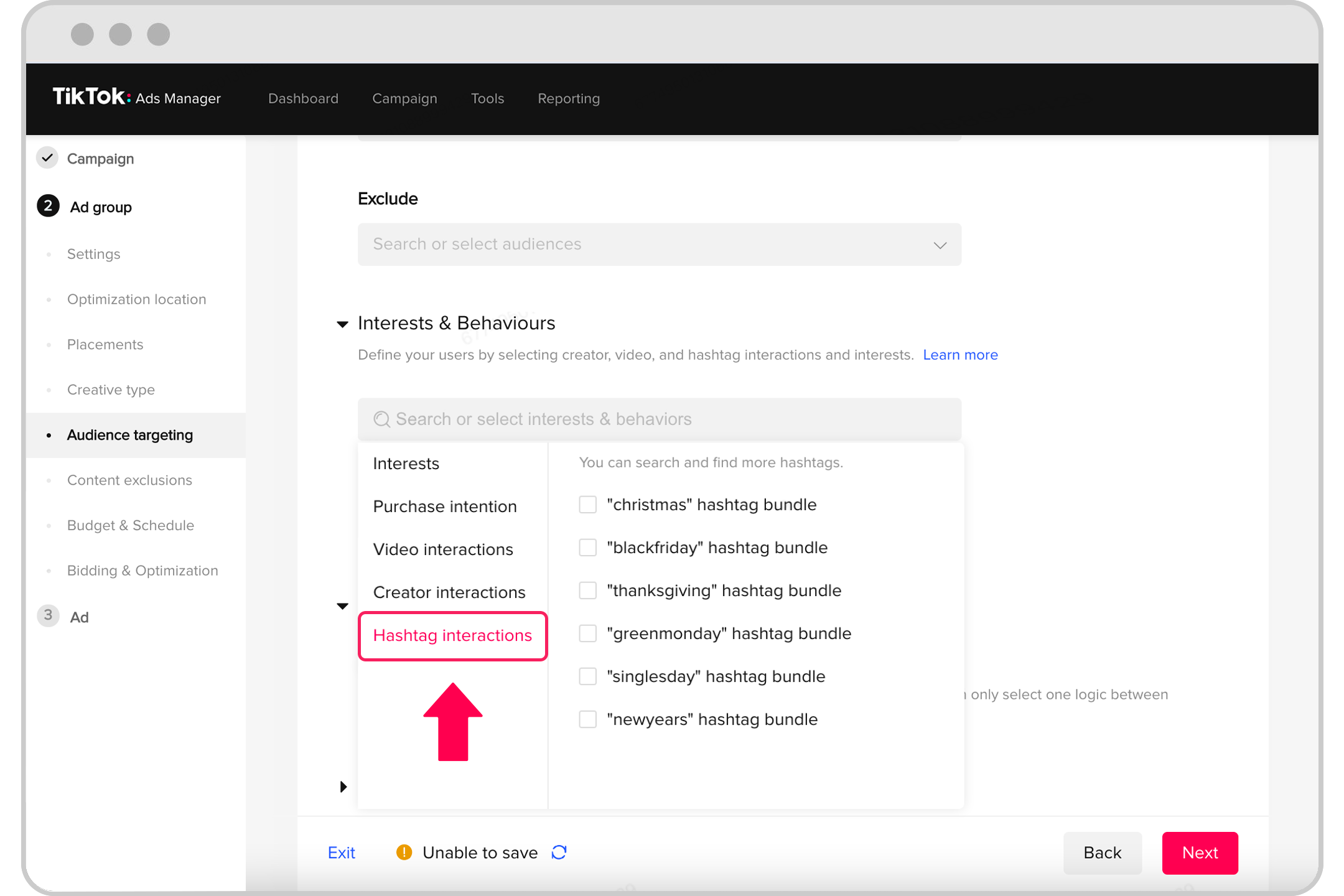 | | Behavior Targeting | Interest Targeting |
| --- | --- | --- |
| Feature Logic | Based on user behavior | Predicted through machine learning based on long-term past behavior & key indicators |
| Time Frame | Recent (7/15 days)* | Remote |
| User Behavior | Tracked Behavior | General Behavior |
| Content Type | Organic Content | Organic & Paid Content |
| Advertiser Type | Hands-on | Hands-off |
Notes:
For example, Ash clicks on a video about baby care. Ash's user action will be associated with the Baby Care behavior tag. However, their user action might not be associated with the interest tag for baby care. This is because the interest targeting algorithm could have found his long behavior to be similar to the audience interested in personal care. As such, they might be tagged with the Personal Care interest.
No, any adjustment made in interest & behavior will not trigger an ad review.
User profiles are assigned with various behavior category tags depending on the different types of content they consume. When you run an ad, the system will only deliver your ads based on the behavior targeting criteria you specify.
For example, Alex has recently viewed content related to Games and Travel so both of these Behavior category tags will be associated with Alex's profile. When Games are selected for the Behavior to be targeted, ads will only be shown to users who have Games associated with their profile, including Alex. However, if Alex converts (clicks or installs), the system will include all the behavior tags associated with Alex's profile in your report, including both Games and Travel.
Note: Conversions and clicks are only counted once in your billing.
This is a great method for gaining insights. If you notice that a large portion of converted users come from a behavior you have not selected previously, adding that behavior to your targeting can help optimize your ads.
No.
No.
We are currently working on providing a one-pager.
Yes. Advertisers can see audience sizes in the UI by mousing over the audience.
Hashtag targeting is a type of behavioral targeting. From a product perspective, Interest Targeting is developed based on Machine Learning, while Behavior Targeting captures the ground truth behavior of the user.
Additionally, from a product usage perspective, interest targeting and behavior targeting are common targeting capabilities offered by competitors. Both targeting features are positioned as tools to help you deliver messages to the most relevant audience for your brands/products/services.