Purchase Intent Targeting is a targeting capability that makes it easier to identify and target customers most likely to purchase.
Purchase intention Targeting leverages in-market users who are actively searching for one specific category of product/service on TikTok, making positive interactions (such as like, share, etc.) with content about one specific category of product/service, and users who were close to completing purchases.
Targeting Expansion is enabled by default if you choose purchase intention targeting, and Targeting Expansion can be turned off if you don't need.
Note - Despite TikTok identifying users that are most likely to purchase, there is no guarantee of any specific outcome.
Market: Purchase intention Targeting is available in Global Market

Platform: TikTok Ads Manager

Buying Type: Auction

Placement Type: TikTok only

Ad Format: In-feed video

Campaign Objectives: Lead Generation, App Promotion, Website Conversion, and Catalog Sales
This section will show you how to set up Purchase Intent for your campaign in TikTok Ads Manager.
​Log in to TikTok Ads Manager and select Campaign in the top navigation bar.

​Select Create to go to the campaign creation page.

​Select Auction as the Buying Type. Choose between Conversion or Catalog Sales as the Advertising Objective. Click Continue.

​In Placements, choose Select placement and ensure only TikTok is selected by checking the box.

In Interests & Behaviors, click the search bar, and select Purchase Intention.

In Device, Targeting expansion is enabled by default if you selected Purchase Intention.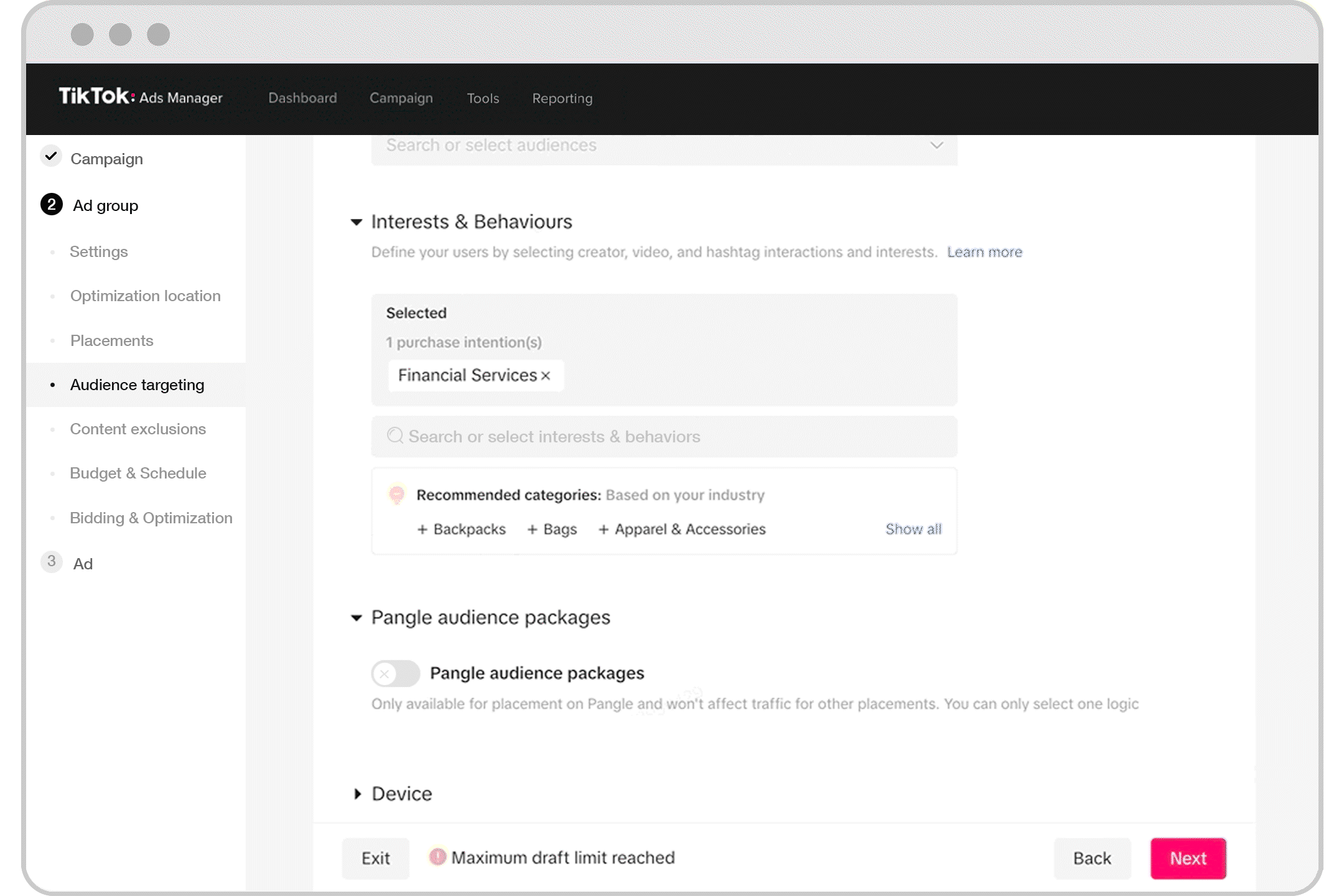 Optimize spending by reducing setup costs: It requires less manual effort since it targets the most relevant audiences who are at the end of the buying funnel.

​Reach customers with the right message at the right time: Tailor your marketing based on where customers are in their journey and present the right message at the right moment to those most likely to purchase their products and services.
No, Purchase Intent targeting is only available for a subset of interest categories. The available categories can be found on TikTok Ads Manager.