Note: In order to create a safe experience for our users, and comply with local regulations, there are several industries and products that cannot be promoted using TikTok Ads Manager. For a complete list of the prohibited products and services in each market, see "TikTok Advertising Policies - Industry Entry".
Welcome to TikTok Ads Manager! If you're ready to start sharing your ads on TikTok, you'll need to create a TikTok Ads Manager account. Creating an account is a three step process that involves creating an account, completing your account setup, and passing the account review.
This article will provide step by step instructions for each step of the process.
To help you get started, we've created an account creation walkthrough that shows each step of the account creation process.
Note: The following guide is currently only applicable for self-service customers. If your region does not support self-serve advertisers, please contact the client service (CST) or account manager (AM) in your region.
Go to https://ads.tiktok.com/i18n/signup/ and create a login using an email address or phone number, verify your login information, agree to TikTok Ads terms and conditions, and then click "Sign Up".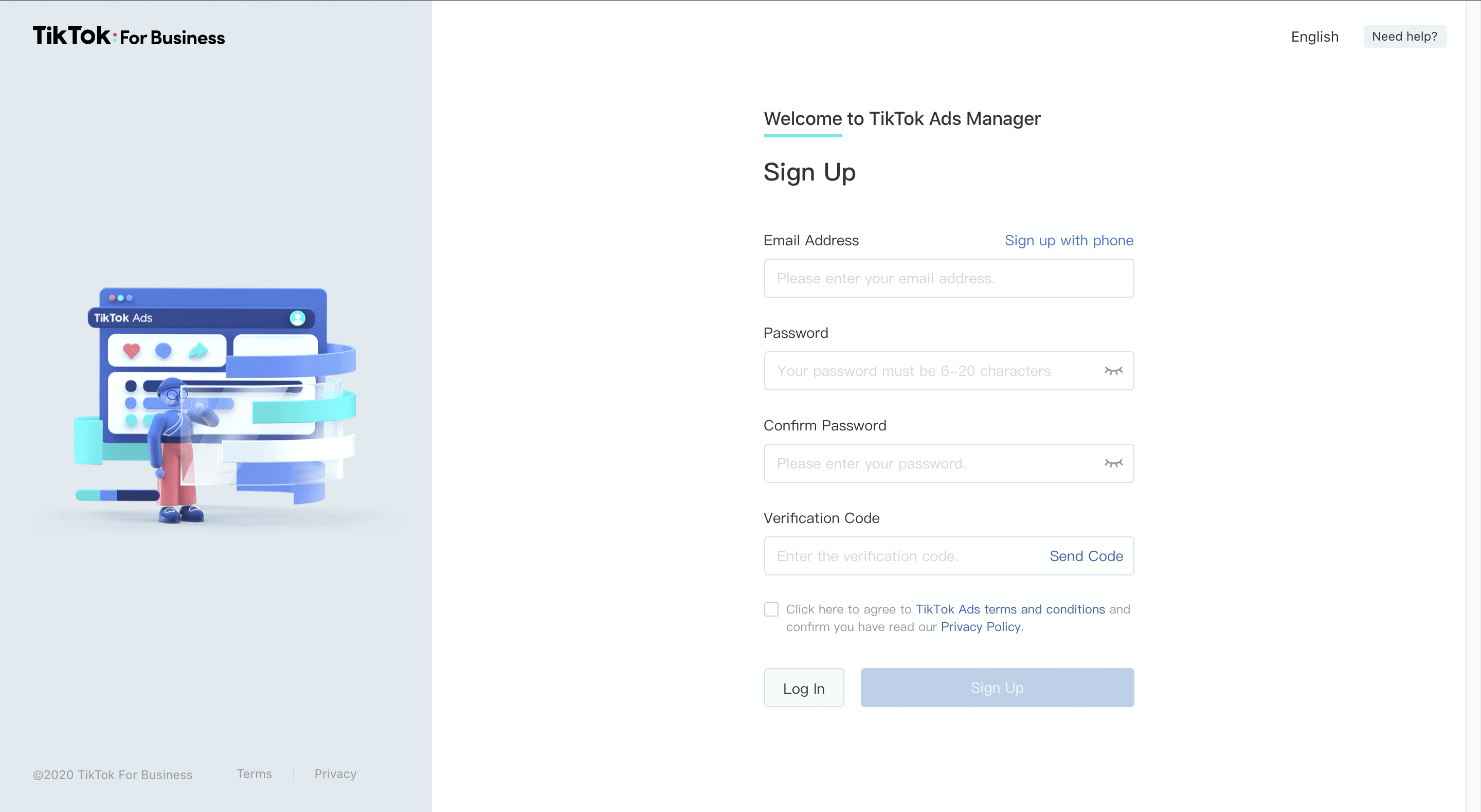 Create an account by providing some basic information about your business, including:
​Country/Region: Enter the country your business is located.

​Time Zone: Select the time zone where your business is located.

​Business Name: Enter your "Business Name" the same as, or closely related to, your company's legal name. If the "Business Name" of your account does not match the actual name of your business, you will not pass the account review.

​Additionally, if you wish to use TikTok For Business products like the TikTok Creator Marketplace or apply for ad credit programs, your "Business Name" must be consistent with the one on your official documents, such as a business license or the IRS SS-4 EIN Assignment Letter.

​Currency: Select the currency you wish to use in your billing.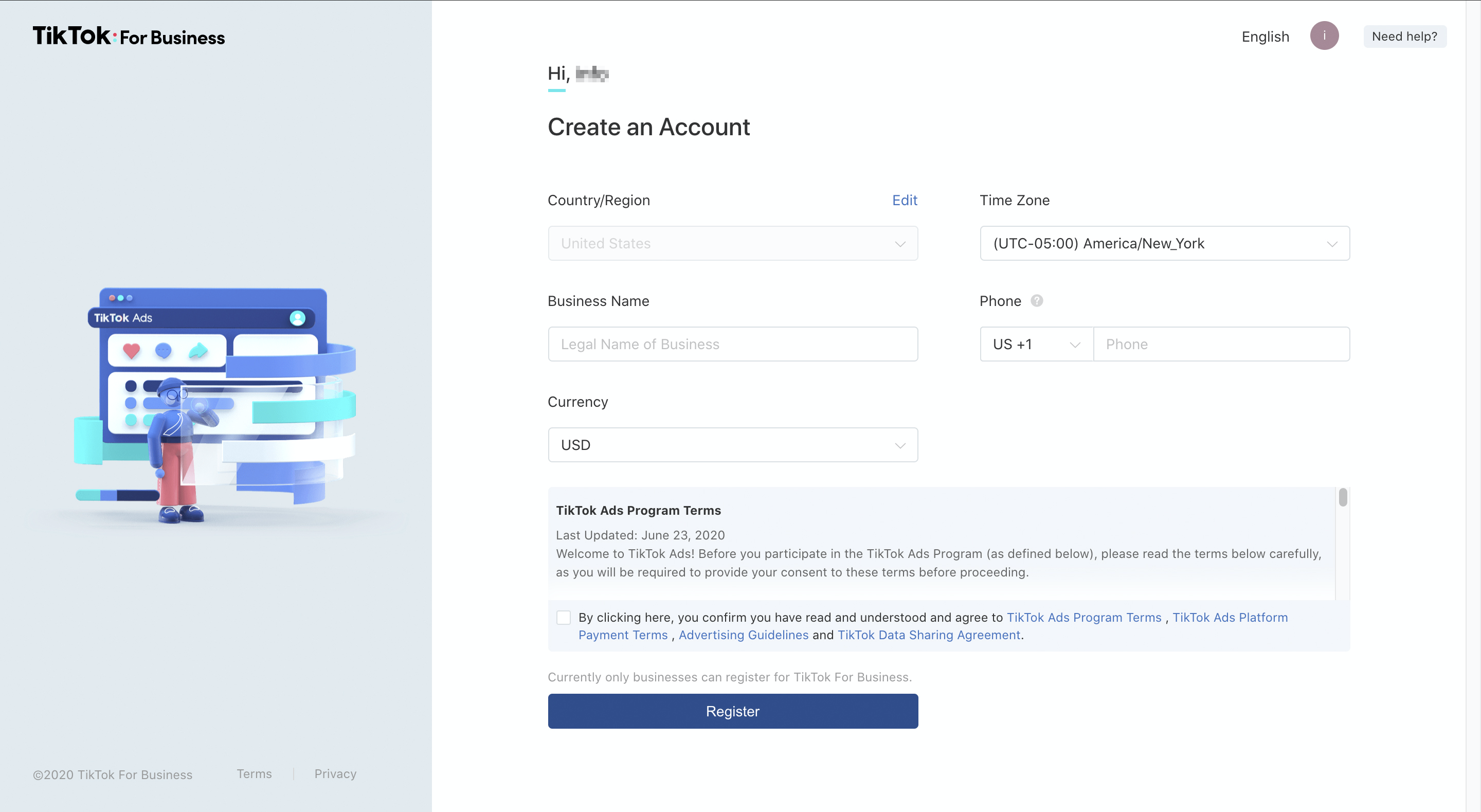 Once you've completed this page, then click "Register".
Note: Be sure that you select the correct "Time Zone" as this cannot be changed later.
From your "Dashboard", access your "Account Info" under your "Account Settings".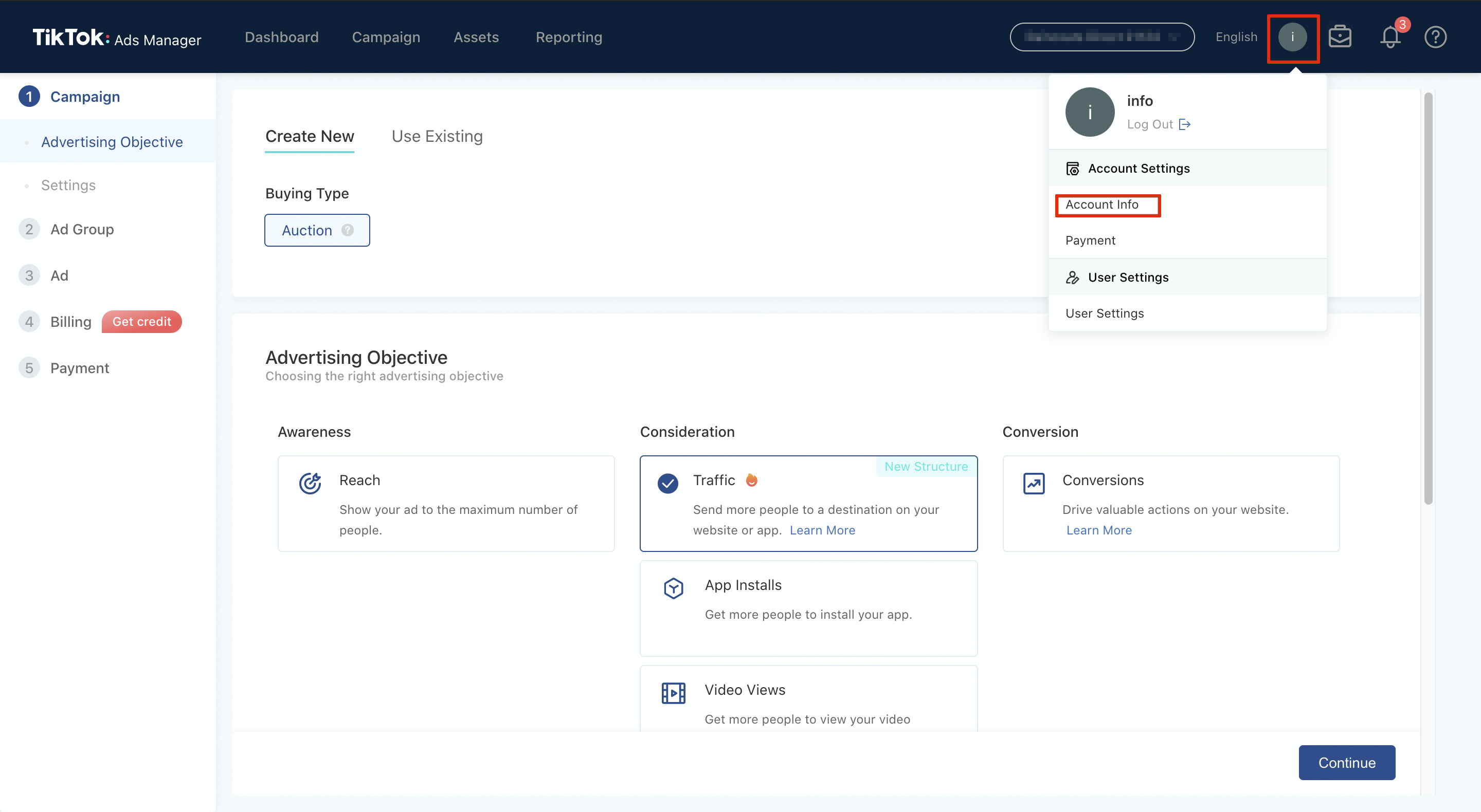 Complete the "Business Information" module on the "Account Setup" page, by entering the following information:
​Company Website: Enter the URL of your company's website in the following format, "https://www.tiktok.com/". URLs that do not follow this format will not be accepted during the account review.

​Note: To pass the account review, your company website must: function properly, contain all the required contact information, clearly promote a product or service, and be relevant to the product or service you want to promote.

​Industry: Select the industry that best represents the products and services you will be promoting.

​Street Address: The location of your headquarters or where your business is registered.

​State/Province: The state/province where your business is registered

​Postal code: The postal code of the region where your business is registered

​Business Verification (Optional): Upload A government or officially issued number that you use to do business or pay taxes in your country. For example, in the US the only accepted business verification id number is the federal taxpayer identification number.

​This is not required to complete your account, but verifying your business will allow you to apply for ad credit programs and use additional TikTok For Business services like the TikTok Creator Marketplace.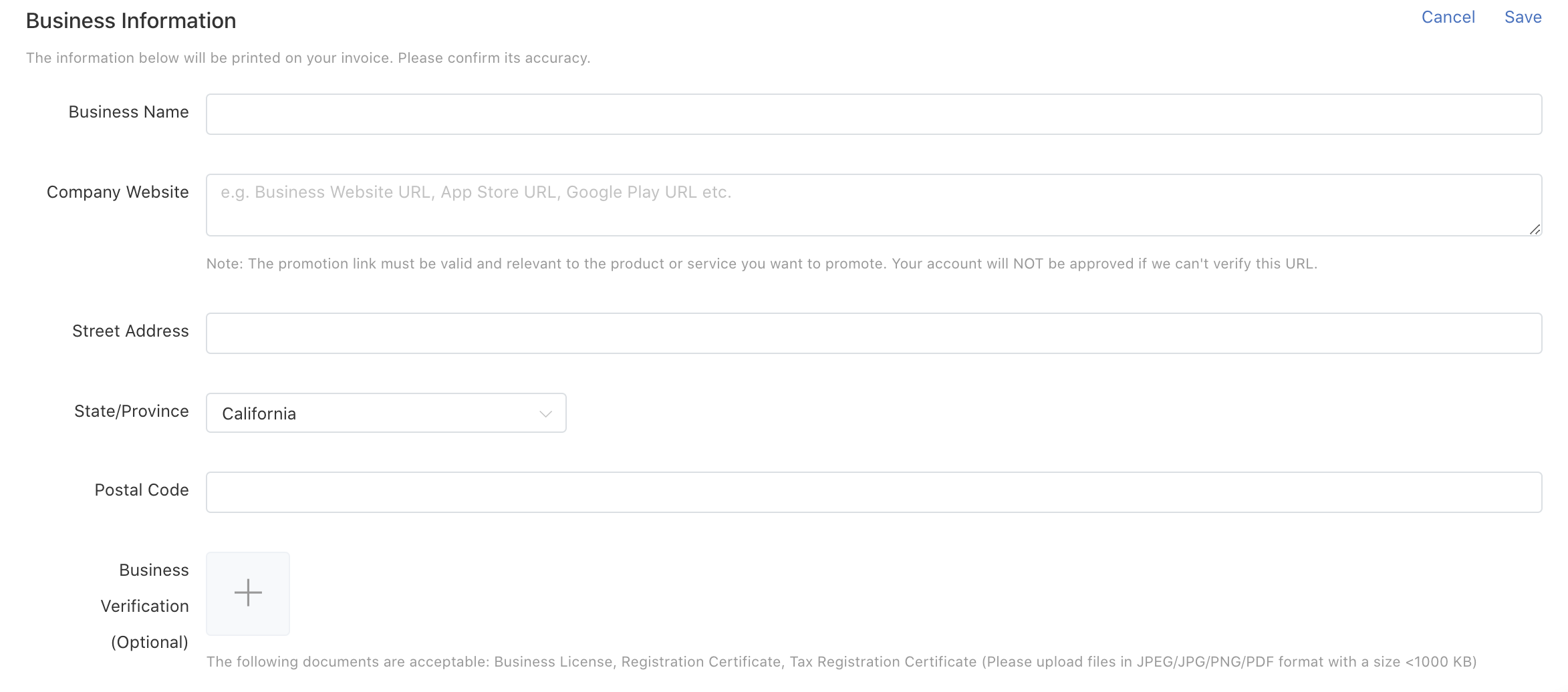 Select your Payment Type: Manual Payment or Automatic Payment.

Note: Automatic payment is not available in all markets at this time. To learn more about automatic payment, see "Supported Payment Methods".
After you have completed the required fields on the "Account Setup" page, click "Submit" at the bottom of the page. Submitting your account information will trigger an account review. During the account review, we will check the information you provided against our industry and account-related policies, this process can take up to 24 hours.
To help you pass the review, here are some key things to watch out for when creating your account:
​You can promote your business's products or services in your market. See, "TikTok Advertising Policies - Industry Entry", for a complete list of prohibited products or services in each market.

​The "Business Name" you entered during the "Create an Account" module, matches the name of your business on your website and official documents.

​The URL of your "Company Website" was entered in the following format, "https://www.tiktok.com/"

​Your "Company Website" clearly promotes a product and contains valid information on the landing page. For more information about landing page requirements, see section 3.1 in "TikTok Advertising Polices - Ad Creatives".
For information about the account review process see, "Account Review Checklist".
Inevitably, some advertisers will not have their accounts approved right away. If this is the case, there are several ways you can trigger an account review or escalate your issue further. For more information, see "How to Request an Account Review".