Before getting started: Make sure you have read about compatibility and requirements in the following sections.
TikTok for Business is fully compatible with stores using VTEX IO, and partially compatible with stores using Legacy CMS or Headless CMS.
In VTEX IO stores, installing and configuring TikTok for Business causes the TikTok Pixel to be inserted automatically. On the other hand, stores using the Legacy CMS or Headless CMS need to configure the TikTok Pixel manually. Refer to the Manual TikTok Pixel configuration section for more information on this.
To be able to configure the TikTok for Business app in your VTEX store, you need to meet the following requirements:
​Having a TikTok Business account.

​Having Admin permission in TikTok Business Center.

​Having a TikTok Ads Manager account linked to your business account.
1. To download the TikTok for Business extension, select and expand Account Configuration in the left column of your VTEX Dashboard.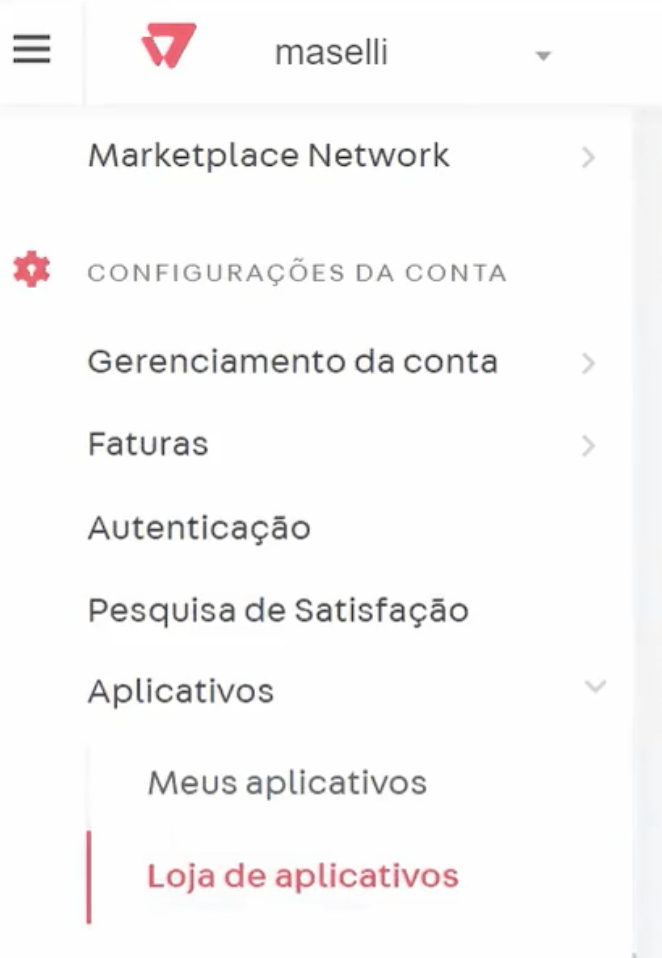 2. ​Select and expand Apps and click App Store.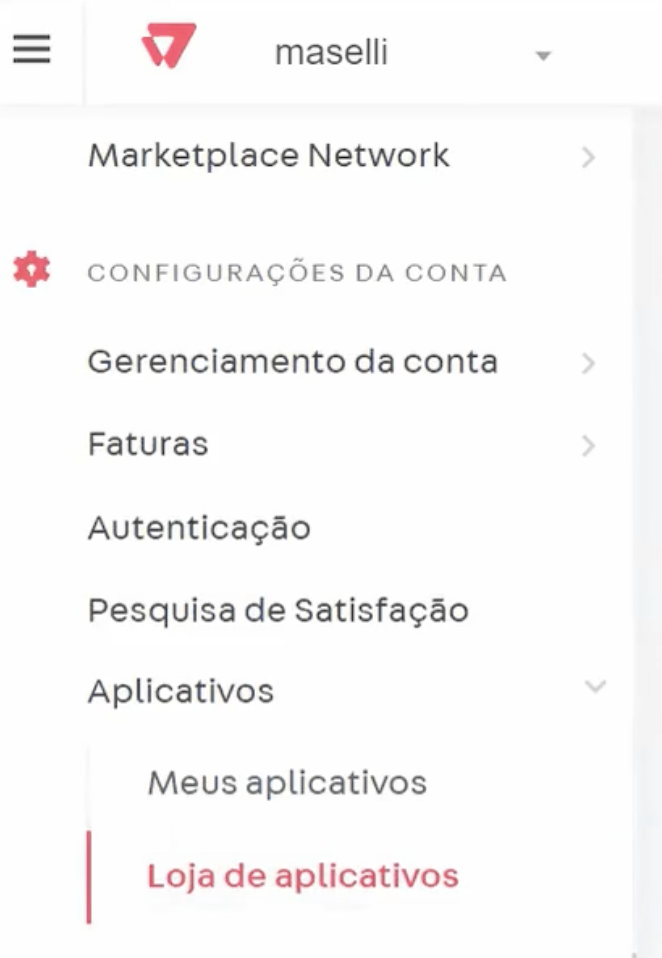 3. ​Find or search TikTok for Business App and click Install. You will be directed to the VTEX App Store.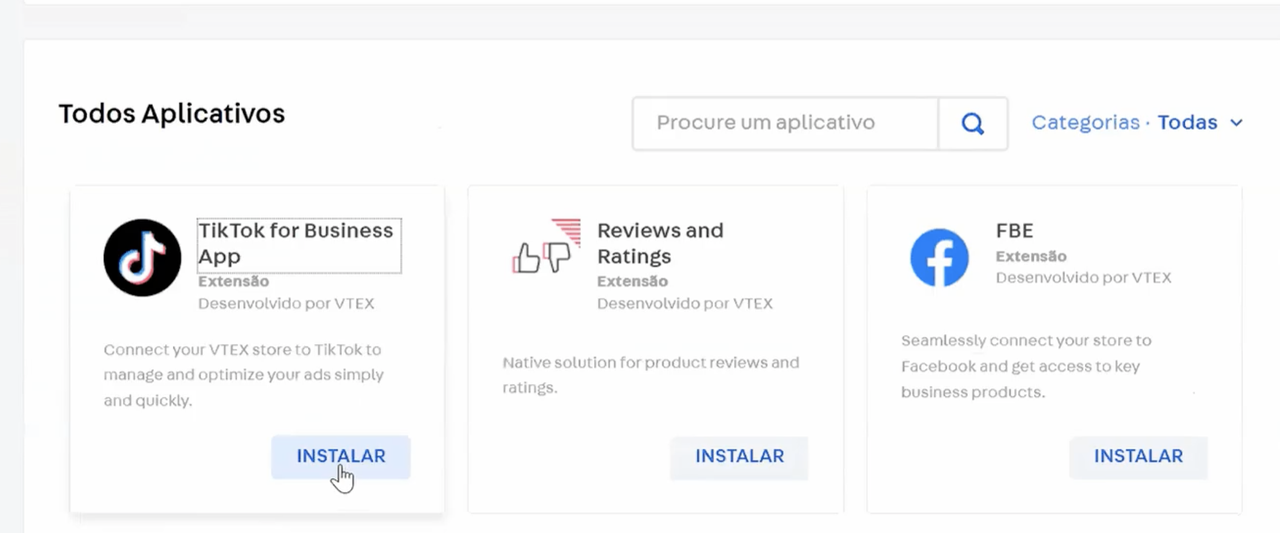 4. ​On the TikTok for Business App page, click Get App.

5. ​Log in to your VTEX Store by entering your account name in the field and click Confirm.
6. ​You will be redirected to the check out page to download TikTok for Business App. Click Place Order to continue.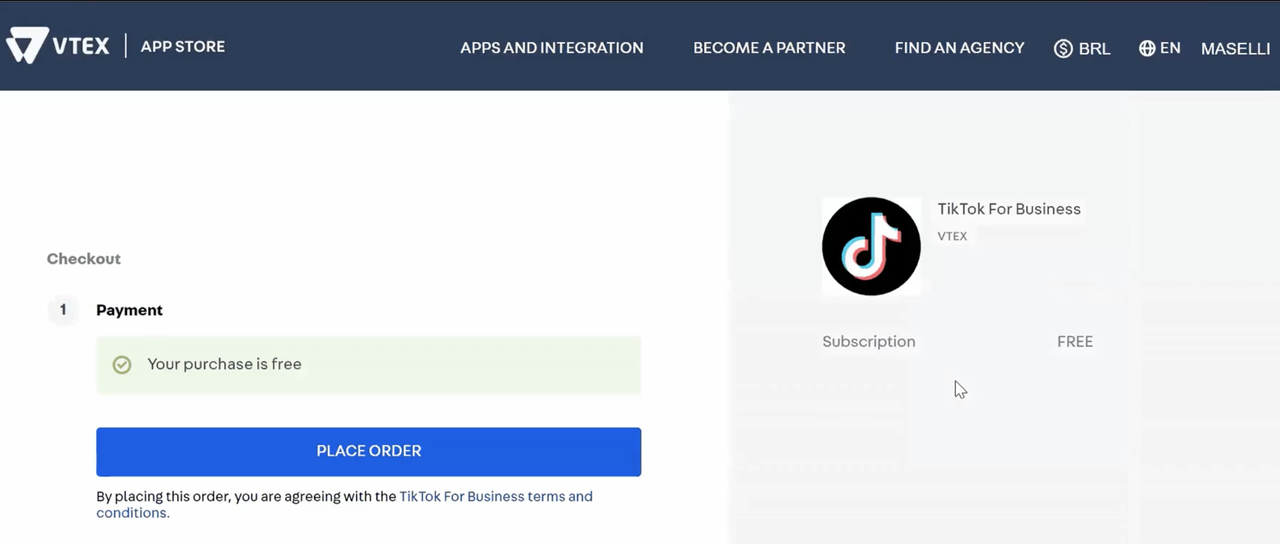 7. ​Once you have successfully downloaded TikTok for Business App, click Go to Install Page where you'll be redirected to VTEX. Click Install to complete.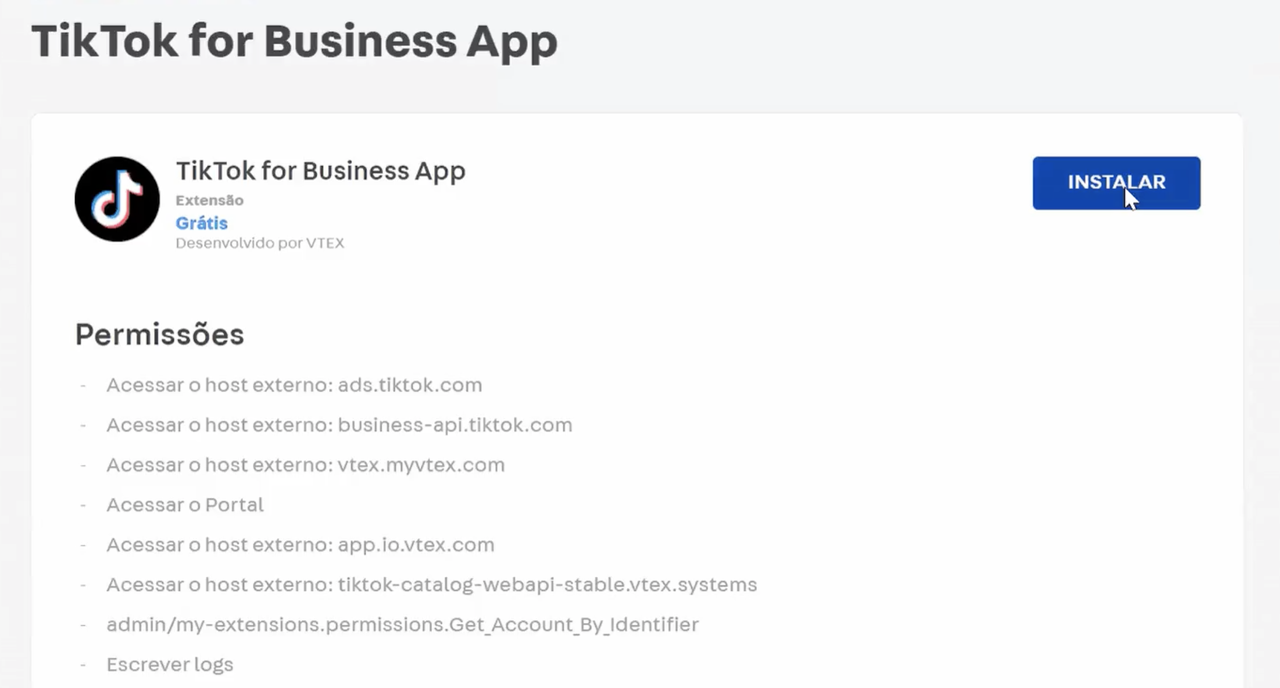 8. ​In the left column, select and expand Marketplace, then click TikTok.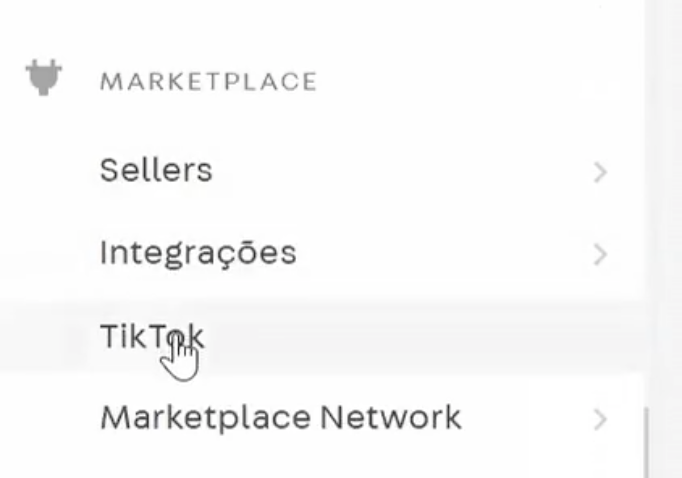 9. ​Enter all relevant information and click Next. Confirm your information and click Submit to continue.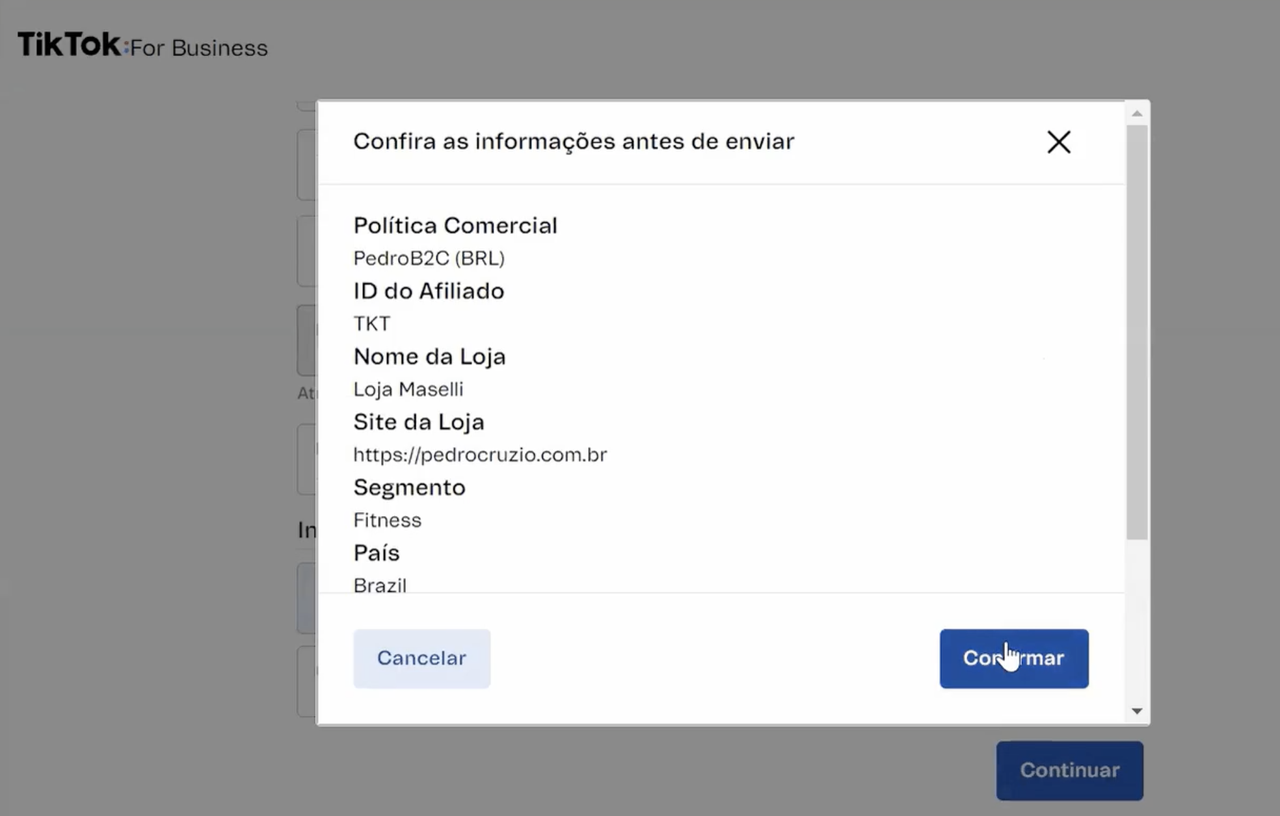 10. Select Connect Account.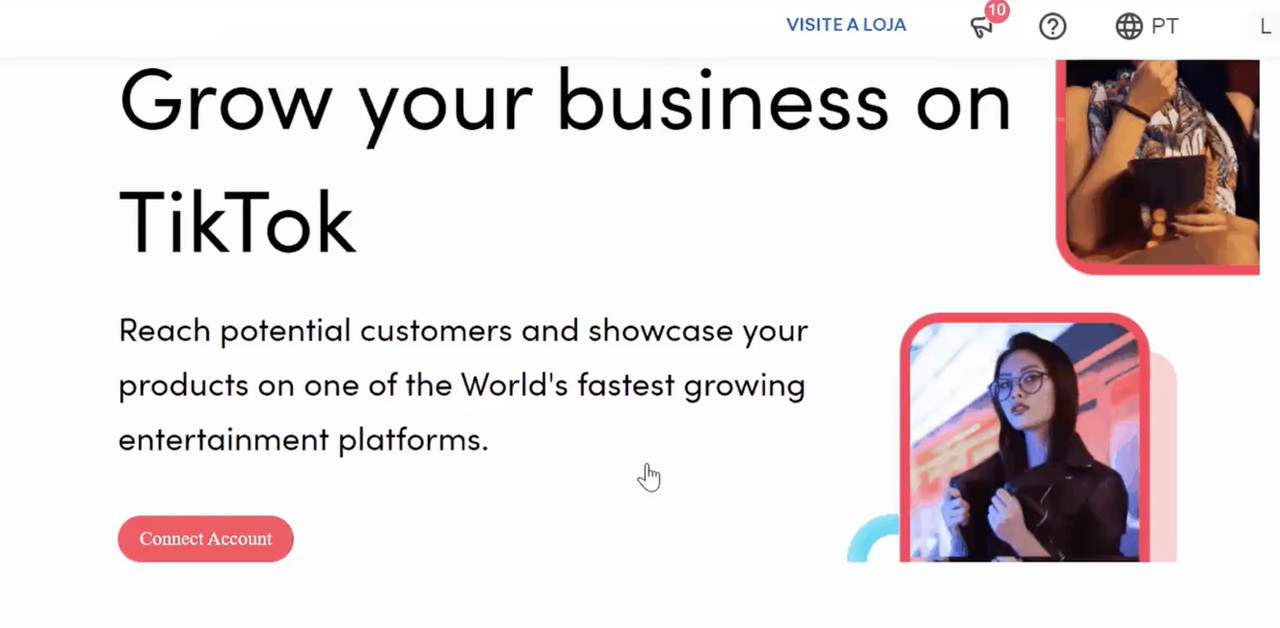 11. ​ Log into your TikTok account to activate setting up the integration.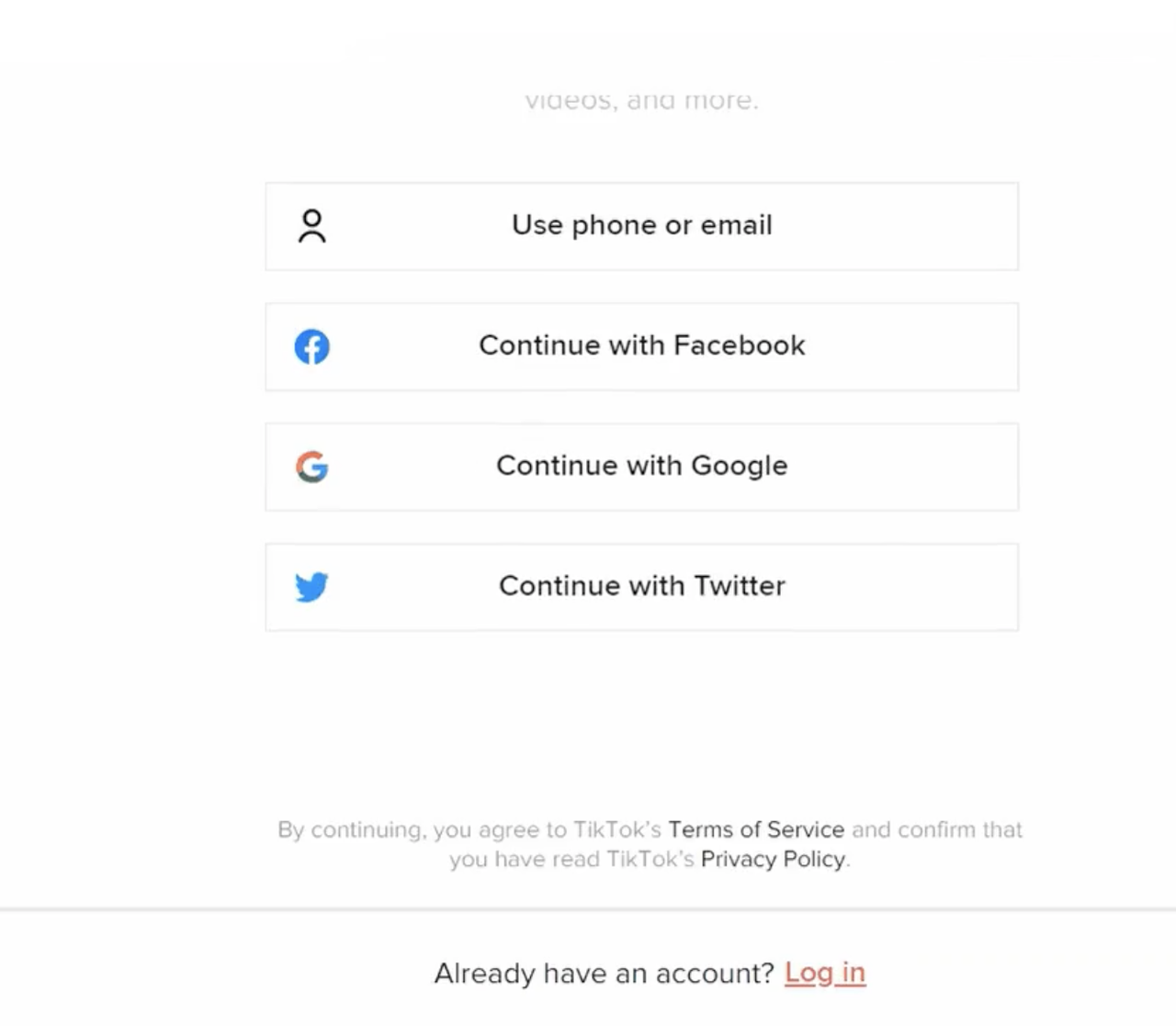 12.​ Authorize TikTok For Business to connect using your TikTok Account.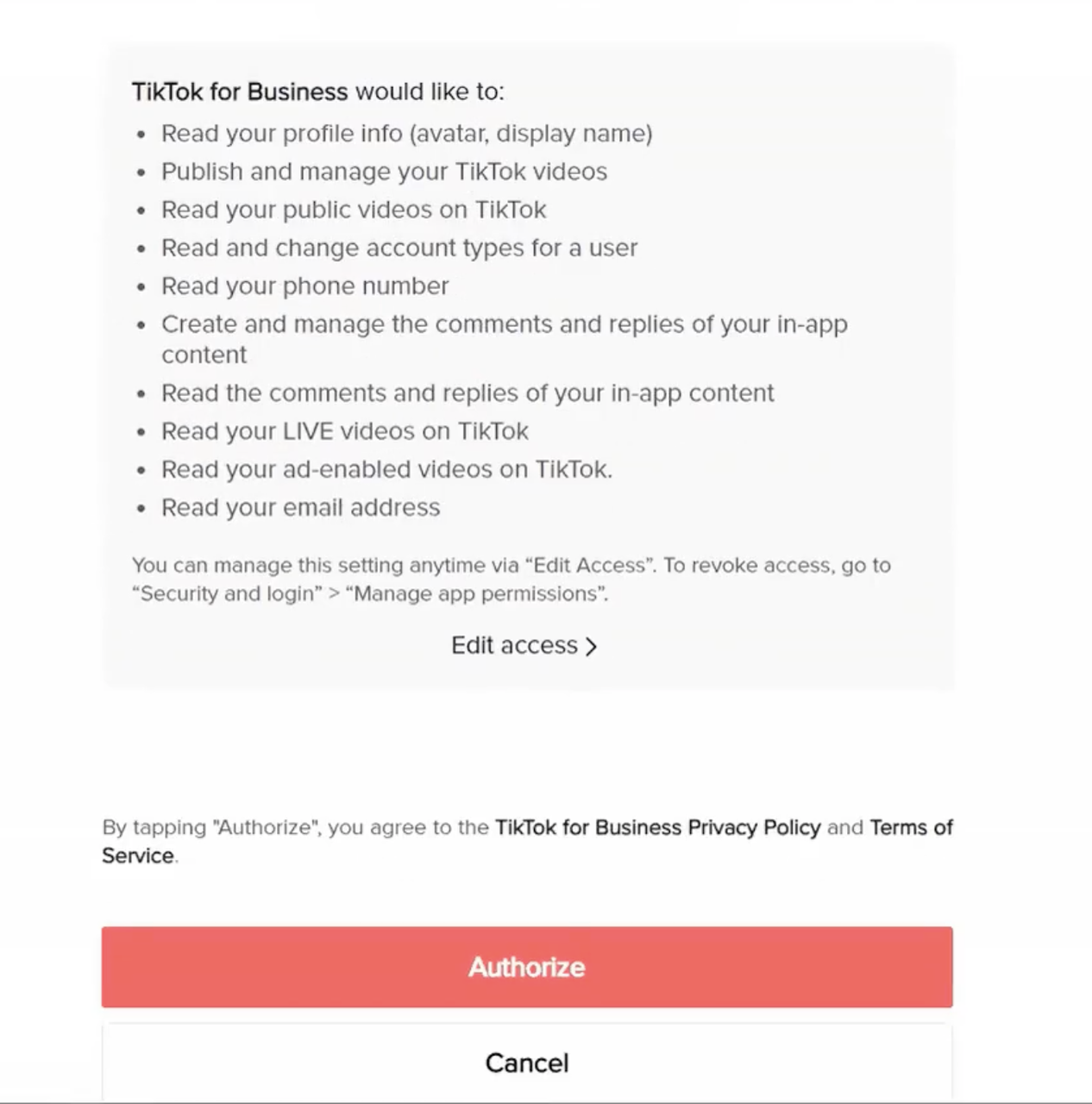 13.​ Having successfully authorized and connected your TikTok account, you will be able to Register for a brand new or Log in to an existing TikTok For Business Account.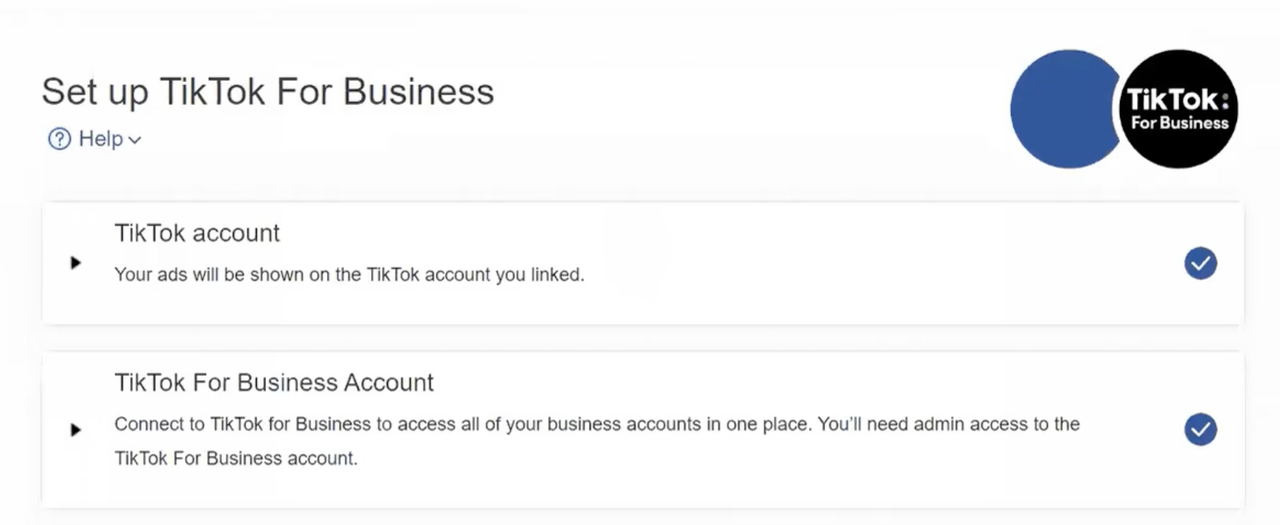 14.​ Having successfully connected your TikTok For Business account, you will be prompted to connect (or create) your TikTok Business Center.
​To create a new TikTok Business Center, click Create New under the Business Center section.

​To connect an existing TikTok Business Center*, select one that belongs to your TikTok For Business account and click Connect.

15.​ Then connect your TikTok Ad account or select an existing TikTok Ad account associated with your TikTok For Business account and click Connect.
​To create a new TikTok Ad account, click Create new.

​To connect an existing TikTok Ad account, select one that belongs to your TikTok For Business account* and click Connect.

16.​ Having successfully connected your TikTok account, TikTok For Business account, TikTok Business Center, and Ad account, you should see checkmarks beside each of them:

17.​ The next step is installing the TikTok Pixel embedded in our integration:
​If you do not currently have a developer mode Pixel, or have installed your developer-mode TikTok pixel recently (<2 months of use), follow the instructions below:

Remove your existing developer-mode TikTok pixel from your commerce site - Make sure it is not being currently used by any active campaigns.

​Return to the integration set-up and click "Create New" to create and install a new pixel.

Make sure the "Advanced Matching" feature is ON to improve the match rate between TikTok ad clicks and conversions that happen on your website.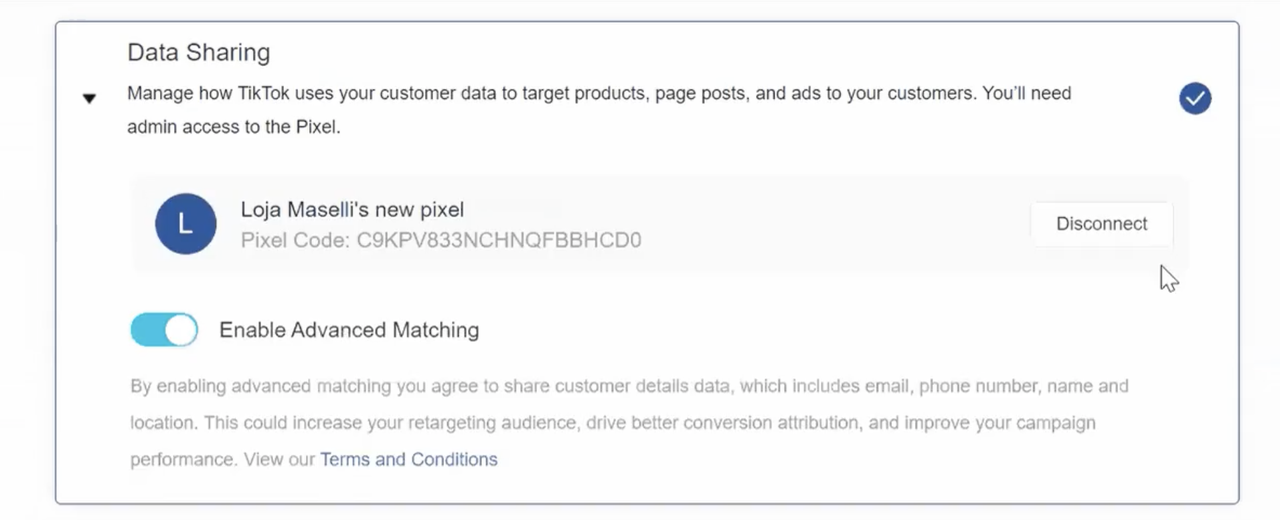 NOTE: By deactivating the newly-installed pixel, you won't be able to leverage on the Advanced Matching feature
18.​ Set up your product catalog syncing by clicking Create New. This will sync your existing product catalog onto your TikTok Business Center.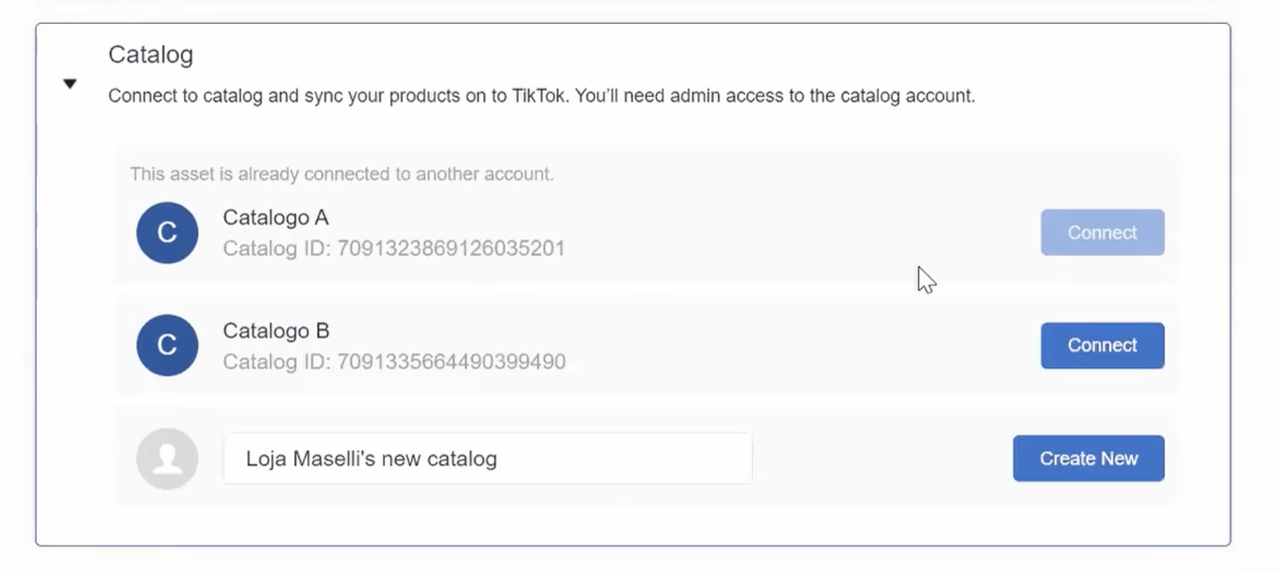 NOTE: Catalog is required to set up your TikTok E-Commerce Platform Partner Integration. The ability to create a catalog and/or use catalog-based ad solutions may vary based on your market and region; learn more about catalog here.
19.​ Once each section is completed, click Finish Setup.

20. You can then choose to get started with TikTok Ads.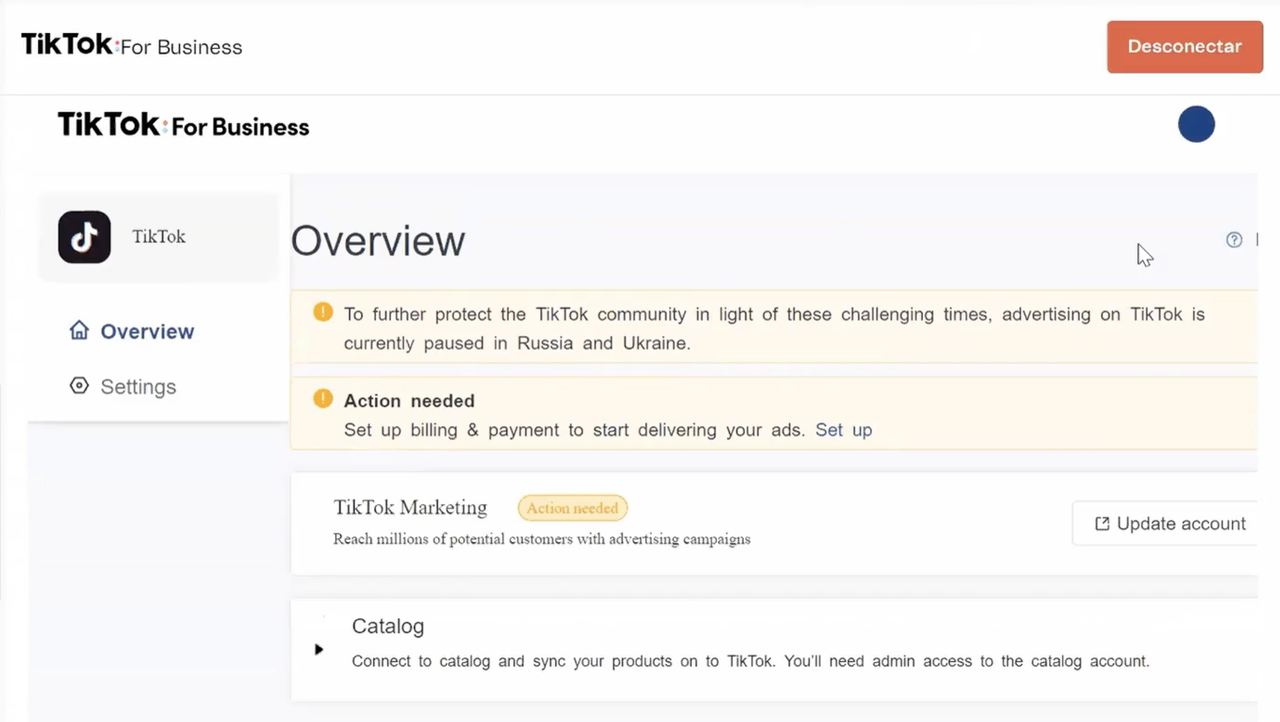 ​ Fill out all the fields needed to generate a conversion campaign.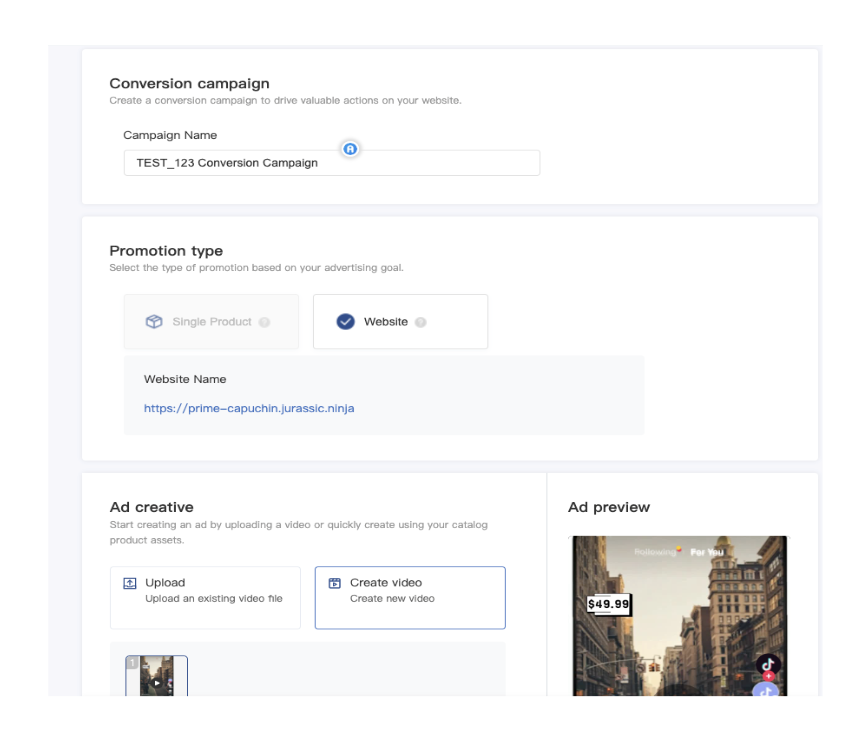 ​Campaign Name — Choose a name for your ad campaign. This is for internal reference only and is not visible to users.

​Promotion Type — Select what you will be promoting (a product from your synced catalog or your store's homepage URL).

​Ad Creative — Set up your video creative by either uploading your own video or utilizing TikTok's Smart Video creation tool.

​Display Name & Profile Image (under Advanced Settings) — Deliver your ads with a custom profile image and display name that will be shown to users.

​Conversion event — Select which event you want to optimize for. See the full list of optimization events enabled for your VTEX store here.

​Audience targeting — Choose an audience you would like to target based on your product and experience

​Budget & Schedule — Set your campaign budget and schedule the first date & time for delivery. The system will automatically optimize delivery to keep the best cost-per-action.
​ If you don't have an existing video, you can use TikTok's Smart Video Generator tool to automatically create a video using product photos and images uploaded from your computer. This is a helpful solution if you don't have video production capability or video editing experience.

​ Click Create video under Ad creative to get started.
​Drag and reorder images to finalize the flow of the video ad.

​Optionally add a discount price and product information text.

​Set the video style:

Dynamic — The video generated is fast paced.

Peaceful — The video generated is slower paced.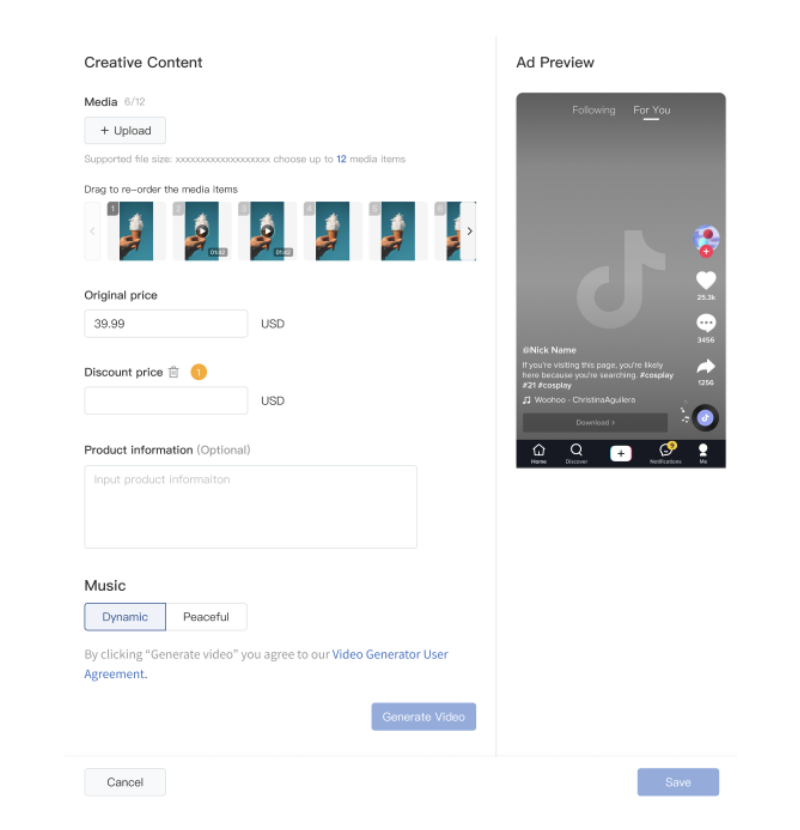 3. ​Select Next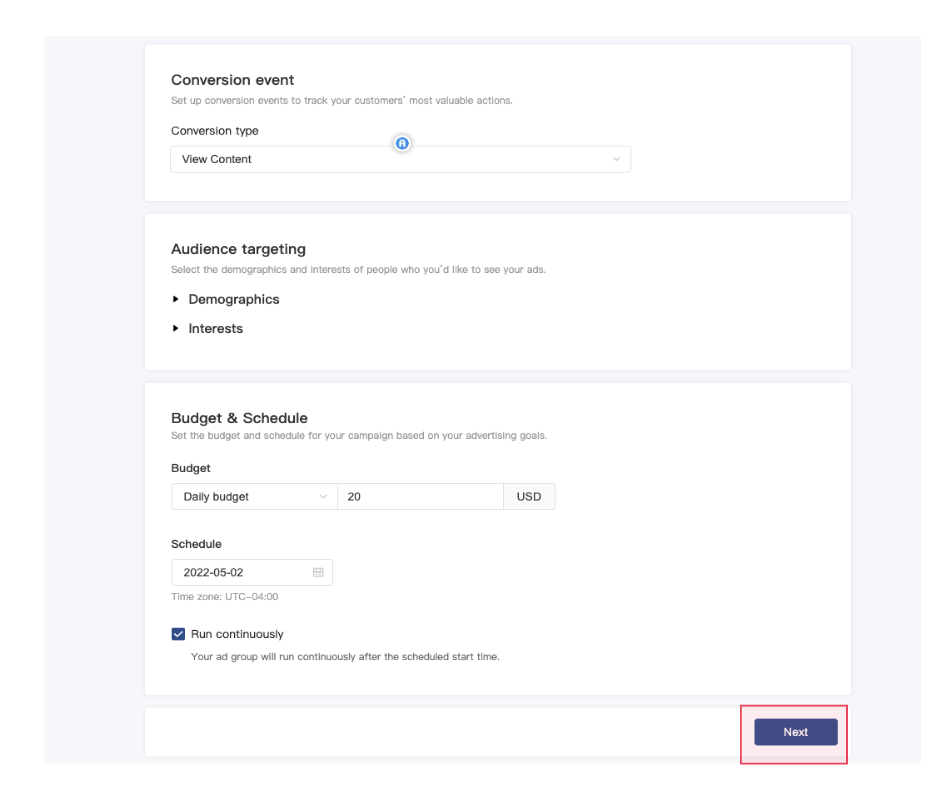 4. ​You will then be prompted to Submit your campaign.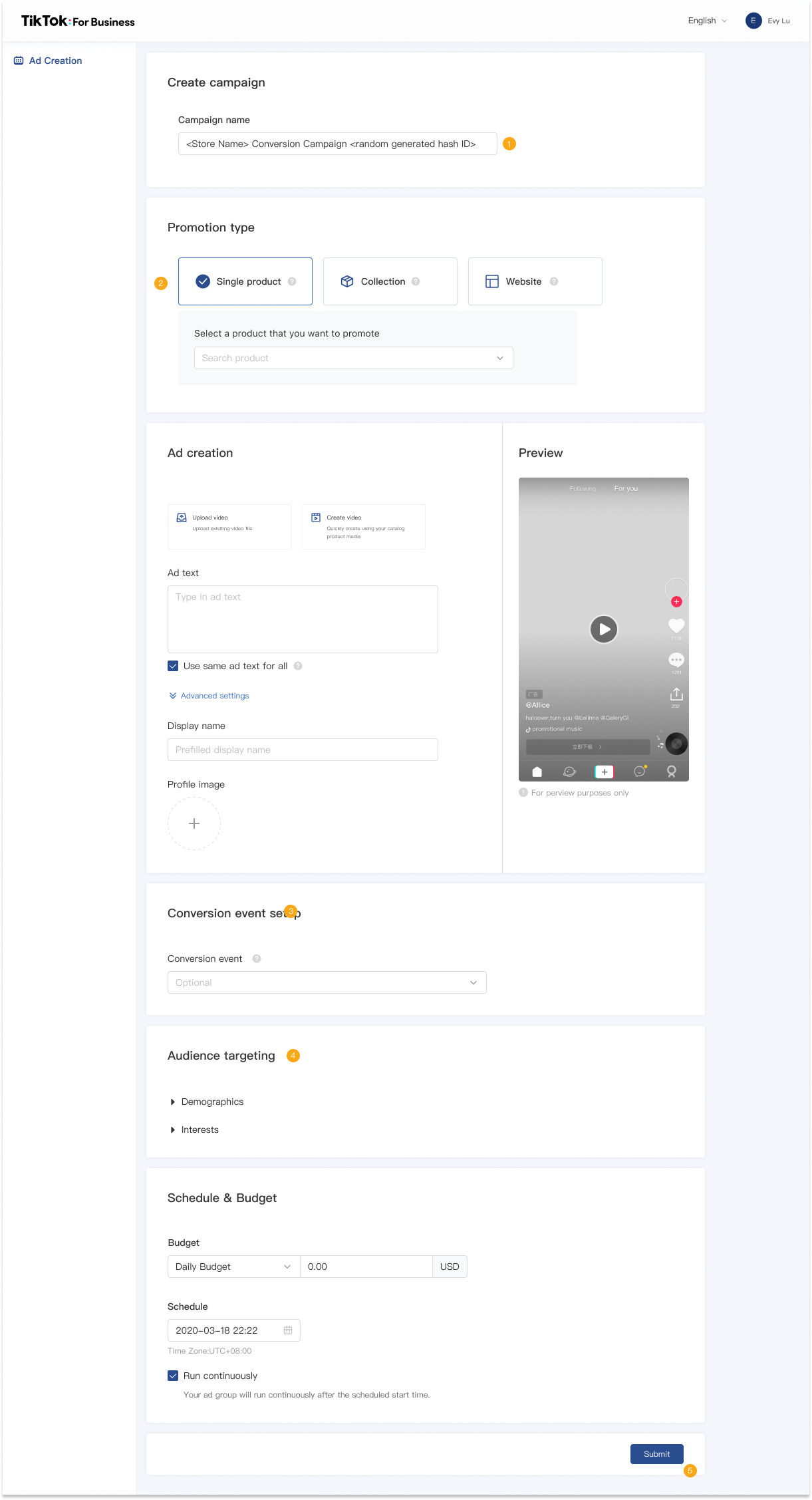 NOTE: Billing & Payment information must be set up in order to start creating and delivering ads